It may surprise you, but some of our readers have interests outside of motorcycles… and not just drinking beer and listening to loud music either.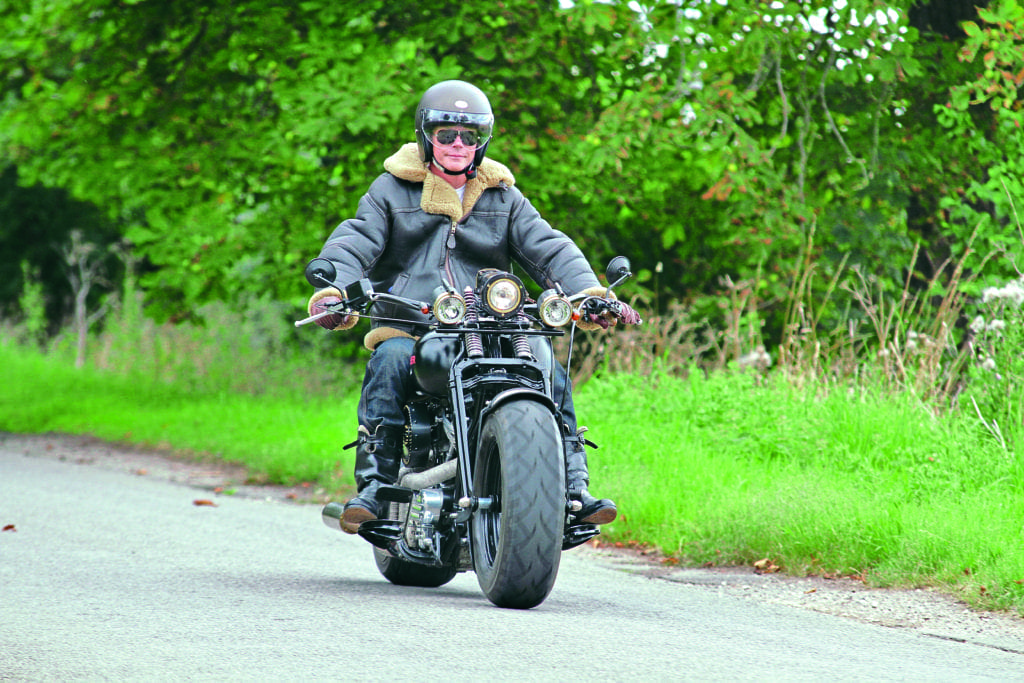 Words and pics: Dave
Take Alastair for example; aside from being a motorcycle nut – being of a certain age he was a 'victim' of the Easy Rider film, along with Electra Glide in Blue – he also has a passion for history in general, and for Second World War aircraft in particular.
His daily ride was a Harley Road King and one day, while courting his soon-to-be wife, Elizabeth, he clocked a workshop situated halfway between his house and hers, run by a Yorkshireman who he'd noticed in a 'Biker Build Off' TV programme. Fast forward to after the duo's marriage and, when he'd moved in with her and a bit of cash was released, he found himself calling into the workshop in question. After he got talking to Vic and Lin Jefford, for the workshop was that of Destiny Cycles (it turns out he actually knew some of Lin's family), a build was commissioned.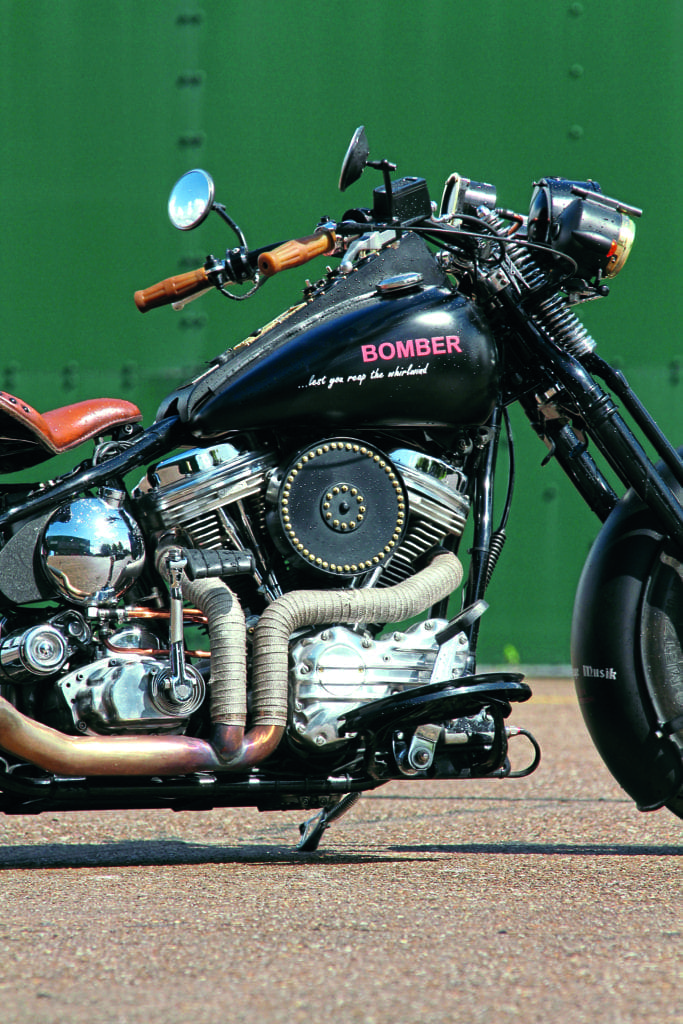 The initial plan was for a chunky bike, somewhat influenced by Russ Mitchell's 'Bullfighter', but with an older vibe as Alastair loves WLA Harleys, and he wanted springer forks. There was never a plan to create a 'themed' bike, but with his fascination for Second World War bombers, the aircrews' feats of endurance and bravery, and the sheer grunt of the Lancaster bomber, and the fact that he'd collected a number of historical plane parts that could be used in the build, and the discovery that his initials (AJL) were also the squadron markings for one of the planes that flew in the Dambusters raid of 16-17th May 1943 (officially referred to as Operation Chastise), it was as much a case of synchronicity as a direct plan. So, for no other reason than it seemed a cool idea, various elements of the bike were linked to the plane 'AJ-L For Leather' (airframe number ED 929/G), as piloted by the then 20-year-old Dave Shannon.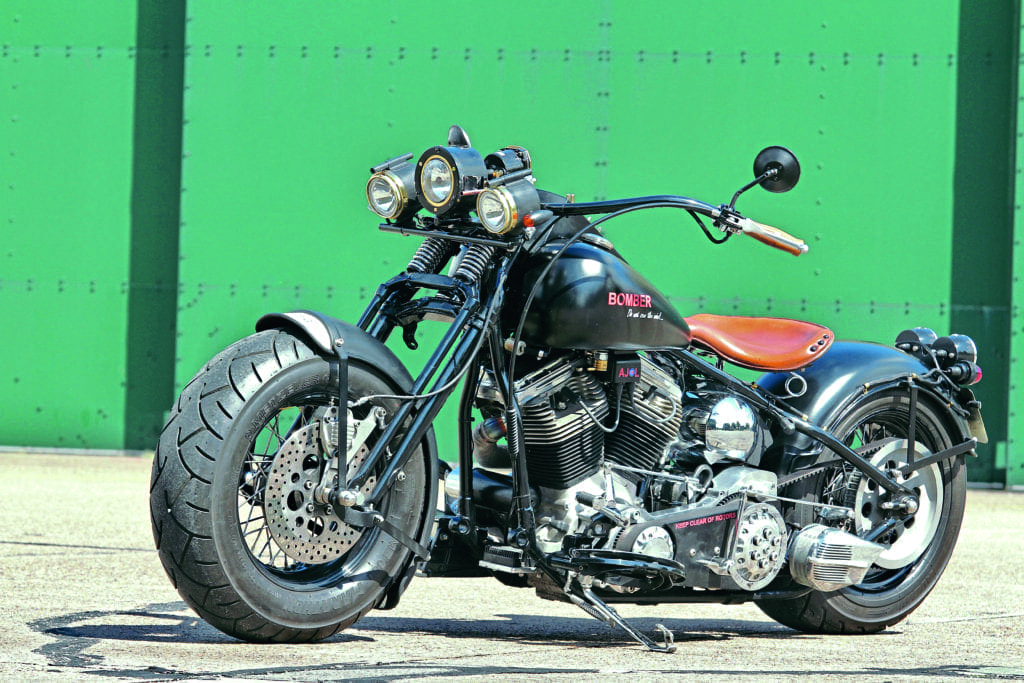 An original Harley frame was the start, hardtailed and widened to allow for the 230-section rear tyre, and then fitted with a RevTech 100 cubic inch (1683cc) Panhead powerplant – more than powerful enough for a bike with such an old style. He wanted to run with a fat front end too, but also wanted to use springer forks, but not the modern Harley type. Herein lay a problem – he'd made a few enquiries to other builders previously as to whether they could widen a pair of classic forks, but no one'd been keen. Conversations with the Destiny duo, and Woody the machinist, though, resulted in Vic widening a set to allow for the 200-section tyre, and practicality to counter the old style came in the form of a pair of dual-piston GMA calipers, one at each end, while a wide set of 'bars offer the leverage necessary for the slow-turning balloon tyres.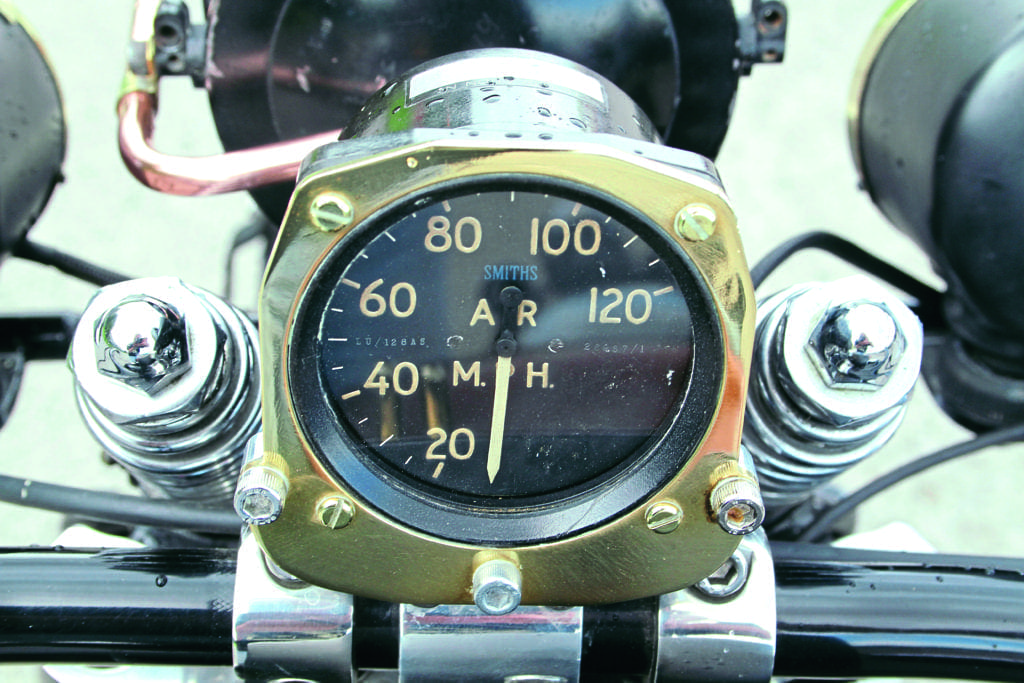 Article continues below…
Advert
Period-appropriate plane parts appear in the form of bomb release switches that have been re-appropriated as indicator switches; a Merlin engine start button as the ignition switch; a heel-operated tyre-driven siren; a WW2 Aldis signal lamp as the headlight, with WW2 signal lamp sidelights; Lancaster wing-tip navigation lights as tail-lights; and a number of historical references on the mudguards too.
The RAF bombers were referred to as 'terrorfliegers' (terror fliers) by the Germans, obviously because being bombed was not a nice experience, while the 'schrage musik' (jazz) refers to the upward-firing cannon in the Messerschmitt Me110 used to shoot down the incoming bombers from below that accounted for many RAF losses. Air Ministry estimates of fatalities caused by the campaign appear on the bike as between 305,000 and 600,000, and Bomber Command lost 55,573 out of around 125,000 air-crew (and this doesn't include those who lived on with physical and/or mental injuries). Those people were so brave, weren't they? Despite seeing their friends die in the sky beside them, or empty billets when they came home, they kept on flying, knowing the odds of survival were very poor…
Alastair never intended for it to be a shiny show bike, but he's chuffed with the many compliments it's had and interest it's received wherever it's been parked up, especially the awards it received at the Farmyard Party and the Wake The Lakes rally. Displaying it at the NEC, on the Carole Nash stand, was pretty good too and, being the kind of bike it is, it's even attracted attention at war weekends and museums.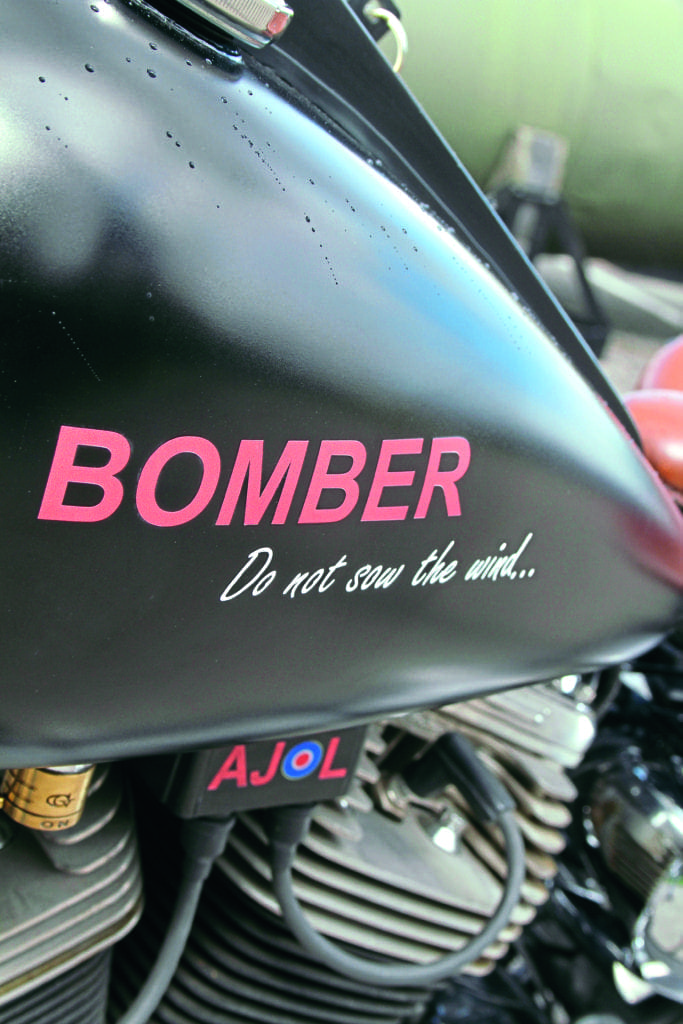 "The whole thing has been brilliant and has meant I've met and spoken to all kinds of excellent biker people, and others with an interest in history, as a result. My photo album of the build has even been signed by the last surviving British Dambuster, George 'Johnny' Johnson DFM (now MBE), who was the bomb aimer on AJT. I might have liked to have been more hands-on at times, but as they often say down our way 'nescire quaedam magna pars sapientiae est' – to be aware of one's ignorance is the greater part of wisdom – I know I couldn't've done this, and watching a maestro at work was more than adequate compensation.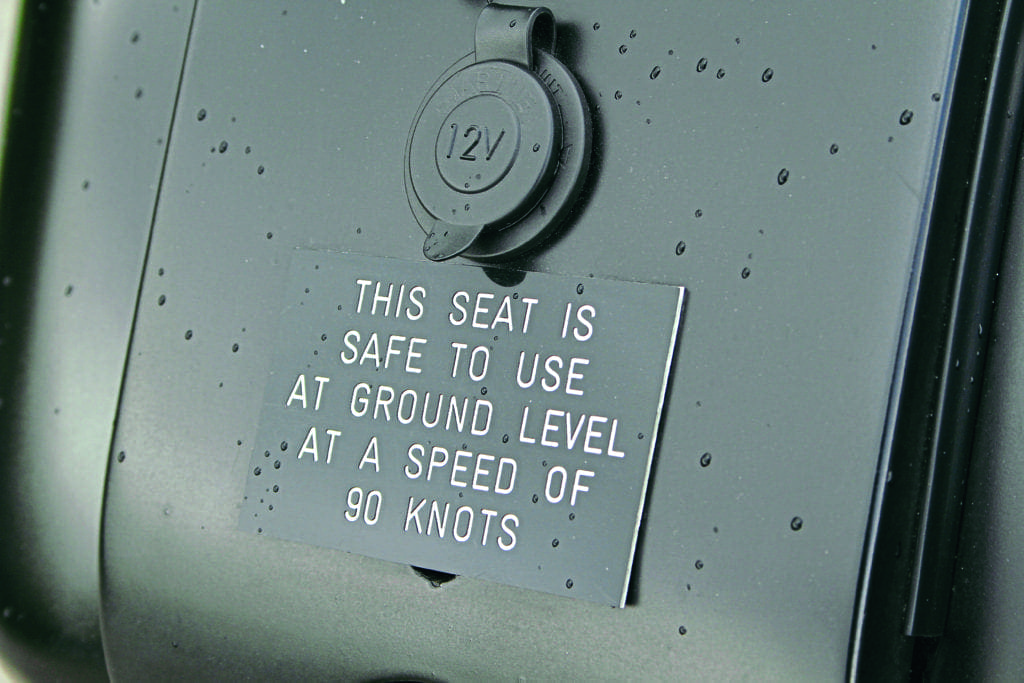 "I'm not sure that I'd ever sell it, but if someone made a very realistic offer I might have to consider it, not least because some other ideas are brewing…"
Article continues below…
Advert