Some things are meant to be, aren't they? They may take a bit of time, or a fairly convoluted and circuitous route, to come into fruition, but eventually The Fates ensure that two things that're destined to be, come together in a fortuitous way.
Words: Nik
Pics: Alien4
Take Chris from NCC Kent and the frame 'n' front end that this bike has been built around as an example; he saw them on eBay a couple of years ago and absolutely fell in love with them. He was scratching around to try to get the money together for them, but having got the dosh together found that they'd already been sold.
To say that he was gutted is something of an understatement. A year or so later though they turned up for sale again within the National Chopper Club, and this time he wasn't going to miss out. He had the money sitting there and so he bought them without hesitation. He'd known that the ensemble had massive potential from the moment he'd first laid eyes upon them all those months before, and he knew exactly what he was going to do to put his own stamp upon them.
The drop-seat rigid frame, and the wide and rather sexy modern-style springer fork, is the work of Mr John Turner, former proprietor of Heartland Choppers in Birmingham, back in 2012. He fabricated them before he sold Heartland to a guy named Tim Morley, who changed the company name to Black Spanner (0121 288 4546 or www.blackspanner.co.uk), and set off to pursue a career as a pub 'n' club singer, something for which he'd already gained a fair reputation – check out www.johnnytarrino.co.uk. He's still doing fabrication work for Black Spanner these days, helping the new company maintain the old one's reputation for excellence, but he's no longer le grand fromage.
Chris knew, once the pair (the frame an' forks, not John and Tim obviously) were resident in his gaff, that it'd need a big motor to power it. He is, as I said, a member of NCC Kent, in fact he's the rep, and, as has been mentioned in these esteemed pages before, the Chopper Club don't build no show ponies – their bikes have to work as well.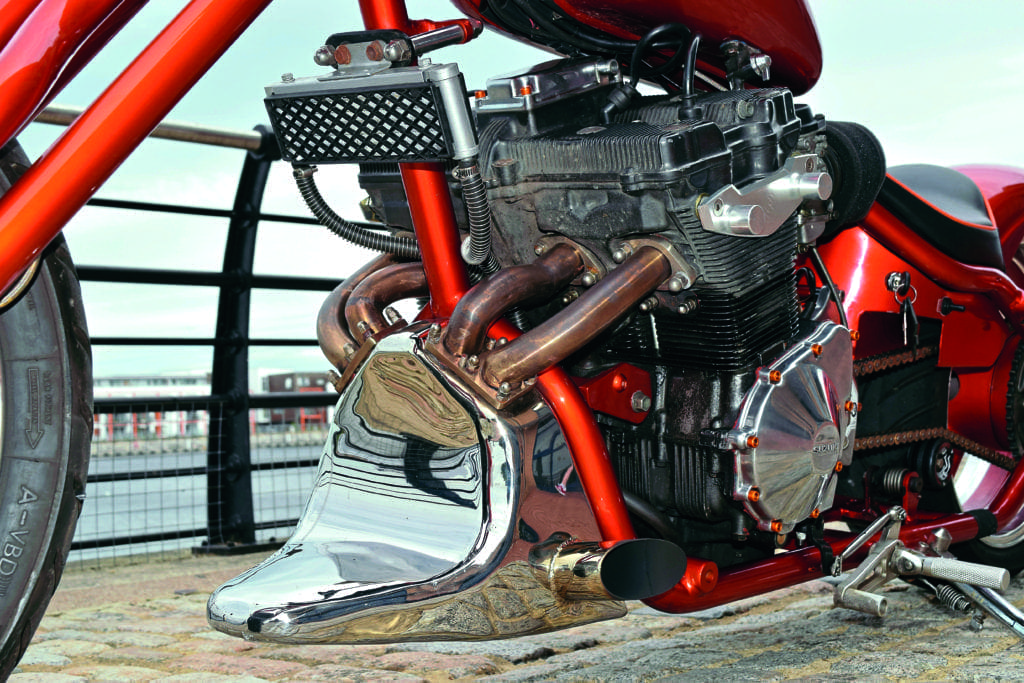 He sourced a Bandit 1200 from someone else in the club and, that sorted, set about scaring up all the other parts he'd need which are, in no particular order, a Hayabusa rear wheel and 180 tyre for the back, a Bandit 600 rear wheel and 160 tyre for the front, a pair of wavy discs (both rears, natch), a reassuringly powerful Harrison Billet Six caliper (for the front), a Suzuki Intruder tank (which needed modifying to suit, and gives a decent tank range), and an aftermarket oil cooler originally designed for an XJR Yamaha. Everything else, pretty much, would need to be handmade, but he didn't blanch at that as (a) he's been building bikes for years, and (b) he had the help of both his dad, Brian, and his uncle, Steven, who are both a wee bit handy when it comes to machining and bending bits o' metal. In fact, Brian made the wide, big tube, slightly raised 'bars, and Steven did the machining to get the Bandit rear 'oop to fit up front.   
As the build progressed, it became time to get an exhaust system made. Chris wanted a complete one-off, the likes of which'd never been seen before. He'd designed up what he was after, but everyone he spoke to did the sucking-in-of-teeth thing, and quoted him frankly ludicrous prices (£1000 plus!). Then he found Campbell Custom Exhausts near Orpington, run by John Campbell, who's been making exhausts for more than 50 years and can, usually, almost shut his eyes and turn a set out… usually. Even he said he'd never seen anything like this, and really wanted to take on the challenge and, what's more, wasn't going to charge a ridiculous amount to do so. He did exactly that too, turning out the very funky belly-panesque that both looks as clever as hell, but also allows the motor to breathe properly at the same time too. Chris, is, as you can probably imagine, quite pleased…  
Of course, as any fule nose, when you make changes to a bike's exhaust system, especially if you add in freer-flowing air-filters too (which most of us do cos air-boxes, while being efficient, are about as visually pleasing as a rhino's ringpiece), you need to make changes to its fuel delivery system too. Thankfully, as (almost) every Bandit owner since time immemorial (well, 1995 anyway) has put a race 'can on their machine, the world's leading aftermarket jet kit specialists, Dynojet, make a kit to correct any imbalances that may occur. Chris bought a Stage Three kit (for both modified 'pipes and filters), bunged it in, and the chop has run beautifully ever since – idling perfectly, and taking off like a chav with his trackies on fire (please don't ask me how I know what this looks like, okay, I'd prefer not to have a visit from the gentlemen in blue serge) when he pins the throttle to the stop. As it should, really.
Finishing touches include a one-off loom by Simon from NCC Kent, a custom headlight with a neat brass rim, an Arlen Ness chain tensioner, a one-off chainguard, a new seat (made by Chris and covered by Viking Motorcycle Seats), a one-off electrics box by Joe from NCC Staffs, a floating (well, almost) rear mudguard, and a host of neat little aftermarket goodies (master-cylinders, levers, switches, grips) originally intended for cafe racers, but eminently suited for this 'ere chop. Pete Cooper at Devilized Paintwork laid down the burnt tangerine orange candy paint, and GS Polishing made all the bits that needed to be shiny just that.
The whole build took around six months of spare time from mock-up to finish, and the end result, Chris says, is better than even he expected. He says: "I don't think there's anything I can do to better this bike; it's long, low and very fast… in fact, considering it's a hardtail with a springer front end it's feckin' fast, and it handles really well for what it is. The exhaust system's turned many heads, and it's not just a show winner – it's ridden hard cos I'm Chopper Club and that's what we do, what we are."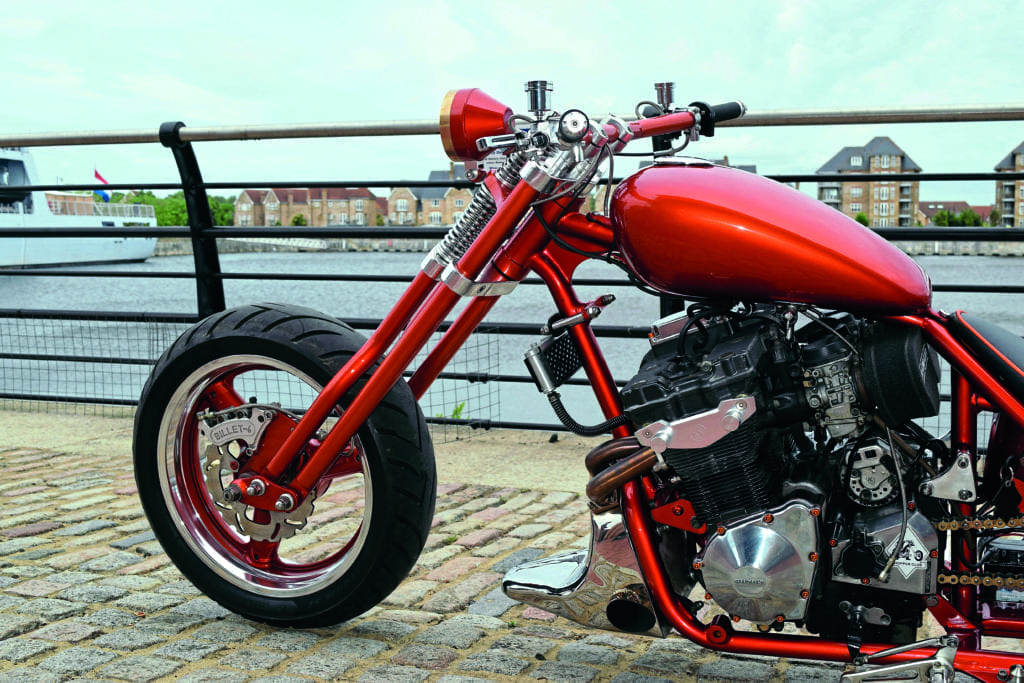 He also says: "While the build was going on, the wife loved having the TV remote for a change…" so, gentleman, ladies, you now know the recipe for a perfect marriage…