It's funny, isn't it, how some bikes can gain a reputation for being something special even before you've actually laid eyes on them?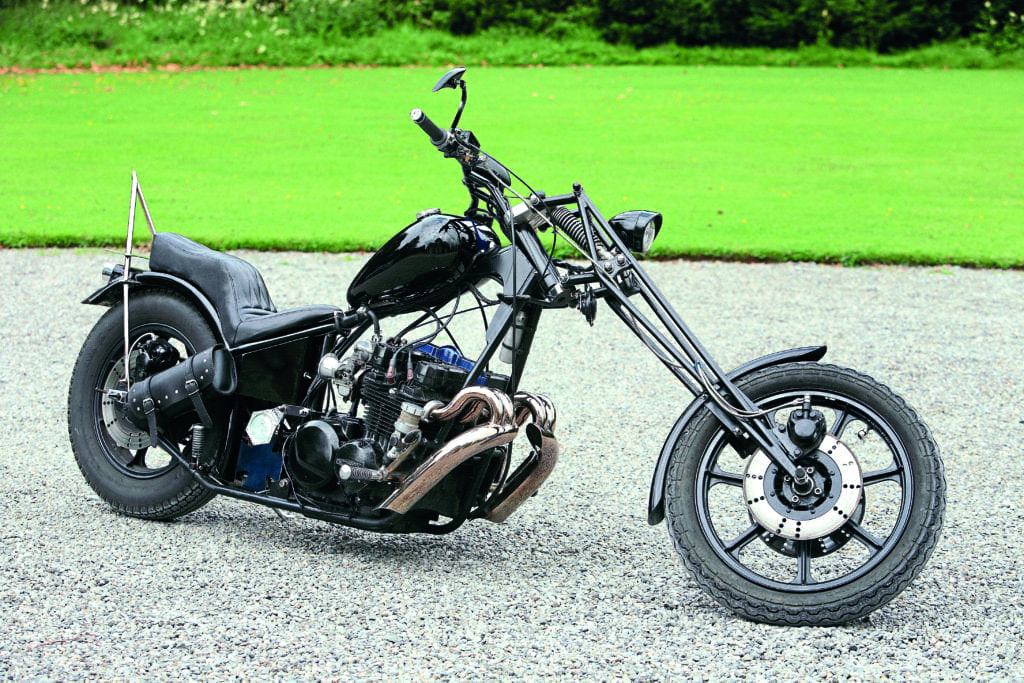 Words & pics: Ian Shipley
Paddy O'Toole's GPz750 chop is a fine example of this; everywhere I've been in the last year or so, knowing that I take pictures for Back Street Heroes, people've asked me if I've seen Paddy's chop and, when I answer in the negative, nod knowingly and say something along the lines of: "Aaah, just you wait…"
It wasn't until the Saturday of the Druids Rally in Co Kildare (as featured a couple of issues ago) when I finally got to meet up with Paddy and his Kwak and, I have to say, it was worth the wait – his bike is, as you can see, indeed something special.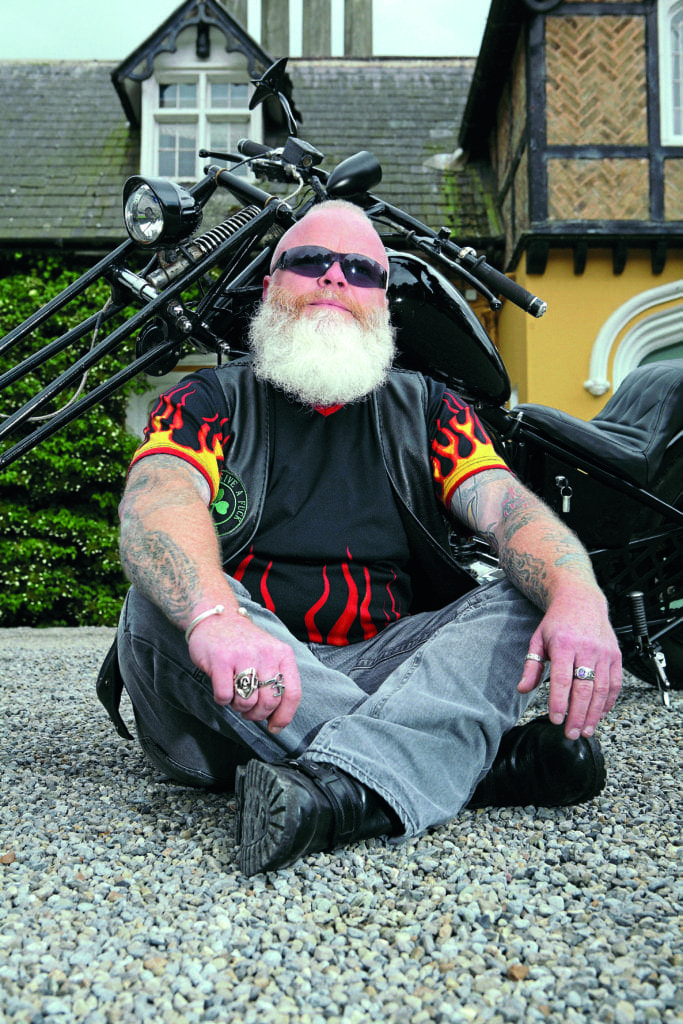 Originally built across the water in the UK back in the '80s or '90s (he's not entirely sure which decade), it'd emigrated across the Irish Sea at some point in its history (again he's not exactly sure when), and belonged at some point to someone from the NCC. It then went to a good friend of his, Barrie, who had it for a good while and it had become a key point of his life. Then, some 17 or 18 years back, Barrie put the chop up for sale and, after a few other people'd viewed it and decided not to buy it, much to Paddy's relief, money changed hands and the hardtailed Gee-Pee-zed (small 'z' as it's an air-cooled variant) went to live at Paddy's place.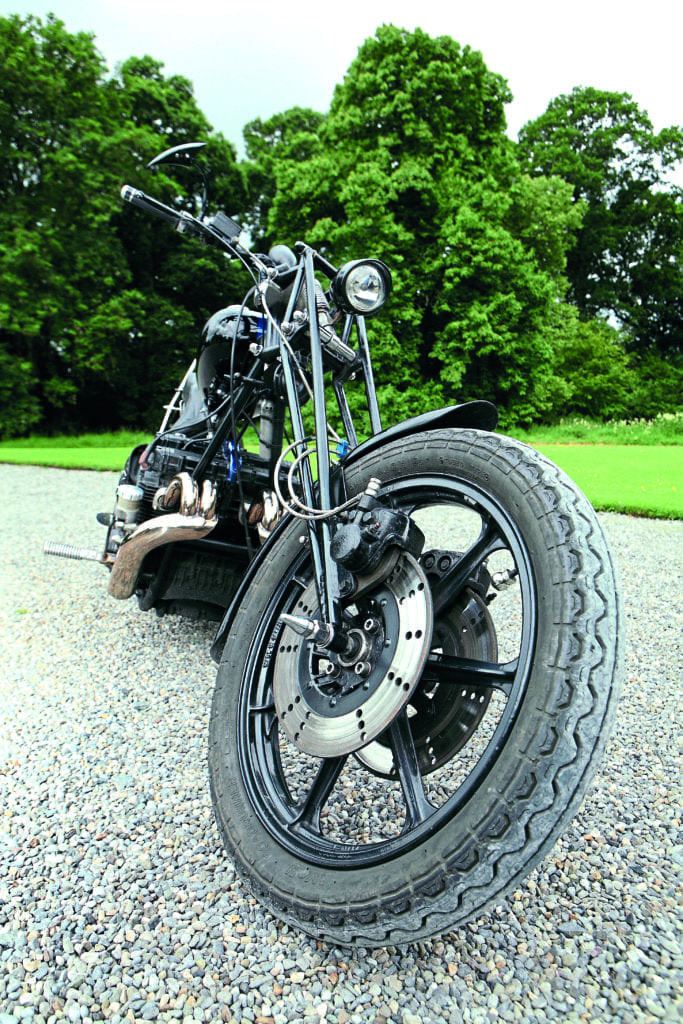 Rather pleased, he rode it as was for a few years, and then, as the Irish roads and winters (and summers too actually) took their toll on it, he decided it needed a makeover. In 2010 (or 11) he set to and stripped it down, but then life, as it does, kinda got in the way, and it sat for about four years in his garage, lovingly wrapped up, in a selection of cardboard boxes. Then, grabbing the bull by the horns (and only narrowly avoiding getting skewered up the jacksie like those unfortunate sods on YouTube videos), he decided enough was enough – it was time the old (1988) Kwak breathed life again.
The only slight drawback in his plans was the fact that he was working really long hours and didn't really have the time to dedicate to the bike, no matter how much he wanted to. Thankfully, he has a good mate, John Davis (JD), who loves the chop almost as much as he does, and he agreed to start putting it back together as and when the parts were ready. Don't we all wish we had such a mate?
The frame, built back in the day by the legendary John Reed at Uncle Bunt's Chop Shop, didn't need much doing to it, save for a check-over and a repaint, and the same, pretty much, applied to the motor too. They did take the opportunity to upgrade the original 738cc engine with an 810cc big bore kit for a bit more oomph, and JD spent more than a few hours matching the jetting to the new bore sizes, the bell-mouths on the carbs, and the new exhaust.
Ah yes, the new exhaust – not far from where he lives in County Kildare is a man who can do just about anything with lengths of metal, Vinny Loughlin at Just Kustoms. They discussed what they were going to do and Vinny came up with the idea that, instead of running the new 'pipes the length of the bike, as most folk'd do, he'd make up two short, slash-cut two-into-ones that point downwards in front of the motor – an inspired decision, and one that gives the bike so much of its in-yer-face presence.
The other component that you really can't miss is that very long and very, very black girder front end.
Originally the Geep Seven n' Arf'd been built with a traditional set of teles up front, but had gained the girders (make and origin unknown) somewhere along the line. They were on it when Paddy got it, and has since had a new top yoke made by Harry Harrison, another Kildare native and a top builder in his own right. The wheel, discs and calipers are all, as anyone who knows old Kwaks will know, stock GPz750 parts bin, and the front mudguard is an aftermarket one and is on there because, as everyone (not anyone, everyone) who's been to the Emerald Isle is only too aware, it does rain a lot in Ireland, and anything that can help keep those amazing 'pipes from getting covered in road shite has to be a good thing.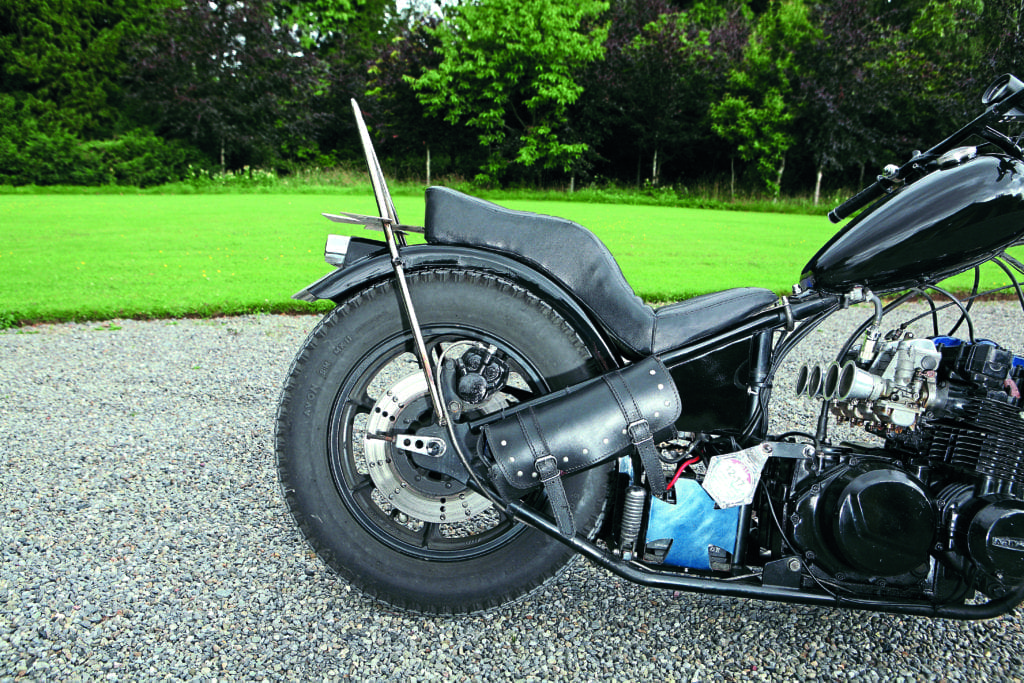 Finishing touches include the very neat stainless sissy-bar-cum-Iron Cross rack that Vinny made, the re-covered seat with gel pad in the rise behind the rider's back by Silverback Upholstery, the one-off spider-web chainguard, the one-off loom by Sean Dolan and, of course, the very simple and effective black-with-blue-stripe paint done by Dessie In The Bog… no, no, that's his name – Dessie In The Bog, I don't mean it was done by Dessie in the bog. I mean, you wouldn't, would you, you'd get over-spray on the paper, and that'd be really unpleasant on your soft bits when you go to give 'em a wipe…