Being the main man behind Redmax Speedshop, the Devon-based business specialising in flat trackers and cafe racers, Steve Hillary has not only fed his adrenaline fix by racing flat-track, he's also done hill-climbs, enduros, sidecar racing, supermoto, drag racing (using a Ducati in SuperTwins) and road racing too (again on a Ducati).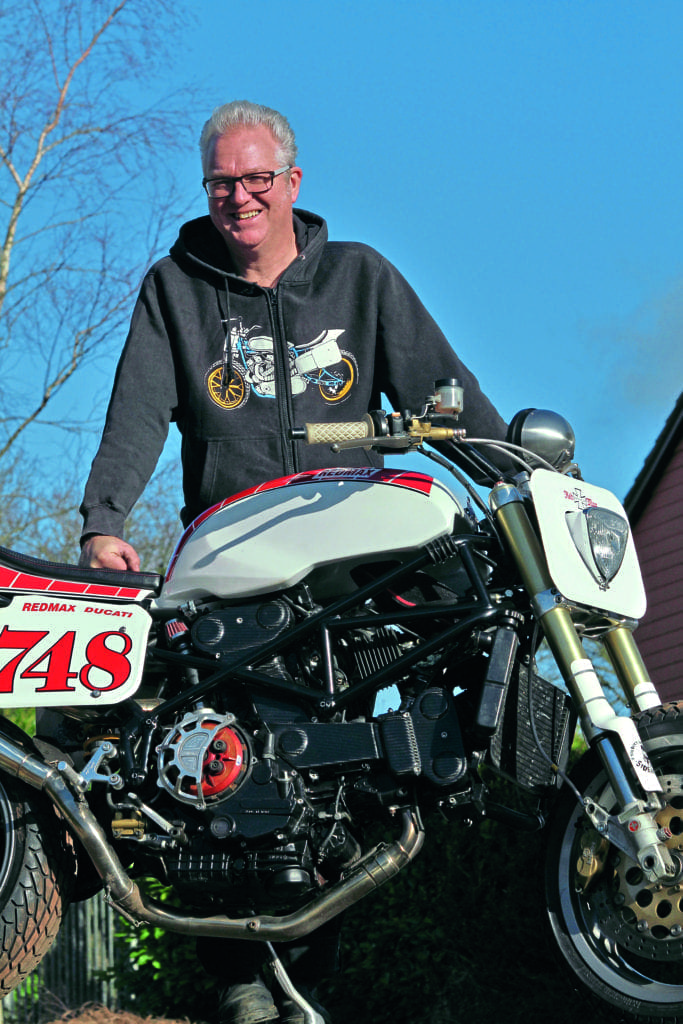 Words and pics: Dave
IN fact, the Italian firm's machinery has played rather a large part in his career as, thanks to the racing, he ended up working for Ducati, and then opened up a few shops along the way (Pro-Twins, Dr Desmo and Moto-Rapido) building race engines for British Superbike and Superstock before selling his share of the Ducati specialist and focusing on his prime interest and passion – flat-track and cafe racers. He still has an interest in Ducatis of course, and has a sprint bike and several ex-race machines, including an Oxford Products 888 from '92, in the workshop.
This feature is about a bike that combines two of his passions; going fast, and turning left, and the products of the Borgo Panigale factory. He had a scrapped Ducati Monster in the workshop, perilously near a surplus-to-requirements 748 race engine, and of course, as anyone knows, when you leave a chassis without a powerplant hanging around near a spare engine, it's only a matter of time before they get it on and create the beast with one back… The end result was a rather groovy little cafe racer that was used for trips to Italy, riding across Europe, and even as a track day bike for a while. However, as he'd somehow ended up with "too many cafe racers" (his own words), the 748/Monster was shoved to the back of a container, and that's where it stayed for five years, right up until the point last year when Redmax were making a new slimline cafe racer tank, and Steve had the idea that it might look good as a flat-tracker tank on a Ducati trellis frame.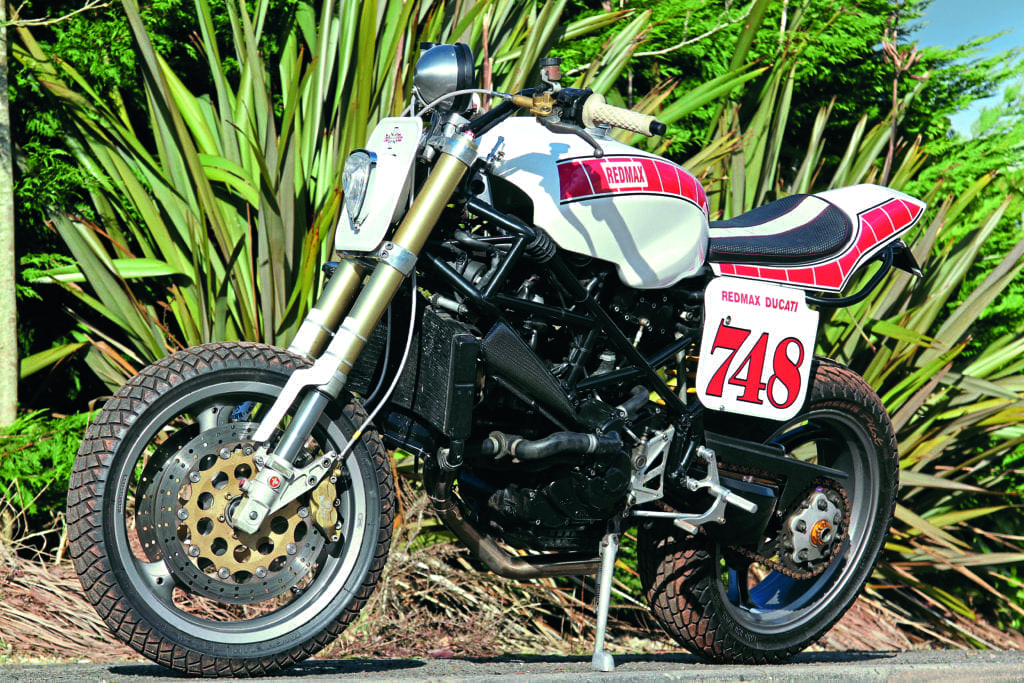 So, with no further ado, he pulled out the old bike and stripped it down for a refresh. The rebuild was inspired by the insane TZ750 flat-tracker that Kenny Roberts rode in '75 (the one that instigated the famous line of "They don't pay me enough to ride that thing!"), and uses a Champion seat unit (that Redmax hold in stock) as used on the TZ. He didn't want the yellow and black 'Speedblock' paint scheme that Roberts' bike wore though, so opted for the colours used by the American-born Canadian road racing champion, Steve Baker – white with red blocks. The paint, though, was the last thing in a long line of modifications…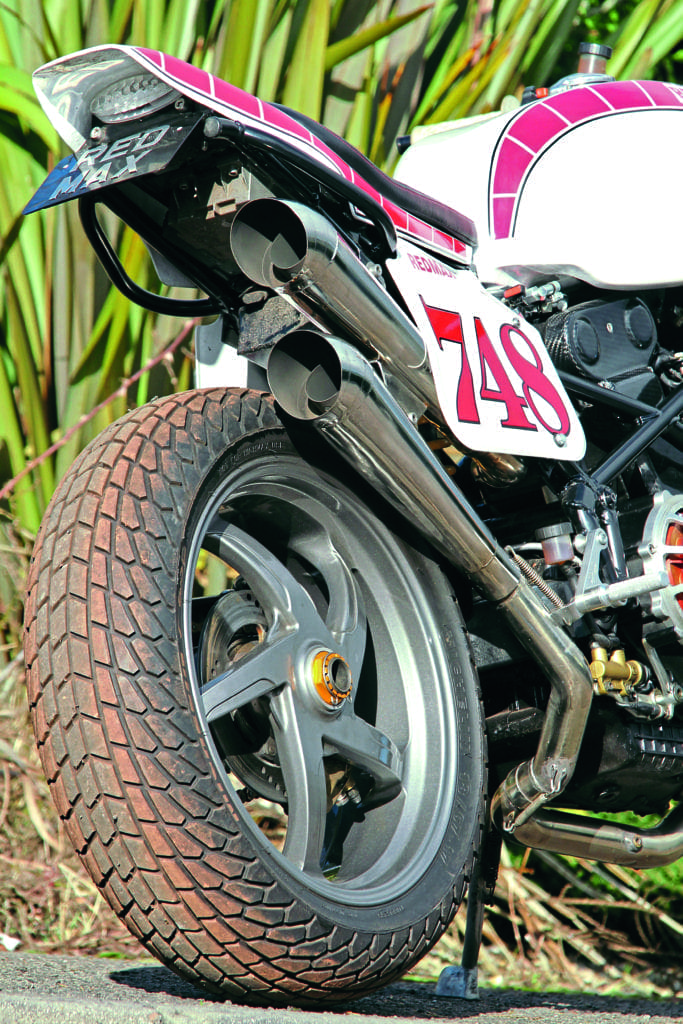 As mentioned, Redmax had the seat unit in stock, plus the number boards, the fork shrouds and the wide 'bars – all of which are part of the Redmax line of flat-track components – but the first thing to fit was that new fuel tank. While it fits straight on to the trellis frame, it's narrower than the factory item, and has the fuel pump 'sump' removed from the rear underside for a cleaner look. This neatly lines up with the Champion tail unit, itself topped off with a one-off seat pad covered by Redmax's chief fabricator, Glenn Mogen.
Up front, a set of Paoli forks, originally fitted to a Bimota, reside in a set of modified 900SS yokes, with further Italian goodies in the form of Brembo calipers and discs on a Marchesini wheel, and a super-sticky racing wet tyre aiding the flat-track vibe. (While pukka flat-track tyres are available in the UK, they're of 18-inch diameter, so those folk who race bikes on 17-inch rims tend to use road-racing wets.) At the back, a matching tyre on another Marchesini sits in a 916 swinging arm, all controlled by Swedish gold – an Öhlins shock.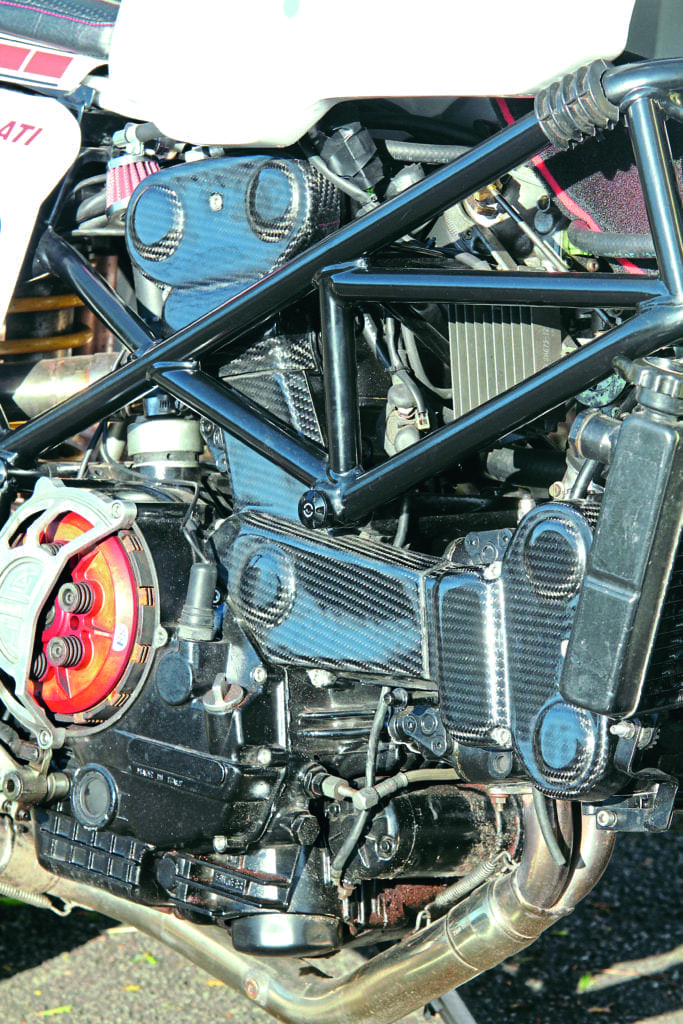 The engine itself is standard Ducati 748SP, although that does mean that it'll pound out a none-too-shabby 100bhp, and makes an utterly glorious noise through those twin stubby megaphone cans. With that addictive soundtrack, Steve was keen to have a great big rev-counter sat above the middle of the bars – just like a real race bike – but the unit he used is equally as competent for a road-going bike as the display can be scrolled between the rev-counter and a speedo with a simple click of a button. It also has a 'tell-tale' that can display the maximum revs attained over each ride, and is neatly covered by, of all things, a soup bowl from Ikea….
Below the tacho is an equally race-inspired 'number board', through which pokes an unusual triangular headlight that actually looks quite comfortable on the 'tracker, and is certainly a refreshing change from the normal projector lights that are the default setting for a flat-tracker with a number board…
The end result is not only a visual and aural feast, but also a very good street-tracker that has the handling and performance to match the looks. Understandably, he's very pleased with the result; not just with the way it performs, but the aesthetics too, and he's rather happy with the pearl white against the red.
Somewhat interestingly, while he was filling out the spec sheet for this bike, he noticed that a lot of the special parts fitted to this bike aren't made any more – they were purchased in the Nineties when it was built as a cafe racer, and the companies involved have since gone bust. Of course, the parts that have been used in the conversion from cafe racer to flat-tracker are currently available, thanks to Redmax's regularly replenished stock of goodies – check out their website at www.redmaxspeedshop.com if any've grabbed your attention.
Redmax will also be having an open day later in the year, so keep your eyes on the events pages for more info.