BUM in the Mud, BMAD, Into the Valley and You've Been Nabbed… if you were there, you (or your bike) may be featured in the July issue of Back Street Heroes!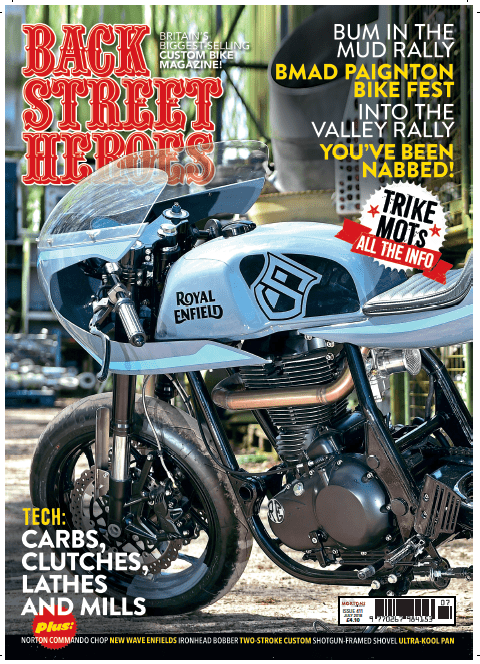 The rally season is now well and truly upon us, so as we approach the longest day (yes, it's nearly here, can you believe it?) why not meet up with old mates and enjoy a few laughs this summer? Editor Nik, and many more folk besides, went to You've Been Nabbed, organised by the National Association for Bikers with a Disability. There, Nik was impressed by Lost Voice Guy – real name Lee Ridley, who has cerebral palsy – and wrote in his report of the event: "I can honestly say, I haven't laughed so hard in ages – he's amazing!"
Well, well… over the weekend, Lost Voice Guy won Britain's Got Talent! Just goes to show, if you go to a show…
Anyway, in addition to Nik rubbing shoulders with the great and the good, we've got a host of amazing bikes for you to ogle. Brett Darcy from Outlaw Customs decided to use a shotgun as the basis for his bike, Outlaw, and a mighty purdy thang she is, too. Don't miss Rob Norton's, er, Norton, and if you fancy a bit of sub-continental ingenuity, look no further than the work of Sinroja Motorcycles in Leicester, where brothers Rahul and Birju Sinroja have reworked a couple of Royal Enfields, made in their home country of India, in their new homeland.
There are home-built lovelies to cast your eyes over, including Roy of Stondon Choppers' budget-built bike and Burt's Ironhead bobber. The images are quality, the writing's top-notch, the adverts'll draw you in and the regular features, including techy stuff and loads of summer diary dates, will have you hooked.
If you're thinking of buying a bike, we've got plenty of them too… and if you've already got the best bike in Britain, we want to see it! There are three more rounds of the BSH Custom Bike Championships this summer – at the Farmyard Party, Helmsley, Yorkshire (June 15-17), NCC Diamond Day at the Ace Cafe, London (June 30) and the Rock & Blues at Pentrich, Derbyshire (July 26-29), so if you're up for a good day/weekend out and want to win a prize, just go along and enter your bike! It's as simple as that. See you there!
Article continues below...
Advert
Oh, and don't forget Father's Day is coming up… if you want to get into his good books, get him a great magazine! Subscribe to Back Street Heroes by visiting www.classicmagazines.co.uk/bshdps or call 01507 529529… at six issues for just £20, followed by £20 every six months via Direct Debit, it's an offer that's hard to beat!
Article continues below...
Advert

Enjoy more Back Street Heroes reading in the monthly magazine.
Click here
to subscribe.