WILL this heatwave ever end? Let's hope not… at least until all the shows, rallies and summer get-togethers have dwindled into a few autumn parties. And then let's have an Indian summer to follow!
Have you been to any of the big-name events yet? BSH has, and our roving team of newshounds brings you the best of them so far in the August issue – out now! On a serious note, The Mutch reports on the Motorcycle Action Group's ULEZ demo in London, when nearly 1,000 riders filed through the streets of the capital to deliver a message to Mayor, Sadiq Khan: 'No to the London bike tax!'
Staying in the Big Smoke (well, there might be less if more folk took to two wheels…) BSH editor Nik and staff writer Dave Manning breezed down to The Bike Shed's event at Tobacco Dock in Wapping. And what a whopping event it was!
We've also got reports from Stone Circle Show, Rat & Survival, and the Farmyard Party. Loadsa pics, maybe you and your mates have been captured forever in our pages.
But it's not just packed with show reports, oh no. There's Destiny Cycles' Ironhead, a hand-built chrome tank cafe racer CX and a delightful chopper which is our cover choice (below, with some outstanding artwork as a backdrop).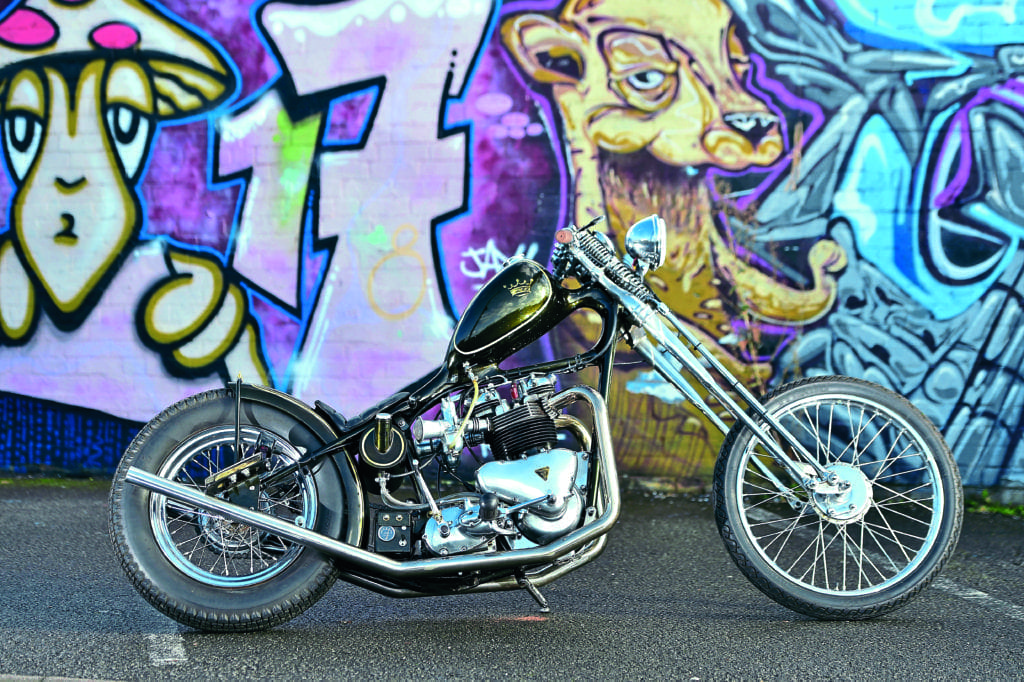 Then there's a fat-wheeled Sportster, a Seventies panhead and a rat sidecar. To make this, you need two large oil drums and… well, you need to read the article to find out how owner Dawid Zolynski achieved that 'aged' patina effect…
So that's about it… oh, no, sorry, there's also news, products, more wit and wisdom from Rick Hulse, techy stuff from Mr Bridges, loads of bikes, accessories and other stuff for sale, pics of your bikes, kids and grandkids, pals and more, your letters, our Indian long-termer, a roadtest of the new Enfield Pegasus (get your skates on if you want one), Louise Limb's latest artistic offering, MAG news, and latest news from the BSH Custom Bike Champs. Want more? Then get down to your newsagent's before it sells out, or better still, why not subscribe? Loads of readers do, and you can pick up a great deal (digital or print). Just visit www.classicmagazines.co.uk/bshdps to find out more!
Article continues below…
Advert