Who says that motorcyclists hardly do any miles nowadays? And which plum suggested the average mileage for bikers in the UK was so low because Harley riders only go out on sunny Sunday mornings to local pubs?
Words and pics: Dave Manning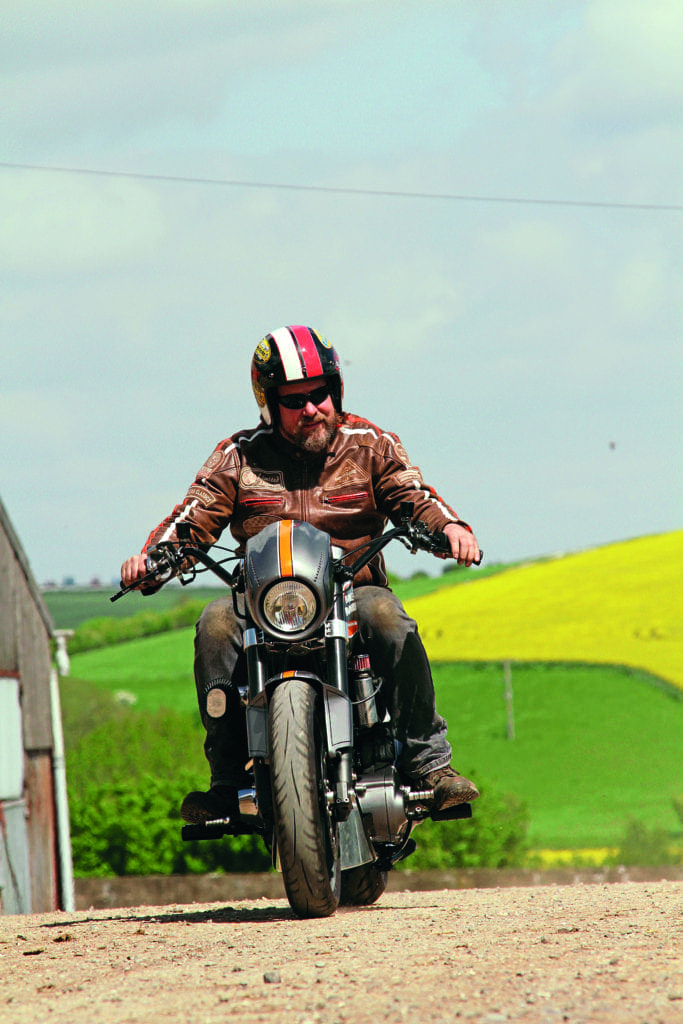 Owned by Mev Carter, this is one Harley that does miles – lots of miles. In fact, it'd clocked up 80,000 – half on the original FXR Evolution engine, half using the RevTech motor that's now fitted – when it rolled into the Lamb Engineering workshops for a ground-up refresh.
To ensure the engine had the best possible chance of clocking up a further 80,000 clicks, it was stripped and refreshed by the lads at Burnout Bikes, just up the road from Lamb Engineering (Salisbury isn't just a hotbed of international spy feuding and hippy stone-worshipping, you know), with the heads being flowed and ported by Simon Hicks, a guy whose specialisation lies in American vees, albeit more commonly of the eight-cylinder variety.
The idea behind the strip 'n' rebuild dictated very little was to be done to the frame, but an entirely new look would be brought about by changing the bodywork and the rolling gear. And, as is common with so many of the builds undertaken by Larry Houghton and Tony Taysom at Lamb Engineering, this is a bike that can't be pigeonholed. Not that I particularly like assigning a name to a bike – there've been far too many inaccurately labelled streetfighters, bobbers, brats and choppers for my liking – it makes far more sense to ignore any kind of stereotyping and explain a bike's style by showing a picture and going into great depth about what was used in the build. So, on that note…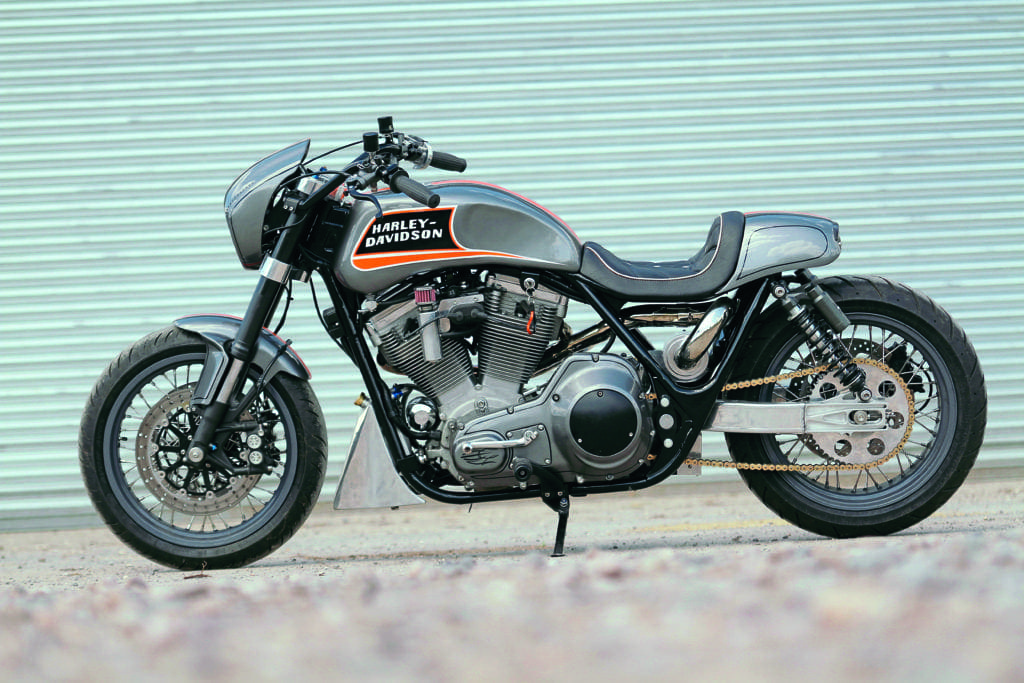 It's no secret that Milwaukee vee twins aren't equipped with anything that could be termed as up-to-date braking components and so, as these were to be upgraded, it made perfect sense to uprate the suspension in the process. A pair of Kawasaki ZZR1400 fork legs (chosen as they're longer than most other modern performance forks, and because they're rather cheaper than built-to-suit Öhlins) was slid into a pair of bespoke yokes made in-house at Lamb Engineering, while a JMC swinging arm was slid in the rear, its oscillations controlled by a pair of multi-adjustable Bitubo shock absorbers. Talon hubs, laced to 18-inch rims front and rear, were wrapped in Harley-specific Avon rubber, and Ducati discs bolted in place to be grabbed by radially mounted Yamaha R1 calipers front and rear. This is one Harley that will stop when it's asked to!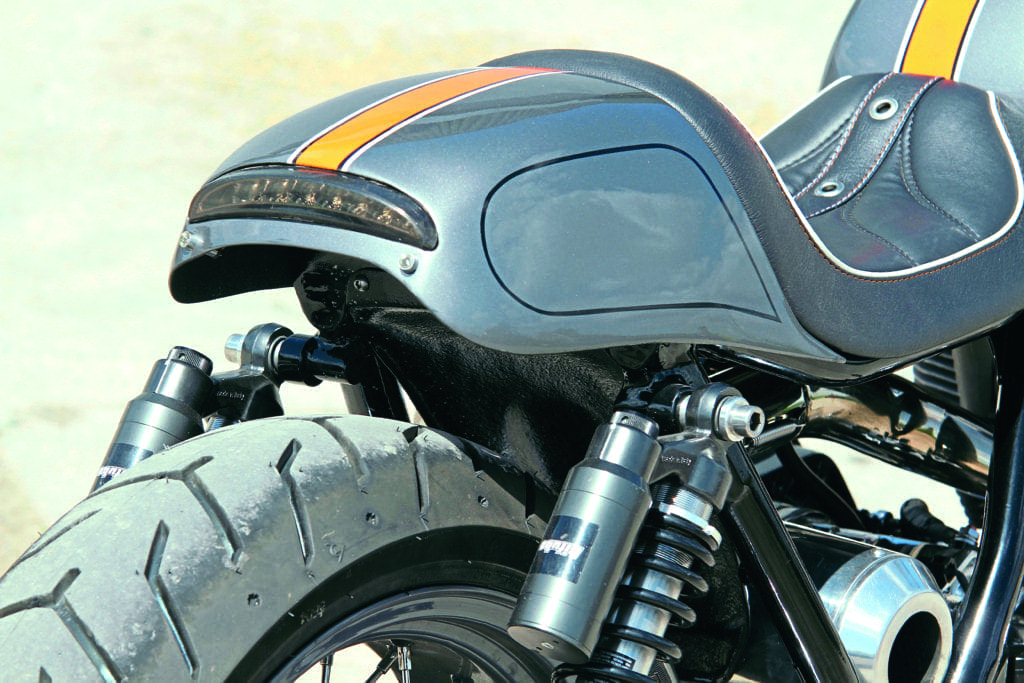 While the rear shocks mounts were moved by a smidge (technical term that, quite a bit bigger than a gnat's cock, but much less than spitting distance) to give a bit more ride height and ground clearance (while also, conveniently, giving some symmetry to the lines of the shocks and the frame downtubes fore and aft of the engine), the frame remains remarkably standard, only being tweaked to suit the tail unit and to have a neat radius in the tube join above the swinging arm pivot. This radius neatly matches the profile of the exhaust can, fitted oh-so-neatly under the seat after a convoluted and tortuous path from the exhaust ports. Tony admits this wasn't a five-minute job, but the time spent experimenting with different bend radii, tube lengths and silencer placement, have proved well worthwhile. It sounds absolutely fantastic too!
The exhaust placement meant the conventional position for the oil tank was now out of bounds, so a new aluminium tank was made up by Tony in a chin-spoiler style, perfectly aligned to the front frame tubes and, sitting in the breeze as it does, probably of more benefit than the normal position tucked away behind the (hot) rear cylinder. Tony also applied his panel-beating expertise to the front mudguard, the fuel tank, the headlight surround/flyscreen and the tail unit, and if ever there was a phrase that totally overshadowed the level of finesse, skill and dexterity of the operator, then 'panel-beating' is it. While there may be some initial beating, it's followed by a level of talent, patience and perseverance that most of us'll never experience. Can you smell my jealousy?
The battery is now mounted below the box section swingarm and protected from any road grit thrown up by the rear Avon with a one-off aluminium cover, while the rear of the bike is kept tidy by the side-mount 'plate being rather neatly mounted on the rear caliper mounting plate.
While the battery cover and oil tank remain in their natural state (albeit polished), the rest of the panels are painted a subtle shade of grey, with a nod to Harley's racing history with the orange and black panels on the tank and the orange stripe running the length of the bike. Some neat pin-striping not only defines these panels, but also ties in with some further pin-striped details on the primary case, front mudguard lowers and 'number board' outlines.
Like all of the Lamb Engineering builds, there's a coin incorporated somewhere – in this case it's the 1940 ha'penny in the steering stem cover, that rather neatly shows reference to the fact that Mev, the owner, has had a significant amount of sailing experience. And while his miles covered on the open sea were plentiful, they're probably closely followed by those on two wheels – and Mev's Harley is now set to clock up a fair few more…