There are few more evocative names in the motorcycling world than that of Brough Superior; the legendary marque set up in 1919 by motorcycle racer and world land speed record holder, George Brough.
Words & pics: Nik
Our George was a bit of a boy; he originally set out in business with his father, motorcycle pioneer William Edward Brough, at his Brough Motorcycles factory in Basford in Nottingham, but soon they parted company and George set up his own factory nearby and called his bikes Brough Superiors. The name wasn't actually intended as a slight, but his father took it as such. It was true though; George's machines were superior to his father's – he only used the very best components and added his own distinctive styling touches, and the quality was comparable to a Rolls-Royce car, and they were the most expensive road-going motorcycles in the world.
Soon the bikes'd achieved a reputation for being beautifully built and very, very fast; in 1922 he rode an SS80 model which he called 'Spit & Polish' at Brooklands and managed an unofficial 100mph (160km/h) lap, and in 1928 he recorded 130.6mph, unofficially the world's fastest speed on a solo motorcycle. And, if that wasn't cool enough, he was noted for wearing a flat cap for riding which he had specially made to his requirements.
Between 1919 and 1940 a total of 3,048 Brough Superiors were built, the most famous of which were the SS (Super Sports) models; the 80 and 100. The SS80 was powered by a 1,000cc sidevalve JAP or Matchless engine, and was guaranteed to do more than 80 miles an hour, and the much rarer SS100, also powered by 1,000cc JAP or Matchless motors, but this time with overhead valves, and were guaranteed to do over 100mph, and while the factory did do other bikes too, these were the ones that gained the Brough Superior marque its now legendary status.
Brough Superior ceased production of their bikes in 1940 and spent the next five years making crankshafts for Rolls-Royce Merlin engines for use in the Hurricane and Spitfire aircraft. When peace was finally declared, there were no more engines available and so, regrettably, the factory doors closed for the last time. In 2008, the name was bought by a guy named Mark Upham and, in 2013, a new prototype SS100 was shown at the Milan show. Ironically, this most iconic of British bikes is now built at a factory in France… oh well.
It was reckoned, back in about 2008, that there were just over 1,000 Brough Superiors left in existence (although another eight were found in a barn in Cornwall in 2016 where they'd been for 50 years – can you imagine that?). I don't know if the bike you see here in front of you counts as one of those 1,000, but I suspect it doesn't as it was built, like its forebears, from only the finest quality components, but this time from the custom industry.
The story of its creation begins a few years ago when a gentleman by the name of Tony bought a set of JAP crankcases, rumoured to be from an SS100, with the intention of building something a little out of the ordinary from them. He commissioned the now sadly defunct Planet Engineering to make him a frame, using a set of vintage Harley-Davidson springers, a set of 21-inch wheels from the Devon Rim Company (www.devonrimcompany.com) with a Triumph Tiger Cub front hub and a Talon rear one with a Tolle sprocket/disc brake, and a tank from Parker Fabrications (www.parkerfab.co.uk). While this was being built the engine went off to JAP specialists Cameron Engineering, who are THE chaps for vintage JAP motors, to be built into a complete unit. They used a set of 350 Matchless heads, machined a set of billet barrels and matching pistons, and completely rebuilt the bottom end, matching it to a four-speed AMC gearbox.
Tony then put the project on hold when he went off to the Caribbean to build a hotel, and at some point later he contacted Chris at the Motorcycle Restoration Company in the oddly named Wendens Ambo just outside Saffron Walden in Essex. Motorcycle Restoration Co specialise in rebuilding and restoring old motorcycles of every persuasion, and their workshop is a true petrolhead's heaven with glorious old and rare British, American, Italian and Japanese bikes everywhere, but Tony didn't want his bike sorted out. No, he wanted to sell it because he didn't have time to finish it. Chris was interested, but due to various reasons a deal wasn't done for a couple of years, but eventually the Brough bobber arrived at their place, where it was immediately snapped up by a gentleman named Graham who really fancied it for the motor, and intended to build a Pendine Sands racer out of it. However, he put a picture of the bike, as was, on an internet forum, and the people on there went wild for it so he decided that he'd leave it alone and get Chris and MoReCo to sort it out and get it on the road for him. Personally, I'm really glad of that – it would've been a shame to see something this rare disappear, wouldn't it?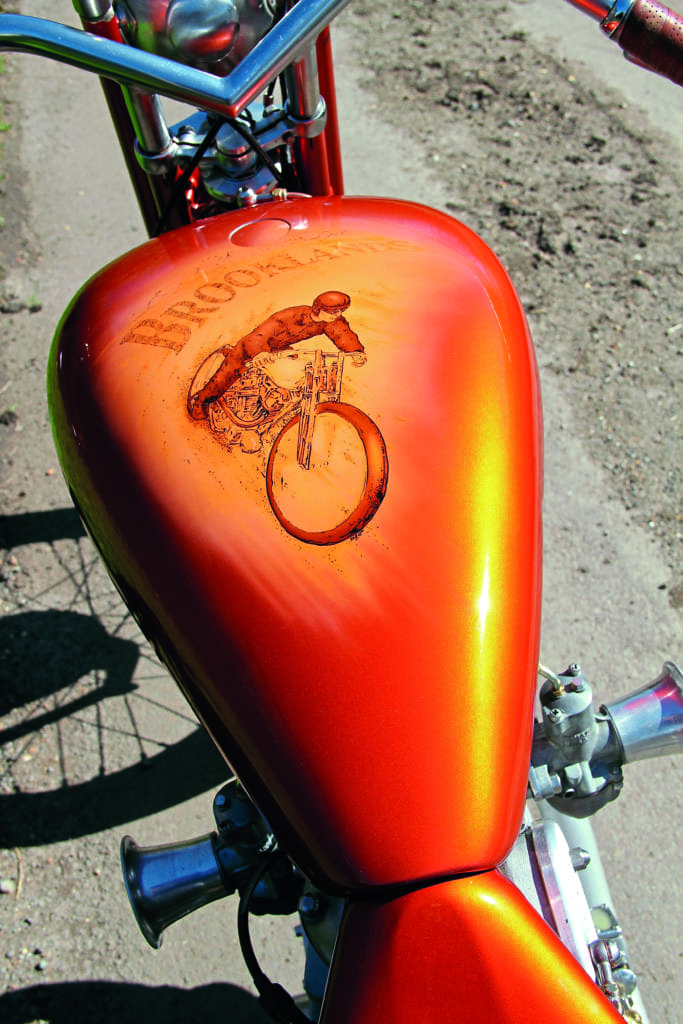 Chris and the lads at the workshop set to and turned the thrown-together bike into a proper, working motorcycle. This took some 200 hours of hard work, a lot of that converting the original total-loss oil system to something that didn't, shall we say, mark its territory whenever it was parked up… like a lot of old British bikes do.
Okay, so I've just glossed over the time and effort that went into making this unique custom bike, mainly 'cos we don't have the space to detail everything, but you can't deny the result is something utterly stunning. From the front to the back it just drips with beautiful details; the exquisite little caps on the grease-nipples at the bottoms of the fork legs, the lovely M-shaped 'bars with their inverted levers and wrapped leather grips, the wonderfully period copper oil lines that twist sinuously around the motor, the heavily drilled mounting plates that give a 'racer' look, the warm and subtle Piers Dowell paint scheme that's both custom and vintage at the same time, the huge hand-operated gear lever; there's so much to look at.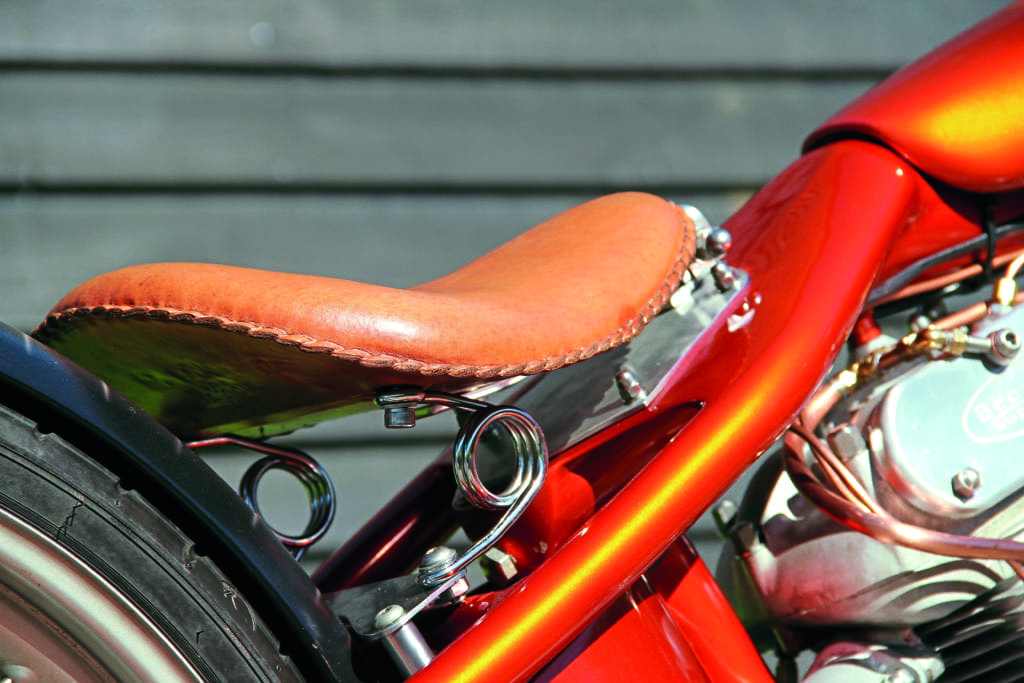 It sounds glorious too; the noise from the one-off Planet Engineering exhausts is nothing short of a bellow that turns to a crackle at lower revs, and it sounds like some huge jungle creature breathing in and out as the revs rise and fall. An uncharitable soul once described the noise of a vintage vee-twin engine as 'a gas cooker being dragged across the cobbles', which is kind o' apt if you've ever heard one, but this doesn't sound like that at all – it sounds plainly evil. Graham 
is a lucky man!