Well, that's it… another summer gone. No sooner had it arrived in a blaze of glory than it'd shot off into the sunset like editor Nik on his latest test bike.
But at least it left us with a shedload of memories – frazzled grass, the smell of sweaty leather and hot metal, and the sheer enjoyment of beer-sodden weekends spent lazing around rally fields, listening to live music. Empty roads for a while as millions followed the journey of the England World Cup team. Of all the good (and bad) things that've happened in 2018, it'll probably be the weather that most people will remember in another decade's time.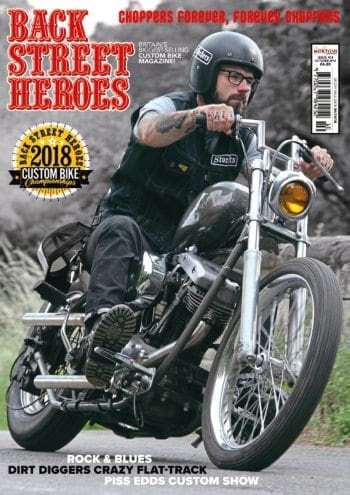 And it gave us plenty of chance to check out some of the best custom bikes in the land as the BSH 2018 Custom Bike Championships roared into four venues – BMAD Bike Festival, The Farmyard Party, NCC Diamond Day and the Rock & Blues Custom Show.
You may have already checked out the 20 finalists on our website, but if you prefer you can view them in all their glory on the pages of the October issue before voting for your favourite in each (or any) category online. So get your finger(s) out – you have until 15th October to cast your vote.
On the subject of Rock & Blues, check out our five-page feature in the new mag… we might be featuring your fizzog. If you went to Beaford Bike Show, Gravesend Bike Show and Piss Edds Custom Show, you could be pictured too. Bike-wise, we've got features on an old-skool Shovel, a stunning NorVin (check out the amazing pictures by Simon Everett), a super-rare Uncle Bunt trike, a BSA A10 home-built chop, gorgeous old-skool Triumph chop, Covington Harley and a BMW R75/7 cafe racer.
If you saw and were amazed by the mad steampunk trike created by Finnish madman Petri Ruusunen in the September issue, then be prepared to be gobsmacked by his other new creation, a single-cylinder JAP classic racer, the Velocimoteur. He's completely bonkers… enjoy!
Article continues below…
Advert
In addition to all the usual stuff – your letters, Readers' Lives, Rick Hulse, Louise Limb's amazing centre spread (biker on a bus!), Wor Davie's update on the Indian long-termer, MAG news and Mr Bridges' techy stuff, we've got a new feature for you – called Back in t'Day, it recalls groovy choppers 'n' customs from way back when…