Check out the latest 116-page glossy homage to custom bike builders up and down the land. This special chopper issue features a stunning H-D chop in all its green and gold glory on the cover, while inside you can find out who owns it, what he's done to it, and why he sometimes wishes he could sell it or swap it for anything…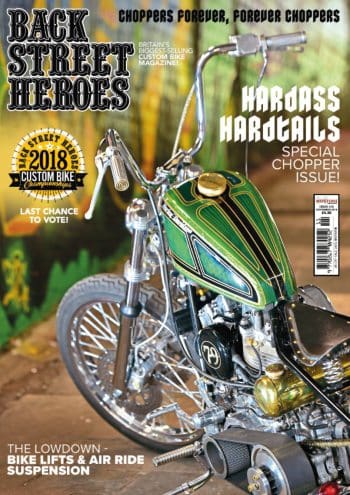 We've also got some other shed-built success stories to share, including Big Kev's streetfighter, Harry Barlow's supercharged Evo chopper, Phil Healy's stunning Triumph Speed Twin and a bike that rejoices in the name Ronin… well, it's a lot quicker than explaining everything that's gone into building it. You'll have to buy the mag to find out!
Check out String from Raw Steel Choppers' GSX1100 rat-rod; the beautiful Rose, in memory of Keith Search's wonderful dad Bert; a GSX1400 Suzuki – and a reworked Kent Show winner from back in the day which is sleek, stylish, and, it has to be said, a bit like Trigger's broom…
We've also got tech stuff, news and products, your letters, MAG news, the latest from the pen of Rick Hulse, artistry from Louise Limb and the latest in our new feature, Back in t'day… three attractive ladies and a cool bike. If you're looking for a winter project to keep you out of the house/mischief/the pub/jail, why not check out our collection of readers' bikes for sale, and make sure you check out the ad pages for lots of ideas, news of forthcoming events, top clothing, parts and accessories, and more.
Finally, if you're looking to buy a pal a gift for Christmas, or want to drop hints to your nearest and dearest, check out our subscription pages for news of the latest hot deals. Six months' worth of issues for just £20… that's one Christmas pressie sorted! Never let it be said you don't like shopping!
Article continues below…
Advert