Those of you who're au fait with classic bike values, particularly that of classic Harleys such as Knuckles, Pans and Shovels, will know that the purchase of such a bike isn't, these days, a casual decision.
Words & pics: Dave Manning
And, if you're the sort of sensible chap (or chappess) who'll not be keeping the bike in question standard but're going to, instead, modify it into a deeply desirable classic chopper, then you'll not want to spend the wedge required for a factory standard machine. You'll also, I suspect, probably not have the level of spare folding needed to just go straight out and buy one anyway.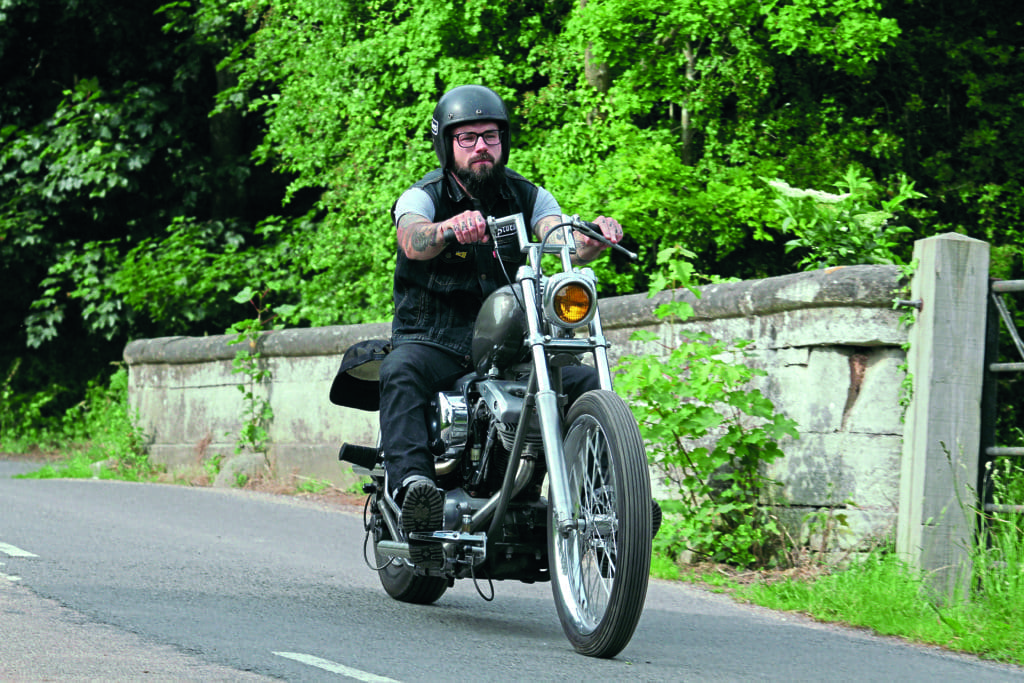 Lloyd Williams has a plan, and it's a plan he's sticking to. Each year he builds a very cool custom bike, rides around on it a bit, and then sells it. The resulting cash is reinvested into the next project. When he sold his very cool Yam XS650, the proceeds from the sale didn't spend much time burning a hole in his pocket, but were re-allocated into a 1976 Harley FXE that'd been imported from California. Within a couple of hours of getting it home, he and his brother, Adam, had got it up and running and, after stripping off a lot of extraneous standard (and unwanted) parts, and bolting on a set of 'silly' 'bars that Lloyd'd made, it was then ridden for a couple of hundred miles to check that the engine and gearbox were sweet… despite Lloyd saying it "looked like a piece of shit!"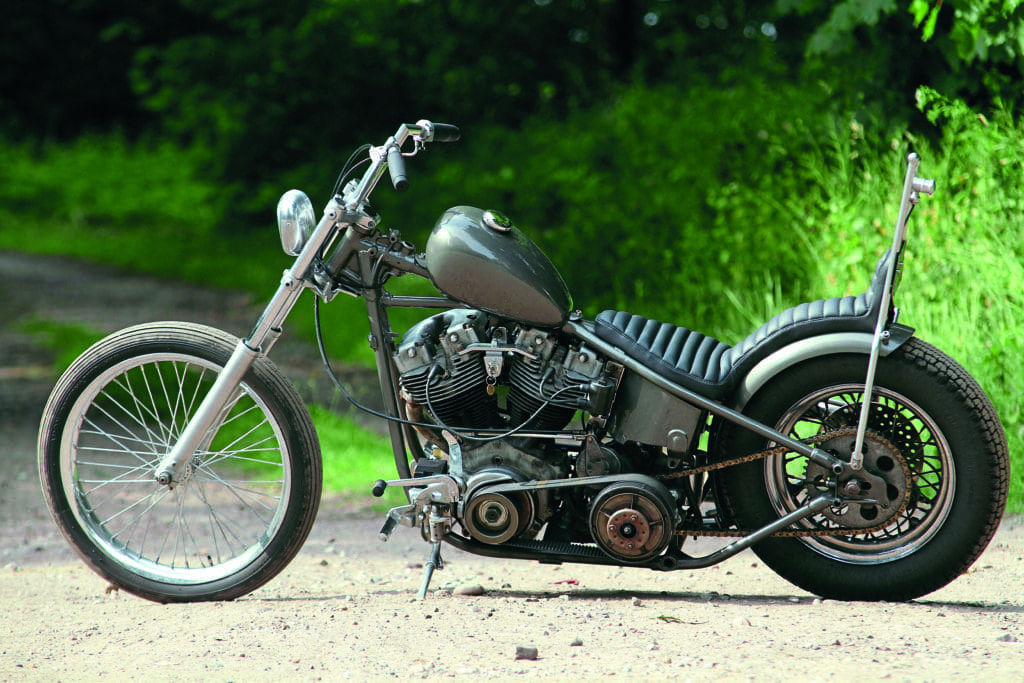 Once he was happy that the powerplant and transmission were good to go, he stripped it right down, and took the frame over to Andy 'Toddy' Todds in Grimsby for him to work his magic on the rear end. As you'll have noticed, the frame is now a hardtail, rather than the twin shock rear end that the Shovel originally had, with laser-cut axle plates designed to look as though they've been cast like the rest of the frame lugs and joints, using his patented method, so that the end result looks as though it's an original MoCo hardtail. How he does it is actually top secret and if I told you I'd have to kill you… well, I'd have to say sorry to Toddy anyway.
With the frame back, Lloyd set to building up a rolling chassis. He wanted to use traditional-looking parts but, at the same time, gain a look influenced by the booming Japanese classic chopper scene. If you've got access to the interweb, just put 'Japanese chopper' into the search engine of your choice, and hit 'search'. Okay, now ignore all the adverts for knives, and skip to the bikes. Amazing, aren't they? I wanted to build a bike influenced by them by the time I'd looked at half a dozen images…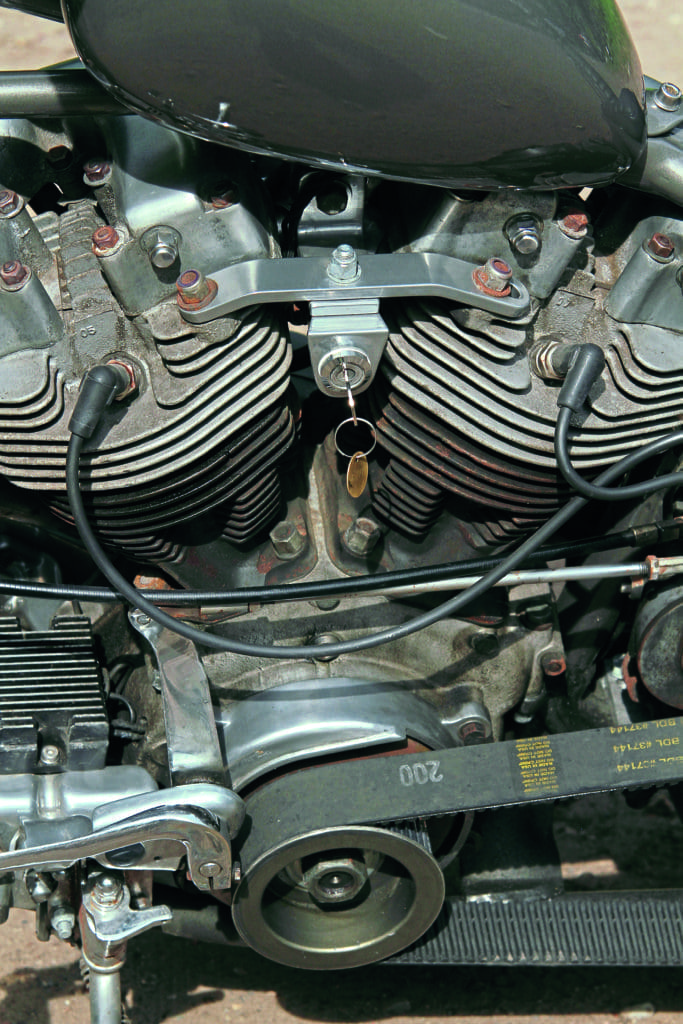 The style that Lloyd was after was partly dictated by an avoidance of off-the-shelf mass-produced parts, brackets and mounts. As he says himself: "Stuff like that doesn't really work for me!" so he wasn't going to mount the rear mudguard or oil tank in the stock way, and those parts that he didn't make himself would have to be either heavily-modified or sourced from the folk that he has great respect for. Consequently, he turned to a couple of guys who exemplify the current popularity of chopper building in the UK, in that they produce a number of very cool parts that're perfect for folk building bespoke bikes: Lawrence Crompton at Yokai Motorcycle Engineering in Manchester (www.yome.bigcartel.com), and Sumo at Vintage Chop in Huddersfield (www.vintagechop.com).
Both guys are one-man bands making some very sweet components. The billet LED tail light was from Yokai, and the heavy-duty mudguard (made extra-thick to prevent cracking and to allow the carrying of luggage or even a passenger) came from Vintage Chop. It's supported at the rear with a bespoke ball-ended dual bar sissybar, with that neat little Yokai rear light perched provocatively between the balls, and it sits over the standard FXR rear wheel. The traditional chop stance is aided by the 16" rear wheel and 21" front rim that's wired on to a 'spool' hub (one that has no brake and is just a basic hub with bearings and the spoke flange). Aside from looking really neat, it also means that the standard forks can have the caliper lugs machined off for a clean look, which is aided by removing the side reflector castings in a totally 'shaved' style. Having no front brake, Lloyd's upgraded the rear with a Grimeca twin pot caliper replacing the original 'banana' item, and a Brembo master-cylinder on one-off forward control mounts was made in a similar style to the factory mounts.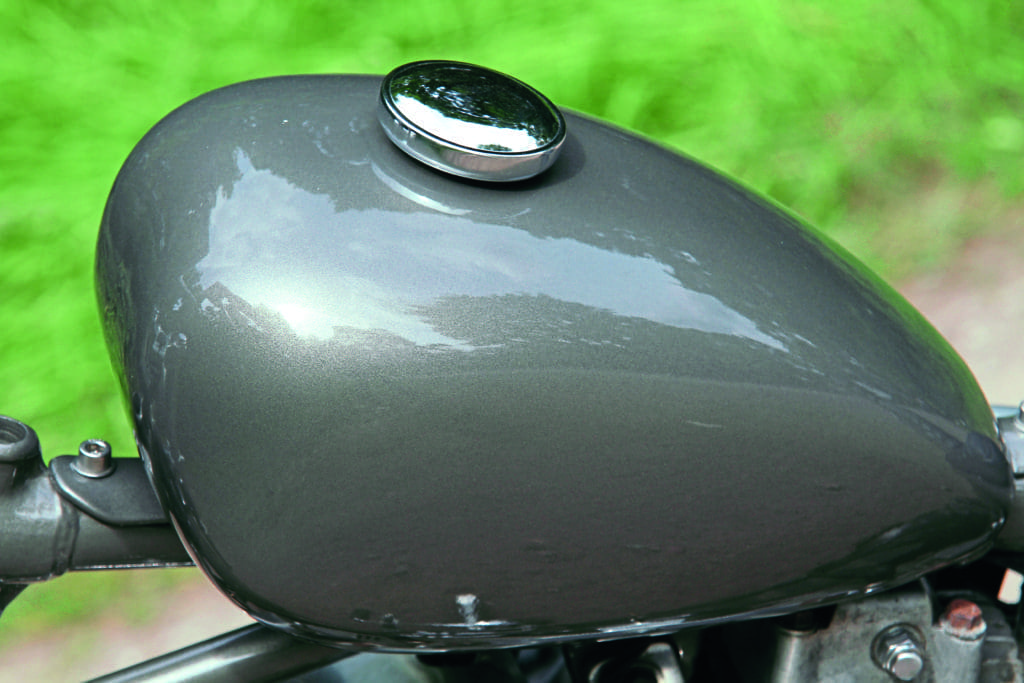 With a replica Wassell fuel tank mounted on the frame, and a narrow set of one-off Z bars made by Lloyd himself fitted to the standard yokes, the only missing piece was somewhere for him to park his derriere, so he made up a seat base and covered it with a layer of foam before handing it over to Doncaster Trimmers for a tuck 'n' roll-type cover.
He says: "In all honesty, the build side was a pretty quick affair, and there weren't too many headaches. The main head-scratches came from learning the workings of a Shovelhead as I'd never built one before this, but, again, I was helped along the way by a lot of good people and pointed in the right direction."
Once the fabrication was finished, the bike was stripped down and finish-welded, and various large parts were taken over to Dragon Powder Coating in nearby Doncaster. Rather than paint, Lloyd chose powder-coat for a couple of reasons; firstly, paint isn't as durable as powder-coat and, secondly: "I f**king hate cleaning bikes, and the way this bike is finished, with the simple colour scheme, it doesn't look out of place with a bit of dirt and oil on it…"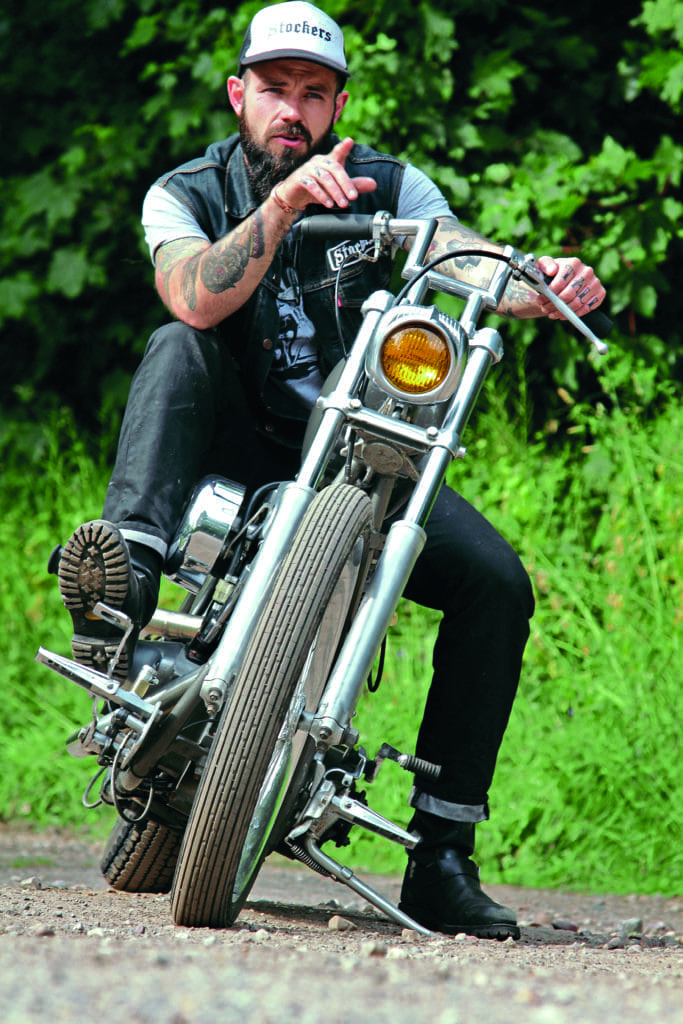 As befits his plan, the Shovel's now been sold, and went to a very happy new owner just a couple of days after I took these pics. I'll leave the signing off to Lloyd himself: "Building this bike was a lot of fun. I had a lot of late evenings in the garage, which often involved Jason, Shaun and Paul and a shitload of beer. I love what we all have and do, for me this is what it's all about – hanging, building and riding with great people."