There's a hell of a lot of back story to my Vincent, how 
long have you got?
Words: Dave Aitken
Pics: Simon Everett
Back in 1979, I was 21 and'd been lusting after a special built out of a Vincent 1000 for as long as I can remember. Then, one day, I got to hear of a NorVin here in the Lake District, and tracked it down. It'd been bought by a guy called Bogie from Daytona Motorcycles in Middlesex and, to cut a long story short, he wasn't that struck with it.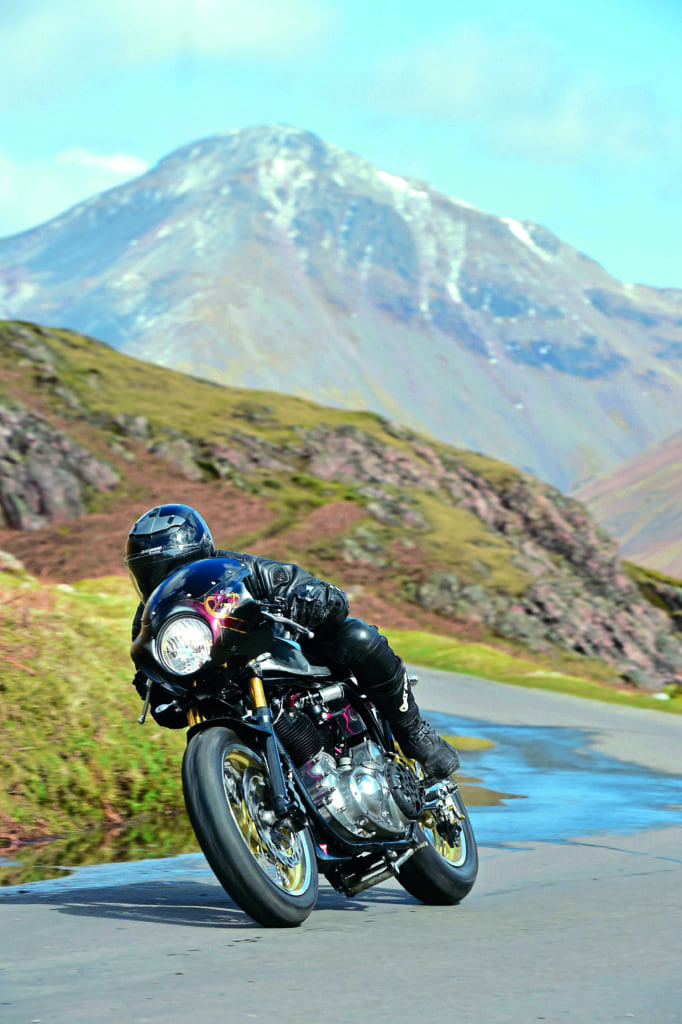 We did a deal and, after he'd started it for me (took me three days to master the knack), I was off. I knew I'd have to stop for fuel en route and so I carefully chose a filling station with a steep off-ramp to ensure a clean run for a bump-start. That was my initiation to the love/hate relationship that was to wind on for nearly 40 years and still thrives.
I rode it until the winter that year, finding its (many) faults and foibles before starting what was to be its first rebuild; new top end, new tyres, new paint, rebuilt forks, rebuilt brakes, compression upped from 5:1 to 6:1. It was much better, but the engine's weight and performance seriously outperformed the chassis and, after a couple more years, it was time for rebuild number two.
This one, though, took some time as I moved around the country a few times for work, but while I didn't do much actual spannering I did use the time to collect parts; alloy tank/seat/oil tank, Norton Commando forks, Koni shocks, Metzler tyres on smaller rims, bigger carbs, new cams, new rear wheel, brake/hub from a Ducati 860, and more. When I did get it all back together, I also upped the compression to 7:1, repainted it (again!), and skimmed and re-lined the Grimeca four-leading-shoe front brake. It all worked as it should, and it was back to happy days thrashing around – I took it to a few shows in the Home Counties where it caused a stir through the 1990s!
I still rode it like I stole it and it was while out hanging off the side, knee down through a long left-hander, I was momentarily transfixed by the massive visible front end flex in the Commando forks and immediately decided if I wanted to improve the brakes and handling I'd need a rethink. It was not the only niggle by far – the questionable Lucas dynamo, for example, was okay as long as the brush and slip-ring were kept serviced, but it really didn't like rain/water. The final straw was squeezing the front brake level hard on entering a right-hander one day – the four-leading-shoe seized on one side, bouncing us both into the scenery…
For rebuild number three, I knew I was going to need some help. I'd moved back to the Lake District and knew, from features in the late lamented Streetfighters magazine, that there was a really good custom motorcycle fabricator nearby: Dez Ubank of Aggression Performance Engineering (now Darkside Custom Creations) in Penrith. A meeting ensued and, as soon as I saw his workshop and ongoing projects (including a T140 tracker which I ended up buying), I was convinced that the necessary wizardry was here.
Starting with the crankshaft, the motor was meticulously assembled with an Alfa crank and big ends, new cylinder liners and Omega pistons (up again to 8:1), Maughan & Sons twin-spark cylinder heads, complete new valve trains on both heads, spindles, MK3 cams, matched followers, 34mm Amals, a hybrid multi-plate clutch (runs a three-spring arrangement at the mo', but the back-plate can take six), a hybrid Kubota garden tractor generator with a bespoke gearbox under the dynamo strap (affectionately known as the 'McDougalator'), a fully programmable Pazon electronic ignition system to fire the twin-spark heads, and a new one-off folding kick-start made which sits snugly between the timing chest and kick-start cover. It works, but it's a little shorter than the original and, as such, takes commitment to start.
Now for the fabrication; Dez'd already concurred in keeping the classic style, but we both wanted to tweak and update pretty well everything in the form and function departments. Adjustable forks and yokes from a GSX-R 1100K were sourced, stripped, powdercoated, titanium-nitrided, and rebuilt with fresh internals, and a set of Bandit six-pot calipers were overhauled and finished to fit. I'd had an engineer turn me some billet bobbin hubs but, after checking, Dez christened them 'clown bike hubs'. He trued and centred the bearings, and made the disc mounds and spacers etc. Central Wheel Components laced together 17-inch rims with stainless spokes and it took Dez no more than a couple of hours to modify a Yamaha swingarm (from BSH's Dave Manning, no less) to fit. It was then under-braced, and I de-seamed it and polished it (something that took at least twice as long).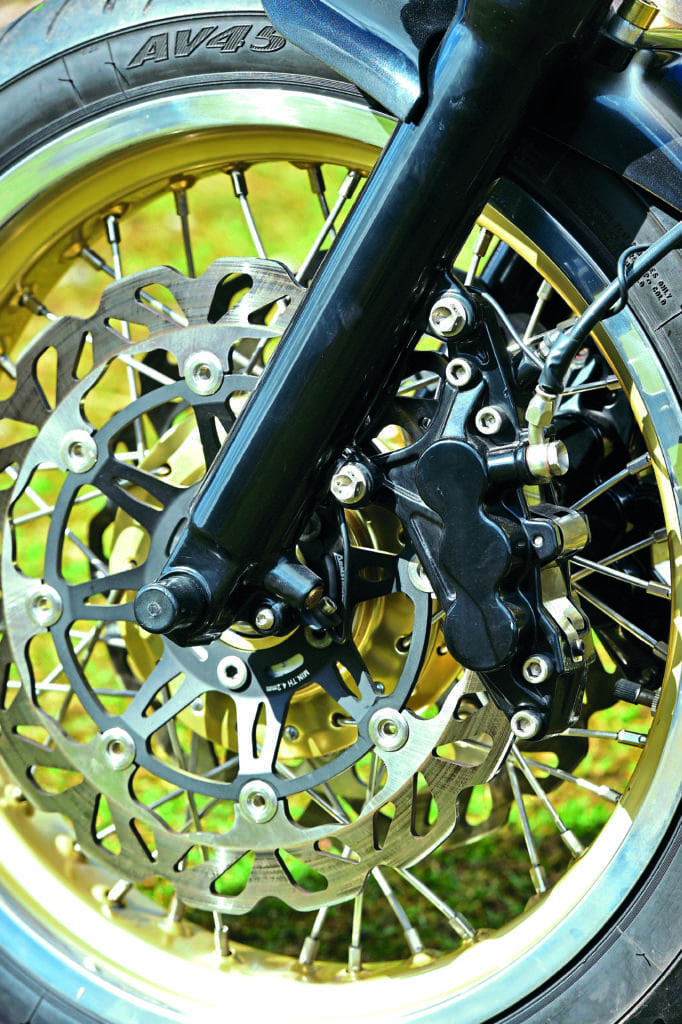 Before it was chromed, it was mocked into the frame for measurements to allow Dez to machine up trick carriers for the sprocket, disc and rear caliper. Ikon in Australia built the rear shocks to spec and mailed them to the UK within eight days (impressive!), and my original engine plates were artistically remodelled, losing up to 30% of their bulk without the usual Swiss cheese effect on the drill press. The short circuit Lyta alloy tank, which tended to shuffle under the tank strap and drum annoyingly when close to empty, was modified by Tony 'Captain Tig', who mounted Mini Cooper rubber bobbins in raised buttresses, and made a valve-controlled breather and a fillet to re-profile the no longer required strap indent. The tank floats slightly off the frame rails now with no other insulation required.
The alloy seat unit I'd had made in build two incorporated the oil tank. It no longer looked right so Dez drew a felt-tip marker line around the required new profile, and fired up the grinder with a fresh wheel. I went to make a brew, and waited until bits of metal had stopped hitting the floor and silence returned. Captain Tig rectified the carnage beautifully, remounting the oil feed/return/filter, and fitted a flush filler to complement the new lines.
'666', as the bike was christened, hit the tarmac again in 2013 and has been ragging round the Lakes roads ever since. I also took it over to the Isle of Man to scratch around the TT course, where the electronic speedo logged 127.3mph on the unrestricted mountain roads. Major improvements to handling and brakes mean modern levels of control, allowing the motor's potential to be fully tapped into for a full grin factor – happy days!