Earlier this year we showed you the mad steampunk trike built by the legendary Finnish madman Petri Ruusunen. On the same day we also saw this; his single-cylinder JAP classic racer, 
the Velocimoteur.
Words: Charley Charles
Pics: Siwer Ohlsson
As we said last issue, it's quite difficult to believe everything that Petri says, as he's fond of speaking with his tongue firmly in his cheek. The story of this bike is one that may or may not be entirely true and correct, but it starts way back with Finland's liberation from Russia in 1917.
"Finland came very close to becoming a monarchy a hundred years ago," says Petri. "The Finns wanted to make closer bonds with Germany and found a nobleman there who they chose to become their king, a certain Prince Friedrich Karl of Hessen. They made all the proper preparations for the coronation in 1918, but Friedrich Karl never showed up."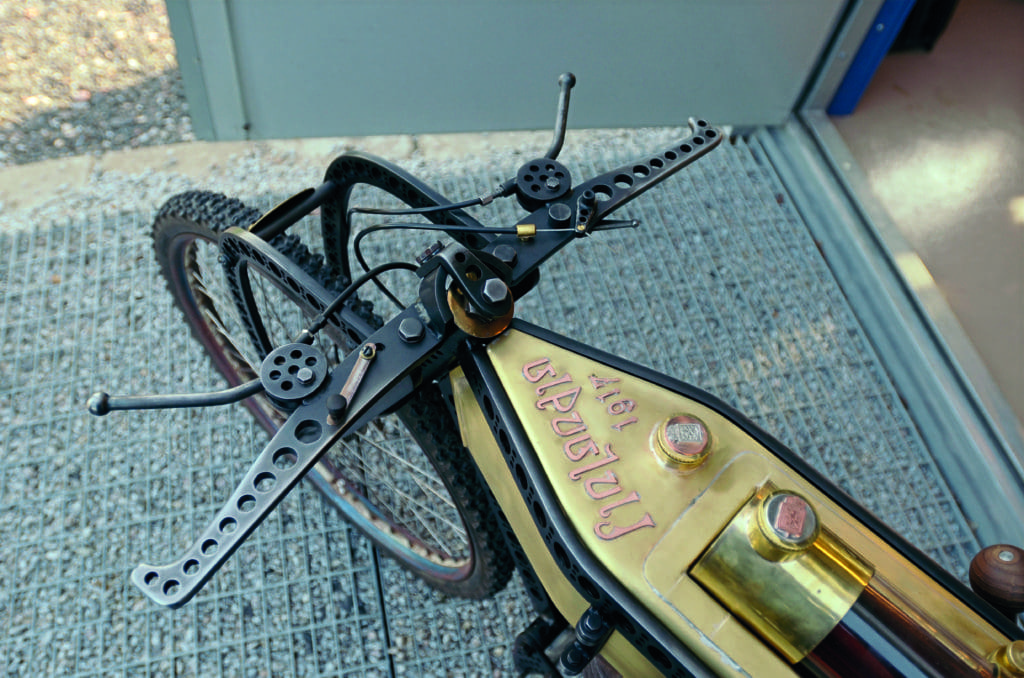 This part of the story is true, we've checked the facts, but it's at this point the tale seems to start running a little wild: "Prince Friedrich Karl of Hessen was a huge fan of motor sports so, to welcome their new king, the Finns decided to arrange a major international dirt track motorcycle race on May 1, 1919. They needed a decent Finnish race bike, Finnish bikes not being noted for their speed or reliability at the time, and ordered a purpose-built one from a local company Teknik Svopada."

Now, a quick Google search reveals that the name Teknik Svopada only appears in relation to Petri himself. There's a brief company history on his website (www.petriruusunen.fi) and a paragraph that reads: "The Finnish Huudi Museum collects the following items manufactured by Teknik Svopada: the Gudumetri, the Mesmer Communicator, the Rotational Spectrophotometer, and the Supervisor."
All of these are wonderfully authentic-looking, very steampunk, machines that look very convincing to the untrained eye, but are they actually real 'olde-worlde' items or are they the creation of Petri's talented jeweller's hands and slightly twisted mind? Have a look at them yourself and make up your own mind…
Anyway, back to the story: Teknik Svopada set about creating the bike you see here, using a single cylinder 340cc engine from J A Prestwich in London and a Sturmey-Archer transmission, and had a frame custom made by the German aircraft company Krumpler Flugzeugwerke. Once again, here the waters get a little murky as, while there is no record (that we can find) of a company called Krumpler Flugzeugwerke, there was a German aircraft company called Rumpler Flugzeugwerke, more commonly known as Rumpler, that existed between 1909 and 1920. Did they really make the frame?
Article continues below...
Advert
The tale continues – when the coronation of the king-to-be who didn't turn up was cancelled, so was the racing event and, according to legend, the race bike went up for sale in a department store in Helsinki. If someone asks Petri, he will say with an innocent poker face that he found the old racer in a barn in northern Sweden…
So is it a real classic race bike from nearly 100 years ago? Or did Petri build it all himself in his workshop at his home in the 2000s? If it wasn't how could he otherwise be so sure that the bike's been lightened by having exactly 1,211 holes drilled in it? We mean, we know the Finnish winters are long and all that, but would he really've counted them all? And, if it's so, how could the JAP motor be from the mid-1920s?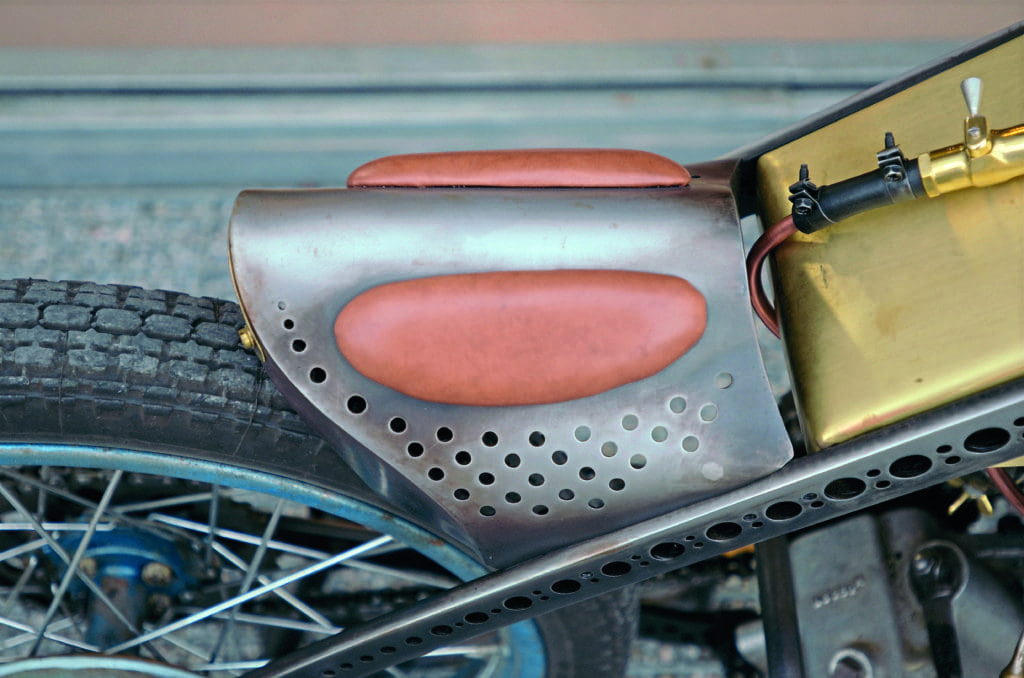 You'll have to come to your own conclusions…
Article continues below...
Advert

Enjoy more Back Street Heroes reading in the monthly magazine.
Click here
to subscribe.