It's November, so that must mean your December issue of Back Street Heroes is now on sale! We do like to be ahead of the game.
And we're also getting you ready for 2019, with a quality full-colour calendar packed with some of the sexiest bikes we've featured. Great for the shed, garage or workshop wall, and full of forthcoming events and handy people to know.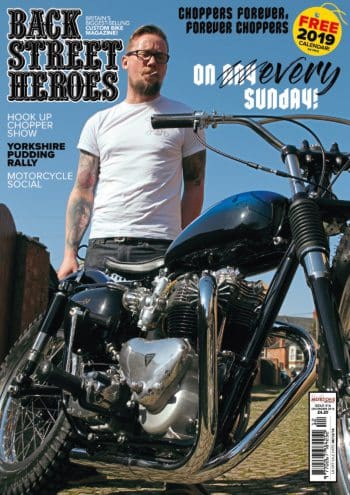 Cover bike is Mark Drury's Triumph T110… it's a Triumph by name and nature, because it won the official custom competition run by Triumph Motorcycles UK earlier this year, and was displayed on their stand at the Bike Shed.
Wor Davie (Mr Manning, to you) had the pleasure of speaking to Mark and taking pictures of this excellent beast.
Destiny Cycles are back in the frame (and the tank, and the brakes, and…) in the current issue with their S&S 124, a Destiny-engineered masterpiece which is another winner with judges – it won Best in Show for its owner Nick at the Rock & Blues this year.
Here's a picture of this stunning bike, and if you can translate your thoughts into firm ideas, with help from Destiny you could make your dreams come true, too!
The bike-building dynasty that is Simon Harris and his son Carter, of Attitude Cycles in Southampton, haven't been slouching either. Check out Carter's 2001 Harley-Davidson softail (and some impressive artwork behind the bike as well!)
Erik Stigsson tracks down another Triumph, this time a 1954 T100 500cc, in the frozen far north of Sweden. It's owned by Patrik Nordlund, whose friends very kindly helped him to complete the bike, with payments in pizza.
And continuing the Triumph theme, P&D Custom Bikes show off their 1971 Triumph Daytona 500, finished in a delightful candy blue paint (below, top). So Low Choppers opt for a stylish blue paint job too, but their choice of engine and frame is 1981 Yamaha XS650, see also below.
Louise Limb produces some more A1 artwork (get the mag to see which part of the A1 she's focused on) and in addition to the other amazing bikes we've featured this month, there's one that'll appeal to the kiddies in your family.
Photographer Simon Everett takes a trip to the home and into the imagination of Yannick Read, an extraordinary designer of scaled-down transport. Yannick holds the Guinness record for building the world's smallest caravan, and his design skills have translated across into the custom bike world, with stunning results (below). Dads and granddads beware! Once your little ones see the amazing little bikes in this feature, they'll want one… but maybe that's a great way to draw them into the custom world at a young age!
Oh, and if you thought the very retro Rudge and Velocette bikes built by Yannick are incredible, you'll be transfixed by the 1937 OK-Supreme Flying Cloud with its OHV JAP 250cc engine that's been given a 21st century makeover by the skilled hands and brain of Gilbert Sills from Suffolk, mastermind behind the Cretingham Crank Company.
Last but by no means least is Ian Wightman's Mongrel – an H-D Shovelhead with plenty of bite! It's gotta be the mutt's nuts…
If you ever start thinking we Brits are lacking in skill, imagination, ideas and the ability to turn them into reality… stop it!! These sometimes eccentric, always talented, and undoubtedly fascinating characters are still out there, and you can find them in the pages of BSH every month. Maybe you're one of them… so get in touch!
Editor Nik has been road testing the Triumph Bobber Black, and likes what he sees (below). So, this issue is pretty much a triumph all round!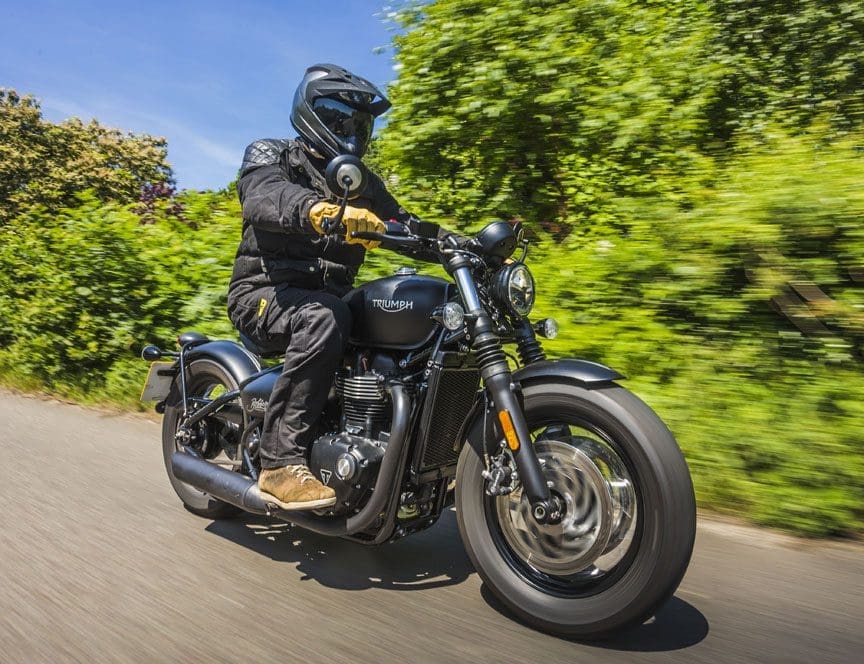 Nearest and dearest pestering you, wanting to know what you want for Christmas? Tell them you'd like a subscription to your favourite custom bike magazine. For £20 you'll get six months' worth of printed mag, or if you're into digital downloads you can get a whopping 12 issues for just £28.99!