Words: JAY RANSOME Pics: GARRY STUART
What's a 'neo-traditionalist chopper' when it's at home, then?
Well, well, well, where do I begin? I sold my old Shovelhead chopper and began the hunt for a new donor and this involved, as most Shovelhead chopper stories do, a trip to Weatherleys Motorcycles (www.weatherleys motorcycles.co.uk) to see what they had.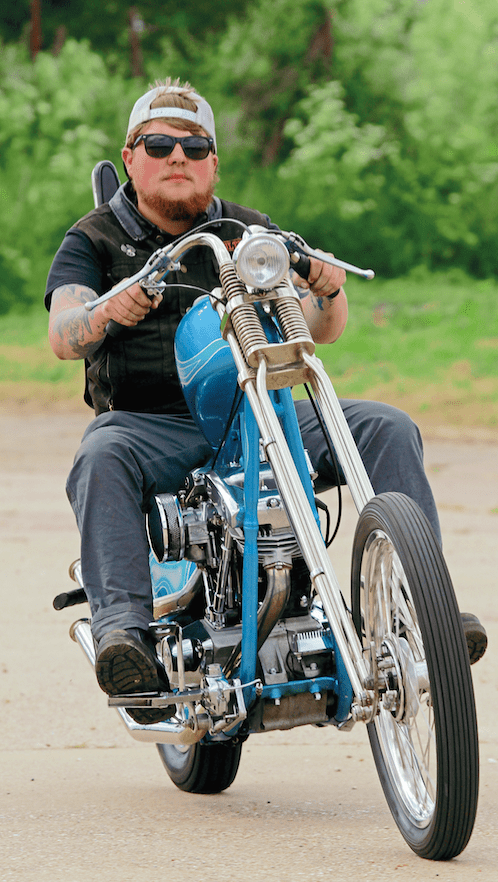 I stumbled across a rebuilt FLH with horrible red wheels, but the gearbox and motor were sweet. It had the ugliest headlight I'd ever seen, but it was a good runner so I parted with the cash and took it home to get cutting.
Dad (Clive 'Hip'Ransome) had recently purchased an Ironhead chopper project and also a complete, but burnt-out, Shovelhead, and the Ironhead just happened to have the springers I'd always wanted – long and completely original 1970s Century/Arlen Ness narrow ones with a rebuilt Triumph Tiger Cub front wheel with its tiny, and entirely in-keeping, drum brake. The frame it was built around, though, just wasn't right – it towered over the little Ironhead motor, and had no ground clearance, so we modified it and sold the rolling chassis, minus the forks, to my mate Max. That meant, of course, the forks were up for grabs…
A week later a customer came in desperate for a mild Shovelhead custom, so Dad and I did a deal; he had my complete bike in exchange for the front end and wheel, and the burnt-out Shovel, and he'd rebuild the gearbox and motor for me. It sounds a bit of a bizarre swap, but it worked out great.
Using the frame cradle I set about building this radical chopper, stealing ideas from my favourite bike, built by Chemical Candy Customs in America. I got one of our guys, Mark, to machine me up some bamboo frame slugs (little frame tube joiners that are shaped to go inside frame tubes and allow you to join two pieces together without a potentially weak stress weld), and extended the front rails to give me the higher headstock that a chopper should have. The headstock was one I made up and raked out to 45 degrees for that proper chopper look – something that was helped by the 16-inch over springers too! The rear I made super short – just how I wanted it, being vertically challenged. I got obsessed with this bamboo detailing, and it's everywhere now: the head-steady, the handlebars and, hardest of all, the bottoms of my sissy bar. The sissy bar is actually my favourite part of the bike. The numbers are…well, just for a laugh really, being all hippy-style if you get my drift. The exhausts I made and had to be upswept with little bellmouth tips.
I started to build a BSA chopper years ago, around an A65 engine, and still haven't got round to finishing it, and on it was a Bantam tank I heavily modified. When I got the Shovel up as a roller I sat that tank on and boom – it looked great. I had to use one. Not wanting to cut up my BSA (cos if I start doing that I'll never finish it!), I bought a brand new Indian copy off eBay to chop up, cut the middle out and made a wedge-shaped centre panel to give it the shape it has today (and hidden mounts underneath to keep it super clean).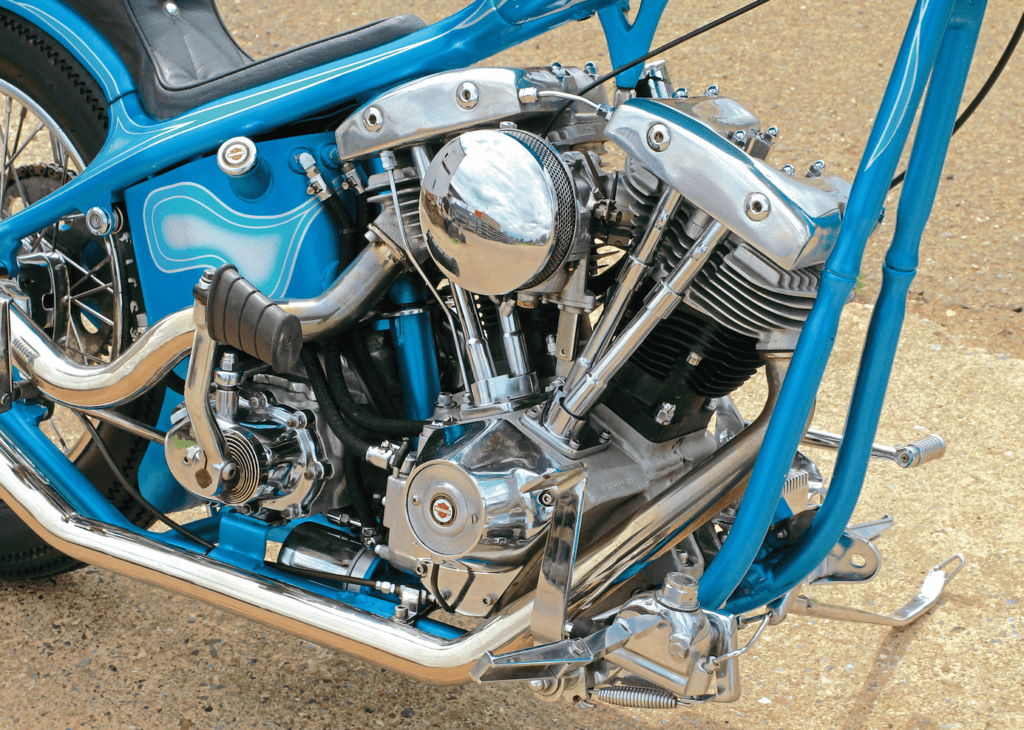 I've always loved skinny bikes so the 18-inch rear was a must. No one really builds fully moulded bikes these days, but dad's green Shovelhead inspired me to do it, so the seat (made by me and upholstered and covered by GB Upholstery), tank and rear mudguard are all moulded in with sheet steel to give it that flowing appearance. Instead of welding them all together though I made everything removable in case I need to work on it – I intend to use this bike! (Editor's note: Jay and Clive and the So Low crew ride their chops serious distances to shows all over the UK and Europe – no vanning stuff around for them!) It's got a bare basics wiring loom, kicker only, no thrills, all run inside the frame.
Dad and I rebuilt the burnt out motor, blasting the cases and heads, and replacing everything except the crank and, damn, it goes well. I've done thousands of miles on it now since it was built, including riding to Wales, and Belgium where I won Best Cone Shovelhead – so damn chuffed.
Anyway, getting ahead of myself; as I couldn't (and still can't!) afford to pay for fancy paint jobs, and as I've painted both my last two bikes and quite a few of my mates'and customers'bikes now, I set about painting this one myself too…I also really wanted to prove to everyone I can do it all; from the frame to the fab, from the paint to the motor work and wiring. Me and dad spent hours filling the frame etc so that it all flows together properly, primered it and set about the silver shimmer base. I had to paint this goddamn bike four times because of paint reactions, but I think it worked out for the best as every time I redid the design it started to look more and more like a stylised heron figure on the tank, hence the name 'The Blue Heron'.
I tried so hard to get it done for the Flanders Chopperbash in 2017 and, in fact, had her on the road the day before the ferry was booked to go, but the front wheel drum locked up on dad on a test-ride and that was it. A week or two later I re-engineered the brake mount on the forks that'd been done by the previous owner, and it's much safer now. The front brake's as much use as a chocolate teapot, even so, and as I wanted it to stop I stuck my favourite-looking brake on the rear – a chrome Softail four-pot. I like these because they tuck neatly away between the frame rails, but stop so well.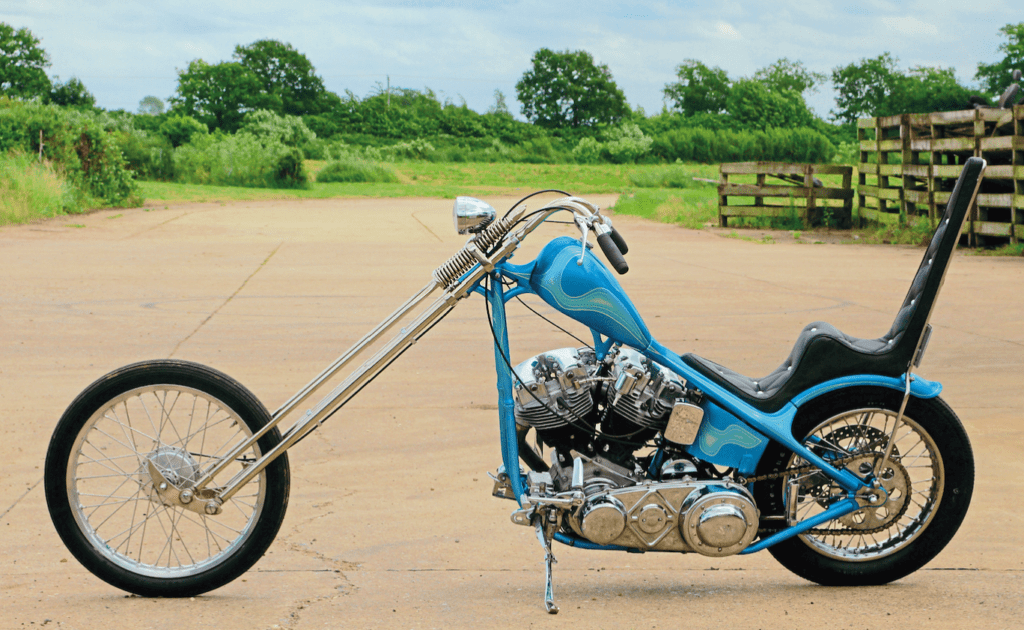 I'd call this a neo-traditional chopper; it's got all the period styling, but with my modern twist and upgraded parts to make it more usable in today's traffic. It's my favourite chop I've built so far – it handles so much better than I could've imagined, despite the fact that it's a long bike, and it doesn't stop making me grin.
Engine: 1973 Harley-Davidson FLH 1200 Shovelhead, Andrews A/B cam, S&S Super E carb, Dragtron air-cleaner, BDL clutch/belt-drive primary, 4-speed ratchet-top gearbox with Andrews gears, Dyna S ignition, one-off nickel-plated exhaust by owner Frame: Modified 1973 Harley-Davidson FLH 1200 Shovelhead, stretched (2")/raked (45 degrees)/hardtailed, one-off bamboo-style frame slugs, fully moulded, H-D FLH-style forwards Front End: Avon Speedmaster 21"tyre, 21"alloy rim, stainless spokes, Triumph Tiger Cub hub, nickel-plated original Century 16"over springers with custom rockers, one-off bamboo bunny-ear 'bars, basic WLA-style high/low switch, aftermarket grips Rear End: One-off sissy bar by owner, 18"rim, H-D Softail hub/brake, custom disc, Avon Speedmaster tyre Bodywork: Modified/moulded Indian-made BSA Bantam-style fuel tank with hidden mounts/K-Tech fuel cap, one-off seat (upholstered by GB Upholstery) moulded to flow, fully moulded Lowbrow Customs Manta Ray rear mudguard, H-D Panhead-style oil tank with custom mounts/different oil fittings Electrics: One-off internal loom, Paughco mini headlight, one-off rear light with Biltwell lens/unit Paint: Candy blue & teal by owner/Clive Ransome Polishing/Plating: Polishing by owner, nickel-plating done by Specialised Polishing Services (01842 762700) Engineering: All fabrication & bike built by owner, except frame slugs by Mark Bunning Thanks To: "Dad for teaching me how to do this all, for helping me with my paint work, & for rebuilding my burnt-out motor; GB Upholstery (01284 388777) for a cracking job on the seat; Mark Bunning for advice & machining frame slugs; & Lydia for putting up with me…"
So Low Choppers live at Baker's Garage, Bury Road, Stanton, Bury St Edmunds, Suffolk (IP31 2BZ), and their phone number is 01359 253600. Email them at [email protected]