Happy new year! We hope you're all in the pink, and if you're not, then you will be when you pick up your copy of February's BSH!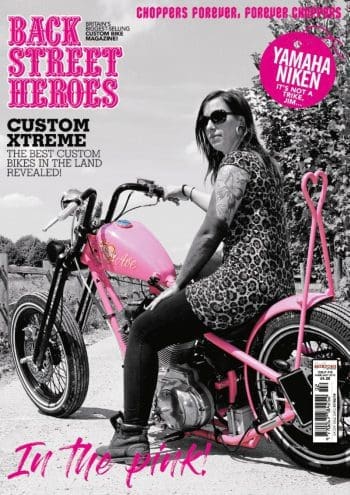 Inside you'll find the best custom bikes in the land as displayed at Custom Xtreme at the NEC last year, and two very gurlie pink bikes with don't-mess attitude – Amelia's Sportster chopper and Layla's Seventies-inspired Suzuki GS550.
Editor Nik's been busy testing the unusual-looking Yamaha Niken, and hopping aboard another Yamaha for a trip with his good lady to Croatia. With Nik taking an XSR700 and Pam on an XV950R, they set off on a journey through France, Germany and Austria to try out the bikes as well as the beers and the bars of our continental neighbours.
There's much more in store too, including Readers' Lives, Rick Hulse's take on the biking life, news from Selina, chair of MAG, and your letters… plus Mr Bridges' technical know-how, reports from Kent Chrome and Cruisers Show and Roughleys Bike Show. And, of course, more of the best custom bikes to grace the tarmac of these fair isles.
So why not pick up your latest copy now? Or better still, be good to yourself and take out a subscription, which will save you money, time and effort while ensuring you're always up to speed with the latest news, views, events and products!
Check out a preview of the latest issue here:
Article continues below…
Advert