The term 'peer pressure' is described as 'social pressure by members of one's peer group to take a certain action, adopt certain values, or otherwise conform in order to be accepted'.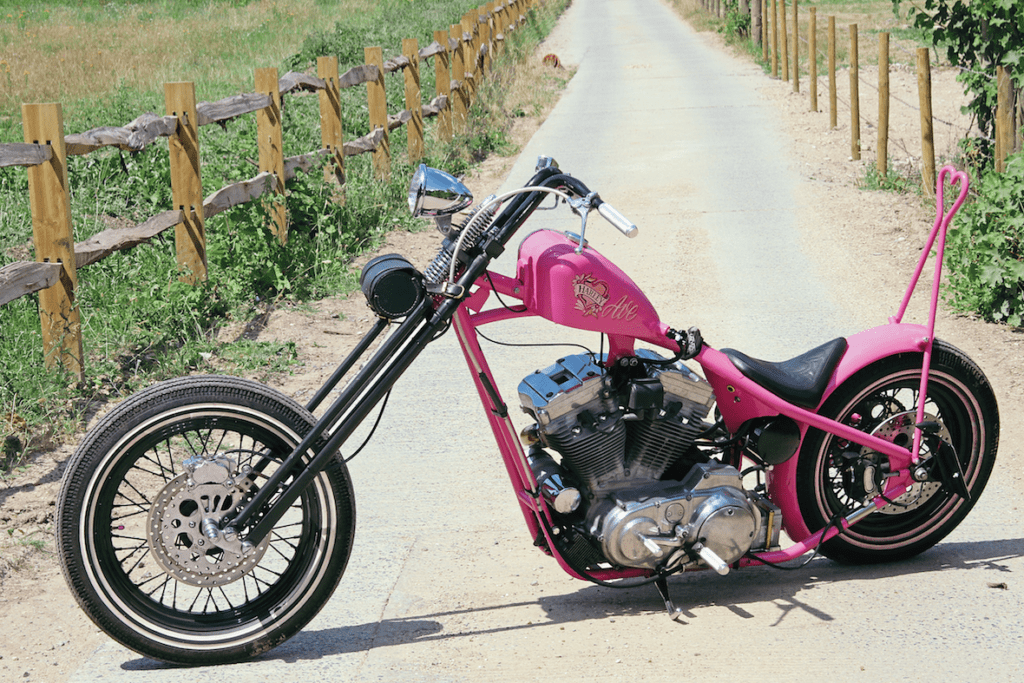 Words and pics: Nik
IT'S a subtle thing too; most people aren't really aware that they're under it, even though it can be one of the strongest influences on your life. It happens at work, at home, down the pub, at bike shows, at rallies, everywhere, and it can either have really good consequences or ones that are so, so bad that, when you look back at them years later, you can't do anything but laugh for fear of crying. I'm sure you know what I mean?

For Amelia, the owner of this very, very pink Sportster chop, peer pressure has led to some of the best experiences of her life, and this chop is one of them. She, you see, works for Attitude Cycles in Southampton, just about the most prolific custom bike builders in the country, if not the world, due to the sheer number of chops that they build each year. I'm really not kidding – when I visited their place back in July last year, they'd turned something like 40 bikes in just the previous year alone.
She actually works in the front of the shop, helping people with their parts, clothing and accessory needs, although she's now learning how to build bikes too, and she hadn't been working at Attitude long before she decided that she too had to have a chop. It was always going to happen, really, wasn't it, given that her bosses are Simon Harris, a gentleman whose name is pretty much synonymous with top-class Harley chops in just about every style you can imagine, and his son Carter, who, despite being only in his early twenties, has shown that he's a chip off the old Harris block, with a string of self-built award-winning chops to his name too.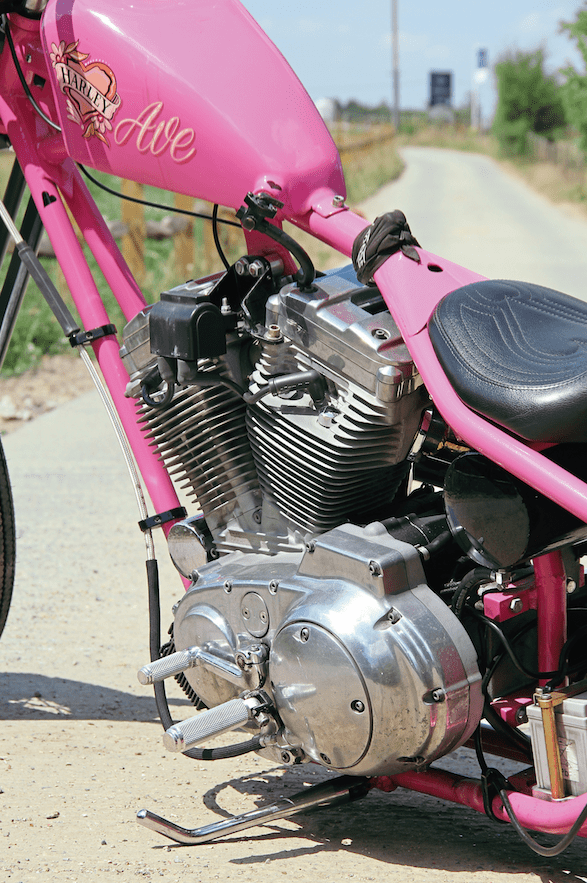 She was, at the time, smoking about on an 883 Sportster with a few simple mods ('a real Sportster Sickness dream bike,' she says!), but working in one of the best chop builders, it just didn't slice the moutarde. She sold that bike and bought an older Sporty that Si'd found using his extensive web of contacts, to use as a donor, and between them they worked out exactly what it was that she wanted.
Now as the gamut of bikes that Si, and Carter too, have built has covered just about every conceivable style and fashion, doing something different with her build was going to take a bit of thought, but different is what she wanted – something that reflected her personality and, most definitely, was obviously hers, rather than just being another chop that she was riding, y'know? It had to have springers, it had to have loud 'pipes, and it had to be… yes, you guessed it, pink. She also wanted to be as much a part of the build herself as possible too, as it's her bike after all, and while she wasn't quite up to doing the heavy engineering or the actual fabrication (well, not yet anyway, although give her time), she could do all the things that a basic rolling chassis needs done to it to make it into a proper bike.
And, as anyone who's built a chopper, or a custom bike of any other style actually, will know, this is the hard bit; making the big lumps of a project is quite straightforward, doing all the little jobs that follow on from that is what takes the time and makes all the difference between a bike being a basic bone or being a proper chopper.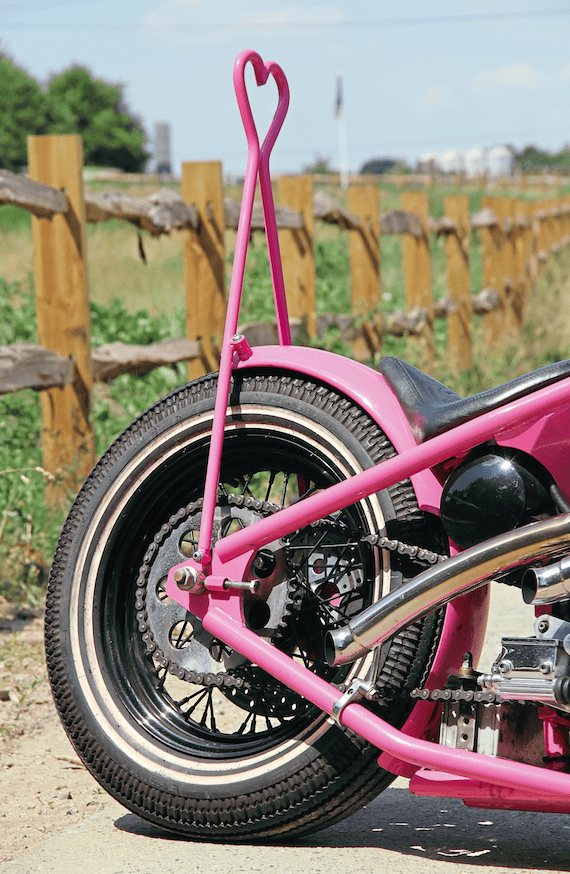 Starting with the frame, it's a one-off made in-house at Attitude with a slightly higher headstock than normal so as to take the eight-inch over springers, and the 19-inch front hoop with its black rim, black spokes and wonderfully old-skool Shinko 'pink wall' tyre. The front brake's 'Arley, the 'bars are one-offs made in-house (and originally, like the forks, painted pink, but they didn't look right so they were very quickly changed to black) with Speed Dealer Customs alloy grips, and the headlight's an aftermarket item.
The motor that it cradles is, as mentioned, another Sportster; another 883 with a neat (and different!) Wannabe Choppers air-cleaner and a set of short 'n' loud one-off 'pipes that sound like sex and blow the dust up as she passes like they should. Steve, Attitude's own wiring warlock, laid down the minimalist loom, hooking everything up that needed a constant flow of electrons, and their seat specialist, Glenn Moger, knocked up the neat, shaped seat with its 'love heart' that continues the theme that flows from the paint on the tank (by MDH Bodywork, with logos and Amelia's initials by Pete Green) to the one-off sissy-bar made specially for the bike by Carter and Ack.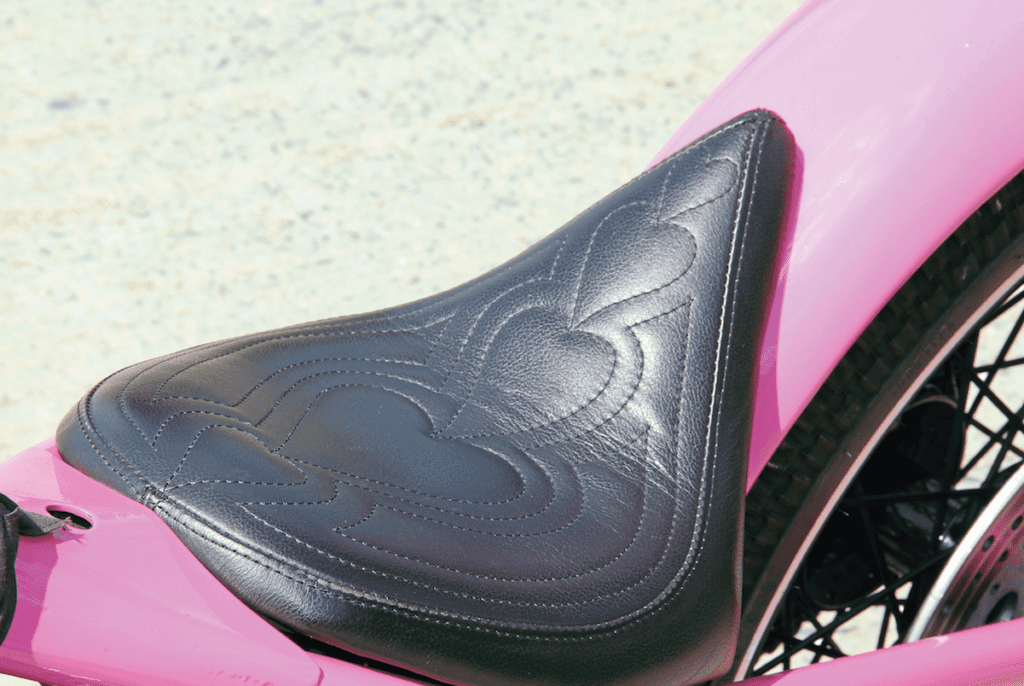 That very in-yer-face sissy bar holds the one-off rear 'guard off the back wheel, again with a black rim, this time a 16-incher, and spokes, and another cool-looking Shinko 'pink wall' tyre. This, the sissy-bar, along with the Sporty tank, the long springers, and the very custom 19-inch/16-inch wheel 'n' tyre combo, gives the bike its proper chopper stance. Yeah, you might not be a fan of the colour that she's chosen to paint the bike, but you can't fault the bike's attitude (or Attitude) no matter what its colour is.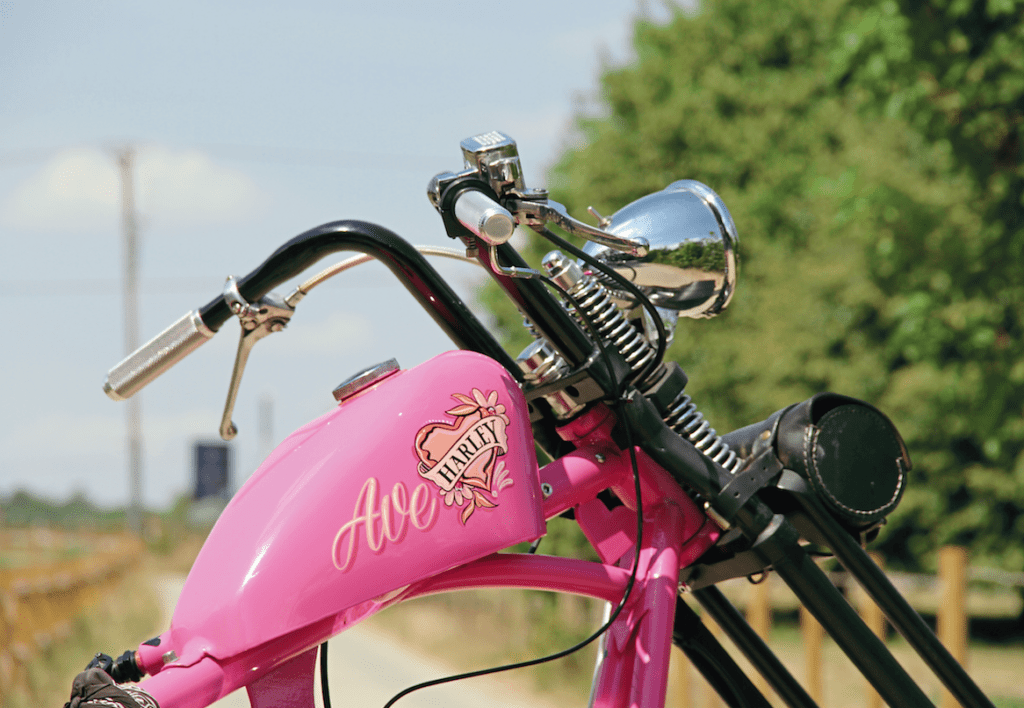 When the bike was finished, Amelia swung a leg over it and gave it what for down Stonham Lane, wringing its neck and taking no prisoners (she still rides it like that too – I was following her on an MT-10 Yamaha and I had to rev it to stay with her). She returned a few minutes later and announced that she absolutely loved it. This love affair lasted for… ooo, about 10 minutes until, having seen that she could handle a long-fork chop, Si let her have a go on his monster rust-rod Shovel. That was it – the Sporty'd have to go!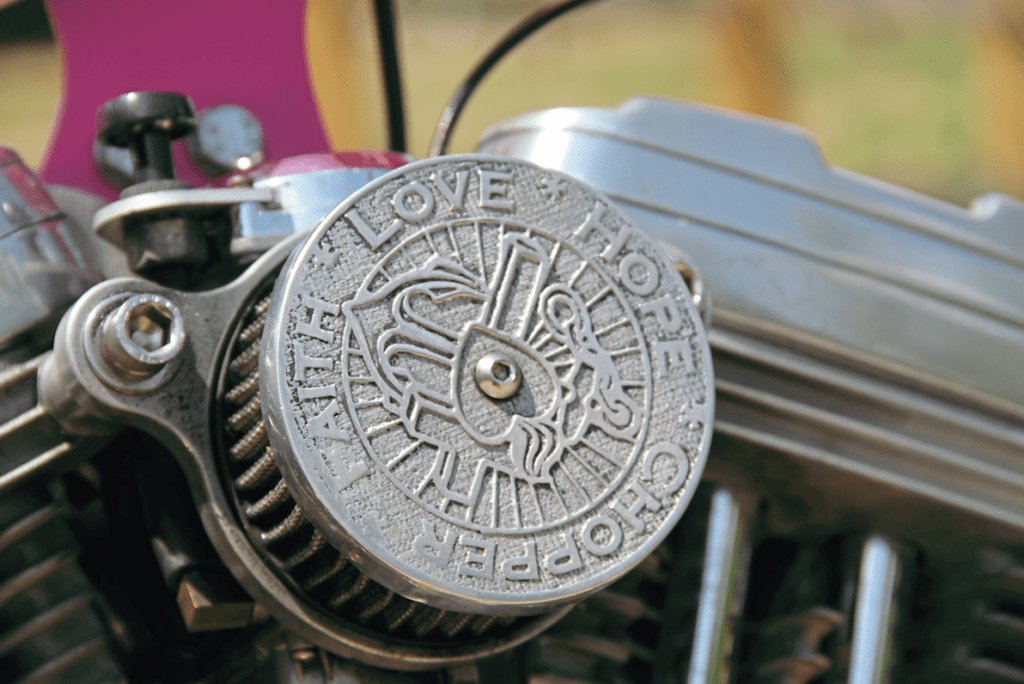 And, indeed, as you read this, it has. It's been slightly reworked, and repainted black, for a new gentleman owner, and Amelia's bought (or is in the process of buying) a 1450 Twin Cam motor to have a new, much bigger, much longer, rigid-framed (of course) bike that she'll also, no doubt, ride like she's stolen it. Hopefully you'll see it in BSH fairly soon!