Nige (and Sue) Brewer's classic 750/4 chop, which won the 'Best Chopper' class, as voted for by you, the readers, in the 2018 BSH Custom Champs, really is that – a 'classic' chopper, in that it was originally built a very long time ago.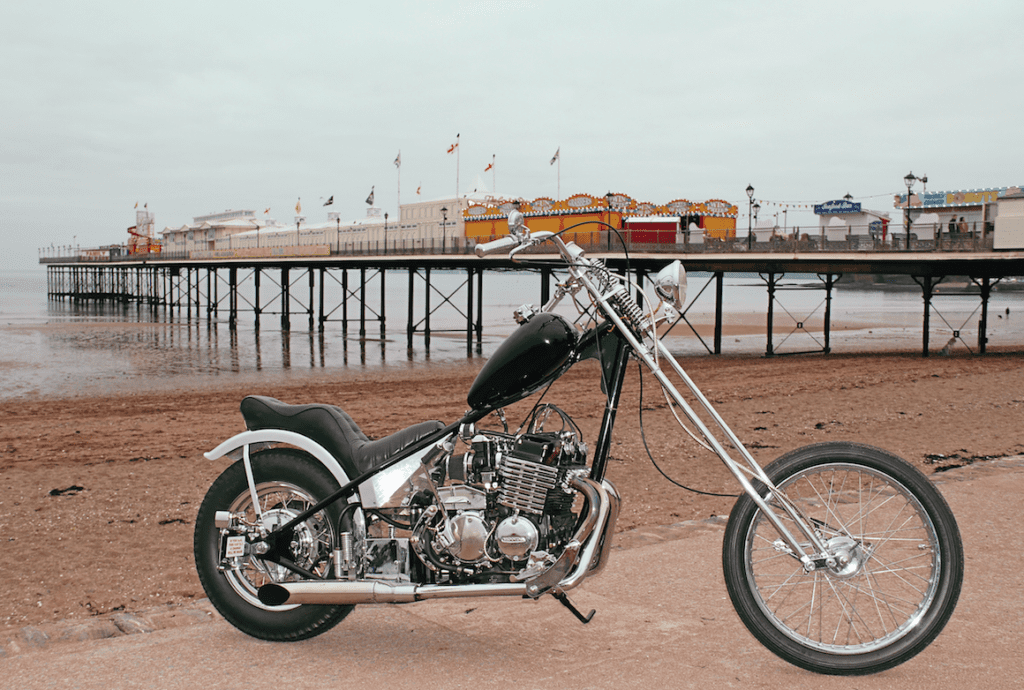 Words and pics: Nik
After a series of near-misses on sports bikes on Devon's winding roads, they decided that, in order to keep Nige alive, he'd have to take a different path and, as he'd always had a thing about classic '70s-style choppers, decided that a period-perfect hardtail was the way to go. They'd been looking for one for a while without much success when, one day, Nige popped into Brian Loram Motorcycles in Newton Abbot to book his bike in for an MoT when he spotted a dismantled, very grubby, rag-covered chop on a bench at the back of the shop.
It had an old SOHC 750 Honda motor of 1970s vintage, and Nige immediately asked what the story was with it? Brian told him that it'd been at his place for about 18 months after some guy'd brought it in wanting him to cut the frame and change it, but Brian'd refused because he believed it to be a genuine, and rare, original Uncle Bunt frame, made by the legendary Uncle Bunt, Mr John Reed, himself. It'd originally been commissioned, and built, by a guy named Derek Exton back in 1986, and there was a huge folder of receipts for work done by both John's workshop and Custom Fasteners from 1986-1990. Brian said that the current owner'd probably sell it so Nige took some photos to show to Sue who, the moment she saw the unicorn on the tank, told him immediately to buy it (she's very into her horses, is Sue). Brian contacted the owner and, shortly after, a deal was done.
It seems that, either before the bike was finished or shortly after, it'd been sold to a guy in Scotland, a policeman no less, who'd kept it for 20 years in his living room (either he was single or had a very tolerant missus), before it was sold to the chap Nige bought it from, and so was pretty much complete, and nearly perfect, apart from the original sissy-bar which, sadly, had gone walkies at some point over the years.
Brian and Nige worked out a deal whereby Brian'd put the chop back together so that Nige could take it away and sort out what little it required cosmetically and soon, a few months later, it was time for the bike to be collected. Now Nige'd never really ridden a chop before, and never one with nine-inch over springers, six-bend pull-back 'bars, and a teeny-weeny drum front brake, so he was, by his own admission, really quite wobbly as he pulled away from the workshop to ride back to his home town of Paignton. Used to sports bike front anchors, he soon (like instantly!) found that the front brake is really for decoration only, but he didn't (quite) bin it, and set off for home. He didn't make it though – Sue, following in the car, found him less than a mile away at the bottom of a very steep hill with a remarkably devoid of life 'Onda.
Article continues below…
Advert
She returned to the shop only to find that Brian, that particular day, didn't have a trailer available to go and pick it up, but he went back with her to where the bike was for a quick look. Unable to find what was wrong, they decided that, as it was less than a mile, they (the three of them) would push it back. Remember the 'at the bottom of a very steep hill' bit? It was not a pretty sight, Sue reports – Nige had flu and his breathing was dodgy, Brian had sciatica, and Sue had a snapped Achilles tendon.
After what seemed like several hours (although it was actually about 50 minutes) of uphill pushing, they finally made it, and the problem, once it'd been traced, was found to be burnt-out wiring (and a dodgy fuse) that'd overheated due to the chop not being used for so long, and so was quite easily sorted out.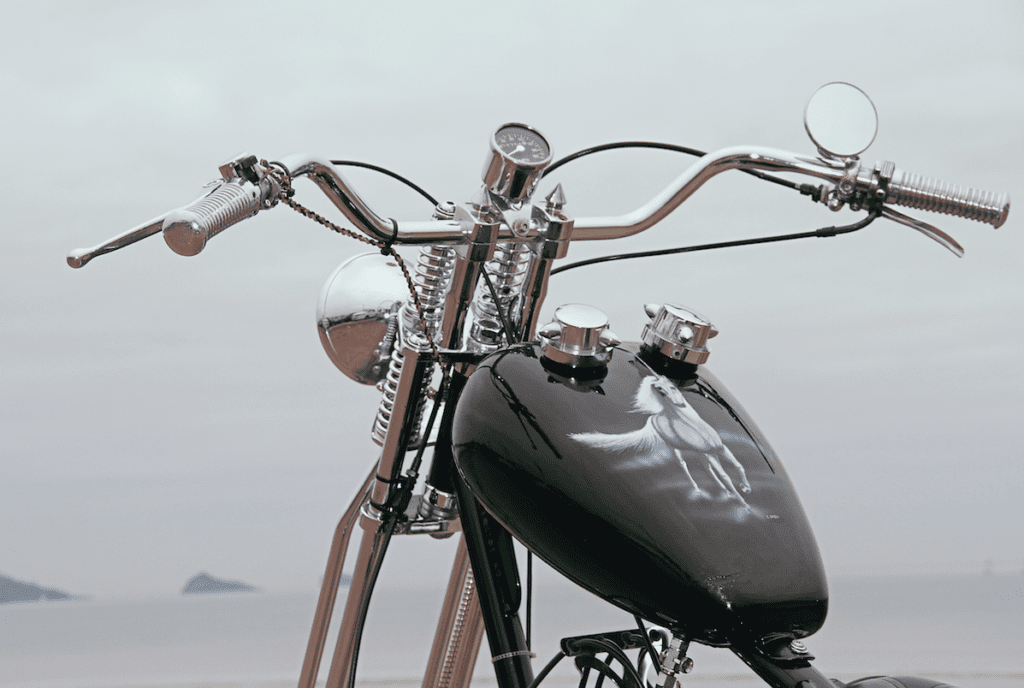 With 'The Unicorn' back in Paignton, there followed many months of polishing, painting and spraying, as Nige restored the old chop to its former glory. Thankfully they didn't have to do anything about the paint on the twin cap Mustang tank as it was still in the same beautiful condition as when Dream Machine painted it all those years ago – a testament to the quality of their work, don't you think?
Article continues below…
Advert
They decided to show it off by entering it in the BMAD Bike Festival custom show in 2017, just about the coldest and wettest one on record, and as the bike has no front 'guard, he was properly drowned by the time he got there. It picked up the Best Classic/Vintage award, which was nice, and as Nige was presented with it he was visibly shaking, probably from hypothermia, which wasn't.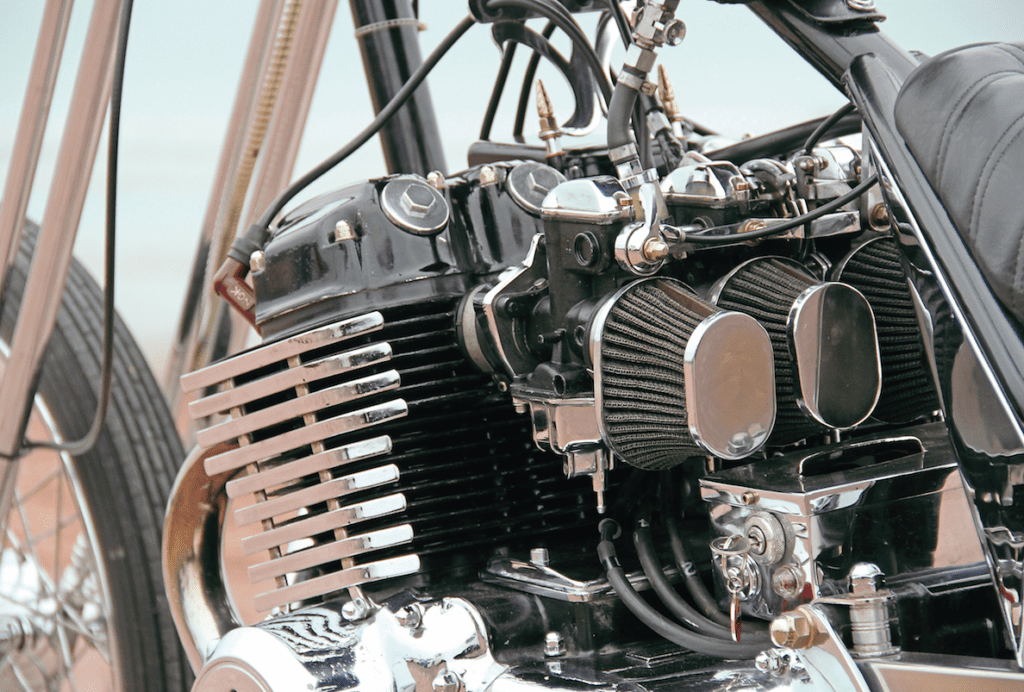 They entered the bike again in last year's event, not expecting to win anything as it'd won the previous year, and were quite gobsmacked to get Best Chopper in the BSH awards, and were even more blown away when their bike was voted the winner of the class overall, against some very stiff competition, and asked to star on the Custom Xtreme stand at Motorcycle Live at the NEC, and they'd like to thank everyone who voted for them.
Future plans for the bike? Well, nothing much as they like the bike exactly as it is, although there is one niggling little electrical problem that needs dealing with, but they would like to get the original sissy-bar back – anyone know where it is?