Martyn Bratby, the owner and builder of this bike, is a hardcore fan of Indian motorcycles, and hadn't ever really thought of owning a Sunbeam, let alone one with a home-brewed four-cylinder engine.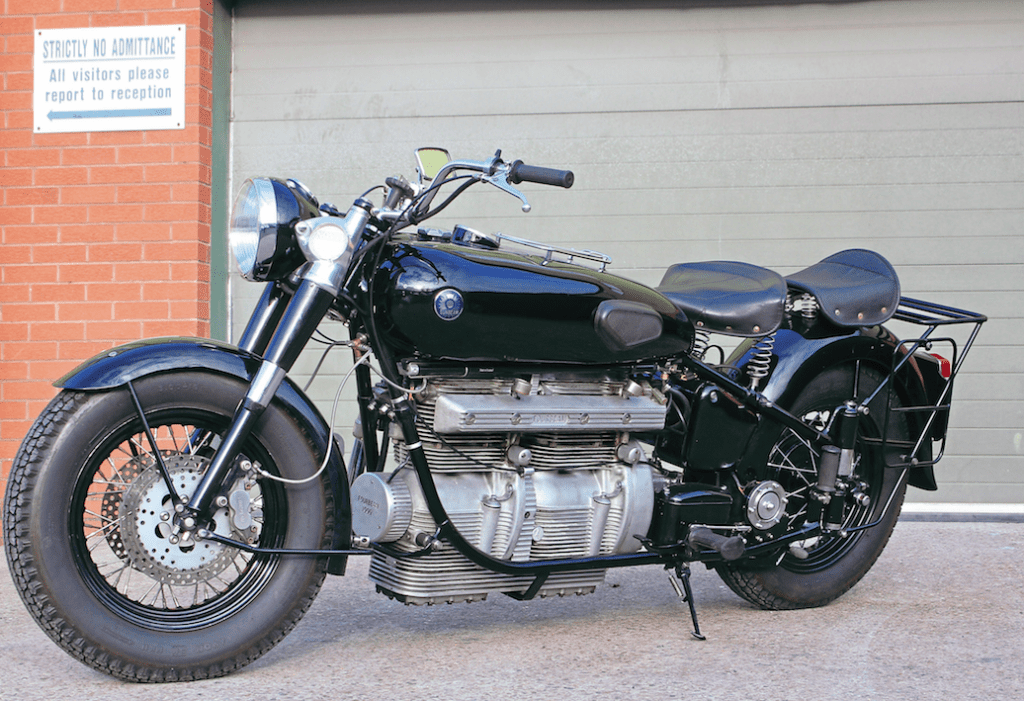 Words and pics: Dave Manning
Don't get me wrong though, he loves Brit bikes, and is also a serial autojumble attendee, and runs his own company specialising in Brit bike parts, particularly carbs (ring him on 01543 572583 for all your old British carb needs); it's just that he'd never really thought about a Sunbeam of any kind. One day, however, he was talking to a customer on the phone, and this chap happened to mention a bike that he was selling – a Sunbeam S8. It was a very reasonable price, so Martyn jumped at the opportunity, thinking that, at the very least, it'd be a quick turnaround for a few quid.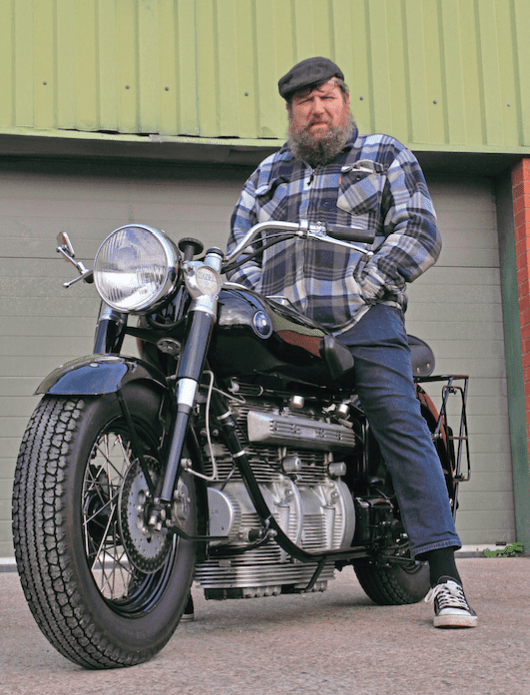 That all changed when he got it home. He liked it. In fact he liked it so much he bought a load of spares. And then some more spares. And then another complete Sunbeam. Or two… he now has quite a substantial collection of twin-cylinder 'Beams…
It was actually his passion for Indians, though, that instigated the build of this very special Sunbeam. While he has a number of V-twin Redskins, he was all too aware that, no matter how much he wanted one, he'd never be able to afford an Indian Four – the model with the 1260cc inline four-cylinder engine, as based on the Ace motorcycle that was bought by Indian in 1927, and that was produced by the Springfield factory from then until 1942 – given that they seem to sell for a price north of 70 grand nowadays, and he'd kind o' resigned himself to never owning one.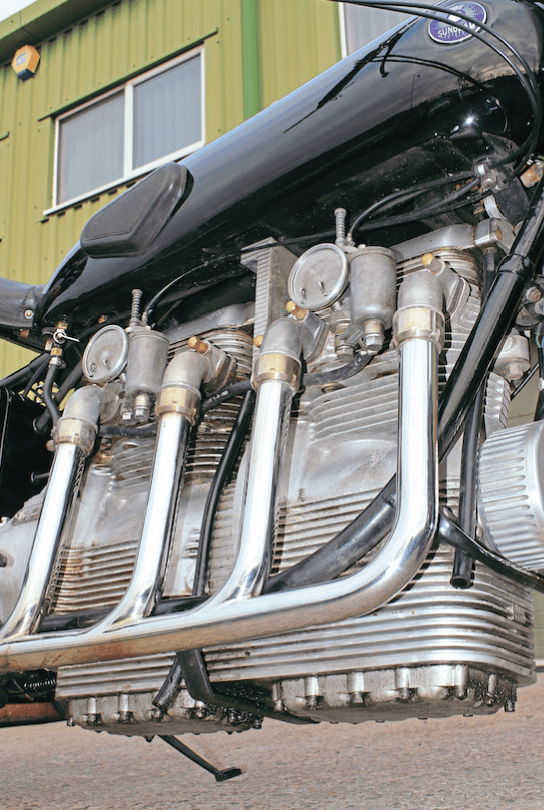 However, he happened to place a spare engine right next to the bargain Sunbeam that he'd bought and, in a flash of inspiration, realised that it wouldn't be too much of a stretch of imagination to connect two S8 (or S7) engines together to create an inline four. Okay, so it might not have stretched the imagination, but it would stretch the engineering skills for most of us…
The engines are connected together, 180 degrees apart, via an Oldham coupling; essentially a set of three discs, the central disc has two perpendicular grooves on opposite sides, and the outer discs connect to the respective engines and have corresponding tongues that sit in the grooves of the central disc. This is a far more compact arrangement than a CV joint, and allows a certain amount of misalignment of the two separate crankshafts. The coupling is lubricated by heavy grease, while Martyn machined a one-off cover that's finned to match the crankcases of the standard engines.
This isn't the only connection between the two engines though; look closely at the pics, and you'll see that he's machined a new sump plate that encompasses both motors, and a one-piece spark plug cover on the left-hand side, which also bears the self-explanatory name of the beast – Fourbeam. A standard S8 four-speed gearbox is used, and the transmission's worm drive rear hub has proved man enough to cope with the doubled power output.
Given his speciality in carbs, the twin Amal 276 units are set up to perfection, featuring stainless steel mesh inserts and Vincent 'long arm' float chambers, with some neat custom tops that Martyn makes himself.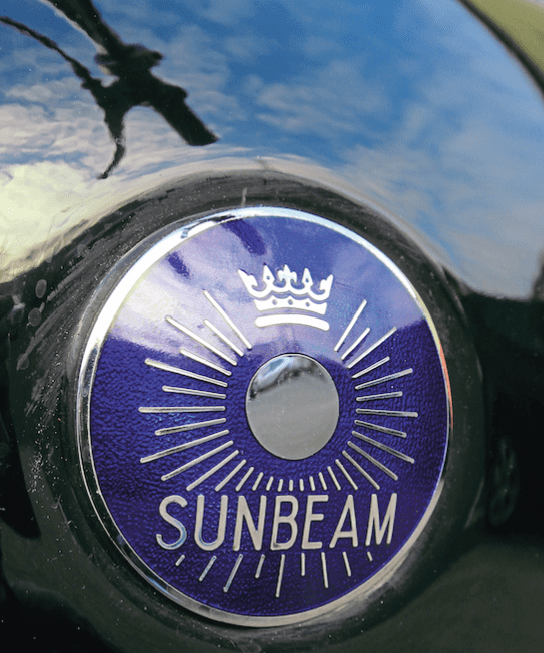 Clearly, the frame'd have to be modified to cater for the longer powerplant, although it's only a tad over a foot longer than standard. It is all a rather tight fit though, and any issues in the front engine mean that the gearbox and rear engine have to be removed first before the forward motor can be. Otherwise, the standard configuration, with the plunger rear suspension, was retained, along with the standard rear mudguard, side panels etc. The petrol tank was going to have to be a little longer than standard though, to stretch over the top of the two engines, and filling it now requires him to have at least 38 quid in his wallet!
The extra weight (and power) of the two engines was going to put pressure on the braking system, so he was keen to upgrade to suit. A pair of BSA forks were modified to carry a pair of Triumph calipers (actually rebadged Nissin units) which were re-rebadged to read Fourbeam, while a Harley Sportster rear wheel now carries twin discs and a chunky Avon tyre. Standard switchgear and a BMW brake lever were used, with the BMW remote brake master cylinder being incorporated to keep the brake cable look on the bars, but hydraulic operation for the calipers.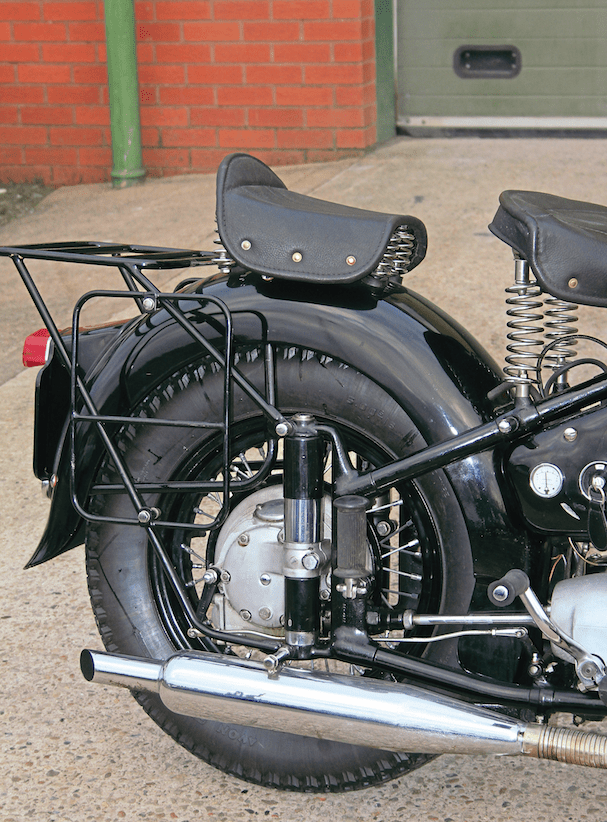 Much like Simon Humphrey, Martyn entered his bike in the custom show at the Farmyard Party, winning the Best Engineering class and gaining entry to the championship voting, and you, dear readers, voted it as being best of the year, thus ensuring that it would appear in the Custom Xtreme display at the NEC's Motorcycle Live. While at the Farmyard, he took the opportunity to get it on the mobile dyno that was on site, where it achieved 26bhp, with 31ft-lb of torque – something that, he admits, he was a little disappointed with. Well, right up to the point at which he spoke to a gent with another Sunbeam, who had his dyno'd and, as standard, it made a mighty 9bhp! So Martyn has not one, but two very good engines to make as much as 26bhp!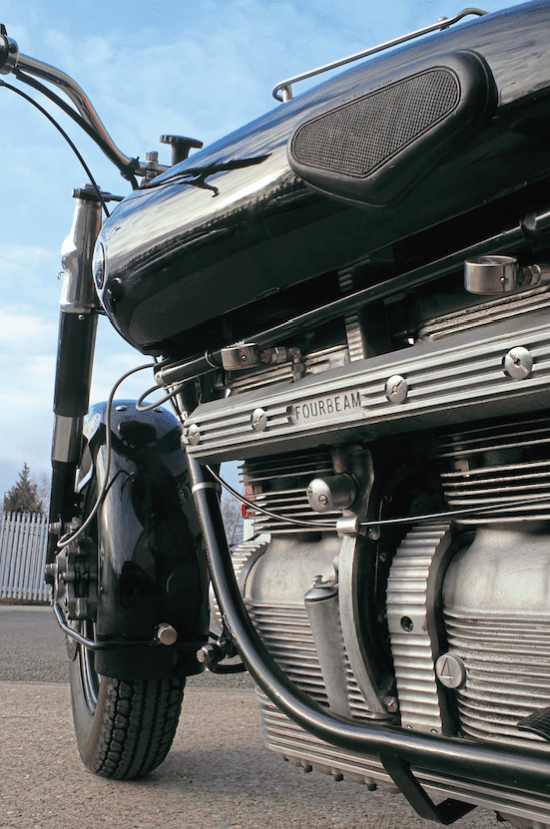 Not a hugely radical bike in visual terms, Fourbeam is something of a sleeper. I've witnessed folk walking past, and even commenting on the "nice Sunbeam – is it an S7 or S8?" before stopping in their tracks and returning for a second look after the realisation that all is not as it first seems. Subtlety is oft-maligned, but it is also very cool. And yes, it does confuse a lot of straight-laced classic fans too and that, in anyone's books, is a result!