Bikes, you could say, are in my blood…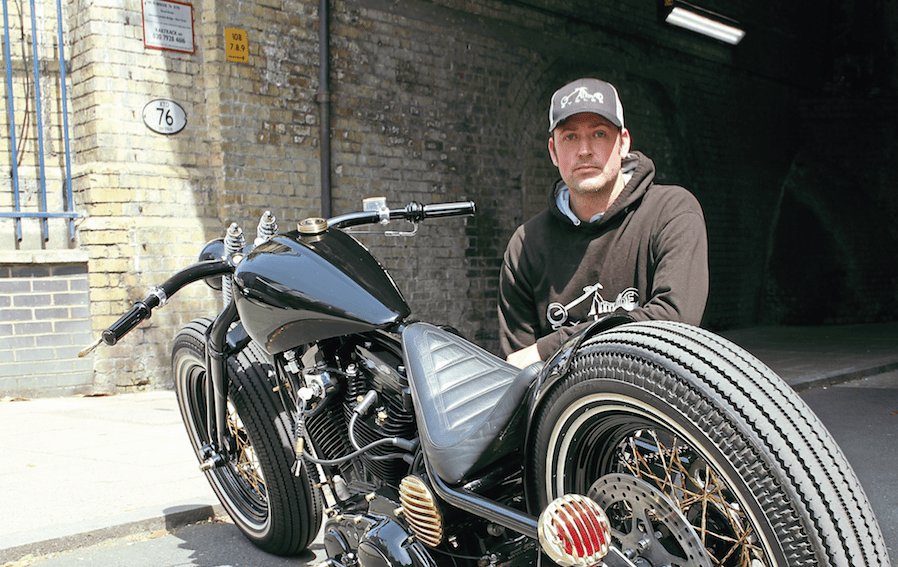 Words: Dave Rogers
Pics: Nik
It, I s'pose, started with my gran, before I was even born. She was an extraordinary woman and ahead of her time – not only did she ride bikes to get from A to B, but she was the only female member of her club and competed against all the blokes in trials and scrambles on her little 1951 197cc DOT (a bike I still have today), and one of her proudest moments was when she beat them all and took home the coveted trophy.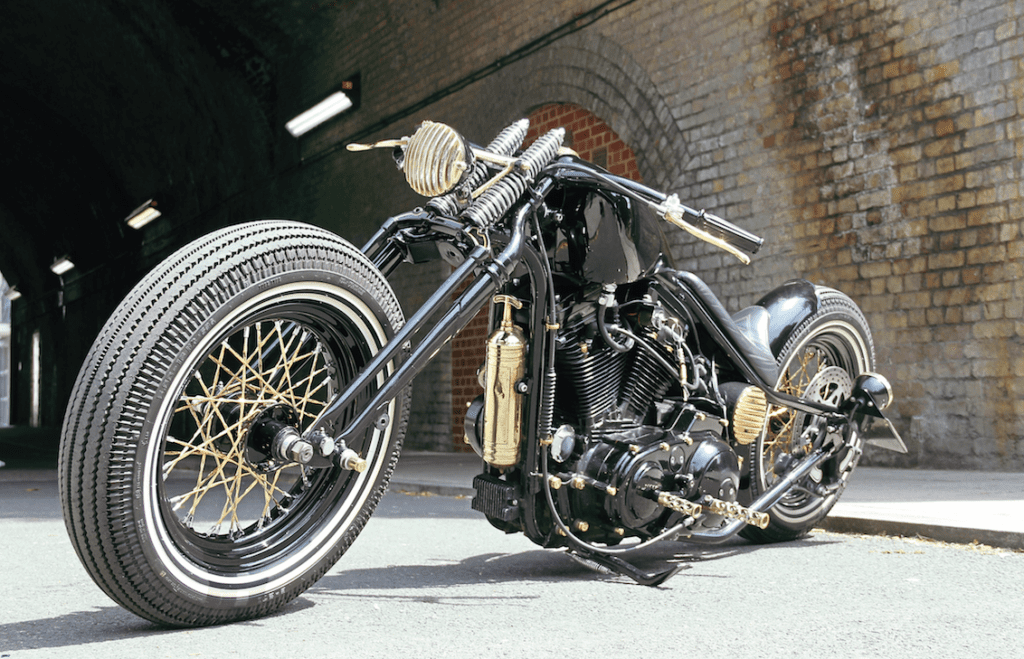 Later, my brother, John, and his mate Coli were always tinkering with one bike or another and I was brought up around them, learning how to strip and rebuild two-strokes from these wizards. John bought me my first bike; a nice little Suzuki PE250 for £30. He taught me to ride and, let's just say, between looking at BSH for all the wrong reasons (come on, I was a teenager) and riding my bike, I was hooked from day one.
That was nearly 25 years ago, and these days I've ridden pretty much every type of bike out there; if I've never owned one, I know someone who did and you all know what the biking community's like – keys get passed around more regularly than they do at the local swingers's club, we all want to try each other's ride.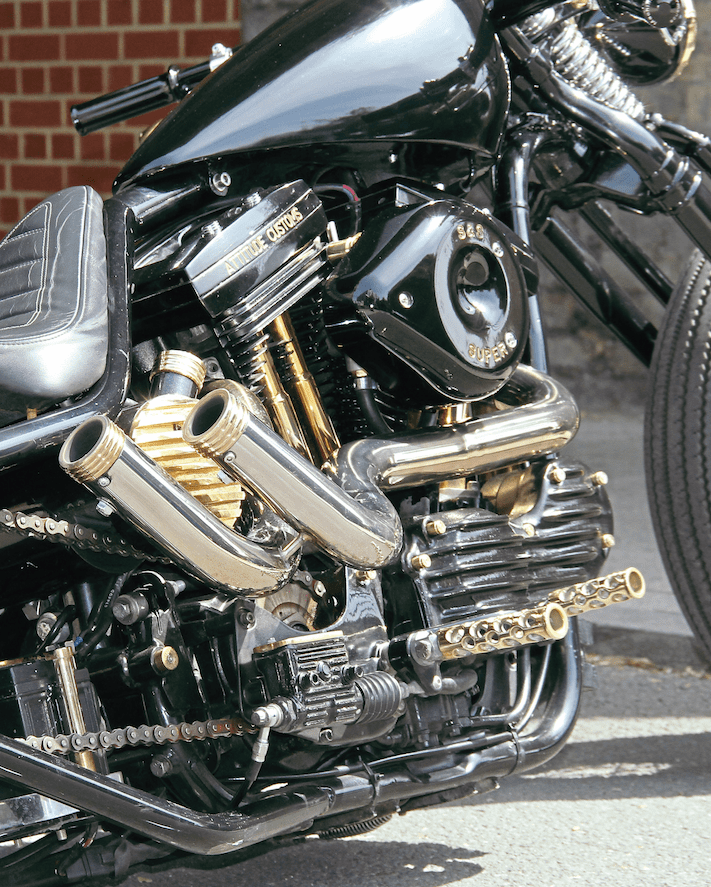 Growing up I had to deal with real life and the pressures of getting a mortgage, and had to give up biking for a while. I sold my FZ1N to help with the deposit – it was the only bike I've ever owned from new and spent more money than I'd like to admit getting it tuned and tricked to how I wanted it. It broke my heart to see the new owner ride away – I had to sit down for a while as I felt physically sick.
After four years it was time to get back in the saddle and this time I wanted to try something different, and this is where Carter Harris, whose name should be familiar to a few of you as he's built a couple o' three bikes that've been in BSH, and Attitude Cycles come in. After searching around for about 18 months for the right bike, I found two at Attitude down in Southampton that caught my eye, and took a drive down there to find I'd just missed out on both. While I was there, though, this little 883 grabbed my attention – it was black and gold with a perfect stance, but it wasn't for sale. In fact, it was destined to spend eternity sat in a reception somewhere. I was gutted. A few months later, I got a message saying that the Sportster was up for sale, so I picked up the phone and had a good old chat with Carter. It was like we were old buddies, and very soon the deal was done.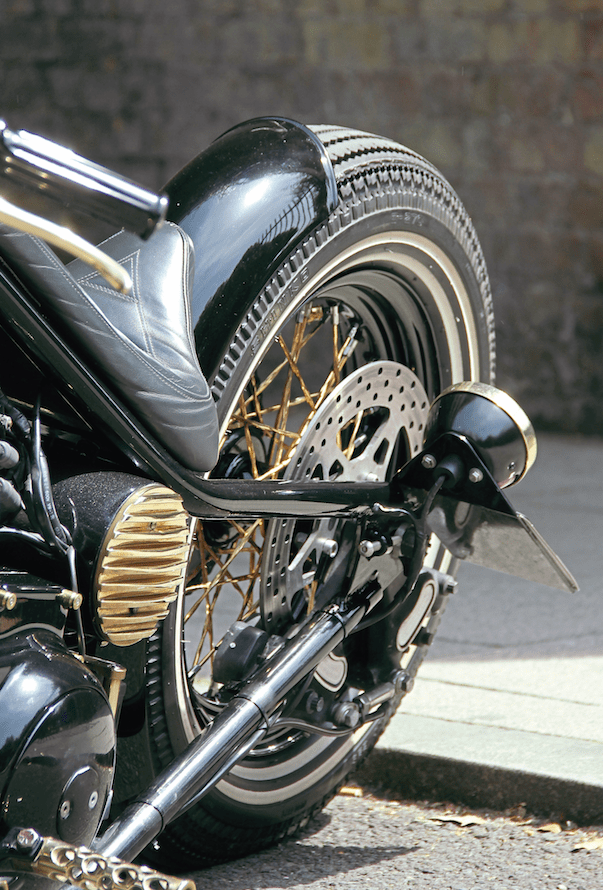 The day I travelled down to pick her up, Carter gave me some of the best advice I've been given when collecting a new bike. He said: "Forget everything you know about riding bikes and learn how to ride this one." He was right, too – she's rigid, long, low, grinds the floor when you tip her in, and has no front brake but, hell, is she fun to ride! I rode home with a smile on my face like the Cheshire Cat, and I now have to ride with a black visor to hide my shit-eating grin.
Carter'd built the bike in his usual style; a drop-seat rigid with a goose-necked frame made in-house at Attitude, with a springer front end with a tall front wheel and no front brake (there's a very clever, and effective, twin caliper affair on the rear disc), wide 'bars, a swoopy tank/seat/rear mudguard ensemble, and a fat back wheel, and then gone out of his way to finish it in a simple, yet striking, black and gold/brass paint and polish scheme. The wheels, for example, have had their fat twisted spokes plated in genuine 24-carat gold, and the numerous brass parts that adorn it've been polished to give a properly lustrous sheen, while the black paint, by Rooster's Voodoo Paint Shop, looks so deep you could almost fall into it.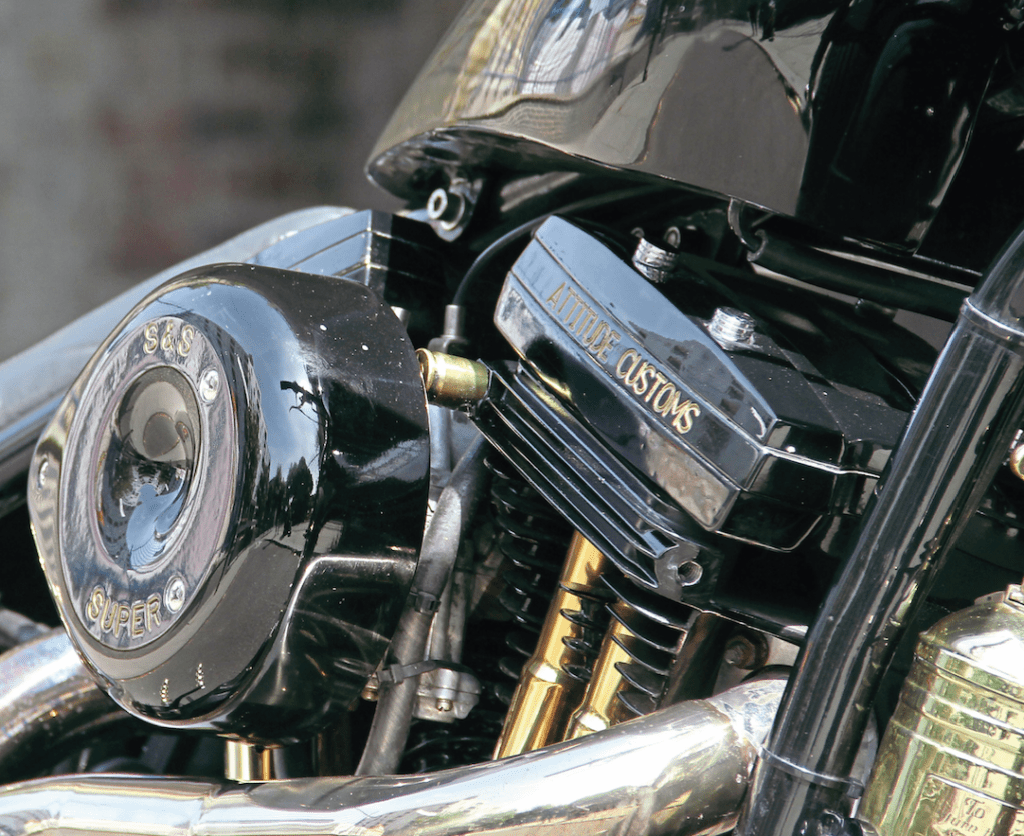 Since buying the bike I've put a lot of miles on her – a good mix of motorway, A and B roads, and I've had a good cruise around the Lake District on it, even taking it off-road over Mosser Fell! Those in the know'll know this isn't the kind of bike to be going over there, but I made it (there were a lot of adventure bikes out that day, but none on my route, funnily enough…).
I've got to thank Carter and the team at Attitude. He's built one hell of a bike; not only does she look amazing, she rides great, too. If you're ever in their neck of the woods you've got to pop in. The showroom is brimming with stunning machines, they're a real friendly bunch who are always up for a good chat, and what they don't know about building bikes isn't worth knowing.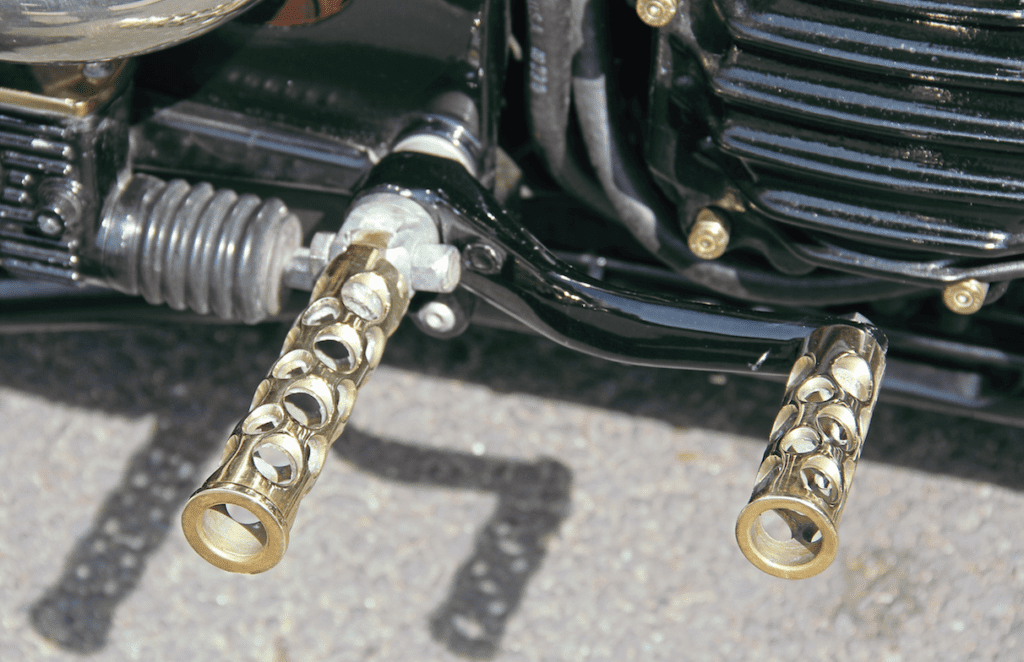 Finally, I might be convinced to sell the bike if the right person came along – ring or text me on 07462 115752.