April issue of BSH (yes, that's right, get it while it's 'ot!) takes a look ahead to some of this year's shows and events, while reminiscing about a goodly number of last year's highlights.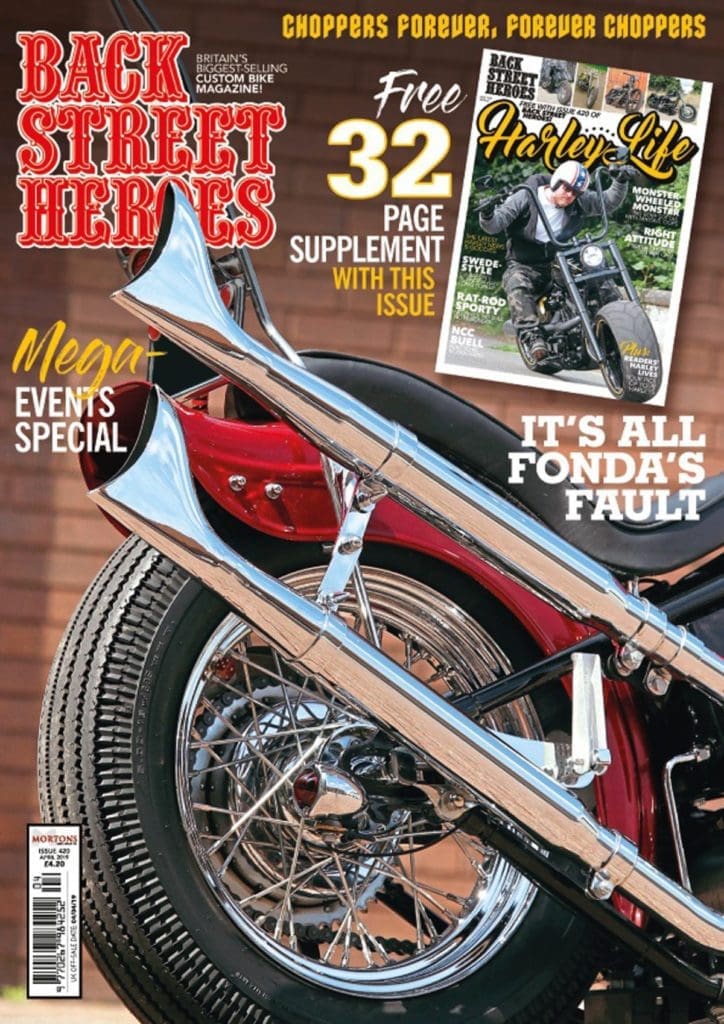 Who remembers Stormin' the Castle? If you do, maybe you weren't there? Either way, enjoy Wor Davie's report from this annual get-together of like-minded souls. Also inside, with a shedload of pictures of folk in various stages of happiness, undress or confusion: Ace Cafe Reunion, Race the Waves, NCC Bucks Custom Show, the Drink, Drop & Doss Rally, Sand & Motorcycles, Strong Survive Custom Show and Six Towns Chopper Show.
Looking ahead, we give you the lowdown about the 2019 BSH Custom Bike Championships, in which you could win oodles of cash, and have your bike displayed later in the year on our stand at Motorcycle Live at the NEC in Birmingham. Find out when, where, and all those other important details, in the mag.
But of course, BSH would not be complete without the bikes you love to drool over. Some are shed built, others crafted by professionals, all have been created with love and care, and they're all a triumph (especially the Triumph Saint).
Then we have a chilling tale from the legendary Jim Fogg, with illustrations by Louise Limb. It's about a rat bike… in more than one sense of the word…
Don't miss our wordsearch competition which offers chance to win some amazing prizes, including two tickets to Rock & Blues 2019! And if all that doesn't shine yer chrome, we've got all the usual regular favourites, including news, your letters, Rick Hulse's no-holds-barred column, another Back In t'Day photo, Selina's latest MAG news, and much more. Oh, and, we almost forgot, there's a FREE 32-page Harley Life supplement inside!
Article continues below…
Advert
You can pick up your copy at any newsagent, or if you prefer, you can subscribe, which will save you time, money, and any potential frustration when you march down to your local shop, only to find they've sold out… by subscribing, you get your copy before it goes on the shelves, delivered to your door, at a very attractive price indeed… go on, do it now!