Over the years in BSH we've told you often enough of builds that've started out as one thing and ended up as another – it's not an unusual occurrence. Paul from NCC Essex, the owner of the chop you see here in front of you, had no idea he was going to end up with a bike like this, though…
He'd taken his battered but beloved old SOHC CB750 chop into the sadly now defunct Smiley Monkeys Custom Cycles in Clacton to have the old and worn-out four-banger hoiked out and a new(er) CB900 slotted in, in its place; nothing more, nothing less. He'd left it in the capable hands of Jim and Luke, and asked them to give him a shout when it was done or if they needed him to get anything, and then headed off home, blissfully unaware of what was about to happen to his bike.
Jim and Luke looked at it and, I'm assured, the conversation went something like this:
Luke: "That's an old frame, innit? Look how skinny those tubes are…"
Jim: "Yeah, was obviously built a while ago, been okay with that old single-over'ead cam motor in it though."
Luke: "Dunno if it's going to be okay with the new motor – CB Nines are a bit more powerful than those old 750s."
Jim: "It'll be fine."
Luke: "Hmmm…"
At this point Jim walked off to put the kettle on. He'd just got the water in when he heard the angle-grinder fire up, and by the time he'd got back across the workshop, Luke'd cut the frame's top tube off. "Oh bollocks," he thought…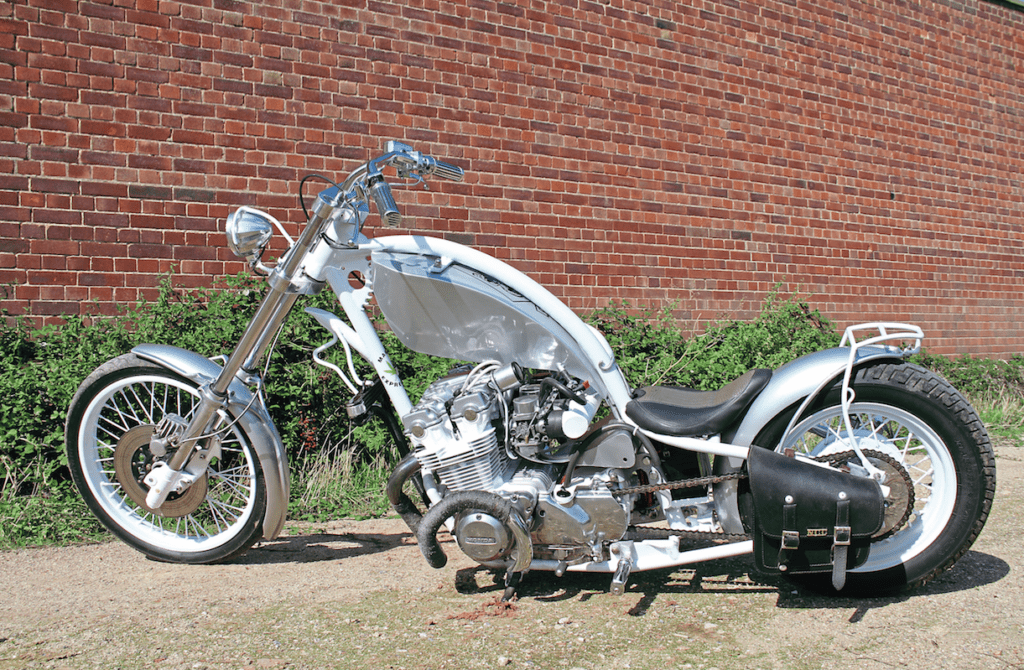 A swift phone call to Paul followed in which Jim offered the opinion that perhaps the old frame tubes were a wee bit skinny for the new engine, and it might be a good idea to do something with them. Paul said: "Do what you need to do, I trust you", and Jim said: "That's good, we've already cut it up…"
Ever since they did the BSH rat-rod a couple of years ago, using parts and materials garnered from what they had laying around the farm their unit was located on, their builds have gone from those of a traditional style to something a little more organic, a little more flowing, a little more unconventional, as they experimented more and more with shapes and lines. They decided that they really liked curved top tubes, and bikes that came out of their workshop in the days before they went their separate ways all featured non-straight upper frame rails and also flat (or near-as-dammit flat anyway) seats. Paul's bike, practically the last one they did, is no exception; the frame on this one is so organic that it almost looks as though it's been extruded rather than made in any conventional sense, with its swoops and dives, spikes and thin curving bracketry, its twisting wrapped exhausts, and its jet intake-like air collector.
Article continues below…
Advert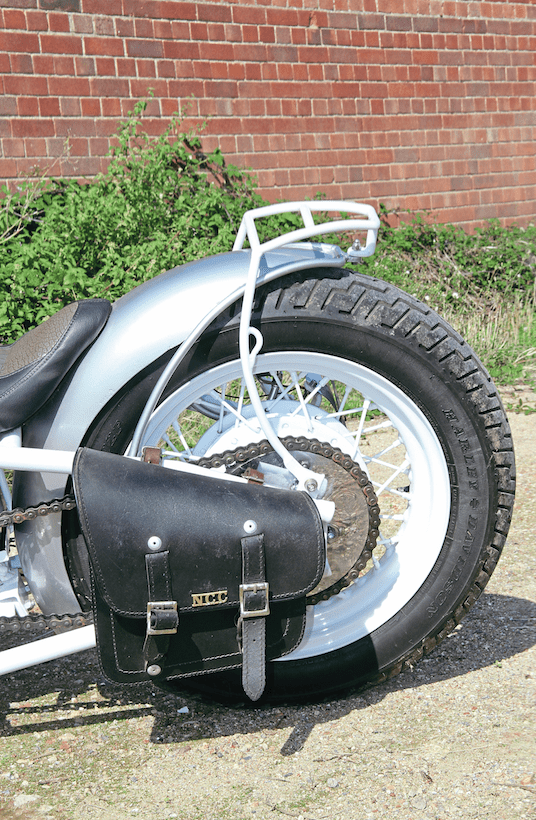 The chop's running gear is almost orthodox; the wheels are almost stereotypical, being 21-inch front and 16-inch rear, and the forks are long upside-downies from a Derbi Senda 125, while the brakes are early 'Onda front (with a one-off bracket to attach 'em to the Spanish forks) and rear. Just about everything else, though, has been handmade in their workshop, with just a smattering of aftermarket parts purchased from Geek/Wish (www.geek.wish.com) – a valuable source of bargain-priced parts for the custom builder on a budget.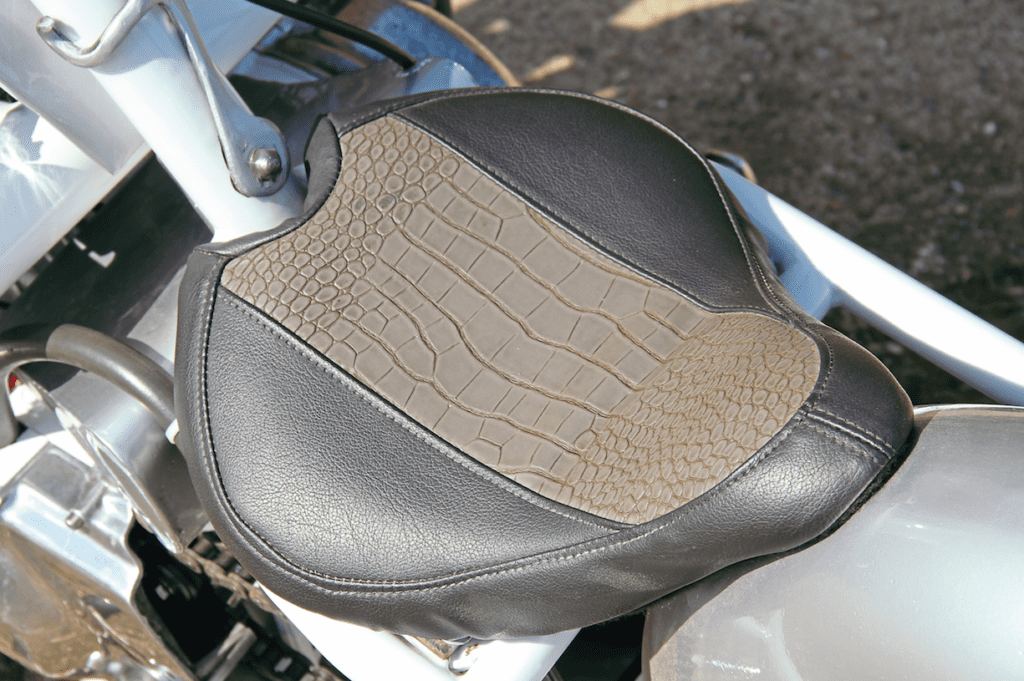 Luke made the tank that hangs below the curving top tube, and the seat base was covered by the very talented Mick Slysnake using a handbag liberated from Jim's wife Tash's vast collection. I assume she donated it willingly, but you never actually know for sure, do you? The 'bars came from their stash of useful parts picked up over the years and stuck to one side ready for use one day, and the headlight cocooned between the twisting tubes of the headlight bracket is an aftermarket one that's an interesting diversion from the traditional Bates. Similarly, the sissy-bar-cum-rack at the rear, designed to allow Paul to carry his kit on NCC runs, is equally as intricate as anything up the front.
As with a few of their bikes, rather than having everything painted as is more usual, they've had just about all that needed to be coloured, done in powdercoat instead. These days there are amazing finishes available in powdercoat; everything from candy colours to coloured alloys to pearls and metallic, and for this build their usual 'coaters of choice have used a very nice white with a subtle sparkle in it, and a basic silver for the tank and rear 'guard. It looks good, and it's easy to look after – just a quick wipe-down with a damp cloth, and a greatly reduced risk of chipping or damage, always a good thing when a bike's built to do the miles that NCC bikes are.
Article continues below…
Advert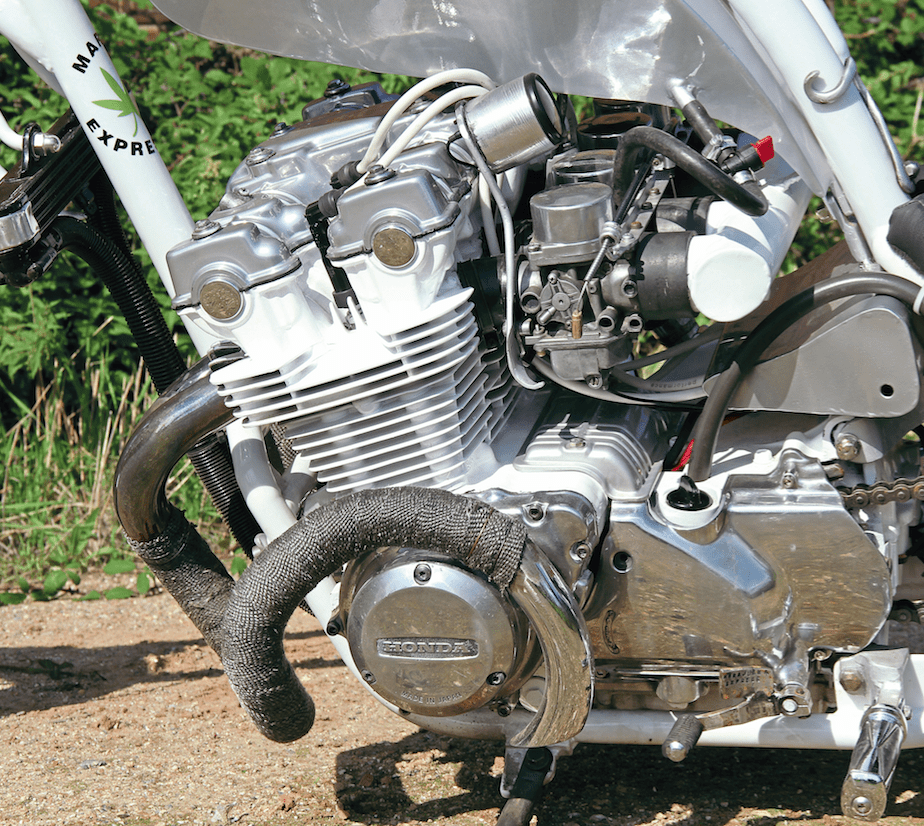 Jim reports that Paul was blown away when he saw his drastically reworked bike, and while it bears little resemblance to the bike it once was, he's more than happy with it and the attention it's received since it was finished a few months back. It's proved reliable (apart from a slight sump issue at Motorcycle Live in November when it got whacked on a rough floor), fast and, with the flat seat, much more comfortable than a traditional rigid.
It's done a few NCC runs, and acquitted itself admirably, and Paul's looking forward to putting even more miles on it this year too. Fingers crossed for the Easter Run – hope the weather's a little kinder than it was last year!