It's strange how you meet people and how things work out. I met Andrew, the owner of this bike, when I called into his place of work and was asked: "Do you happen to have a large elastic band on you by any chance?"
Words: Will Webb
Pics: Simon Everett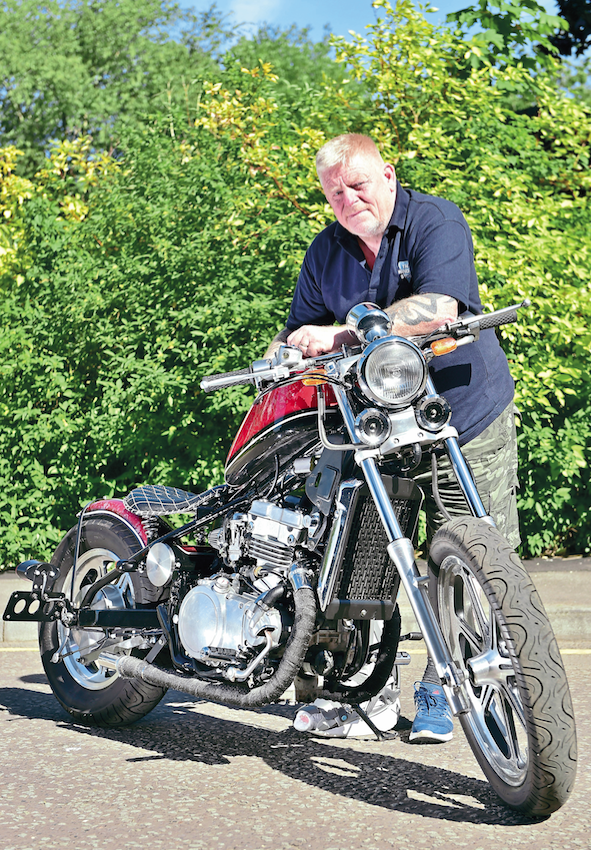 I asked why and what he was up to, and he said he was putting some transfers on a motorcycle tank and wanted an elastic band to use to line them up. My ears pricked up as I've been building and fiddling around with bikes for most of my adult life.
He said he'd just had a Harley tank painted and was going to use it as an urn for his and his wife's ashes when they go, and we got chatting about bikes and it turned out he has a couple of Harleys, a trike, a Honda bobber and an old Kawasaki EN500 – one of the belt-drive, custom-styled liquid-cooled twins that Kawasaki made back in the '90s.
I told him about the bikes I've built in the past and showed him some photos. This was right up his street and he asked if he, and his mate Digger who's also into bikes and has a Harley too, could come and have a look at my Shovelhead (cover bike BSH 415) and a couple of my other bikes?
I got quite pally with Andrew, and Digger, over the next couple of months. I called around to his garage one day, and we got chatting about the EN500. He asked my opinion on if it'd be a suitable donor to turn into a bobber. He'd owned the bike for years, and it was a pretty mint standard example, and he wasn't sure if he wanted to chop it as, although he rarely used it, he was never going to sell it as it had sentimental value to him. Now I don't need asking twice when it comes to chopping bikes, and I suggested to Andrew, and Digger, that we strip it down to a rolling engine chassis and have a look at the lines of the bike. Five minutes later Digger had a pile of bits in a box, and a slightly worried-looking Andrew was saying: "I f**king hope he knows where that lot goes back." Then there was no going back so Andrew delivered the bike, and bits, to me and I set about chopping and fabricating the hardtail.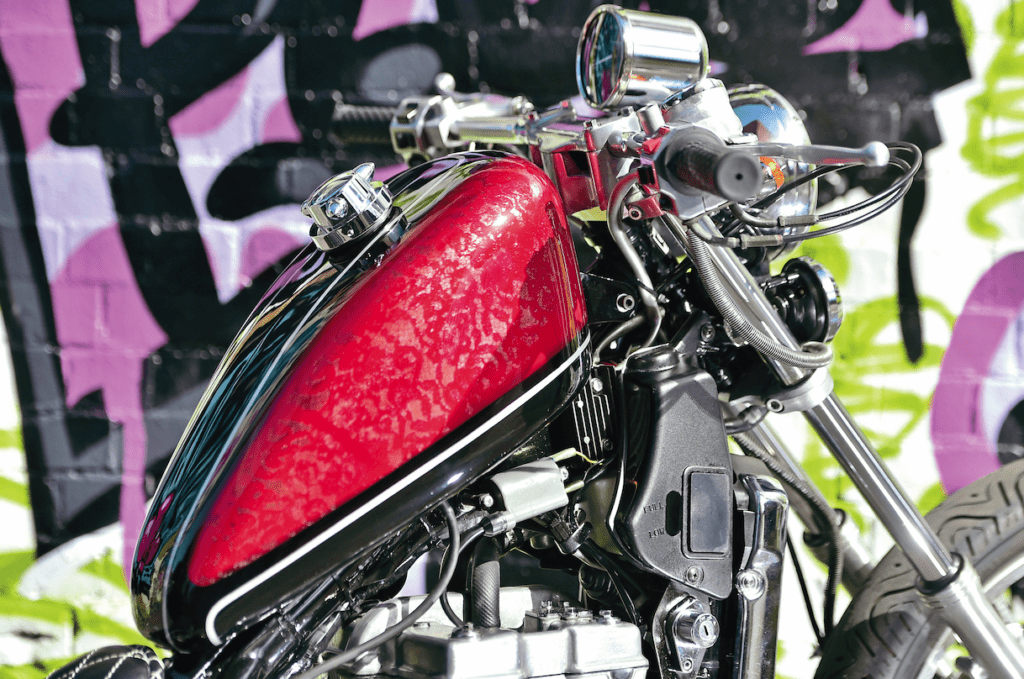 This was a bit of a challenge because he wanted to keep the original swinging arm so the hardtail'd have to be mounted off this, so several bends and attempts were made to get the angles right until I was happy. I eventually got it all welded up, and the swingarm braced, so everything was nice and solid. We came up with the idea of mounting the battery within the swingarm – it fitted perfectly, and it was quite a simple matter of making a bracket to hold it in situ.
Then Andrew came up with the idea of a false oil tank that would sit directly above the battery and house all the electrics and wiring. A couple of ideas were floated as to what to use for it and we ended up with plastic pipe and two stainless caps, which looked quite effective.
The front end of the bike was lowered by dropping the forks slightly to level the bottom frame, and he decided to use his Harley urn as a fuel tank, so a couple of brackets were welded and this mounted nicely on the frame. However the drag 'bars that he wanted to use were catching it on full-lock as the risers had a slight angle backwards. After standing there scratching my head for a while, I came up with the idea of turning the risers around 180 degrees – this'd angle the 'bars just enough forward to clear the tank on full lock.
For the paint scheme Andrew wouldn't give me any idea of what he wanted; he wanted to leave it up to me. The only thing he stipulated was that it had to have candy red in it. No pressure there for me then! As the bike was starting to look more like a Harley than a Kawasaki he didn't want any decals so I just did a bit of experimenting with some silver flake, and some stencils, and I came up with the paint scheme you see on the bike now. As the bike had sentimental value to Andrew, and his dog, Tori, had just passed away, I thought it'd be a nice touch if I airbrushed her name on to the rear 'guard.
The bike was starting to come together nicely. I wheeled it out of my workshop with the newly painted tins, oil tank and seat fitted, took a step back and was quite pleased with the way it looked. My next job then was the exhausts, where I made a set of straight-through 'pipes; these are loud, very loud, and Andrew had them wrapped for a bobber look. The whole build was pretty much a joint project and, once I'd done the main fabrication (and the paint), I handed it back to Andrew and Digger to alter the wiring, shorten the cables and fit all the auxiliaries, etc.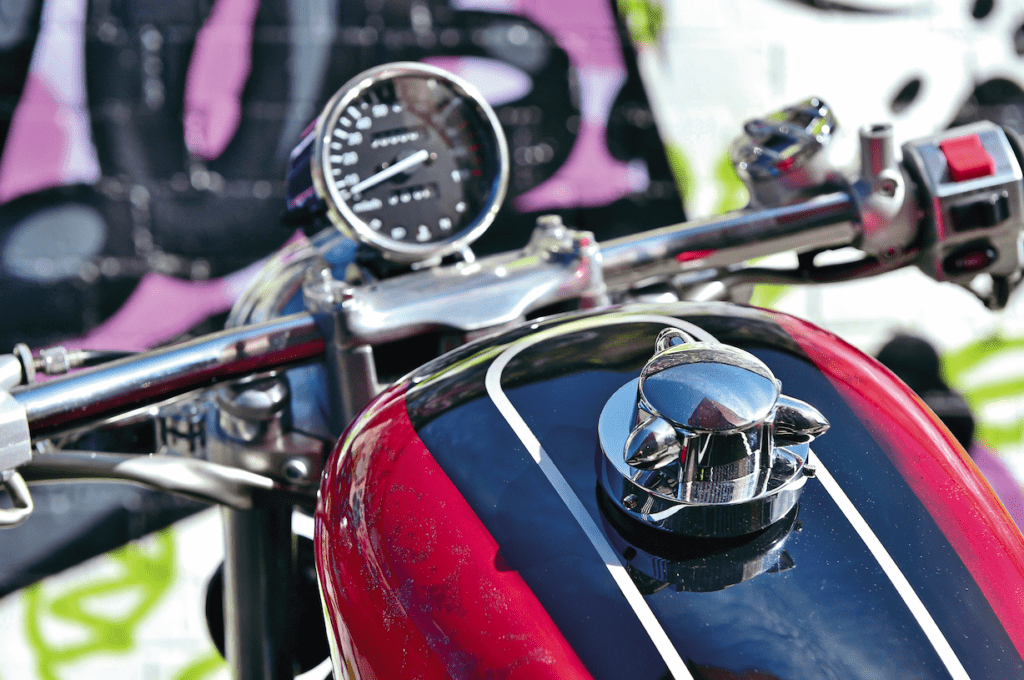 They say a custom build is never really finished, and this one is no exception as he's now talking about putting a springer front end on it. I've never seen an EN500 hardtail with a springer front, but I'm pretty sure I'm going to see one soon!