Over the years there've been numerous discussions about a style of motorcycle that gained a nickname back in the Eighties. Tough, big horsepower, no-compromise bikes that were all about attitude, and all about getting from point A to point B in as short a time as possible.
Words and pics: Dave Manning
If I say the word, it'll start a whole new shitstorm of arguments and debate, so I'll not bother, except to say that it's the sort of bike that is typified by Paul Sands' GSX1500. And no, that isn't a typo, this Suzuki really is a full litre and a half in capacity.
A few years ago, Paul built a couple of drag bikes in a fashion that is known as 'outlaw' – that is, built to not fit into any particular class and running a very long wheelbase, rear suspension, no wheelie bars and a slick back tyre. The other, built for his mate Tony Clarke, still sees action at Santa Pod and has run in the mid seven second times for the quarter mile, although Paul had to sell his when he was made redundant. However, like all avid drag racers, Paul had kept a few spares under the bench, including a set of brand new GSX1100 crankcases and an Orient Express big block, and these parts were to dictate the type of bike that he would build when he decided that he wanted to have a bobber-for-the-21st century (but really it's a streetfighter. Oops, I said it.…)
Having spoken to Graham at Hard Up Choppers, Paul put in an order for one of the Outlaw frames (the coincidence in name is just that, a coincidence), which has more rake, ground clearance and rear wheel clearance than HUC's other frames, meaning that Paul could have the 200 section rear tyre he wanted. However, these frames were made for the oil-cooled Suzuki GSX-R and Bandit engines so, for his air-cooled GSX motor to fit, Paul took the cases down to HUC for the engine mounts to be sorted. Three weeks later, and an Outlaw frame for a GSX engine, along with a box for the battery and electrics, and a 'Fat Bobber' fuel tank was heading to Paul's west London home.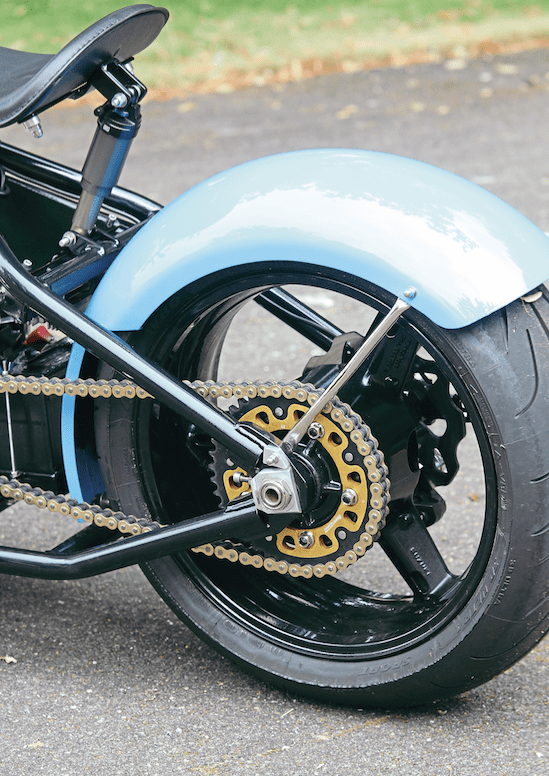 For that 200 section rear tyre, Paul sourced a suitable six-inch wide rear rim from a K1 model GSX-R Thou, with a front end from the same model to match. Aftermarket mudguards wide enough for that rear tyre aren't two-a-penny, but Paul sourced a Jesse James item that did the trick, with a front muddie from a K4 model Gixer completing the set. K1 calipers are mounted front and rear, biting on petal-shaped Galfer brake discs that Paul chose due to their shape.
A set of Harris rearsets gives Paul somewhere to perch his pinkies, although the limited space betwixt rearsets and seat on a frame of this style meant that the Harley seat not only needed a mountain bike shock at the rear to give some much-required comfort, but also needed to have a raised mount at the front too, to give the leg room.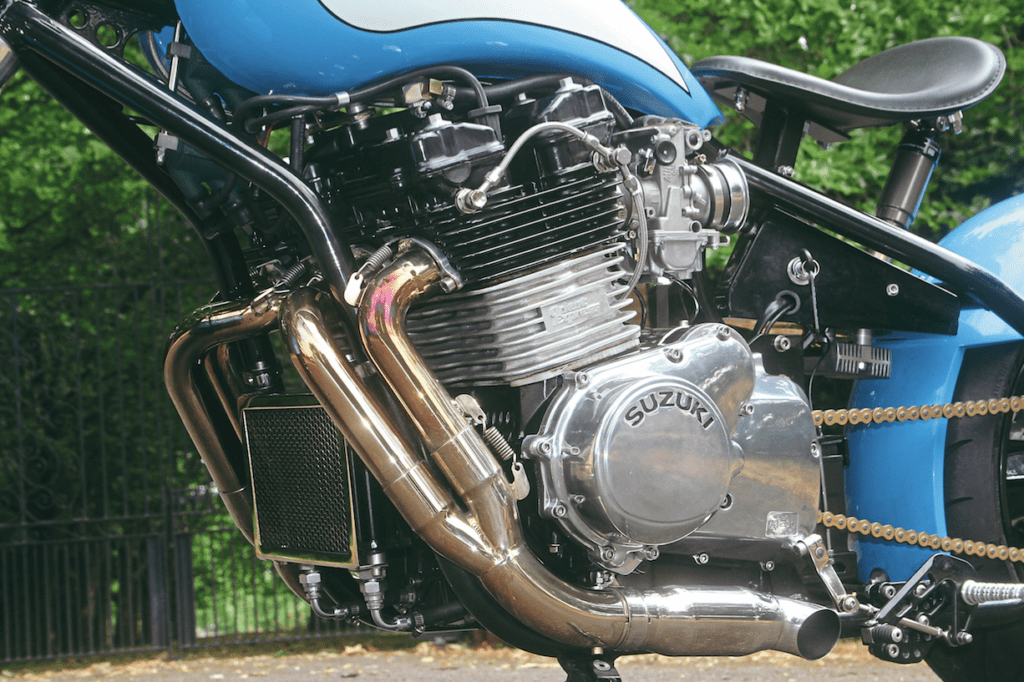 The frame, 'leccy box and fork stanchions went to Windsor Powdercoaters for a coat of gloss black, and on their return the build-up of a rolling chassis commenced. Paul likes to fully complete the rolling chassis first, so when the engine is done it just drops straight in and playtime can begin! A pair of one-off bars from Fatbobbers – a chunky 40mm diameter in the centre, sleeved down to 22mm at the levers – were bolted on to the Gixer top yoke, providing a home for some Brembo controls and a GPS speedo that is neatly housed in a stainless bowl made by Slough Metal Spinners. The bars and neat little brackets for the master cylinders were nickel-plated by Gary at the polishers, and the fuel tank and mudguards were busily getting painted at Aldo's workshop in a colour scheme that is near-identical to the one that Paul had on his outlaw drag bike, right down to the appropriately styled 'Skoal Bandit' type logo on the tank.
In the meantime, Paul was going about the time-consuming process of building the high performance powerplant. The new old stock crankcases had been machined to take the big block and were painted gloss black by Ian Richards, the crank had been balanced and welded (the large capacity GSX lumps can twist the crank if it isn't welded on the press fit joins), and the gearbox, new clutch and new generator were slipped into place before the entire bottom end was slid gracefully into the frame rails.
Paul did this as a complete GSX engine is a heavy old lump, and there's enough room in the frame to bolt the top end on in situ. With the 13:1 pistons in place, a standard EFE cylinder head (with freshly lapped in valves) was clamped in with heavy duty cylinder studs, and the breathing apparatus could be added. A bank of gaping 40mm Mikuni carbs breathes in, and a one-off stainless steel four-into-two exhaust from Simpson Racing breathes out.
A Dyna 2000 ignition, with Dyna coils, gives a spark that would, as Clink once said, set fire to a bucket of piss, and ensure that the ignition process is instigated, while external oil lines to the cylinder head, a high flow oil pump and an additional oil cooler mounted at the forward edge of the crankcases keep the motor lubed and cool. The fat handlebars play host to a quick action throttle, which means that this fire-breathing bike is a mere bump, cough or sneeze away from tyre-spinning chaos…
The build took, in all, just eight months, and while this one is actually for sale, Paul has already suggested that he'd like to build another! Interested parties should contact Paul on [email protected] or 07932 423568.