The story of this bike is one that you could say is a series of a series of fortunate happenstances or, as I'd really say when Nik's not putting words in my mouth, a series of results – you know, as in 'Result!' with an exclamation mark at the end.
Words: Pete Sayers
Pics: Nik
It all began back in the spring of 2005 when I heard, through a friend, of an old Triumph TR6P (Saint – 'stops anything in no time') police bike, forlorn and unloved, sitting in an old chicken house. I made contact with the owner and was able to take it off his hands for a massive £250. Result #1.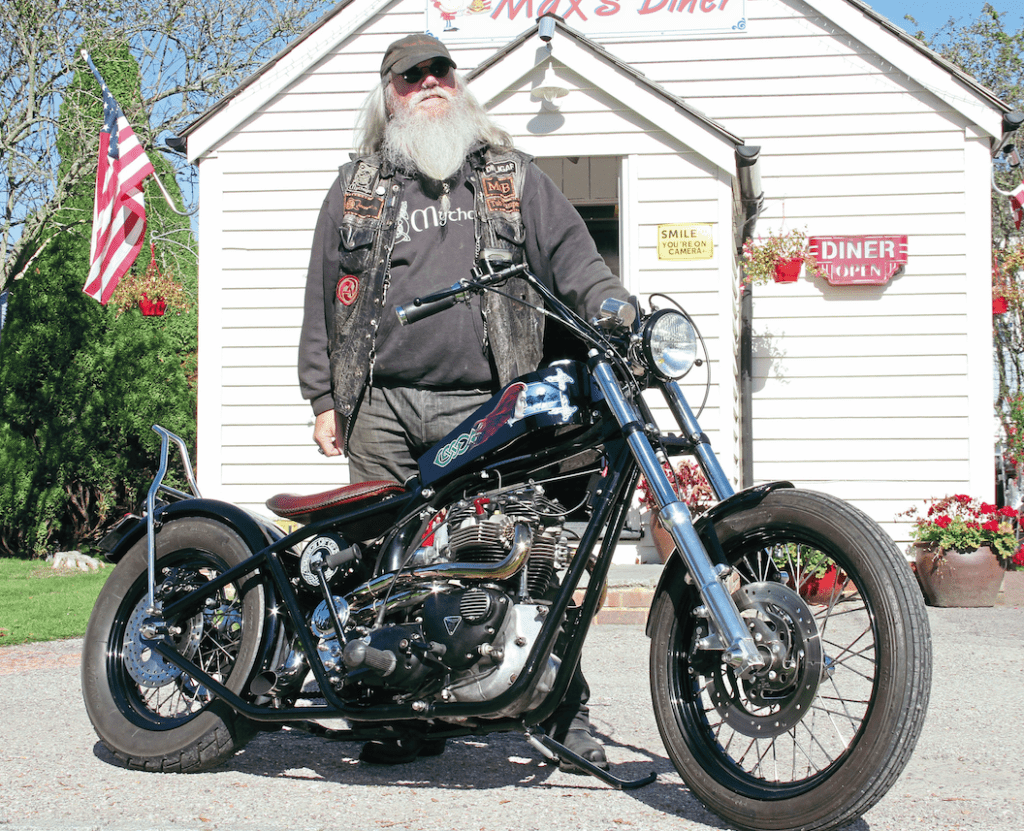 The Saint, in case you don't know, was a variety of Trophy TR6, the single carb head 649cc twin, that had a special petrol tank which typically accommodated a police radio telephone, and panniers, and a fairing or leg shields. They were sold between 1967 and 1973, and the Triumph factory varied the specification slightly according to the needs of the individual police force.
At the time I was working away from home so I just stuck it in me workshop for Ron (lateron…). After a few months away I found myself back in more familiar surroundings, so stripped the Triumph down with the intention of getting it back on the road as a stock TR6. As so often happens, though, the fates decreed otherwise and things went pear-shaped for a while. Now I like pears as it happens, but not the shapes they can pull, so not a lot happened for a couple of years… well, to the Trumpet at least. The, one day I was talking to my great mate Dave Batchelar, he of P&D Custom Bikes, and a cunning plan was hatched and the old warhorse was going to be turned from a Saint into a sinner… or from a copper to a chopper. Result #2.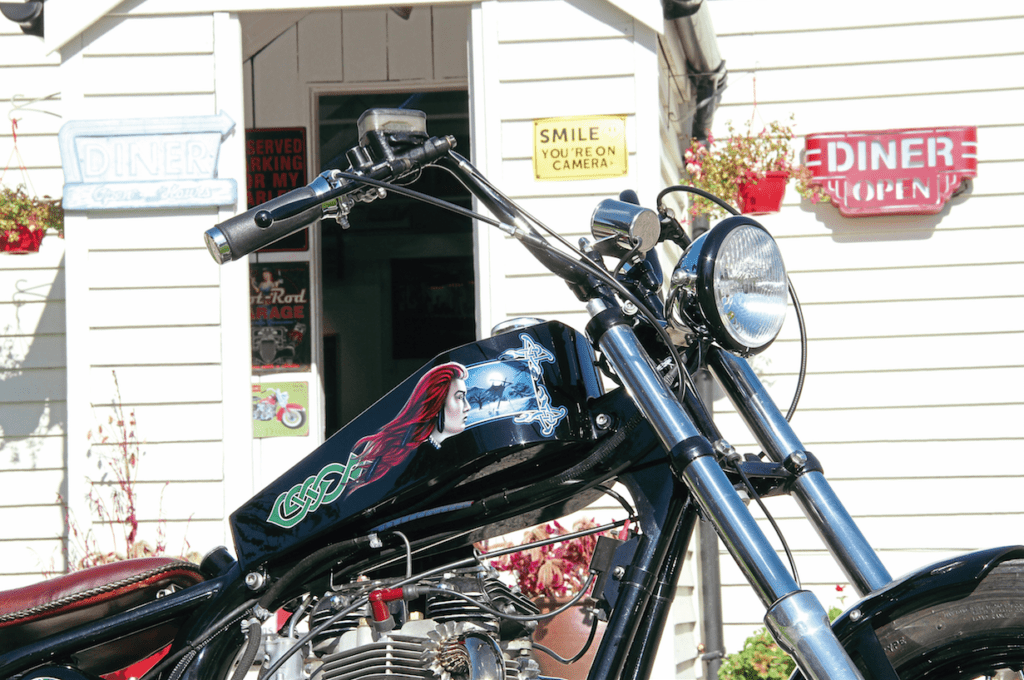 The work that Dave does is outstanding, and he soon had the tank made (he made it specially for my bike), the frame altered and hardtailed, the exhausts made, the wheels rebuilt with Harley hubs and rims, and a host of other bits and pieces on the go too. Enter a painter mate, Andy Hosegood, who was quite brilliant, and he took on the task of bringing to life mine and my lady Kaye's ideas. We're both Druids, you see, and are proud of both our Druid and English heritage, and wanted to use the bike to honour the spirits of old Albion as that's something that's important to us. The tank art represents the old gods; Cernunus (or Cernunnos, spellings vary), the horned god, known as Lord of All Wild Things, for the male, and the Irish goddess Morgan (Morgana, Morrigan), goddess of war and fate but also associated with the earth and sovereignty, and the queen of the faery folk, for the female. The labyrinth is copied from the rock carvings in the Rocky Valley near Tintagel in Cornwall, discovered in 1948 and believed to date from between 1800-1400BC, the wolf and the stag are power animals (spirits of animals which come to you to lend their wisdom and power for your life and health), and Thor's hammer, Mjolnir, is a Norse totem. He did the work perfectly, and the paint is exactly how we envisaged it. Result #3.
Even though the bike was coming on, shit still kept happening. The motor wasn't in the best condition, but I was struggling to get time to rebuild it. Then another friend of mine, Steve, offered to rebuild it for me. He's done it to stock specs, apart from the plus-30 rebore, a Wassell Evolution carb with stainless bellmouth, and an external oil filter, and added in a Boyer ignition and coil to help it spark better. Dave'd done a set of lovely stainless 'pipes already, and they were refitted. The whole thing now runs beautifully. Result #4.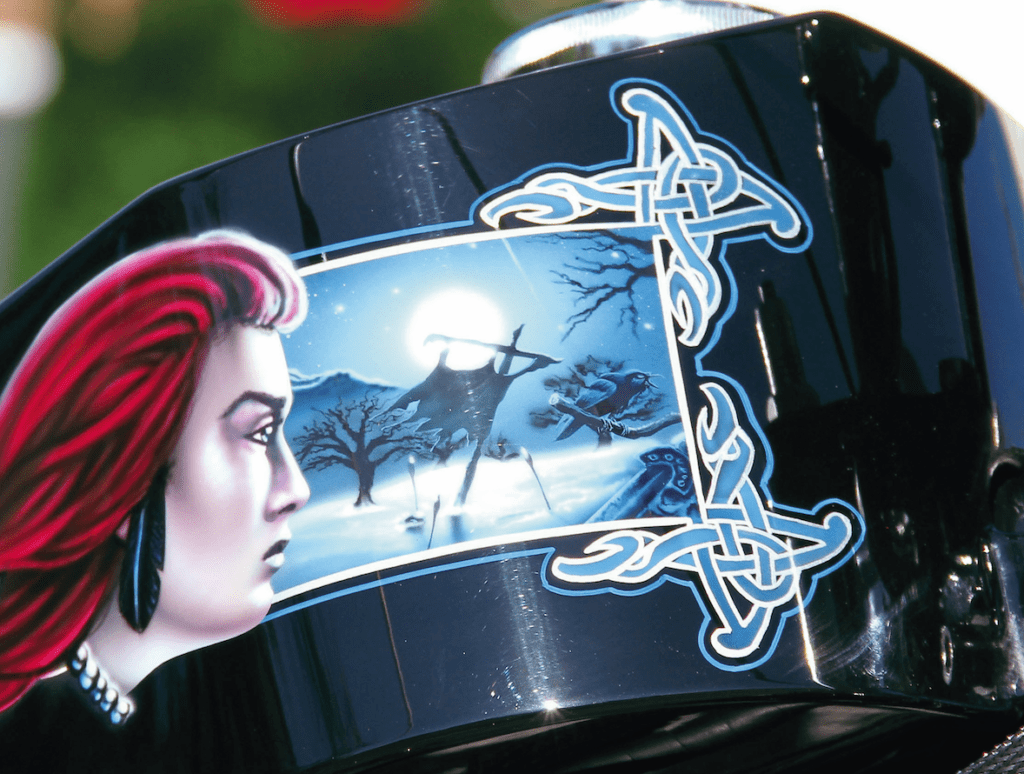 Slowly over the next few years (yes, years) it came together piece by beautiful piece, and it was finally ready to hit the road in the spring of 2016. Unfortunately I wasn't (again) and so it had to sit in my workshop all that year just looking out at the world, not actually in it. 2017 had to be better? Nope, previous eye problems persisted, and I still couldn't ride it, and still the Triumph waited for its moment to shine. Then, hey, what do you know, it was 2018, and 2018 was the year it all came good and, to top it all off, it was MoT-exempt now as well as tax-exempt. Result #5.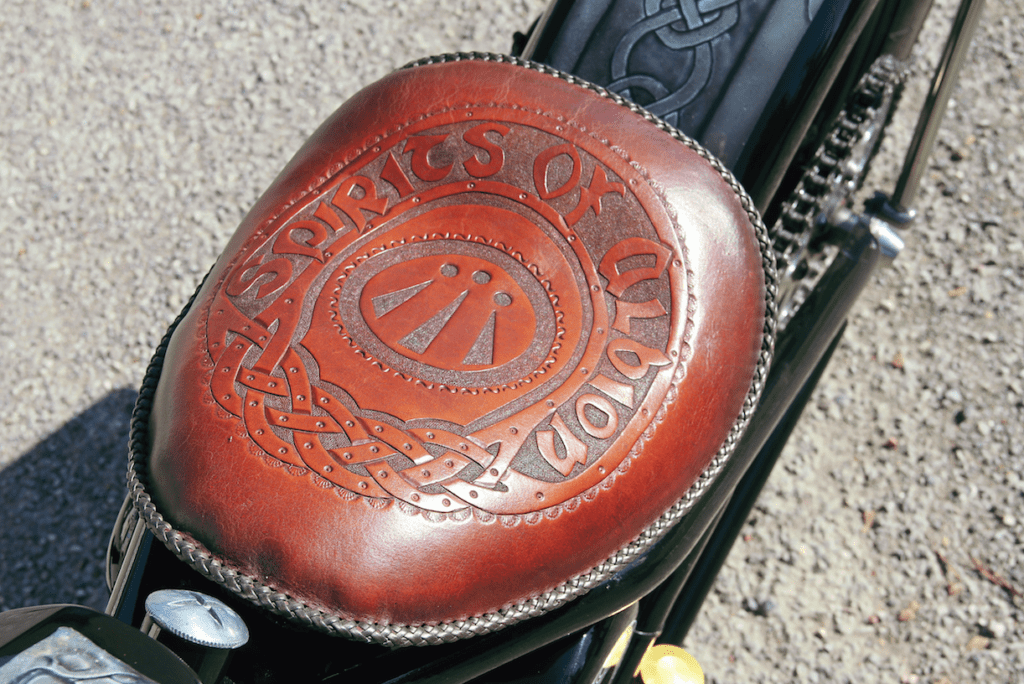 It was ready to rock, so I entered it into the Musos on Bikes show at the Shelley Arms in Broadbridge Heath (near Horsham), and blow me down if it didn't win Best in Show. It won a few more trophies during the rest of the year too, so that was Result #6.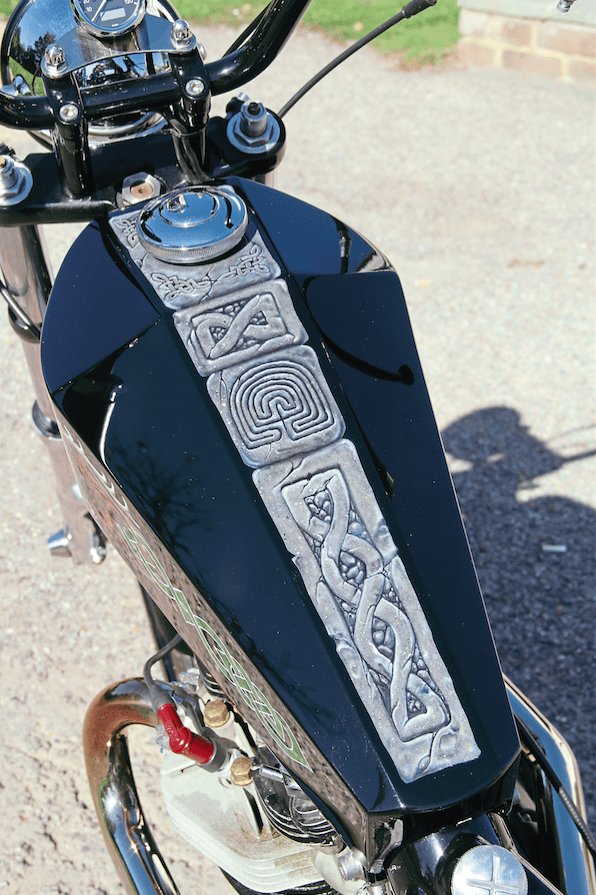 It's an amazing bike to ride; it has real soul and presence. Okay, so it's not the most comfortable perhaps, but then it wasn't made to be so. All the hassle drops away when I fire it up as it sounds superb through those fabulous exhausts, and when I'm out and about on it I have what I think they call "a shit-eating grin". As with all old British bikes it does have its ways, but the pleasure it gives outweighs the pain and, when all's said and done, it's definitely the most spiritual bike I've ever owned – each part was made with love and care, and I can only thank everyone who was involved with its creation from my bottom of my heart.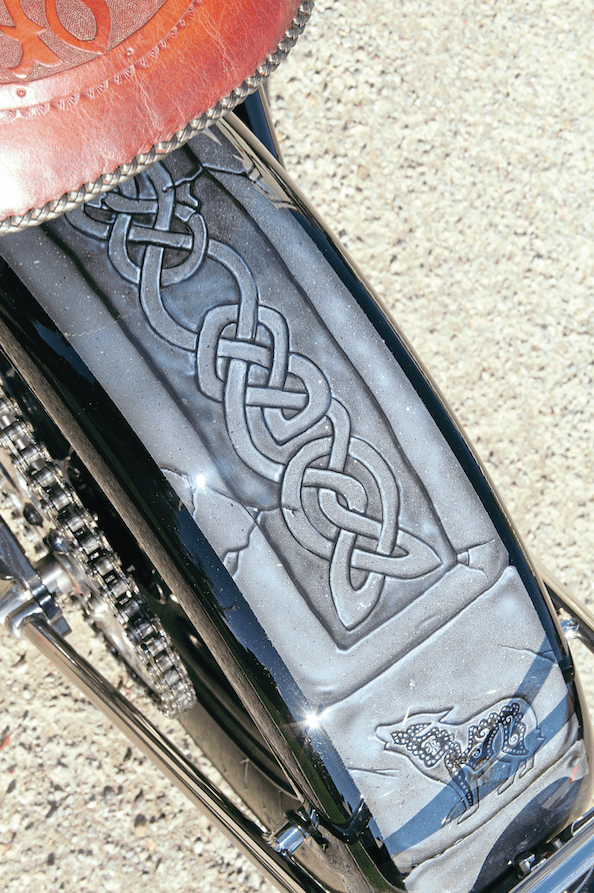 And finally we come to Result #7, which is all you wonderful people looking at it in BSH – thank you to Stu the Agitator for bringing Nik round to see it, and to Nik for thinking it worthy of a feature. Peace and love to all.