Got your bike out of hibernation yet? Checked it, washed it and filled up the tank? Then get thee to the newsagents and pick up your May issue of BSH!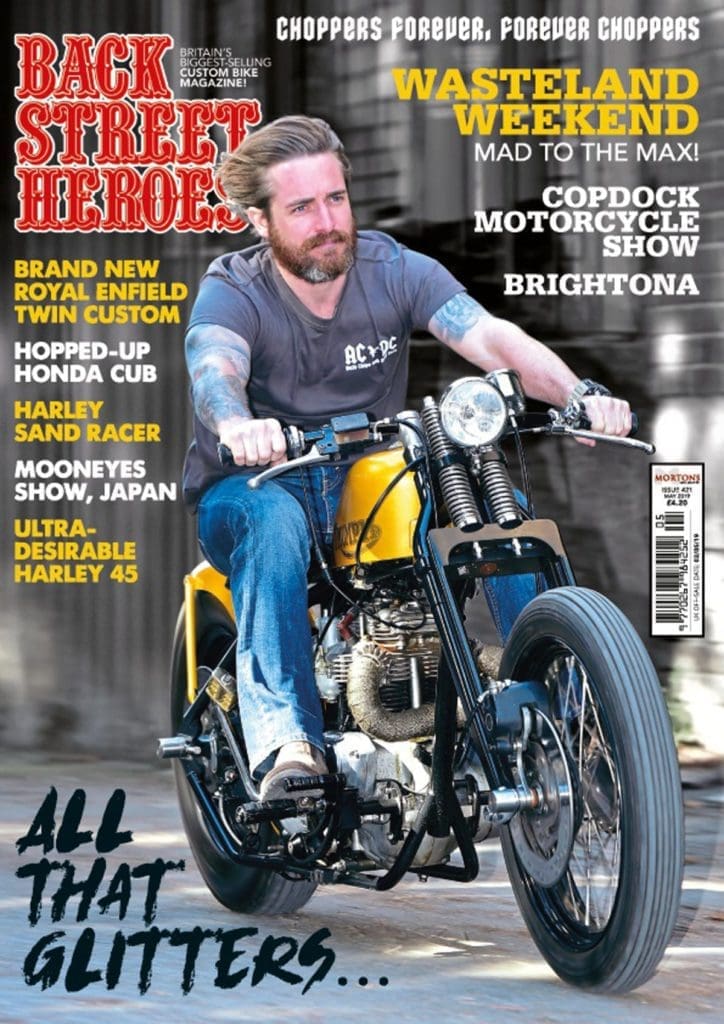 It's your indispensable guide to everything that's hip and happening in the custom bike world, with a little less hip(ster) and a lot more happening.
If you're not totally blown away by the images in this issue… well, call at Specsavers when you come out of the newsagents! There are some gobsmackingly great bike builds to go green with envy over, plus an amazing feature on the Wasteland Weekend in the deserts of California, where, if you're not dressed in apocalyptically shabby splendour, you ain't gettin' in.
This month's cover bike (see above) is a shed-built Triumph in more ways than one. Army veteran Luke Smith's involvement with a military team called True Heroes Racing led him into bike racing and to create the bike you see here, which he's now considering riding around the entire British coast to raise money for military charities.
Photographer Simon Everett, having worked his magic in that feature, outshines even his own brilliance with The Copper Penny, a bike built by Rob Wood at Twistedspine Custom Motorcycles. And he also added the images to Dave Manning's words about yet another eye-popping bike that was painted by friends of owner Lucasz Wierzbickil in Poland.
The old team of Nik and FD combine to check out a 1984 Honda C90 Street Cub, while another ace photographer, Garry Stuart, works his magic on two shed-built stunners which are displayed to best effect in two glorious settings.
Article continues below…
Advert
Read the third part of Nik and Pam's trip to Croatia, and catch up with the Bloodrunners Katana project, which is coming along nicely. Mr Bridges gets stuck into more motorcycling mechanicry (is that a word?) while Nik tries the Triumph Street Cup for size.
If you've got time to immerse yourself into a few pages of fiction, there's more from the atmospheric pen of the late Jim Fogg, with evocative images from Louise Limb. And if that's not enough, we've got a competition in which you could win some top prizes; four pages of Readers' Lives; news from MAG; your letters, loads of summer events and Rick Hulse's take on how to organise a motorcycle rally, while trying to find time to eat, sleep, breathe, look after poorly hedgehogs and myriad other things.
It's got to be the best way to spend £4.20 since you bought a Wetherspoon's breakfast, and it'll last a lot longer.
Article continues below…
Advert
See a preview of the May issue here: