It's probably fair to say that Kev Clubley isn't the only chap whose long-term dream'd been to own a Panhead chopper, and there's little doubt that watching Easy Rider at some point in the (not-so) distant past has a lot to do with that fact…
Words and pics: Dave Manning
It certainly was the starting point for his aspirations and, again in common with many of us, he spent a lot of time surfing a certain auction website, looking for bargains and rarities, before stumbling across this very bike in 2008. It was nigh on 150 miles away, but, after a chat with the owner, he was on his way to see it and a deal was soon done. "I'm going to get a lift up with my friend Rich after night shift at Royal Mail, and ride it home," he said, somewhat optimistically.
Well, you can guess what happened next; some miles up the road the bike started misfiring, then died – the generator wasn't charging, and the battery'd discharged. He waited about eight hours for recovery, and then the following day he looked over the bike, charged the battery, and got it running. The wiring wasn't that good, and there was a fair amount of oil outside of the engine instead of where it should've been so, wasting no time, he stripped it straight down to its constituent parts, all in the same day! So much for his initial "Run it as it is for a while!" plan…
On closer inspection of the frame, things didn't seem to be quite how they should be, so it took a trip to Tony at B&I Engineering in Huddersfield for some new tubes, and to have the back end straightened, and a new brake crossover shaft and sleeve were made up by CE Fagg Engineering in Slough, and welded into the frame by Kev himself. With the frame back to fine fettle, the next job was mounting the rear mudguard and tank, and prepping them for paint. They went off to his mate, Kelvin, and were done in a metalflake candy apple red.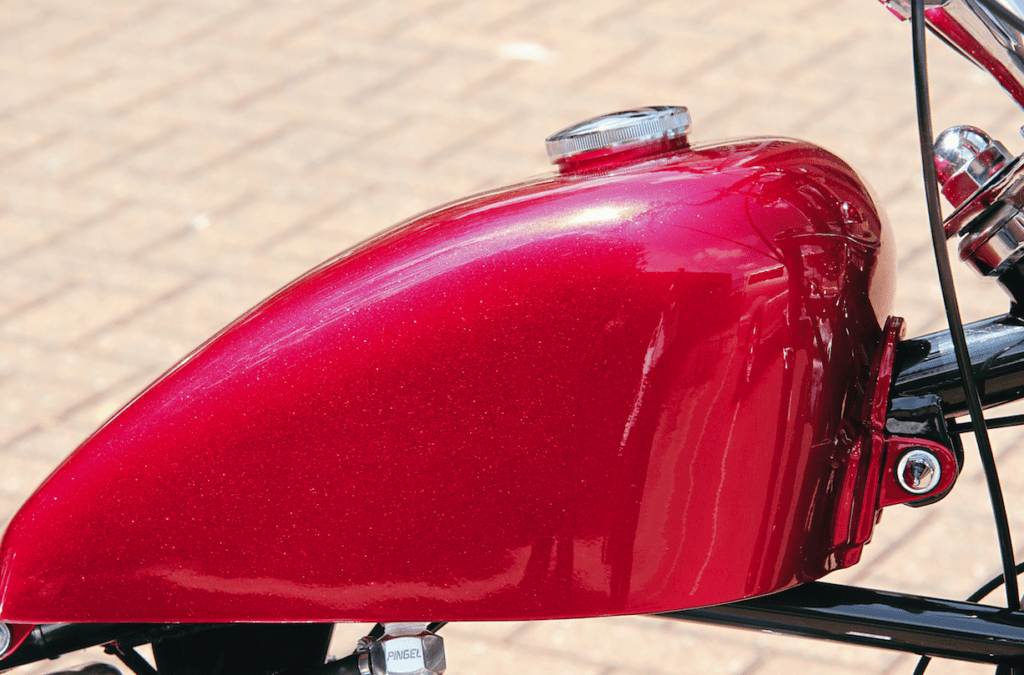 On checking the engine over, even though it'd been running, it was found to be very tired indeed – the flywheels were unusable, the crankcases had cracks, the cylinders were bored off-centre, and both heads had bad valve seat recession, cracks and stripped threads. Finding all the bits and pieces needed for the rebuild took a while, and resulted in a seven-year lull with the bike mostly in boxes (the frame stood in his living room for a while, while he demolished his old workshop and built a new one). During this dark time, it was also nearly sold as an unfinished project at one stage – a lucky escape!
Then one day he was rubbing dust off the frame and wheels, and the resulting gleam gave him reason to carry on, and he made up his mind to get it finished. The engine was taken over to Matt's Machine Shop in Abercynon, who built the bottom end and bored out some used Panhead cylinders that Kev'd found, and it went back together over the next week or so, with some nice performance parts to hot it up added into the mix.
Thanks to that early Easy Rider fix, he'd already decided to create something that was period to the late Sixties/early Seventies – for many, the golden era for choppers, and a style that's very popular right now too. Careful studying of pictures meant that he knew exactly what he was trying to locate, although some parts were impossible to find, like the neat pillion footpeg mounts for instance – he'd seen pictures of choppers in the late '60s and '70s with them fitted, and he'd seen them in period catalogues, but couldn't find any. By dimensioning them from a photograph (scaling against parts of a known size) though, his friend Wayne was able to reproduce them exactly on his laser-cutting machine.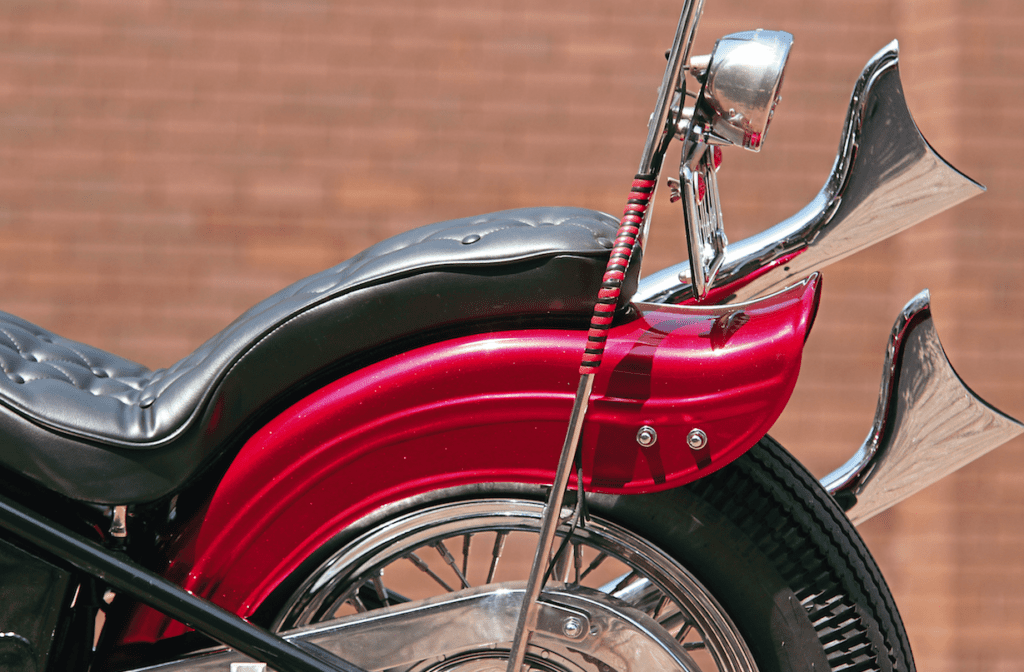 Naturally, there was a lot of time spent making various bits and pieces, including cutting, adjusting and re-welding the Paughco header pipes to fit the bike correctly. All the parts to be chromed went off to Capital Chrome, while the cam cover and kicker cover were polished and nickel-plated for a different look, and is something that someone may've done back in the day.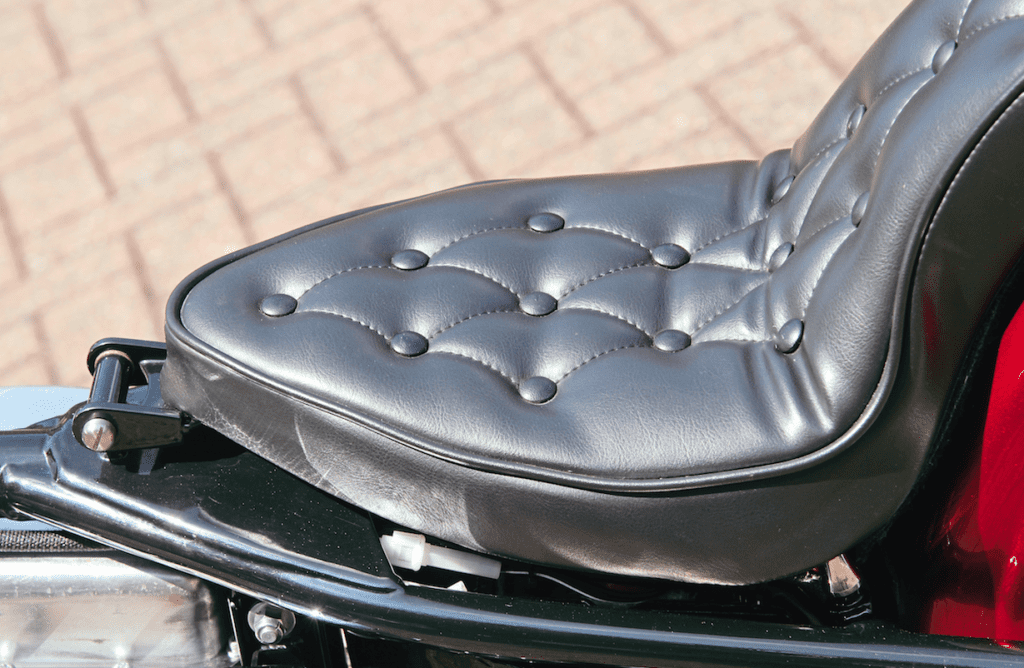 He made up a seat base to create the seat he had in mind and took it over to Tealess in Peterborough, showing him the hastily drawn sketch and waving his arms around a bit, and after that technical consultation Tealess created the exact seat he wanted! And then, with all the other plumbing, wiring, brackets etc completed, it was ready to come out into the light again.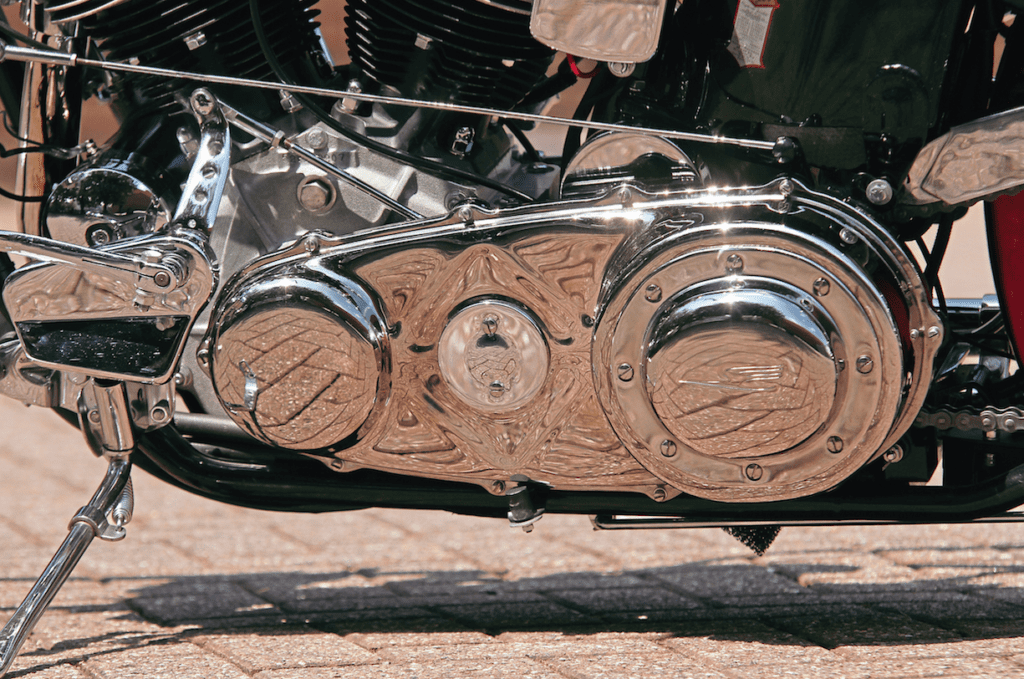 Having enlisted help from his friend Edzell, he spent a couple of days trying to kick-start the Pan into life – it'd pop, run for a bit and stop. There then followed a bit of fiddling and some more kicking. He calmly explains this time as "a learning exercise". Eventually he had the ignition timing and carb jetting right, and developed the right kicking technique too, and after a few runs around the block to shake it down, he found the generator wasn't charging, even though it'd been rebuilt. It was 'flashed' a few times to give it polarity so it'd, hopefully, start charging, but no luck. Then he found out that it needed an earth running from the regulator to the frame, and that was that sorted. A few oil pipes needed retightening to stem the flow of oil, and the valve covers leaked with the fibre gaskets he'd used, but after replacing them with old-style cork ones, continence was achieved.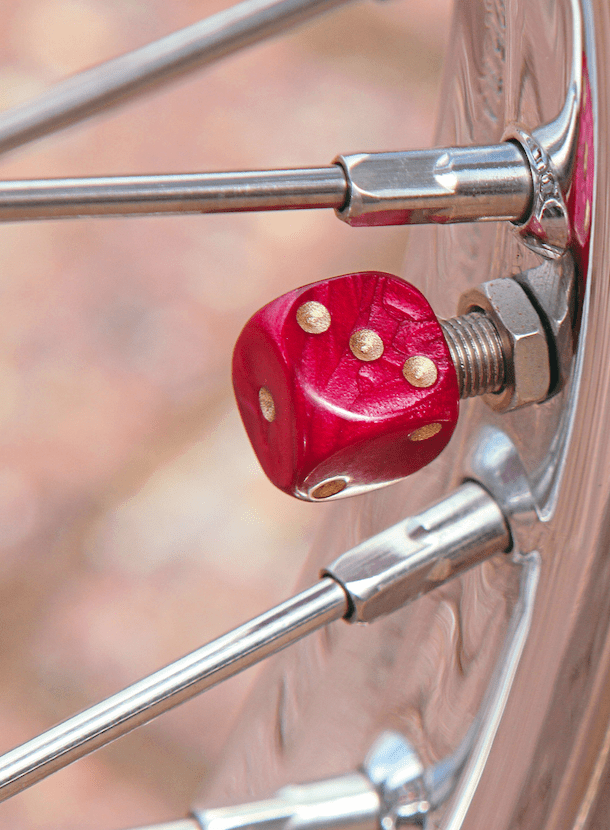 The first long trip was from Slough to the NCC's Diamond Day at the Ace Cafe last year – "I set off gently because the new engine was still running in. There were some fantastic custom bikes there but, unexpectedly, the old Panhead won the Best Chopper trophy in the BSH Custom Bike Champs and the Best Chopper trophy from the National Chopper Club too. What a day, I still can't believe it!"