Over the past four months, much of my time's been taken up with organising the 28th You've Been Nabbed rally, which is to be held at the Royal Cheshire Showground near Knutsford from 10-12th May, says Rick Hulse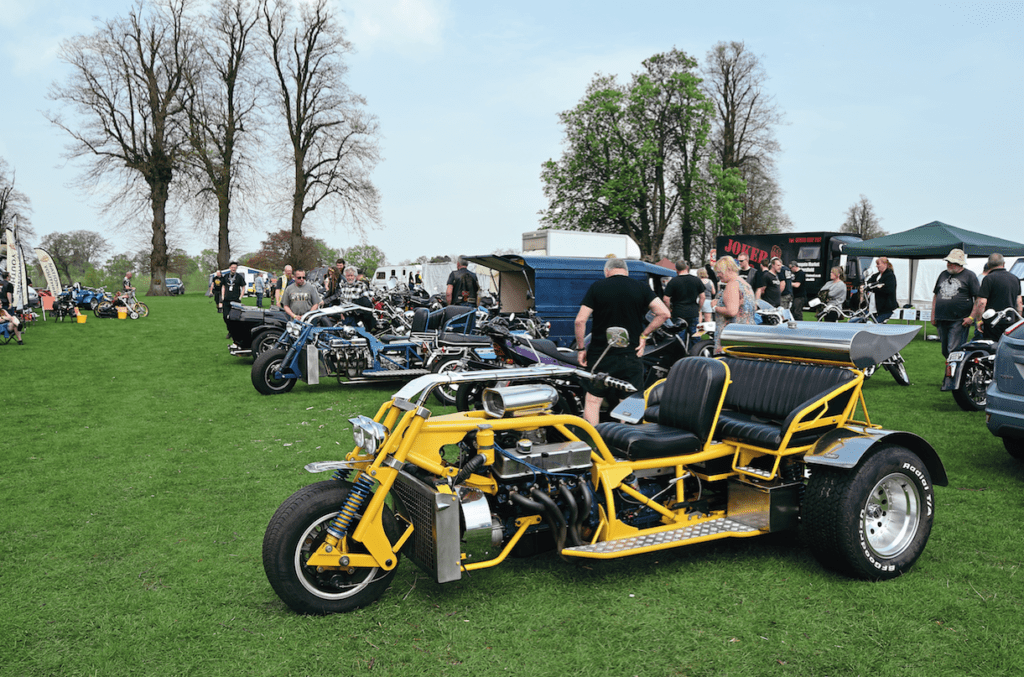 This rally caters for anything up to 3,000 paying customers who come for a fabulous weekend of camaraderie, bikes, booze, music, stand-up comedy and general frivolity. From very early morning on Thursday 9th May through until the afternoon of the following Monday, there'll be in excess of 100 volunteers working hard to ensure that the event goes according to plan, and each one of them'll be utterly knackered by the end of the event but happy in the knowledge that they've been actively supporting the work of the National Association for Bikers with a Disability (NABD), and instrumental in ensuring that thousands of people have had a joyous weekend.
What may surprise some folk is the fact that 95% of the actual preparation/organisation of the event is done by just three people! The registration and organisation of volunteer marshals is dealt with by the NABD secretary, Tina Slesser, who has to organise a four-day rota of shifts, ensuring that people are placed into duties that're within their capabilities, and ensuring that people working in teams can get along together. If all that sounds fairly straightforward to you, then perhaps it's worth bearing in mind that this is all in addition to Tina's normal duties as secretary of the NABD and, of course, she also has a full-time job that she relies on to earn a living!
Almost all of the rest of the necessary preparations and organisation is down to myself and Julie Williams, the NABD office manager. Though Julie is one of the NABD's two paid employees (the other being Jane Singleton, office admin assistant), the five months leading up to the rally each year see her going way above and beyond the call of duty. She works closely with me in organising the event infrastructure such as the booking of marquees, tables, chairs, stages, generators, site lighting, PA systems, marshals' radios, insurances, toilets, showers, fire-fighting equipment, paramedic cover, truck hire, consumable goods, 1,100 litre waste bins, waste disposal, crowd barriers, quad and trailer hire, traders, caterers, site security contractors (which we've increased this year), and a myriad other considerations that must be dealt with to make a successful event. It's not just a matter of repeating the bookings of the previous year – the event is constantly evolving, and it's long been our policy to shop around every year to ensure we get the best deals available for the NABD's main fundraising event.
Meanwhile my personal duties involve a lot of dull-but-necessary stuff such as drawing up the site plan (which changes every year), applying for seven event licences (it's complicated), drawing up event safety policies, on-site traffic policies, child protection policies, magazine advertising, online advertising; dealing with the site owners, the local council and the police, and formulating and agreeing a traffic direction policy so that the arrival and/or departure of thousands of motorcyclists, traders' trucks and hire equipment doesn't cause chaos on local roads. It's also my job to try to keep local residents on-side by ensuring our event doesn't cause them any undue nuisance or inconvenience (not the easiest of tasks).
In addition to all this I'm also responsible for finding and booking all of the entertainment, which this year includes 15 live bands, two discos, six stand-up comedians, two exotic dancers, and a children's entertainer (oh, the joys of dealing with performers…). Then I have to order and arrange delivery of £30,000-plus worth of beers, wines and spirits for our two general bars, and 50-plus real ales and ciders from a dozen micro-breweries and cider farms throughout the country for our famed Real Ale bar!
Article continues below…
Advert
This all has to be achieved while I attend to my own company business and, together with my lovely partner Mandy, run a hospital/refuge for sick or injured wild hedgehogs. I've suffered with insomnia for many years, which may explain how I manage to juggle five jobs, but the run-up to this rally in May each year engenders nightmares of having to explain to thousands of bikers in a huge marquee that I've completely forgotten to order the beer, or that none of the bands've turned up, or why I am totally naked on stage, or worst of all, why I find myself performing while stone cold sober! Such terrifying visions invariably make any prospect of returning to the comforting arms of Morpheus a very unlikely prospect at best!
So why am I telling you all this? I'm certainly not looking for a pat on the back – I got over the need for such insubstantial motivations 20 years ago. Perhaps I'm just venting my spleen in response to the all-too-familiar criticism of events by people who have no idea what is involved in organising a motorcycle rally? I prefer to think that the main reason for me trying to explain the massive investment in time, effort, passion and money that goes into producing the NABD's main annual fundraising event is actually an attempt to sway a few more people to attend this excellent value-for-money event that exists specifically for the benefit of motorcyclists, instead of attending commercial festivals where you pay hundreds of pounds for a ticket before being royally ripped-off for beer and food by companies who are only in it for personal gain. Then again, maybe it's just because I've been on the wagon for two months, and I'm feeling a tad cantankerous!
You don't have to be a member of the NABD to attend, we welcome everybody.
Article continues below…
Advert