One of the criticisms you hear about custom bikes, especially ones built around older and perhaps rarer bikes, is that an old bike, and often a rare old bike at that, was cut up (read as 'ruined' in the more extreme cases) to build them.
Words: Nik
Pics: Garry Stuart
Peter Walker, the owner of this absolutely glorious T120 Bonneville-engined custom, is what you might call a responsible custom bike owner in that he was very insistent that, when he was creating his bike, it'd only be built from spares; he really didn't want any intact historic bikes to be taken apart as part of its construction. As a member of a local historic bike club, some of the members weren't really in favour of him building a bobber with historic bike parts, but although initially reticent they started to come forward with ideas and shared their knowledge and expertise – something that's priceless when you're working out of your comfort zone.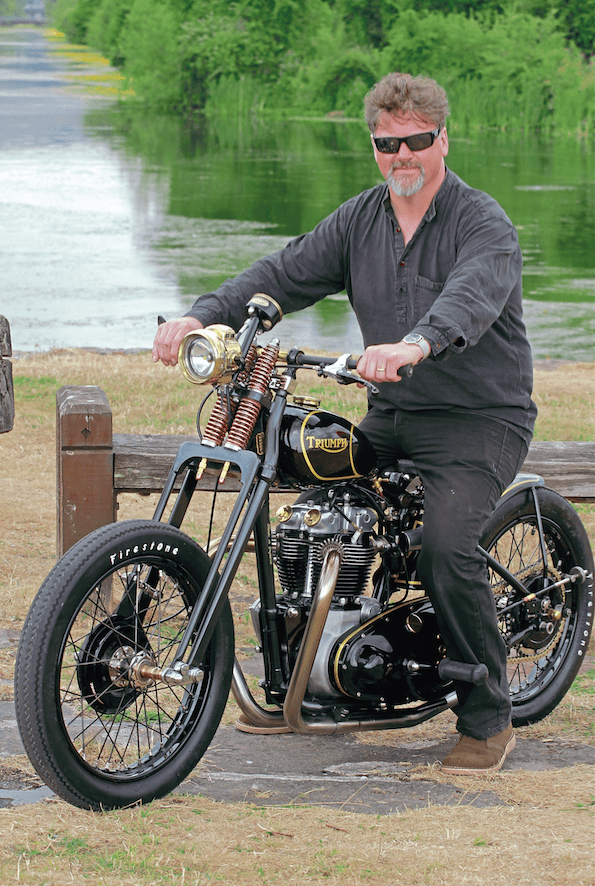 He's ridden bikes all his life, from motocross to enduros and, eventually, road racing, but he'd never thought about building one. As he says: "Why would I? I'm a joiner." However, one day he spotted a tiny picture in an American mag of a sweet bobber, was really taken with it, and stuck it on his garage wall really as a bit of a daydream but, as time went past and he planned and plotted, eventually that semi-serious daydream became something of an obsession. It took him almost two years and the finished bike looked nothing like that original picture, but he loves what he'd managed to produce – as he says: "That was several years ago now, and to this day I still get a real buzz/thrill when I go out for a blast on it."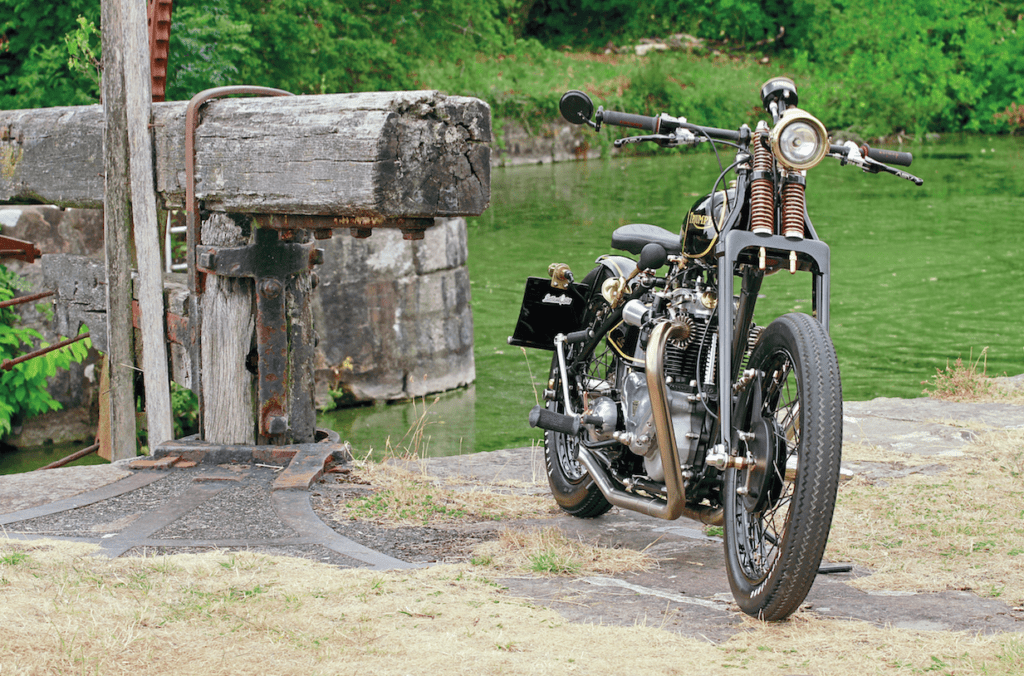 The Trumpet started as just a bog-stock rigid frame from a bike that'd been exported to Johnson Motors in California way back in 1953. Peter brought it back to where it belonged, and started to build around it. The engine, a 650cc T120 Bonnie that's now had a host of upgrades and cosmetic additions, was destined for someone else's cafe racer, but for some reason they thought it wouldn't be fast enough. Hmm, let me think, a cafe racer built around a lightweight powerful engine that a lot of folk rate as the best Bonnie engine ever produced? No, that obviously wouldn't be fast enough, would it? A local historic bike club member offered the front and rear wheels, and the gearbox, and from then on things started to take shape nicely.
Article continues below…
Advert
Both wheels were rebuilt with refurbished drum brake hubs, powdercoated rims, black chrome spokes, and nickel-plated nipples by those experts in wheel building, Central Wheel Components, and fitted with very sexy Firestone tyres, and a set of DNA springers was purchased and their springs replaced with much more visually-fitting brass ones. An absolutely gorgeous circa 1920s brass gas light was converted to work as a headlight, while the rear light is from the same period and has also been converted for modern usage. The tank was imported from the States, the seat was made locally, and the rear 'guard and oil tank are both one-offs made especially for the bike. The paint that covers them is a Fiat colour with metal-flake in it, and the stripes were added in at the same time.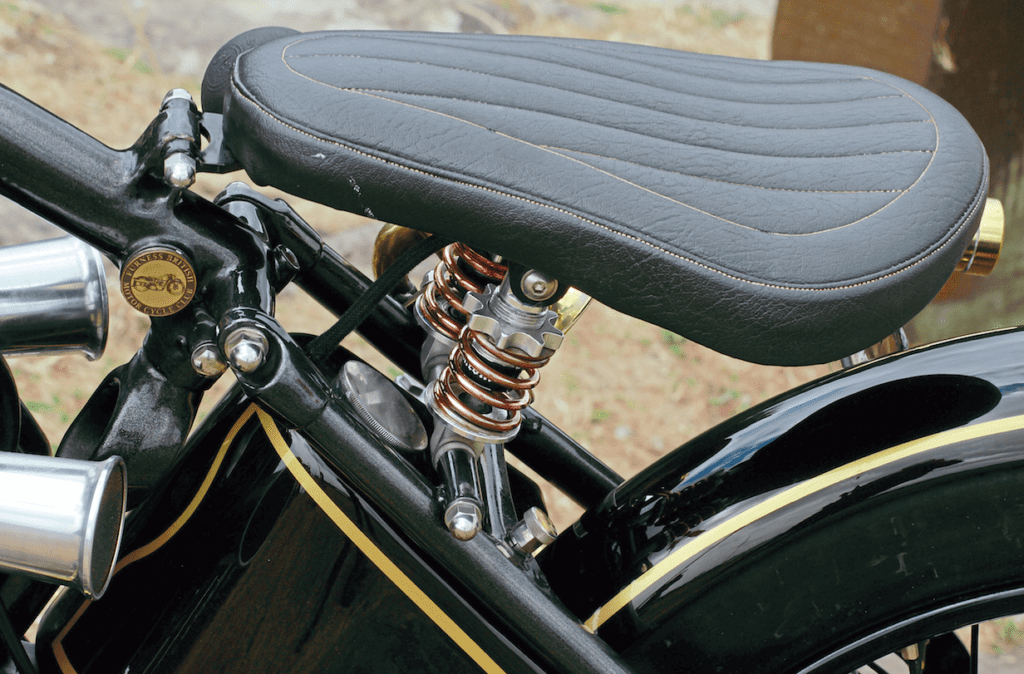 At this point I must mention two gentlemen who helped Peter immensely – Bill Hanna, an ex-senior engineer on nuclear submarines, whose skill at producing some of the bespoke parts on the bike has certainly added to the final look, and Peter Hope, an ex-Rolls-Royce engineer, who provided expertise in making the whole thing actually go – something that he did need help with as although the bike may look, and be, young and freshly built it is, in reality, essentially a historic bike.
After a decent time to bed in the engine, he travelled up to the Lakes (near his home actually), and all was going swimmingly when he soon heard one of those noises we all dread – a knocking from the top end; one of the small end bushes'd worn and damaged the con rod. Bugger! Since the rebuild the bike's been just fine and, in fact, has given him some of the most memorable moments of his life, including turning up at Jurby Festival of Speed (on the Isle of Man) and lining the bike up alongside four Vincents, all of which pretty much got ignored as no one'd seen a bike like his, or going to a local bike show only to find that (a) it was actually a Harley show and (b) at the end of the day his Triumph was awarded Best Bike in Show.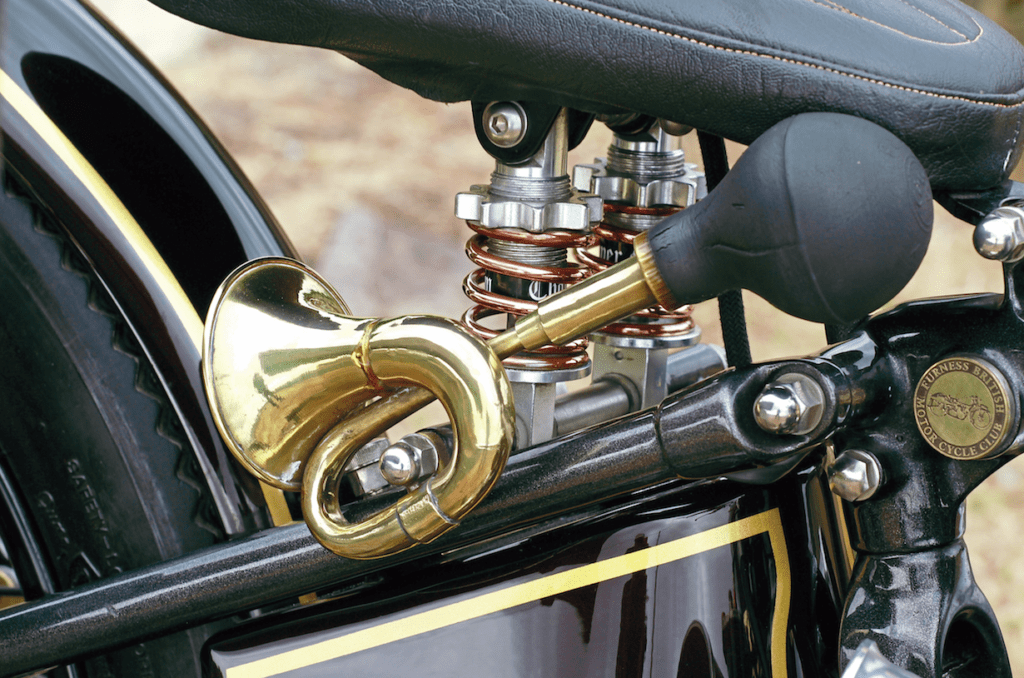 So, going back to the question of whether the 650 Bonnie motor is quick enough? Well, I'm guessing I don't really need to tell you lot, but I'll let Peter tell you: "With the frame it's in, it certainly is. A lap of the TT course showed the bike's ability admirably – its low centre of gravity and light weight made it fly round, and the only trouble was that the brakes left a lot to be desired, and still to this day continue to give me some scary moments!"
Article continues below…
Advert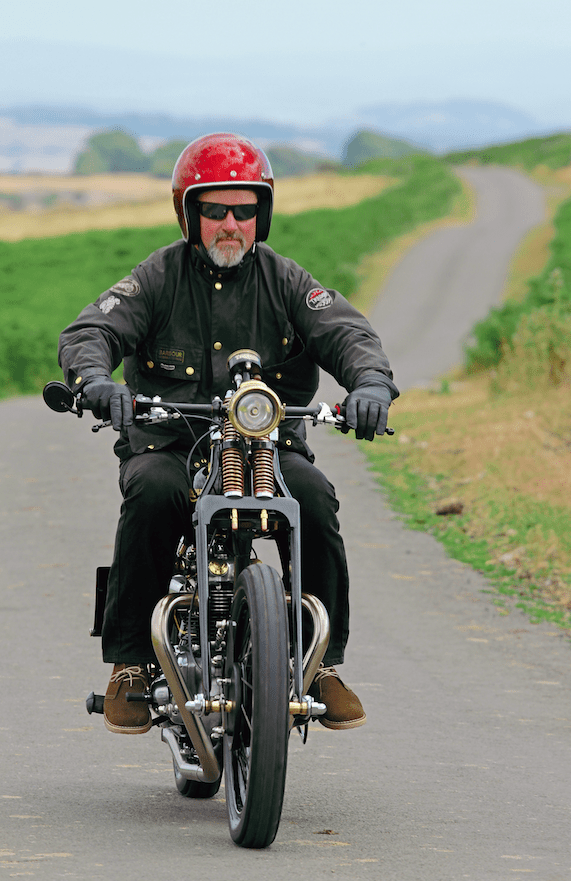 Since finishing the bike Peter says he had no immediate desire to start anything else… note that 'had'. Then, one day, looking in a magazine, he saw a picture of an American truck and the rest, as they say, is history. Hmm, something sounds a bit familiar here, doesn't it? A small picture stuck on his garage wall as a bit of a daydream turns into (yet another) obsession? I feel a bit of a theme here!