It's been a few years since we last featured a bike built by Rob Wood at Twistedspine Custom Motorcycles (the last was his truly stunning stainless steel-framed BSA Bantam) so, ladies and gentlemen, may I offer for your delight and delectation one of the more recent offerings from his workshop – the Copper Penny.
Words: Nik
Pics: Simon Everett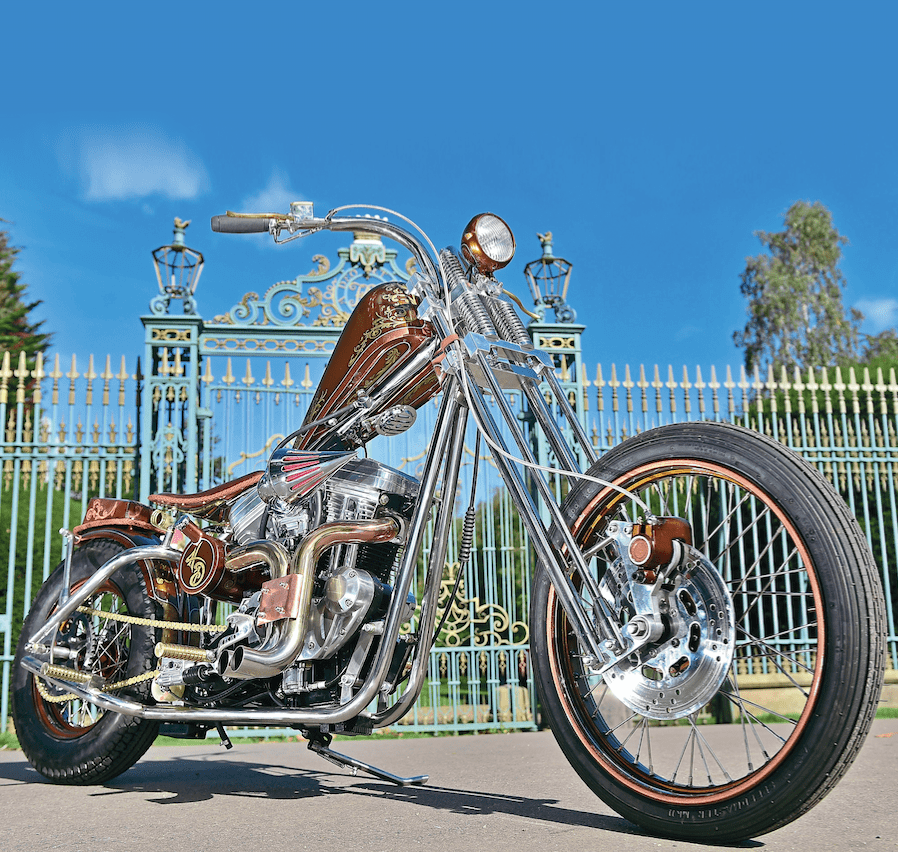 The project started about a year ago give or take a few months, when a young chap named James went to his shop and asked: "Can you build me a bike?" and, after they'd established that bears do indeed defecate in woodland, the Pope was not a Protestant, and that the greatest Victorian fictional detective did famously suffer from constipation, a plan was thrashed out.
After going over many ideas and hundreds of sketches, Rob worked out that what James wanted was a chopper – a proper chopper, with a rigid frame, a high headstock, and an exhaust so loud it's the automotive equivalent of a Millwall supporter bellowing 'd'y' want some? D'ya? D'ya?' in your face. James readily agreed and the build was begun. Just a wee note here: Rob has nothing against cafe racers, brats, bobbers and everything in between, but for this one he wanted to get back to what started him building in the first place, and that was a straight up, hardtail-framed, springer front-ended old-school bike, y'know?
The 1994 Harley Sportster engine which'd come as part of the donor bike was found very shortly to be somewhat FUBAR so that went off to his local engine magician (and former world speedway champion!) Mr Sam Ermolenko who, as usual, worked his magic over it, turning it from something that really wasn't very well at all into a particularly strong and healthy version of H-D's venerable old Sporty motor.
Article continues below…
Advert
The rest of the bike, Rob says, was left to him, and he wasted no time in getting to grips with it. The frame is, as always with one of his bikes, made from 316 stainless (stainless steel isn't recommended by a lot of folk as being good for a frame, especially a rigid frame, due to its inherent brittleness, but Rob, and a number of others over the years, has made making chassis out of it into something of an art form), as is the one-off springer front end that he made for it, and the 'bars too, while the (fuel) tank and oil tank were fabricated by him, by hand, from 2mm steel. Yes, he could've bought them off-the-shelf, and they'd've looked good and no-one would've been any the wiser, but that's not what he does – he hand-builds bikes so that's what he did. The exhaust, for example, was a bit of a struggle as halfway through the build James told him that his other half now wanted to be along for the ride so the long kicked-up ones they'd already planned fell by the wayside, and in their place came the two shorties that the bike wears now which, although he wasn't sure at first, do suit the bike better (and add to its presence). Tracey at Black Kat Kustoms, who we've mentioned as being rather good before, made up both intricate seats, and very smart they look too.
With all the fabrication done (and there was a lot of it to do, including those lovely shaped handlebar levers and the bronze 'pegs/controls), it became time to deal with the paint. Again many ideas were talked about until they finally came up with what's on the bike. It's themed around the words 'Copper Penny'– actually the name of the paint used on it, but also a term which refers to a very rare US coin (which looks very plain and normal, but is worth in excess of a million dollars) or in reference to 18th century miners in the Tavistock area of Devon who were paid with tokens/chips so they could exchange them in the local inn for goods and food (hence the rather wonderful name of the hamlet there – Chipshop). These are equally rare (although sadly not as valuable) in that they came in three varieties, each with a local view of Devon on one side and the Prince of Wales' plume of feathers on the other, but they varied – some had the smoke coming out from the chimney stack on one side blowing left, some had it blowing right, and the last going straight up vertically. It was actually Carl Snelson, Rob's painter of choice, who came up with the idea of using that particular paint – Rob, y'see, likes to put an old-fashioned penny somewhere on all his builds, but he hadn't been able to decide where to put it on this one. Carl suggested using this particular paint and calling the bike 'Copper Penny', and the name fitted perfectly. Rob reckons this is actually some of Carl's best work, and both he and James are blown away by how well the bike looks finished.
They're not the only ones either: At the recent AMD event at the Irish Motorcycle Show in Dublin, the Sporty took just about the top honours and earned Rob a paid trip to next year's world championship, something he was just about blown away by, as you can imagine. He already has plans to build a very special bike for the event – watch this space to see it!
Article continues below…
Advert
I'll leave the last words to Rob: "The creation of something new is not accomplished by the intellect, but by the instinct of necessity or, to put it another way, building custom motorcycles is not a job – it's a way of life. Do it properly and there's no room in your day-to-day life for anything else! So finally to answer a question I was asked at a recent show by someone: 'Do you like building bikes?' 'NO, I F**KING LOVE IT!'"