Back in September 2012 I'd just bought a '57 GMC step-side truck, when I bumped into an old friend who told me he'd been to look at a 45 chop advertised in the window of an ice cream van on the edge of Morecambe Bay. Of course, where else do you find them?
Words: Adrian Backhouse
Pics: Garry Stuart
I'd spent all my money on the truck so the time wasn't right for me although I was intrigued, but I forgot about the 45 and got on with getting to know the truck. Around Christmas the same guy came up and said: "That bike is still there!" By this time the piggy bank'd been replenished a little so I showed a bit more interest, asking for contact details. When I got to the guy's house I was shown a rolling chassis, minus front wheel, and a couple of boxes of engine parts – the engine'd been completely dismantled right down to splitting of the crank. Now I can't always remember a name, but I rarely forget a bike and I'd seen the tank on this one before somewhere. I agreed to take the bike and it was delivered the following week, and in with the bits was a copy of The Motor Cycle with a full feature on the bike. The penny dropped – I'd seen the article a few years before. Reading through it, it became clear that the previous owner, Johnny Routledge, had spent a great deal of time and attention on it. This information proved invaluable when reassembling the motor.
The guy who'd put me on to it, Brian White, had restored and owned 45s before so I went to see him and asked if he'd help me put it back together. In with the parts was a new set of conrods so we made a decision that it'd be best to buy a stock crankpin and a set of standard crank rollers, and go from there. There was no-one local that did cranks so we built it up ourselves and another mate, Ken Davis, and I trued it up on his lathe using a couple of dial gauges. The rest of the build was straightforward, and the top end looked good so was assembled as was. There was a new 12v Cycle Electric Generator in with the parts so this was fitted along with a matching regulator that fits on the end, neatening that area up no end.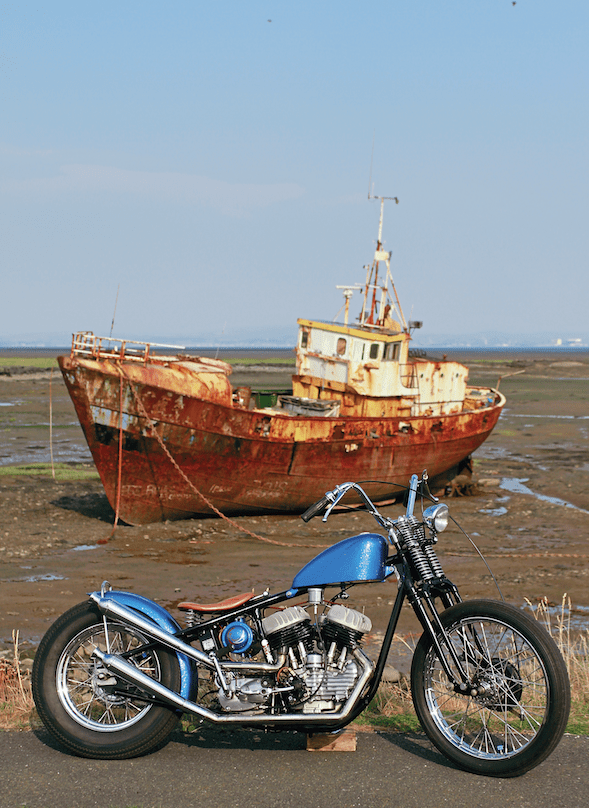 As the build was ongoing more of the bike's history came to light; it had previously been a long-forked high-framed chop that'd featured in magazines in the '90s and also appeared in a book by ex-BSH editor John 'Caz' Carrol and the same Garry Stuart who took these pics! I had a copy of the book on the shelf! As well as the engine work, Johnny'd redone the frame, bringing the headstock back to nearer stock dimensions as the resulting single downtube frame suits the small motor really well, keeping things nicely proportioned – something not always achieved when using a small motor. The long teles were swapped for a stock length repro springer finishing off the oh-so-right stance it has now.
Article continues below…
Advert
During the rebuild process a few different tanks were tried; a Wassell peanut, a Bantam (with the intention of taking the middle section out and fitting the two halves either side of the frame like mini fatbobs), but every time I looked at the Sportster tank that'd come with it, it looked so right that I decided to stick with it, albeit a narrowed version.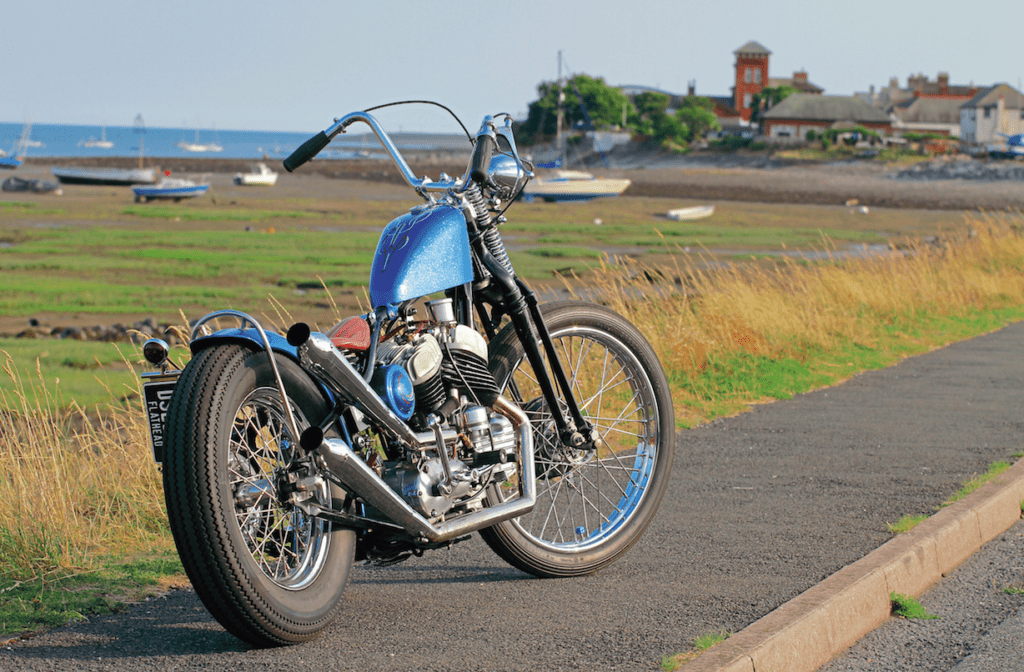 The build moved along nicely. I fitted a wider, longer rear mudguard, made a stainless sissy-bar with side-mounted light and plate, a new combined head-steady/speedo mount, a seat bracket, a coil mount, foot rests, and a rear brake pedal with Triumph logo rubber to pick up on the origin of the rear of the frame and gearbox. A replica Linkert-style bird deflector was obtained from the States and a suitable back plate was made from aluminium plate to mate it to the Amal (I also picked up a finned top for it which follows the ribbed theme nicely), and a belt drive fabricated by a guy who does machining/welding work to fund his classic racing. The seat was re-covered in brown leather from a seat cushion picked up in a charity shop.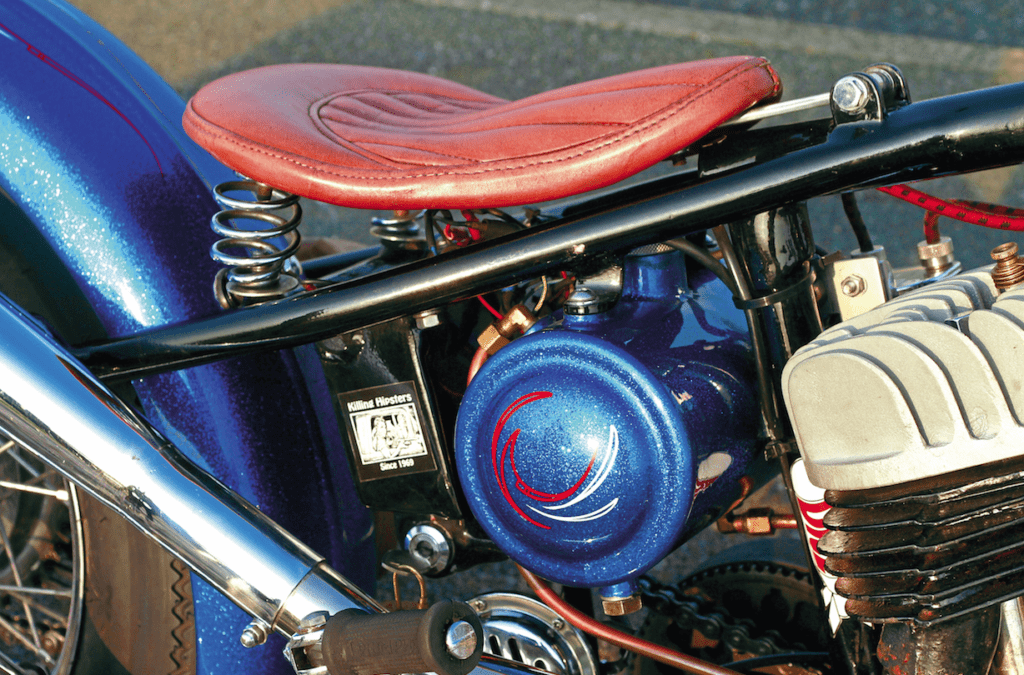 The paint was applied by a local lad, Paul Burney, who'd painted my 'Glide, which is still holding up well after more than 15 years. It was his first go at metal-flake, and after burying it all in clear coat, it was sent to Simon at Nefarious to apply the red and white pin-striping.
Article continues below…
Advert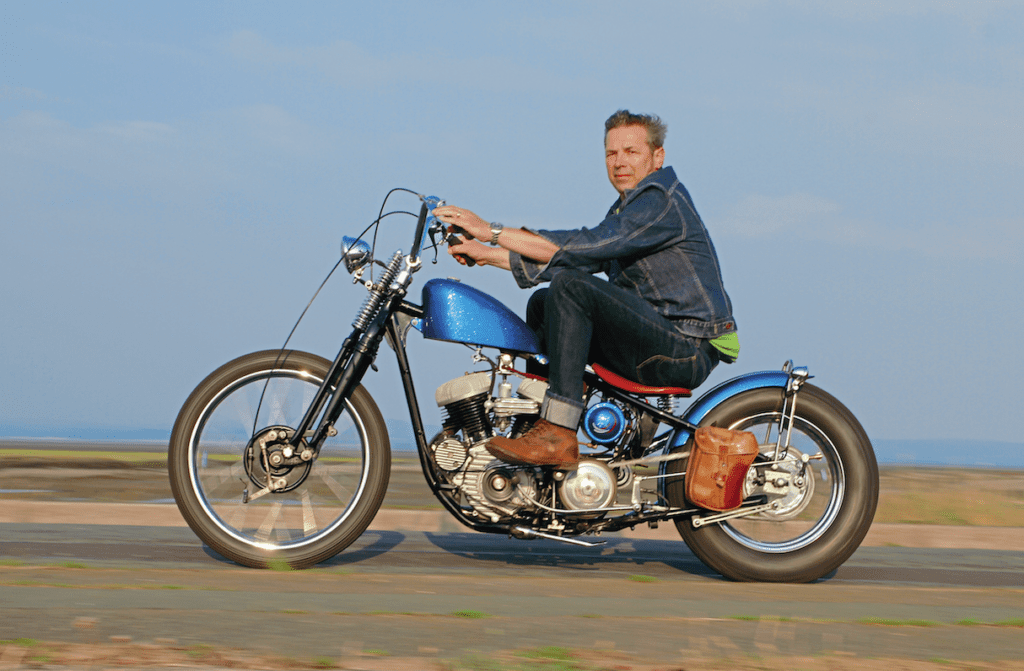 It's been on the road several years now and has proved to be great fun. It's not the fastest, but at about 60 on a nice road with the pipes blaring in your ear and the belt whizzing round by your left foot, it's great. It's changed a bit over the years ('bars, sissy-bar, etc.) and has had a few dramas, but on the whole it's proved to be quite reliable, although like all old stuff it requires constant upkeep, but that's part of the fun. A couple of years ago I loaned it to a local clothes shop for a window display and when it was returned late November it was my wife Denise's suggestion that, while the fluids were out, it could sit in the back of the lounge till spring. I know they're for riding, but there's something about coming down the stairs in the morning and your bike's sitting there in all its glory!