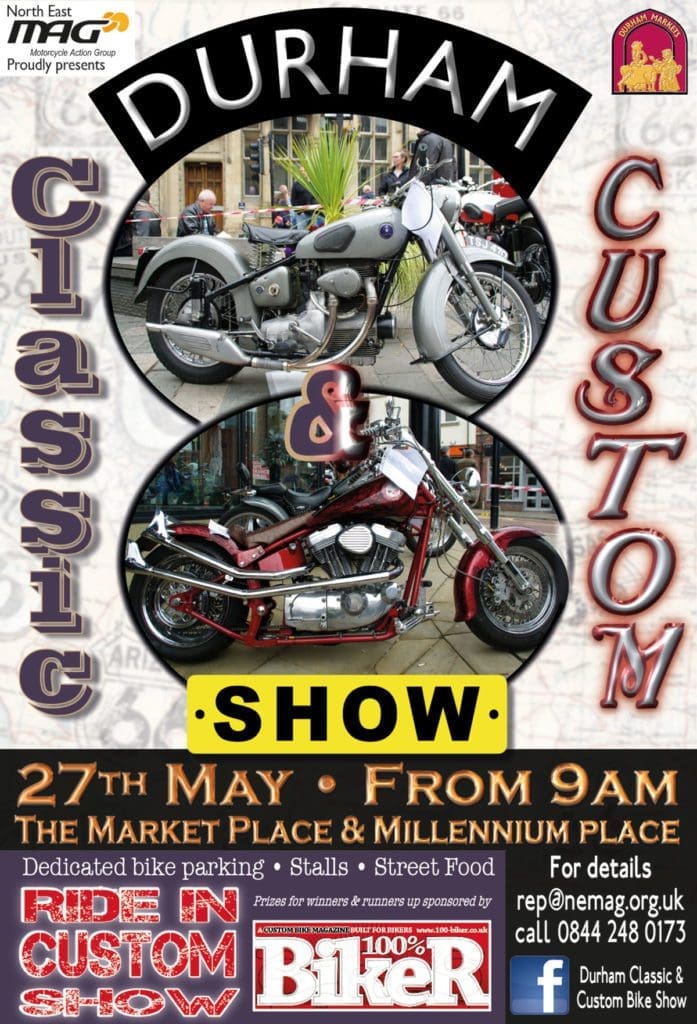 North East MAG with Durham MAG And Durham Markets are pleased to bring you the 2nd Lazy Day Custom and Classic show, just this year it's on a Bank Holiday Monday.
This year 100% Biker and Stormin are kindly sponsoring the event prizes. 12 prizes up for grabs worth around £150 each. Each prize includes a rosette, a trophy, a pair of tickets for Stormin, a cuddly toy (no that's a joke but you never know) and courtesy of Blue at 100% Biker a whole years subscription to the magazine, so for a year at least no more traipsing about WH Smiths only to find they've sold out.
We listened, 'Wouldn't it be wonderful if the Market was open and more shops were open' folks said. So we've moved it to the Monday so this year you can come to the show and do all your shopping too!
If you have a custom or classic motorcycle or scooter to show off then here is the place to bring it. Plenty of prizes up for grabs and a great day in store.
There will be dedicated motorcycle parking for those not in the show (follow the Yellow signs) and stalls selling a range of wares for bikers and non bikers alike, you could also take this opportunity to explore a little of Durham's beautiful City.
For further details email contact [email protected] or call 0844 248 0173.
We look forward to seeing you…