Words & pics: Erik Stigsson
Frank Sinatra may've been the originator of the song My Way, but for a lot of people the definitive version is Sid Vicious' punk reworking of the crooner's classic.
My Way could be the story behind this bike; a Swedish-made Swallow, or Svalan as it's called in Sweden, as it's a bike that didn't look much like this when it left the factory in 1951 as a model called a 75 Lyx.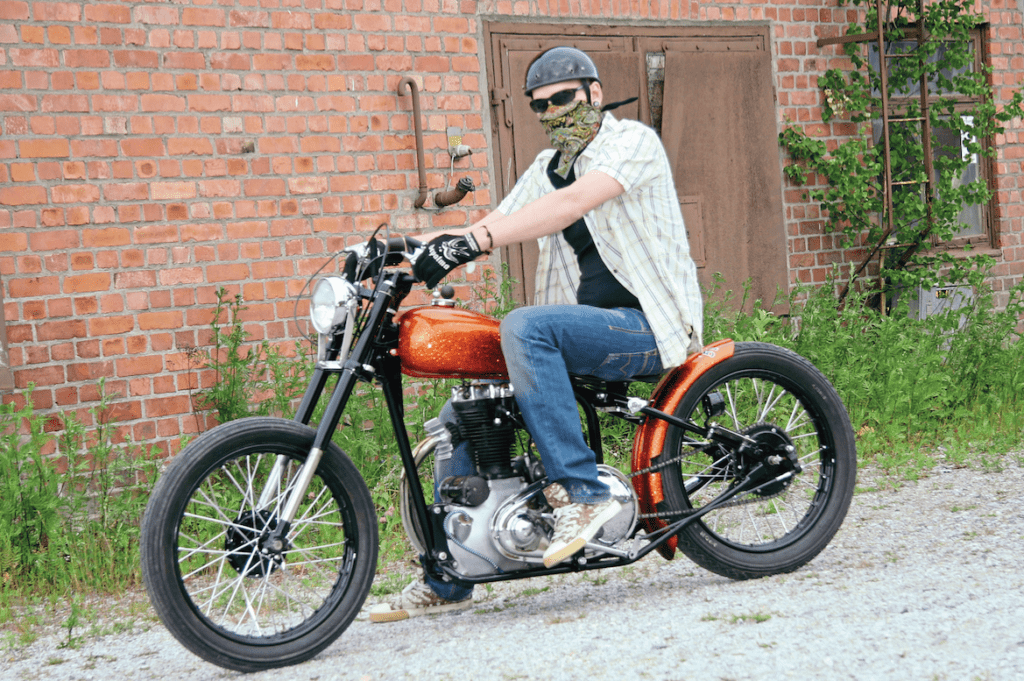 Henrik Edin from Örnsköldsvik in the north of Sweden is the owner, and he's built several nice bikes over the years. He found this Swallow for sale on the internet in Stockholm, a fair distance away from his home. "It was already modified," he says, "but in a way I didn't like, and I wanted to do it my way!"
He looked at the pictures and soon figured out how to change the bike so it'd look as he wanted it to, kinda dirt-track style, and since a good friend was going to Stockholm to pick up another bike, he arranged with him to collect this one and bring it back to Örnsköldsvik at the same time.
The plan was for, as I said, an older, almost dirt track-style look, and since he's rather tall he soon decided that the bike'd both look nicer and fit him better if he extended the frame by four inches in the back, so that's what he did. And do you know what? He was right.
According to Henrik, the fuel tank is probably the original one from the Lyx and it was placed high on the frame when he got the bike, so one of the first steps was to make the tank sit lower because… well, it just looked wrong as it was. He cleverly reworked it and now it sits just right. Similarly, the rear mudguard wasn't right either, so a repro' Triumph ribbed rear one was ordered, shortened a little, and fitted.
The wheels came with the bike, but have new Avon tyres, and the forks are also original ones too, but Henrik made his own 'bars; instead of the ones that were on it when it turned up, it now has his own variant of Z-bars that've been leant forwards slightly to get the correct stance (and 'cos he's tall).
The big front light that was on it was also replaced with a small light that came from an old bicycle, and just looks so right it's difficult to visualise it with anything else, and the seat was also changed for a smaller, neater, home-made one with a metal base and contrasting piping around its upper edge.
One of the things, apart from the look, that helped him choose the bike in the first place was the fact that it had a good engine – not always the case when a bike is based around a motor that's nearly 70 years old. Swallows were built around the venerable old 350cc Panther single-cylinder engine (vertical, not a sloper like its bigger brothers), all the way from Cleckheaton in Yorkshire, and this one'd been rebuilt and restored, and ran really well and hardly needed any work at all.
Mind you, as Hendrik says: "I made some new parts for the engine, like the stainless steel cover that sits between the block and the cylinder head, and the stainless part for the carburettor that was made from a measuring cup used in the kitchen when cooking." In its first incarnation (he's had it a while now and likes to keep changing little bits here and there), he had kept the original transmission cover, but he wanted the bike to be more race-style, and so now the cover's been machined and the clutch is visible.
The last job then was to paint the bike. "I like to paint so it was natural to paint it myself," he says. In its first incarnation, he did it in black with a copper metallic flake, and it looked good, but it was a little more 'bobber' than 'racer', and it wasn't long before he decided he wanted it a little more racey. He kept most of the copper 'flake but by adding more to the black on top of it he made the bike look like it'd got a totally new paint job. Some other parts were also painted black this time too, like the 'bars and so on.
So that's it; Henrik's dirt-style, Panther-engined Swallow. I'm guessing that the standard on this dirt racer is much higher than on the ones that were used back in the '50s, but Henrik has no problem taking it out and giving it the beans on the rough stuff every now and again. Well, you can't really have a dirt-track style bike and only use it on the road, can you?