Words: Spindle, Pics: Ian Shipley
This is another bike that was originally built in England and's made its way, via a roundabout route, over the Irish Sea to the Emerald Isle, and now lives happily in the land of leprechauns, rain and very nice Guinness.
The original builder happens to be a friend of mine so we went straight to the horse's mouth for the original tale, and we'll talk about the bike as is at the end.
Take it away, Spindle: "After finishing my last bike I needed something to occupy my time, I was bored and needed a project to spend my kids' inheritance on. I scrolled the usual pages of all things motorcycle and found a good bike, already chopped but in need of some proper pimping. With the cash in hand I headed south (from Manchester) with the trailer, and bought a super cool 883 four-speed Sportster with long forks, a Sporty tank, a king and queen-style seat, standard wheels, and slightly rough paint.
"The first plan was to do a cheap makeover, but enthusiasm and ideas took control, and it soon turned into a full-on chopper rebuild, with new parts sourced from all over the world and with a small fortune spent. I'd managed to win on eBay a set of original Uncle Bunt's over-length twisted springer forks, and the seller in the States'd promised they were in mint condition… well, I can only presume that 'mint' meant they'd chewed quite considerably – the chrome was in a pretty poor state, and so they were stripped down and the worst parts sent off for new chrome. Most of the original bolts to hold the bottom rockers in place were either missing or stripped too, so I enlisted the skills of Uncle Dave who machined up the most exquisite shoulder bolts I've ever seen – they're pure jewellery! They were all then sent to Johnny Chrome for him to work his magic on and make them shine.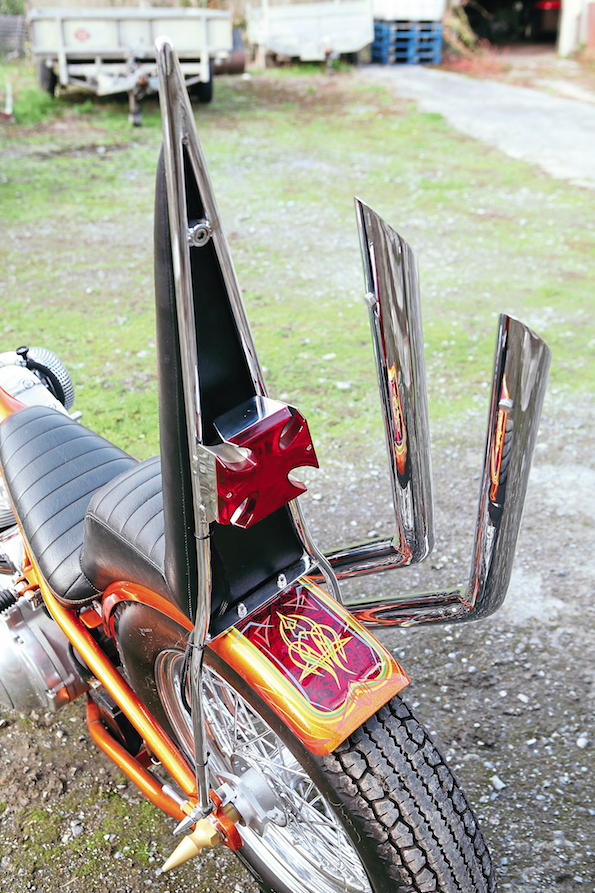 "The front wheel on the original bike was a standard Harley 40-spoke with a disc brake, but this wasn't going to suit the style I was trying to recreate, so a Halco-style mini hub wheel was ordered from the suppliers. Benny at the now defunct Boneshaker Choppers, an old mate of mine (the bike was actually built at his place), set about doing the metal bashing, and soon sorted a new seat pan and sissy-bar. This was sent to Marty at SmartRRs in York for him to work his magic on, and he did a proper job of covering the seat – I was well impressed with it.
"Benny and I went through a few ideas over gas tanks; we tried a coffin tank, but it just looked proper shite (and the original sporty tank was boring). Lurking in the corner of Benny's shop was a super cool little gas tank that belong to our buddy Baz, so we tried it on the bike and it looked the absolute bollox. I've no idea what it's off (since been told it's off a Philips racing scooter), but a deal with Baz was sorted, more money spent, and the tank was mine. It needed to be modified to suit the bike so Ben, with his welding skills, Frisco- mounted it, and it looked the dog's perched up on the frame.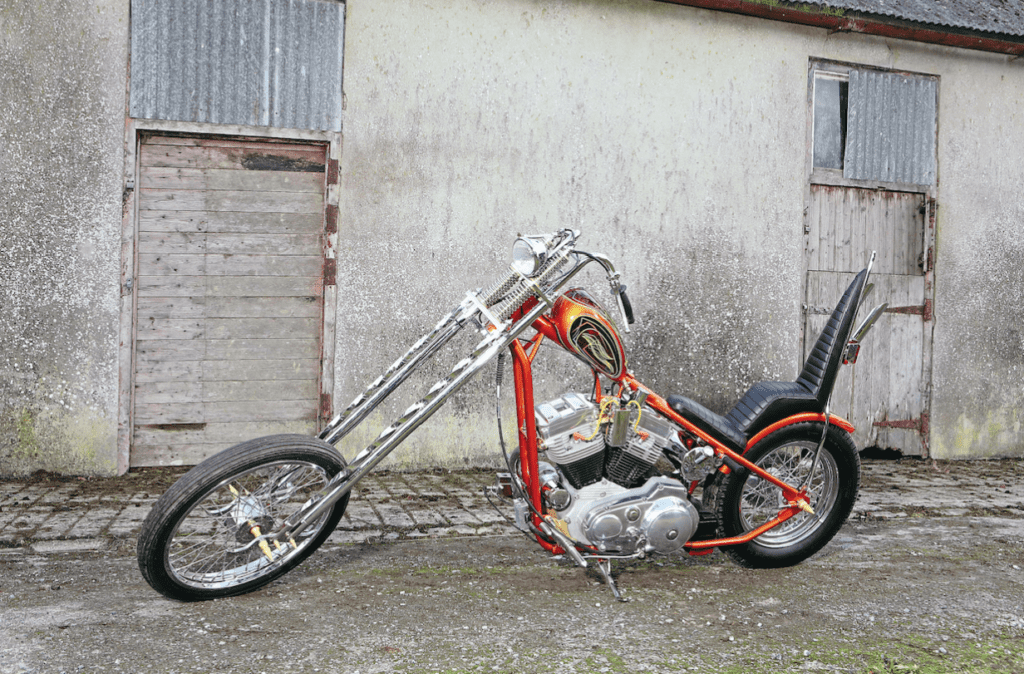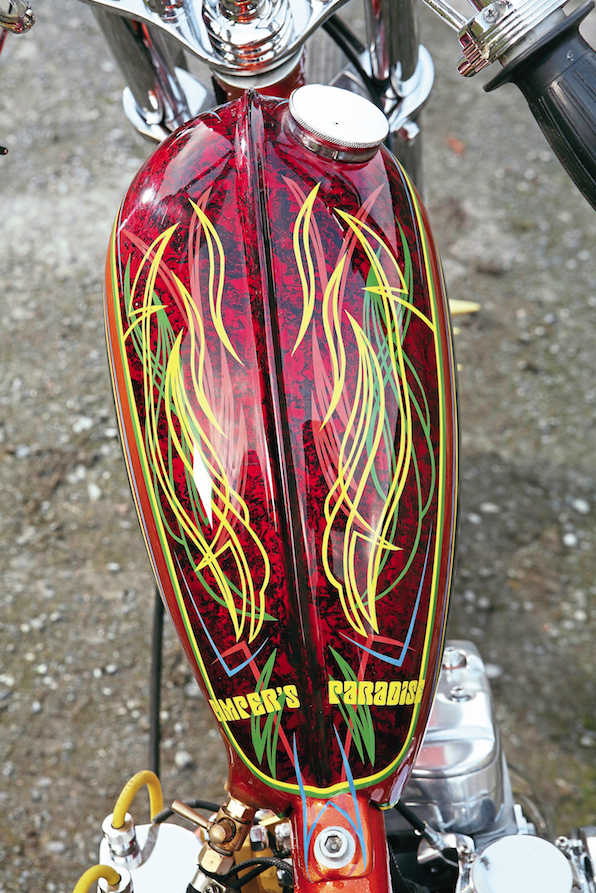 "I'd bought some inch-diameter spider 'bars, but when we tried them on the bike they just didn't cut the mustard so Nelly Cyprus bent up some steel tube, I machined some bosses, and Ben welded them all together to make the coolest bunny 'bars ever, and by far the narrowest I've ever seen on a bike. Nelly also made up an oil tank as the original one was just too big and looked stupid.
"With the dry build all sorted it was time to strip it down and send it all off to paint. I got Flakey Dave to do the paint as his work's proper mustard, and he's a valued friend. The paint was going to be mental; I explained what I wanted and he did a stunning job, f**king flawless and way better than I was hoping for, and can't thank him enough. To help keep the cost down I moulded the frame – a thankless task and one I hope I don't have to repeat, my fingers were sore for weeks.
"Zip helped big time; he made the coolest little front brake clevis, and we sent it to Johnny Chrome and he made it all pretty and shiny. Zip also helped out with the final rebuild as I was running short on time to get the bike ready for a show, but with the bike all ready and the paint looking super cool it was off to Second City Customs for Ian and Lewis to work the magic with the wires. All sorted and running as sweet as can be, we all hit the (Hot Rod) National that September in Stratford-upon-Avon.
"I think the bike rocks; everyone has passed on good comments, and it's a total blast to ride with those super-narrow bunny-ear 'bars. Happy days, I love it."
So that was Spindle, the guy who built the bike originally. It now lives in Kilkenny with John Walsh, the guy who also owns the glorious yellow Honda digger from the last issue – a gentleman who's seriously into Seventies-style custom bikes obviously.
It hasn't changed very much since the days it was first built (the headlight's different, the seat's been recovered, and the motor's been rebuilt) because… well, having got your hands on something this cool, this different, this radical, it'd be kind of a foolish thing to do to change it much, wouldn't it?