You can build custom bikes out of almost anything. Most people, though, don't start with a lawnmower…
Words: Dave Manning Pics: Simon Everett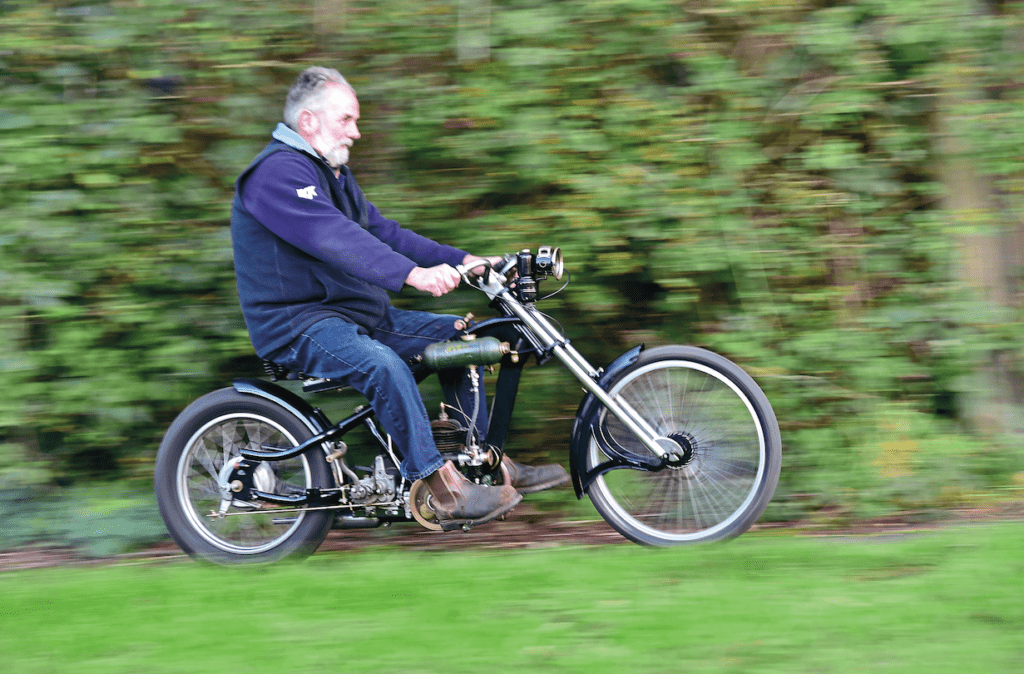 Lawnmowers amuse me; partly because of the contrast between extreme reliability (always starting, never any issues) and extreme pain-in-the-arse unreliability (never ever starting when you really want them to and you're tight for time, and there's no way you'll get a new spark plug as it's half five on a Sunday afternoon), but mostly because of the fact that they were the main focus of one of the very best British thrash bands of all time – Lawnmower Deth. And, yes, I am very aware that not all of our readers will be a fan of them, and will probably be of the view that "one of the very best British thrash bands" is a phrase equal to "the tastiest kind of poo", but personally I think everyone should listen to Watch Out Grandma, Here Comes a Lawnmower, Mower Liberation Front and Maim Mower Maim at least once in their lives…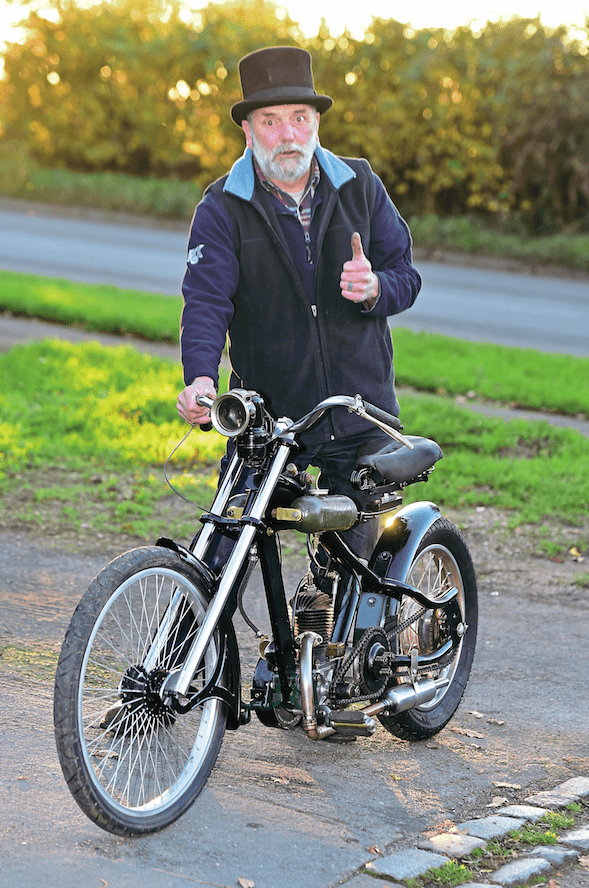 What brought about my reminiscing over early-Nineties thrash is this bike, owned by John Milner, the builder of the very cool little machine you see here. He built the bike around an Atco powerplant – an engine that was used in all forms of lightweight agricultural equipment, including lawnmowers. John's son, Jamie, sent in some pics of the bike after Nik had asked in an editorial for pics of custom bikes of 125cc or less and, shortly after, Everett was sent out with his Box Brownie to capture the pics you see here.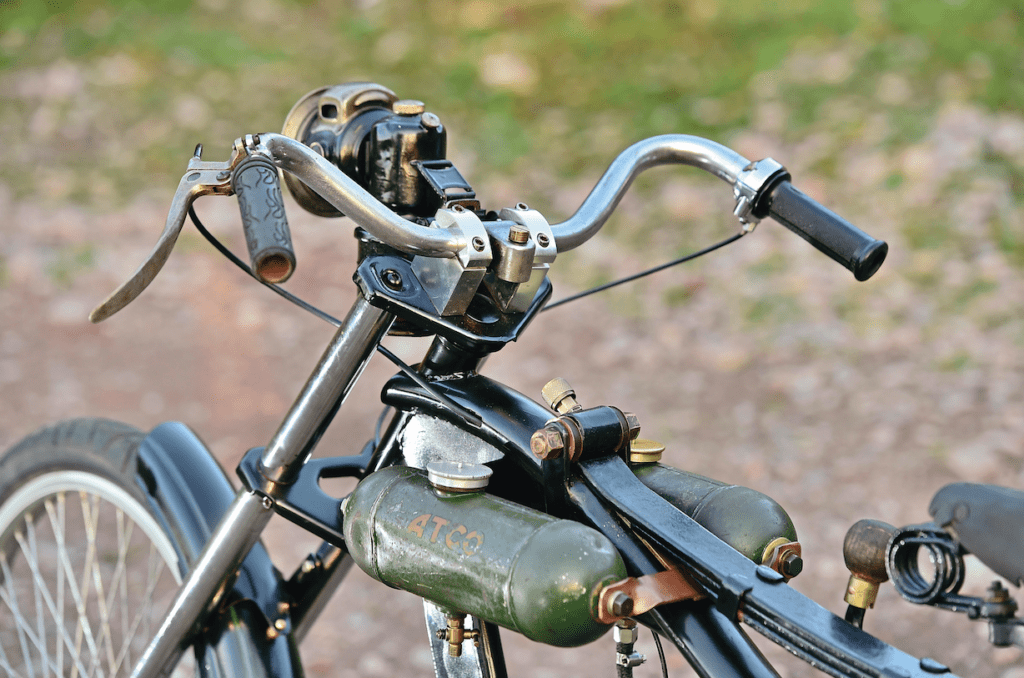 As you may gather from the pics, John's the sort of chap who likes to keep things – things that'll come in handy one day. Mind you, this is part and parcel with the fact that he's a scrap metal dealer, although the stuff that he deals in has more in common with autojumbles and garage sales than rusty industrial waste. He attends a lot of autojumbles and, thanks to that, he's acquired a large volume of bits, parts and spares for bikes, cars and agricultural equipment, and so he was able to completely build a motorcycle without recourse to having to go elsewhere for parts – not to the local bike shop, not to an autojumble (although he still went, of course), and not even to the internet.
It was while at a steam fair that he first had the idea, when he saw a lad riding past on a Chrysler Chopper pushbike, and the comment was made that it'd look really good with a small engine in it. Well, later than day, John bought the Chrysler push-iron, and a project was born!
As mentioned, the engine is an Atco from a lawnmower built in 1936, which means it was an engine built by Villiers to Atco spec, albeit very similar to other small-capacity Villiers two-stroke engines of the time, coupled to a three-speed Albion 'box, operated by a hand-shift (with a knob made from a wooden screwdriver handle), while the clutch is a conventional hand lever. Albion gearboxes were known for being used not only in industrial and agricultural uses, but for lightweight use in the motorcycle industry too, being offered in a large number of options, including pull-start (like a mower) and kick-start (some Atco mowers retained the kick-start!), and two, three or four speeds. There was even an option of a reverse gear. The one in John's bike actually originated in an invalid carriage!
Article continues below…
Advert
The frame originally started life as a Chrysler Chopper bicycle – a rather radical pushbike with a swoopy frame, including those groovy parallel rear wheel stays – and was modified to allow the Atco engine to fit by making a new front downtube out of a children's safety gate! With the modified frame, the engine fits rather easily, with the forward-pointing carb being treated to a brass bellmouth, and a bespoke exhaust made from some scrap copper and a silencer bought from a car boot sale for a couple of quid.
As the Chrysler frame was designed for those of a younger generation, John gave himself a bit more leg room by mounting the sprung leather bicycle seat on a leaf-spring from an Austin Seven, and a relaxed riding position was thus created with the addition of a pair of swoopy handlebars (originally from a ladies' bicycle) and forward-mounted foot-pegs made from bicycle pedals.
The front end is entirely original Chrysler, but for the addition of a mudguard from an NSU Quickly, while the rear end saw an upgrade with a Honda moped wheel and drum brake, giving a fatter tyre and the potential for retardation from what will probably not be a particularly high top speed…
Other odds and sods were created, modified and fitted from the Milner Spares Stash including the kick-start lever (made from an old spanner), the original Atco fuel tanks, the scraps of copper, brass and steel that make all the mounting brackets, and a carbide headlight that'd been bought years ago and lain waiting on a dusty shelf until its time finally came.
Article continues below…
Advert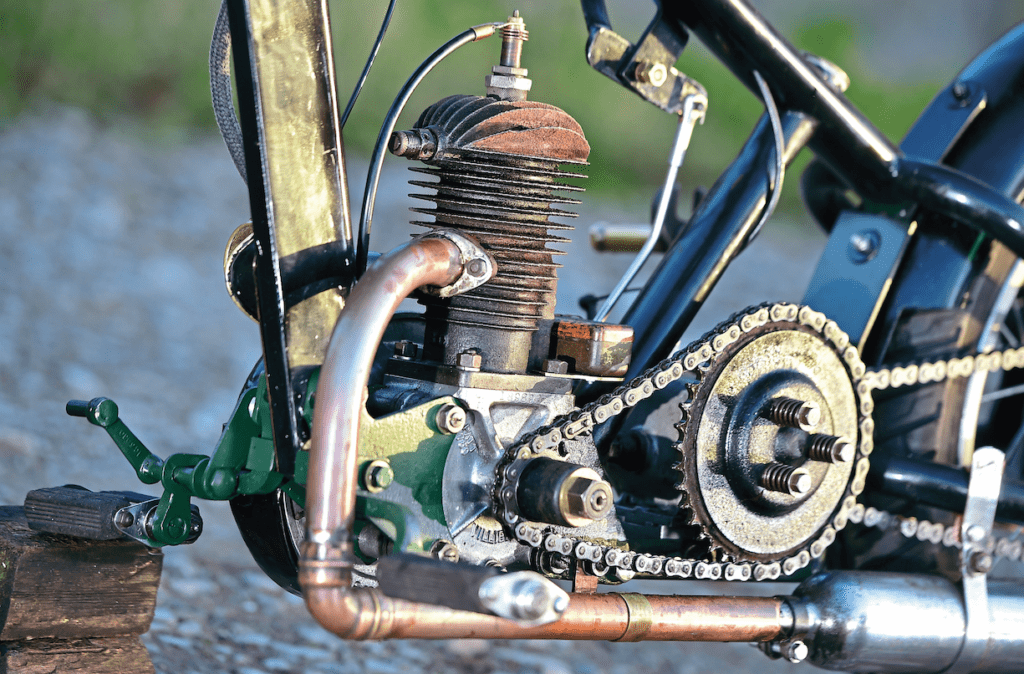 Thanks to his large stash of parts, acquired over many years of trading and autojumbling, after only about 18 months of building, this funky little bike stands him at a frankly amazing £60. And that 60 quid was pretty much all spent on the Honda rear wheel and tyre! And, thanks to the way that it attracts people to his stall at autojumbles, it's probably already paid for itself many times over already!