Quite astoundingly, there're still people who think that building any custom motorcycle involves an inordinate amount of money and nuclear physicist-levels of engineering knowledge and ability.
Words & pics: Dave Manning
Of course, while there are some bikes that have indeed cost their owners huge sums of cash, the greater majority of custom bikes cost far less than you'd've thought, and the tale I'm about to relate proves that point.
Pete Nettleton was keen to build himself a bespoke bike, different from everyone else's and built to suit his own personal wants and desires, yet he wasn't too keen to have to remortgage his house to do so. And while there're a number of frame builders supplying custom frames at remarkably cheap prices nowadays, Pete managed to go one step further and find a Hard Up Choppers frame owned by a guy in Pudsey who'd owned it, unused, for six months but lost confidence in actually doing anything with it. Once 300 quid'd changed hands, and Pete had the frame back in his shed in Grantham, he needed a few more parts to be able to build a complete bike.
As the HUC Wormburner frame was designed to use any one of a number of oil-cooled Suzuki engines, Pete kept his eye open for something suitable, picking up a complete Cat C-damaged Bandit 1200 for a mere grand. Thanks to the fact that he was able to sell the parts from the damaged bike that he didn't need, he was able to claw back no less than £600, meaning that he ended up with the engine, carbs, forks, electrical system, wheels, brakes and numerous other parts for less than 400 quid!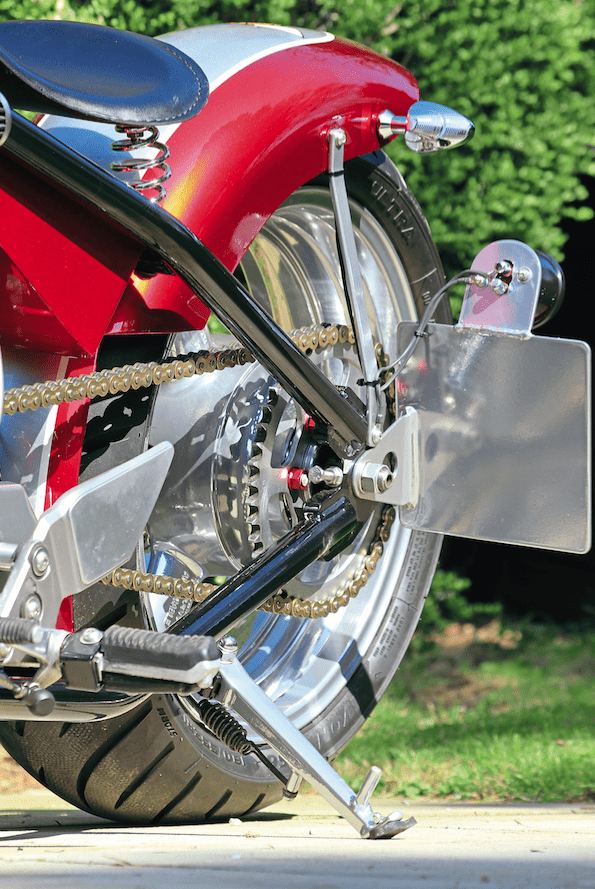 With what was left over, he was able to fit the Bandit 1200 front end in its entirety, even using the standard Suzuki handlebars, while the Bandit rear wheel also slid neatly into place. All of the standard switchgear was retained, which works neatly with the modified Suzuki wiring loom, while even the original foot controls were used, keeping the standard rubber-mounting to keep any unwanted vibes at bay.
Article continues below…
Advert
The donor bike wasn't going to supply absolutely all of the parts that he needed for his build, though – after all, can you imagine using a standard Bandit fuel tank on a chop frame? And the frame doesn't allow for things like the standard airbox to be fitted, so there were still parts to be sourced. As he lives but a quick blat away from Newark, he often spends a Sunday morning wandering around the regular 'Normous Newark autojumble, and it was there where he picked up the Royal Enfield fuel tank for just 30 quid, and a Highway Hawk rear mudguard, bought from Grub at Black Market Customs who often has a stand at Newark.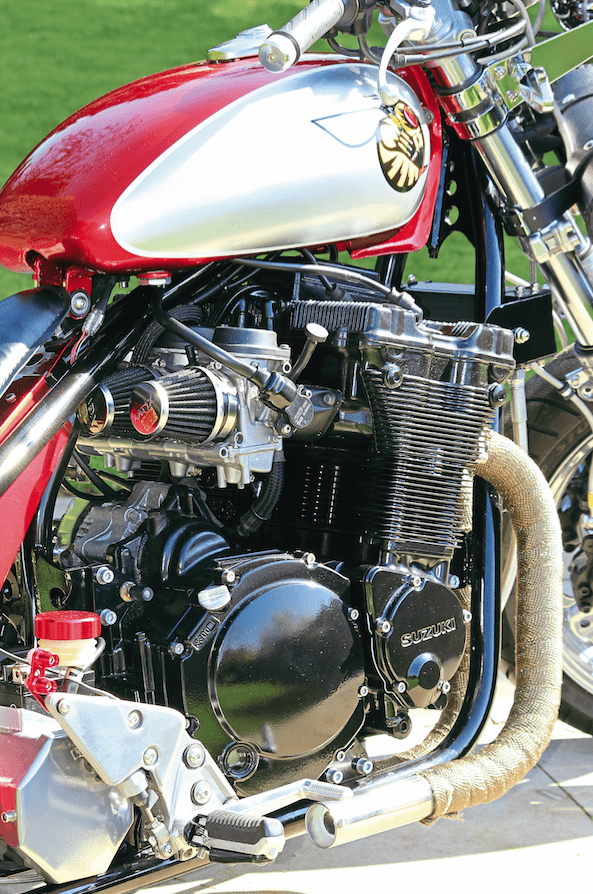 A number of new aftermarket parts were sourced, such as the lights and seat, while Pete converted his ten by eight foot garden shed from a spider-infested storage space to a basic workshop so that he could work on the bike and make some of his own parts that were needed for the build. The initial dry build was undertaken over the winter of 2016-17, and he converted the fuel tank for a feed for the Bandit engine's carburettors, rather than having the in-tank fuel pump that it had for the original Bullet's fuel injection. He also made the struts for the rear mudguard, the bespoke hexagonal-section battery box, and electrics box, as well as modifying the original Bandit sidestand to suit. The engine was fitted with a set of pod air filters, while modified header pipes from a GSX1400 take care of the exhaust gases. An oil cooler from a Yamaha R6 was treated to some braided lines, and sits on one-off bracketry to suit.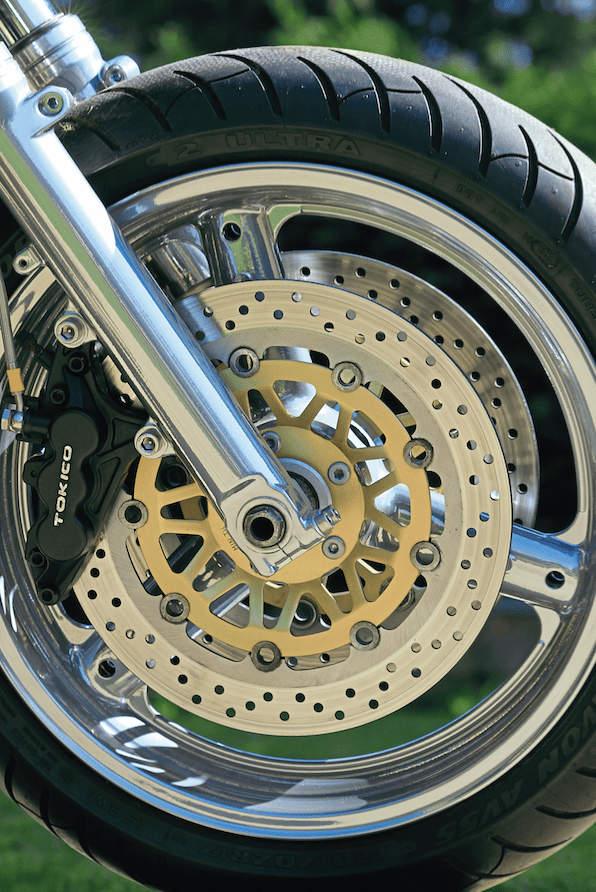 With everything fitted and working as they should, it was all stripped back down again for powder and paint before being rebuilt over the winter. As Pete intends to use the bike as often as possible, he didn't want much in the way of labour-intensive polishing so went, instead, for chrome-effect powdercoat on the wheels, fork sliders, 'bars etc, all applied by Mascot Powdercoat up near Lincoln. The frame and bodywork was first painted in silver, then covered in a metallic cherry red, with some white pin-striping and the 'Stinger' logo, all applied by Paul Sharman at Barkston Refinishing.
The final rebuild went without any hitches, and there were no real problems with getting it up and running, aside from a few niggles with the carb set-up, which was cured by a Dynojet Stage 3 kit, and it's now set to become Pete's daily ride, and to take him to as many shows over the summer as possible.
Article continues below…
Advert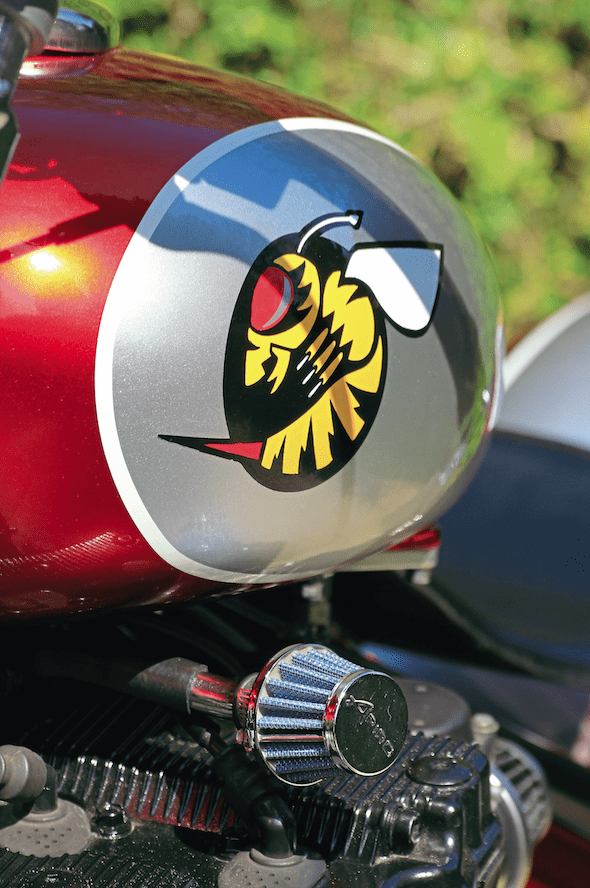 The real story, of course, is the overall cost to build it. All in, after getting the money back from the standard Bandit parts that he didn't need, this bike comes in at around £2500 in total, due to using as much of the original bike as possible, yet with no scrimping and saving on the finish or on parts required.
Oh, the name of the bike, 'Stinger'? It comes from Pete's family nickname – 'Stinger' Nettleton… get it?