Some people's design criteria are really easy – Richy wanted his next chop to have black spoked wheels, and a 'beep-beep'-style squeezy bulb horn. The rest of the design was up to me…
Words: Ger Conlon
Pictures: Ian Shipley
This is the second fancy chop I've built for him (the first was featured in BSH), and he soon decided he wanted another built, but on a much lower budget than the first one. I was given a free hand to do whatever I wanted, apart from the above stipulations, so I picked up an Evo (Harley) basket case from which I was able to use the frame, swingarm, motor, gearbox, carb, primary and electrics. I bought a pair of 60-spoke wheels in from DNA Specialty in America, both fronts and both 5.5 inches wide, and I stuck on a pair of Firestone 500s as I like that look.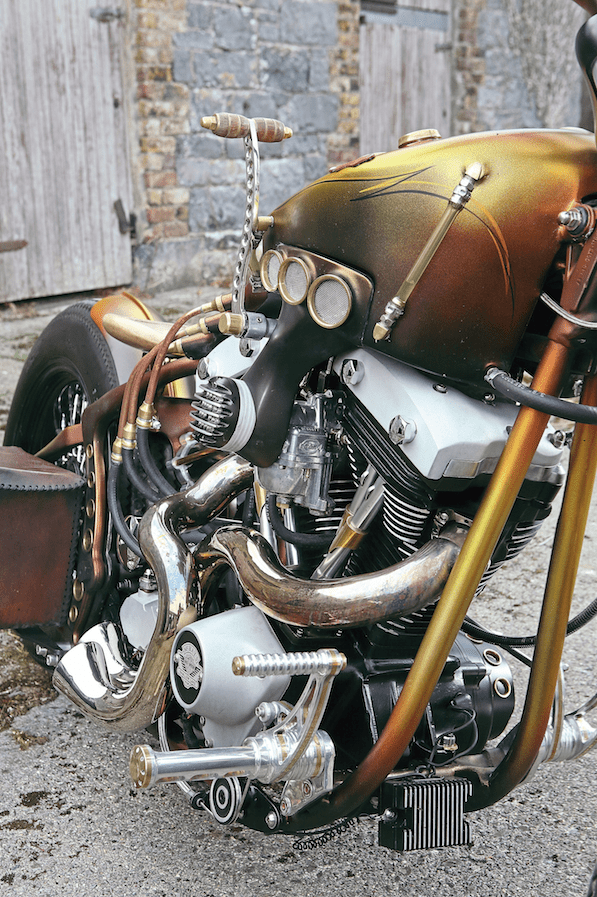 With the RDS Bike Show in Dublin a few months away (this is four years ago) myself and Owen, who works with me at C&C Choppers, started working on the bike. We didn't really have any plan of how it was going to look, but it had to have as much one-off stuff as possible if we had any hope of getting anywhere in the show. We started by cutting off all unnecessary brackets from the frame and swingarm, and I started making a tank that'd hold both the petrol and the oil. I ordered a wooden seat from a local biker who does woodwork as a hobby, Luke Raseen (probably spelt his name wrong, but we all know who he is), and I also got him to make up handgrips, a headlight shell, and a tail-light shell all out of walnut. They turned out lovely.
As usual, all the engineering bits and pieces that we couldn't handle ourselves were handed to my good friend Mort, who's a bit of a genius, and another list of bits to be made was given to Lord Hillgrove, who was working night shift (Times've obviously been particularly hard for the Celtic aristocracy of late. N.) so he had the run of the engineering place where he worked. Last, but not least, I asked another feckin' legend, Tim (he works with Mick O'Shea), to make up a few sets of the brass and alloy forward controls we like, as well as the see-through oil filter, and a few other tricky bits.
By now we had something resembling a bike, so I started to make a springer front end, but never got the time to get it finished for the show. Instead I stuck on a stock pair of forks, in a set of three-degree raked yokes. Things just happened with the styling of the bike; usually after a cup of tea we'd sit and look at it, and ideas'd come. Some we used, others were disregarded, and others I hoped to do at a later stage after the show. I think Owen came up with the idea of drilling holes on the sides of the frame and making up bronze rings to fit in them, so he became 'Lord of the Rings' for a few days. You can see bronze rings all over the bike, as I thought they looked good.
I put the engine's cylinders in the lathe and rounded off the cooling fins, and also trimmed the fins on the heads too, just to make the motor look a little bit different. It was then that I thought of casting a pair of Shovelhead-style rocker boxes. I spent almost a week messing around with clay first, then a plaster mould, and then the final piece in fibreglass. I had to make them slightly bigger than I needed as they'd shrink when the cast alloy cooled. I sent the mould off to Germany to a foundry but, unfortunately, they arrived back while we were up at the show – they're on it now, and I love the look.
We decided to go with a hand-shift, but have the lever on the right side of the bike. That's how the chain linkage happened, and after yet another strong cup of tea, we decided to make a steering stop using another bit of cam chain. That's when the name for the bike was decided on.
The rear brake drum is a cut-down Honda CB 750 wheel hub, bolted to the Harley hub, and the pulley had the centre removed, was pressed on to the Honda hub, and it's supported by 20 M6 button-head bolts. I wanted to make a matching brake for the front wheel but, by now, the agreed budget was well over its limit – shame, as I had a lot more things I wanted to make for it.
The show was coming up fast. I must've mentioned on Facebook that I was working on the petrol tank and under pressure, and I got a call from Wade at Sickboyz Customs asking me if one of their brass petrol caps'd be of any use. I told him that of course it would, but I'd need two. "No problem," says he, and sent me two, and wouldn't take any money for them. That was a really nice gesture from him, and was really appreciated.
The bike needed painting and as we were way behind, it was another rush job just to get it looking finished. I put down a light coat of coarse silver over a black primer base, threw on a coat of House of Kolor pagan gold, and a bit of tangerine, and it really looked brilliant with all the alloy, brass and bronze.
We didn't get it finished for the show, but as we'd come this far with it we decided to take it anyway, and I made sure I told everyone it wasn't finished. We stuck it in with the show bikes, and it won Best Harley (or maybe Best Modified Harley), but it shouldn't've really. After the show we stripped it down to nothing, and redid all the bits that were rushed – I resprayed the whole bike properly this time but, weirdly, it didn't turn out as nice as the rushed job, and I made up the leather side-bag which holds the battery and the electrics, but never finished the wooden headlight and tail-light (I'll use them on another bike sometime).
All in all, I think it's probably one of my favourite, if not my favourite, of all the bikes I've built.