Selling a custom bike that you've poured your heart and soul, your blood, your sweat, and often your tears over, can be a very traumatic experience, and one that can haunt you for years.
Words: Nik
Pics: FD
Dave How built a Triumph TR7 (the bike, that is, not that horrible cheese-wedge of a car) 750 hardtail at Kustom Korner (the shop that the renowned P&D Custom Bikes grew out of) many years ago, loved it, rode it about, but eventually sold it. He's regretted it ever since so, a sufficiently long time later (probably so long that he doesn't like to think about it), he decided to build another one, but this time it'd be better – a lot better.
To this end, a couple of years or so ago he picked up a motor from a 67 T120R, one of the 650cc Export Bonneville models, and recruited an old mate of his, Mick Perry, to help him put it together as Dave didn't have the facilities to do it himself. Mick has something of a pedigree when it comes to building old Triumphs; he was one of the main men at the late, lamented Southern Cycles (the original builders of Nelson Ryall's gorgeous red, white and blue bobber from the last issue), and so what he doesn't know about putting those old twins together probably isn't worth worrying about. He freely admits that Mick, basically, put the bike together… well, if you have someone of his talent on side, it makes sense to use him, doesn't it?
As he knew Dave Batchelar of old, he asked him to make a frame for the Triumph motor and, once it was done, got him to fabricate and mount various components, too. A set of DNA springers were attached to the front of the frame, and a pair of suitably fat spoked Borrani rims laced to Harley drum brake hubs to give the required look. Mr How himself shaved down the springers to get them to look just so, and a set of one-off 'bars, made by P&D, attached at the top end, and also cut the slots in the primary cover (partly for cooling purposes, and partly for looks) that covers the Classic Bike Shop belt primary drive between the engine and the 'box. They (the Classic Bike Shop) also supplied the tulip silencers (didn't know that Dutch flowers were so noisy…) that've been mated to new down-pipes (also from them), and a fair few other little, but very necessary, bits.
Article continues below…
Advert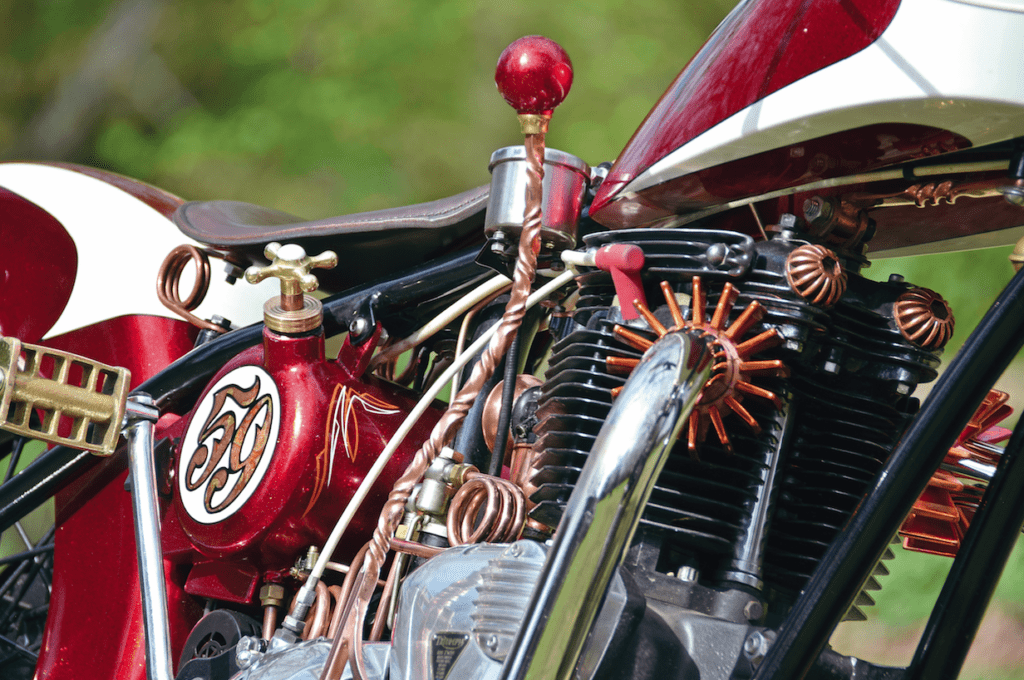 The build, Dave says, took roughly two years, including the time at P&D, but it's been worth the wait. The work done by Matthew at Stormcrow Forge at Copthorne, near Crawley, for example, is exquisite – the twisted metal parts that abound are all his work, and really make the bike stand out in a crowd, as does the copper-plating by Capital Chrome, and the subtle, but suitable, paint and pin-striping done by Stig at Stig's Custom Paint. Stig's old partner in crime, Wade from Sickboyz, also had a part to play – he made the very cool brass oil cap with its old-fashioned tap atop it that just suits the bike perfectly.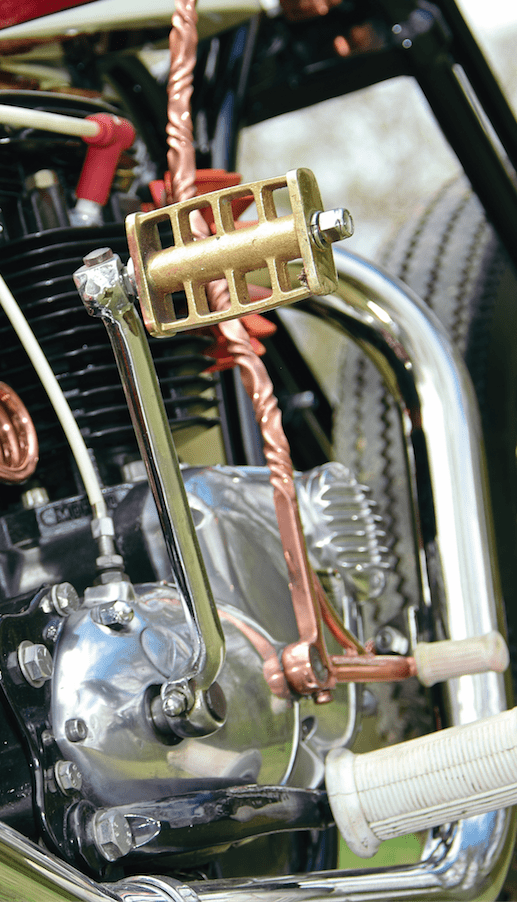 So, from the front there's a Firestone tyre on the Borrani 18" rim, and a one-off hand-forged brake hub rose-joint stay on the Harley hub. The aforementioned modified DNA springers have been copper-plated, and are topped with the stylish one-off 'bars (P&D Customs) that've been fitted with suitably olde-worlde white grips, and replica Doherty-type 200 competition levers (that needed quite a lot of modification to get to fit) fitted with hand-made white cables. There's another Firestone up the back, still time a 16-incher, and another hand-forged brake stay on the brake, plus one-off mudguard struts supporting the so-trad'-it-hurts Harley front 'guard that's been reversed and fitted as a rear. The rear hoop's been fitted with a very classy copper-plated spinner (a very nice touch), and there's a neat (and very sensible) one-off chain-guard to keep flying gunk off his jeans.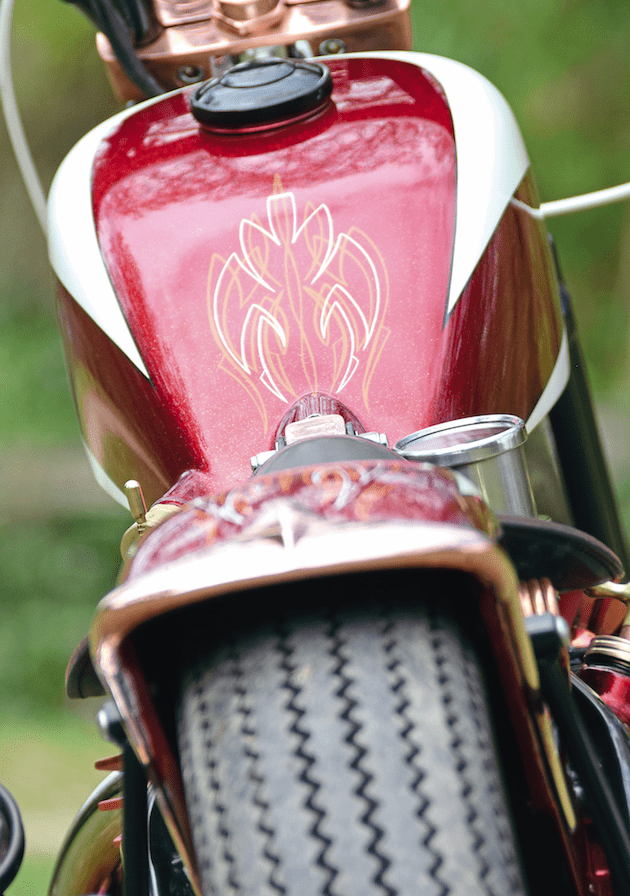 The tank's a modified Sportster, as you've probably recognised, and the seat's a one-off from Sinister Seats in the US. Dave B made the oil tank and the electrics box, eBay supplied the front and rear lights, and Mick fitted the copper oil and fuel lines that look so right. The '59' on the paint refers to the year Dave (How, not Batchelar) was born, and the look of the paint was, he says, inspired by 1950s bumper car rides (hence the bike's name in the title of this article) which, at first, sounds a little odd as a concept but, after a bit of thought, makes perfect sense.
Article continues below…
Advert
On its maiden ride to the MoT, the motor holed a piston so it was recovered back to the owner's shop, Piercing Tattoos in Crawley (Dave's been a tattooist for 37 years now, and has garnered a very good reputation over them), where he and Mick pulled the engine out, examined it (it was definitely slightly more air-cooled than intended…), and decided to go for a Morgo big bore kit (750cc). The motor was dealt with by the very respected Matt's Machine Shop in Welshest Wales, specialists in classic Harley and Triumph engines, and it now starts and runs almost boringly reliably.
The finished bike has become an absolute trophy-magnet, picking up silverware just about everywhere Dave takes it, and so he's running out of surfaces in his house and shop to store them on. Looking at it, I can't say I'm surprised as it's one of the nicest Triumphs around, and I wouldn't like to bet on the flow of accolades drying up any time soon – would you?