After growing up watching his old man building bikes in the kitchen, Anthony Pearson always wanted to build his own one.
Words and pics: Nik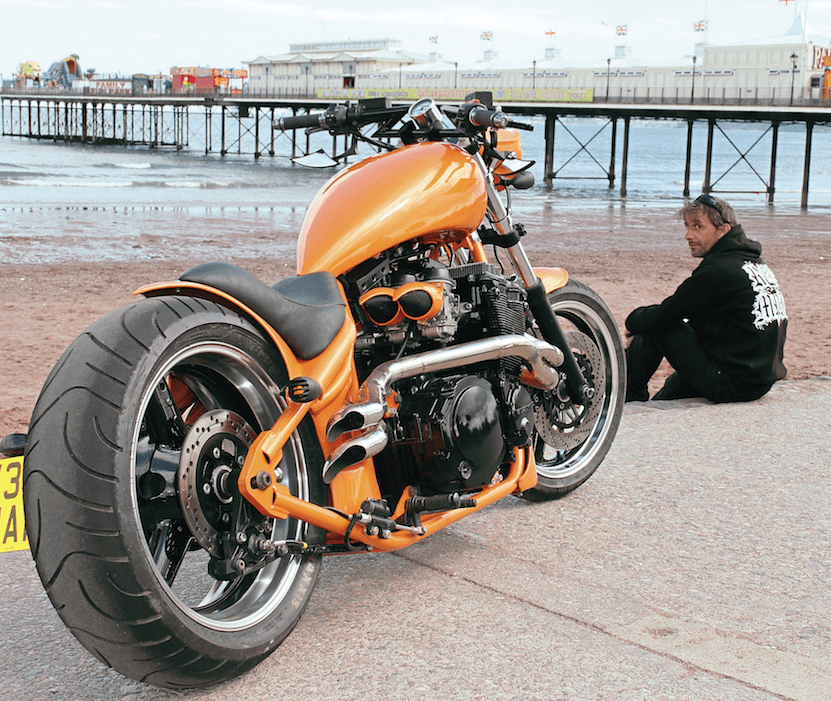 After a couple of years of spraying bikes for other people, he decided it was time, and got advice from an old friend who knew all about these things, deciding to go with a Bandit 1200 as a donor bike, and one of those cheapy Hard Up Choppers Wormburner frames.
He wanted his bike to look different to all the other Wormburner-based bikes you see on the road, and the best way to do this was to not just buy off-the-shelf parts, as many others do, but to make as much of it as he could himself, by hand, and in a completely different style to everyone else's. He loves the look of them, but wanted his to be unique, y'know?

With the engine fitted, and the forks and wheels in, he set about making the components that'd make it look the way it does. His first mistake, because as we all know first builds are always a series of errors sorted out until they work, was making the battery-cum-electrics box first. It looked cool, granted, and contained everything the bike'd need to go spark, but it had to be cut up and reshaped because he forgot about the run of the chain from the front sprocket to the back, and also he hadn't left quite enough room to route the exhaust where he'd envisaged it in his mind's eye. It didn't take him long to put it right, of course, but it was annoying to have to do it. Ah well, as the old saying goes, whatever doesn't kill us makes us stronger… although whoever coined that phrase was either an eternal optimist or clearly ignorant of the specifics of a lot of human ailments.
Anyway, it was at about this time that the bike got its nickname 'The Throne' after it was pointed out (don't you just love your mates?) that it looked like a toilet… and it still goes by this name now. Ant, I know exactly what you mean – I originally planned my Bandit to have just a loop at the back of the tank (on to which I could put a clip-on seat), until someone told me that it'd look like a khazi too. Mind you, I have to admit, I'm quite glad they did, actually…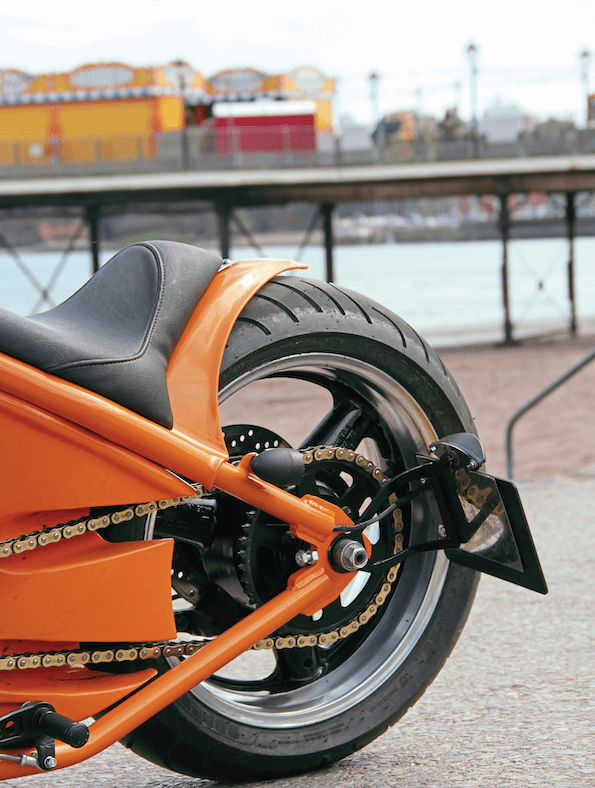 Next he made the seat panel and rear mudguard as one piece so it all fitted to the frame seamlessly. Throughout the build he took advice from Geoff at G Bennett Upholstery in his native Newton Abbot, on how the seat base'd be best suited for the seat position – so that he didn't end up sat on metal when he was in the crouched, made-for-riding position that the bike has. Having no suspension at the rear, he wanted a seat that'd allow him to ride the Suzuki over long distances without it giving him a numb arse (something he couldn't do on his Harley!).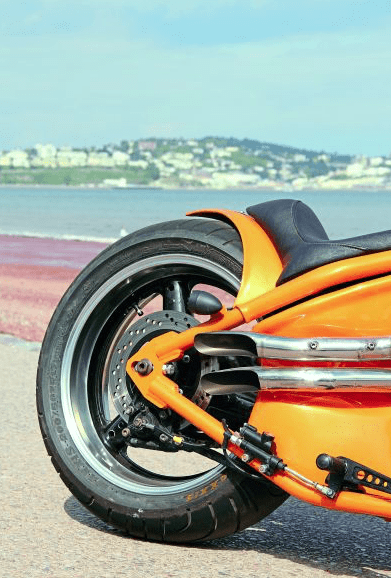 The exhaust, he says, was a nightmare. He decided it needed to wrap around the engine, not dive below it as is more usual, so that it didn't restrict the ground clearance and lean angle (Wormburner frames are notoriously low, as anyone who has one will know, which looks ace, but does mean they can't be leant over very far) – he likes to ride, and ride hard, y'see, and didn't want his 'pegs forever scraping on the road at even the mildest curve. Having it high also meant that he could hide the Bandit motor's oil cooler (a very necessary, but obtrusive on the eye, component) down in the belly-pan, and tidy up the front of the motor nicely. He says that, as this was the first exhaust he'd ever made, he wasted a lot of time, effort and money chopping and changing it to get it the way he wanted it, but it was worth it in the long run as it sits and looks exactly as he'd first planned.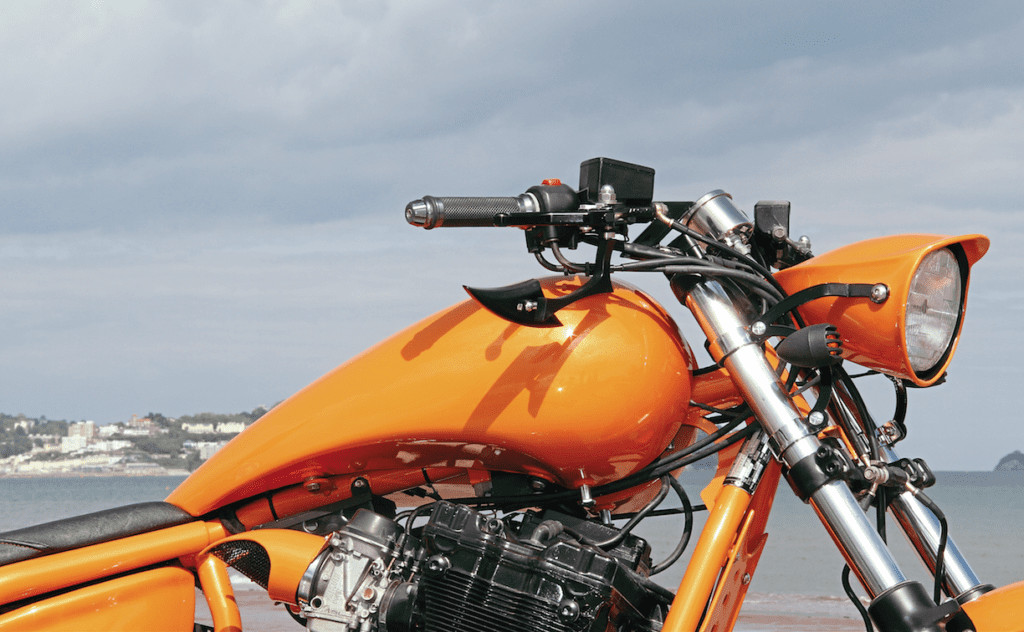 As most people who've built their own bike'll've found out, you can't really buy handlebars or headlights in any style other than what's been traditionally available (custom biking is, weirdly, quite a conservative field, and anyone who wants to do anything a little different, basically, has to do and/or make it all themselves), but Ant didn't want to follow form. He used an old headlight that he had lying about in his workshop, and made a new housing for it that was more suited to the combined rounded and yet angular theme he had going. He then mocked up a set of 'bars in plastic tube so that he could get the angles right without wasting metal.
Having made everything, but everything, out of steel, he decided there was no way he was going to use a plastic front mudguard, so set about making his own from sheet steel.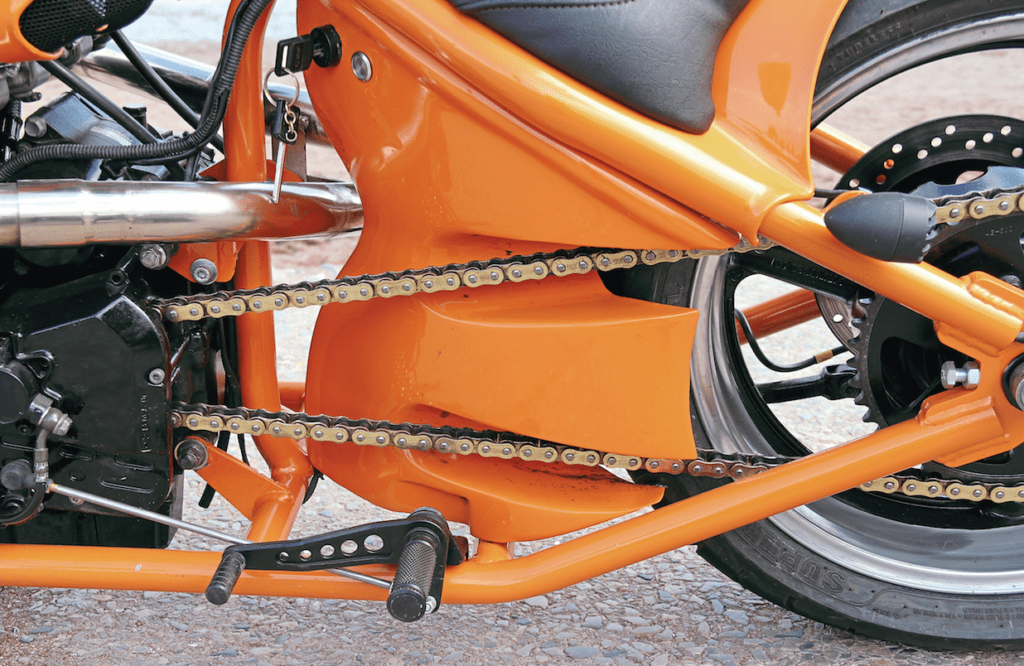 Yeah, it took a lot of work, and made him sweat a few times, but the end result was well worth it, and he now advises anybody building their own bike not to be happy to go for second best and use the plastic muddie that comes with your donor bike – get out there and make one! The finishing touch, component-wise, was the set of stainless steel air-filter covers that he made when he decided he didn't like the pod filters showing – they look good, don't they, and continue the rounded/angular theme nicely.
The finished bike (painted by him obviously, that's what he does) rides a lot better than he expected and, equally importantly, corners as well as he'd hoped (his biggest worry was dragging the 'pegs when cornering at speed, as he's come from a sports bike background). It sounds good, has been reliable, and goes like a Bandit Twelve in a lightweight frame should – happy days!