Every so often a bike lands here on the BSH desk that, no matter how much we try, is almost impossible to find out any info about. The XS650 you see is one such bike…
Words: Nik
Pics: Garry Stuart
Our Garry found it at Northwest Customs in Warrington (01942 274888 or www.northwestcustoms.co.uk), a shop just down the road from him that specialises in the buying and selling of custom bikes and, knowing that we're always on the lookout for custom bikes that aren't Harley-Davidsons, decided to get it in the can. These days, y'see, just about everyone and their dog's building Harley customs, for one reason or another, and so we keep an eye out for British and Japanese-engined bikes all the time because… well, we've got to have a bit of variety in the magazine, haven't we?
This 'ere mo'sickle came originally from the Doncaster area of South Yorkshire, and was sold to Northwest Customs by a guy named Pedro who hails from Wakefield. He wasn't the builder though, just the last owner of it.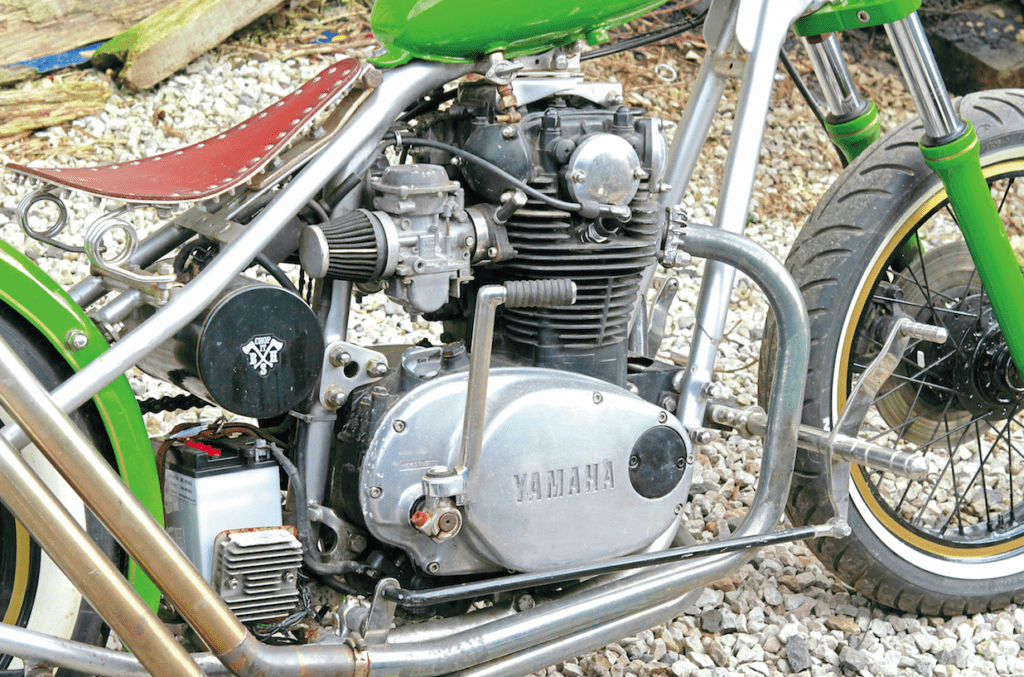 It's based around an XS650 of 1976 vintage; the seventh year of their production, and the year in which Brotherhood of Man won the Eurovision Song Contest with Save Your Kisses for Me, the Ramones released their first album, the Viking 1 lander successfully landed on Mars, the Muppet Show was broadcast for the first time, Microsoft was set up, and the Sex Pistols achieved public notoriety by using four-letter words live on Bill Grundy's early evening TV show. It was also the year of the infamous British summer in which the country sweltered under baking temperatures… well, most of the country anyway; meself and my sister got off the 'plane at Heathrow that summer and immediately complained about how cold England was – we were living in Oman in the Middle East (my dad was a civil engineer working for a big British company out there) at the time and, compared with the temperatures out there in the height of summer, the UK was still a bit parky to us.
Article continues below…
Advert
Anyway, as I said, this XS is based around a '76 motor, frame and running gear. The engine's been painted and detailed, and fitted with aftermarket air filters, a set of kicked-up stainless straight-through 'pipes, and a Boyer electronic ignition, and the frame's been cleaned up and hardtailed, and fitted with a set of stainless forward controls. The very green forks are XS too, slotted into a set of slab yokes that've been painted/powdercoated the same pea green as the tank and rear muddie, and they hold, at the bottom, a 19-inch wheel that's been powdercoated black and fitted with a whitewall tyre and, at the top, a Harley handlebar riser and a set of upside-down XS 'bars.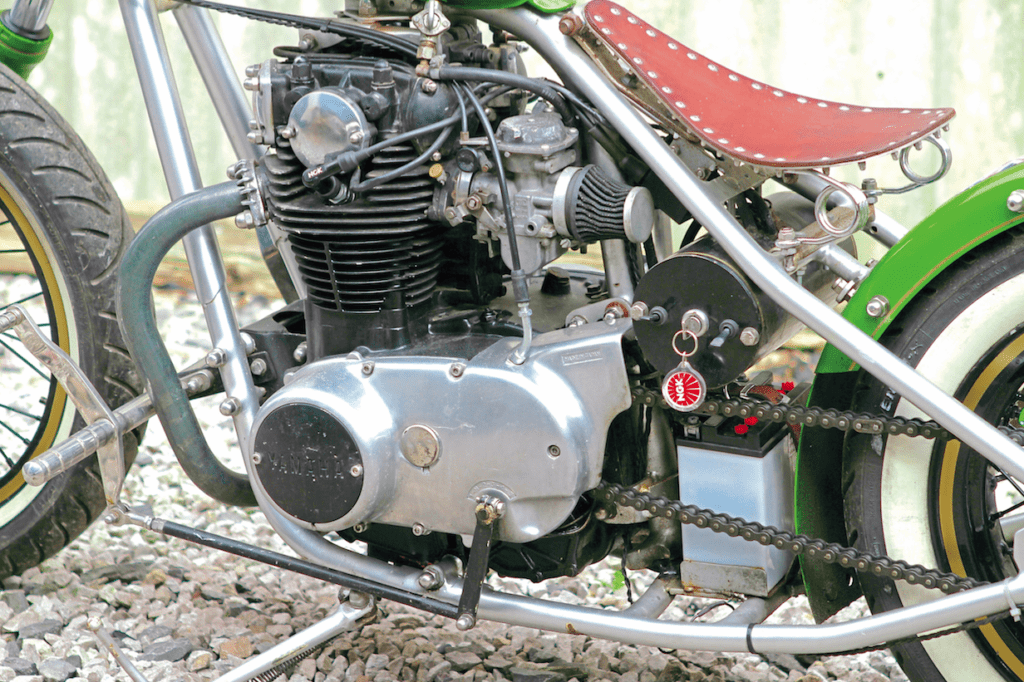 Behind them sits the single cap Mustang tank, of three an' 'arf gallon capacity, that gives the bike its traditional look. It's been painted (or powdercoated, no one's entirely sure which) in that pea green finish that so makes it so stand out, and on top of that's been done a set of seriously in-yer-face shark's teeth that suit the bike down to the ground. The seat behind it is a very thin, minimal, leather 'n' rivets affair that looks the part, but probably isn't the most comfortable thing in the world… probably. That oil tank under it's actually a dummy that holds the electrical components, and the rear muddie's a cut-down aftermarket 'un. There's a 16-inch rear hoop, also powdercoated black, with another whitewall tyre, and a neat little side-mount too.
That, pretty much, is all we know about it, save for the fact that it didn't remain at Northwest Customs very long at all – barely two weeks after it'd landed at their Warrington shop, a gentleman by the name of Lee Rhodes came up all the way from Ashford in Surrey, paid the asking, and took it away to live with him. Don't you just love a happy ending?
Article continues below…
Advert