I first clapped eyes on The Vampire, as Nik christened this bike in 1989 when he wrote it up back then – it was featured in issue 166, and was on the cover of the 1990 Yearbook too, but it didn't look quite like it did then (or does now).
Words: Rob Widdrington
Pics: Nik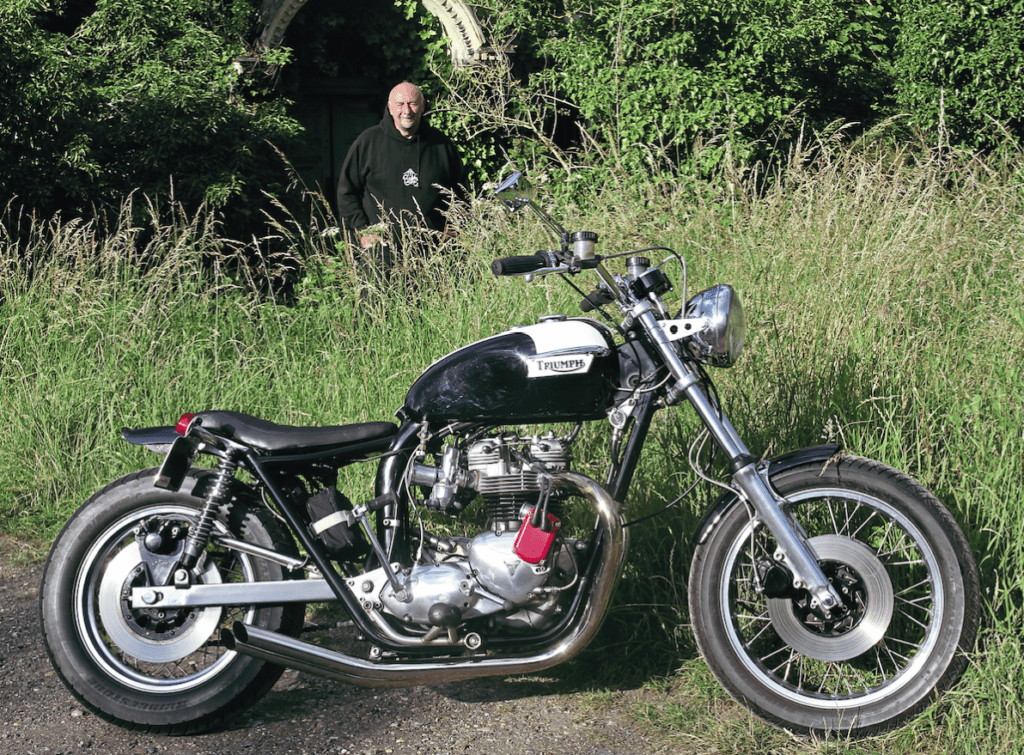 This was several years ago when it was at the now defunct Roadkill Customs in Cromer. It was in their main showroom, locked up in the corner. It had several distinctive parts that drew me to it; a Joe Hunt magneto, a Norman Hyde oil cooler, a handmade stainless steel swingarm, and 840(cc) painted on the rear mudguard. I spoke to Roo, the owner of Roadkill and a man who knows a fair amount about very sexy Triumphs, about buying it. I'd not long finished building Self-Afflicted, a '74 Ironhead hardtail that was featured in BSH 411, and I'd shown it at The Trip Out outside the Bike Seat Pro stand. He took it for a spin and, when he came back, I tried to do a deal with him, but it wasn't to be. A while later, though, he closed the shop down to follow a new venture, and offered me the T120V, and a few weeks later it was in my garage!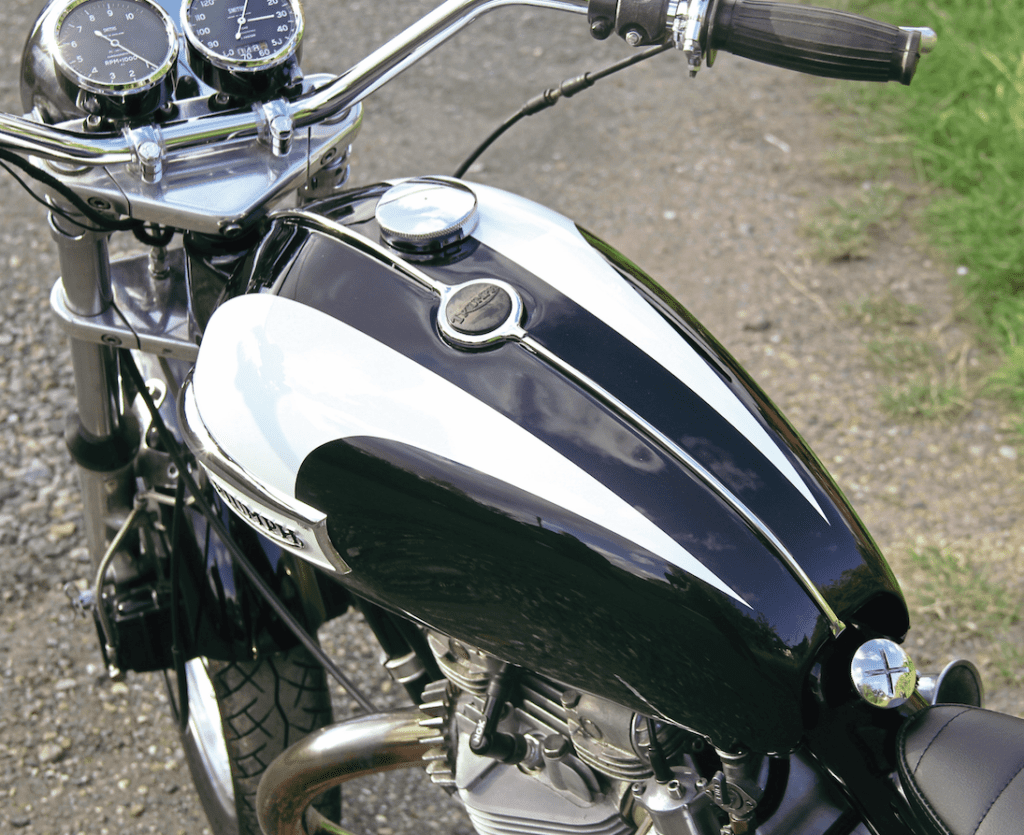 When I got the bike into the sunlight, I wasn't too sure of the colour. It'd been painted red at some point in its life, and'd faded, and was a bit too pink for my liking (the original'd been a sort of very nice gun-metal grey with Celtic knotwork), so I sent the tank off to be painted, and in the meantime, Roo found a damaged Triumph 'bread-bin' tank, so I had that off him too, and so then Daz at AirFX had two tanks to paint for me.
My good friend Perry at Motorcycle Service & Repairs, a mechanical magician, who's got me out of the shit more times than I care to remember, helped me to draw up a plan of attack; basically, go right through the whole bike, and it soon became apparent that we had several issues to deal with. Firstly, the engine needed some looking at; we cleaned out the carbs, checked the timing, and got it to run, but it had no power and was missing badly. We started with the Joe Hunt mag', and soon found that the spline'd been rounded off, and that meant we couldn't get the ignition set up properly. We made a new spline for it, timed it up, and re-soldered the faulty innards.
Article continues below…
Advert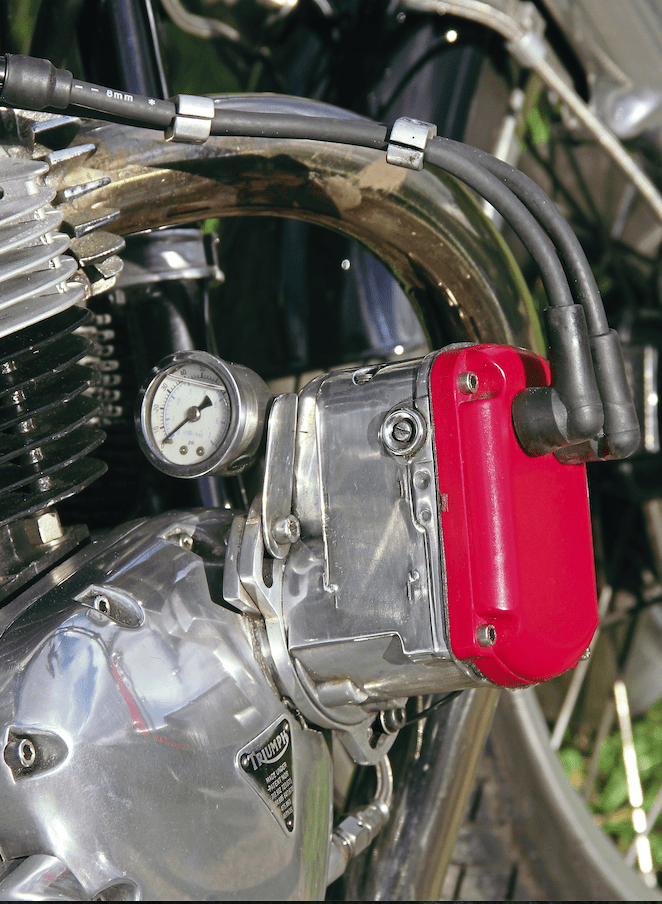 The bike fired instantly, but still wasn't right, so we decided to strip the motor right down, and have a proper look at it. I'm glad we did too, as we ended up putting in new 840cc Morgo pistons and rings, a new head, new valves and guides, and push-rods, and we checked the balanced Norton crank (it was okay, pretty much), and then Perry rebuilt the engine back into one piece. The clutch is one of the first hydraulic units fitted to an old Triumph, and was designed by Andy Walker, the original owner, and I have a copy of the original blueprints in case anything ever goes wrong.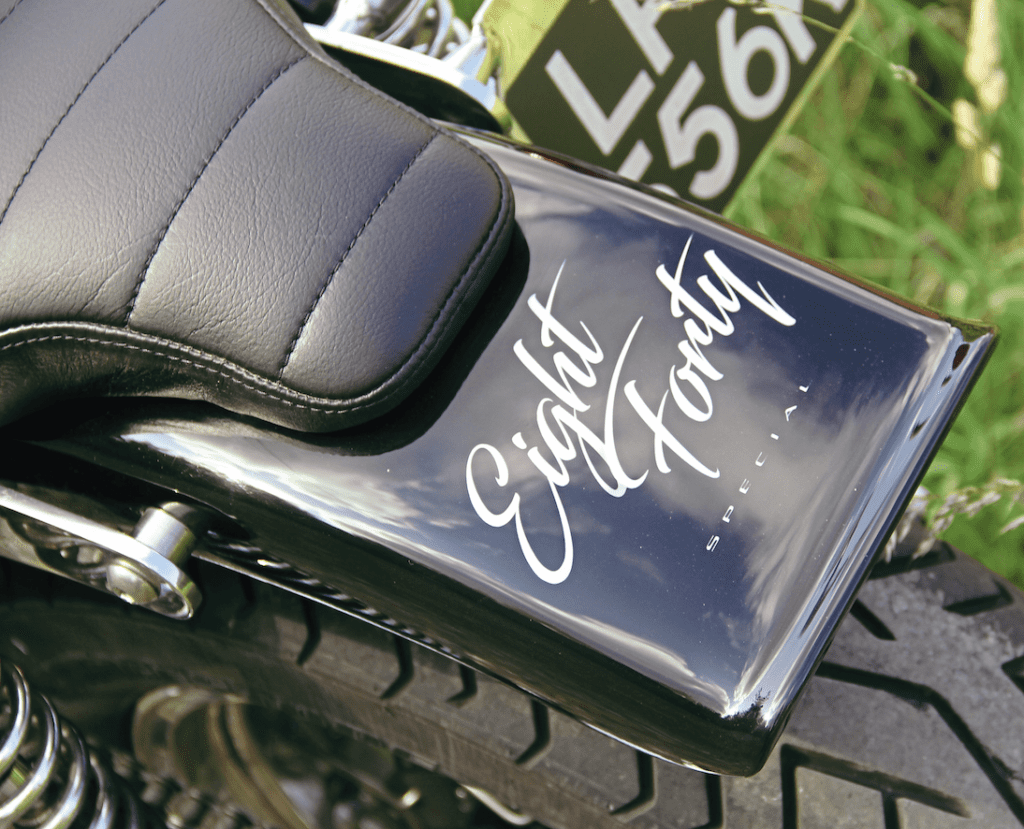 With the motor together and back in the oil-in-frame frame, I made a new seat-pan, and had it covered by my good mate Jason at Bike Seat Pro (another great job). The next thing that needed doing was the brakes. Both… well, both the fronts and the rear are all AP Racing items, and needed rebuilding. Unfortunately you can't buy the bits you need as they're not made any more, but we managed to get them made especially for us by the chaps at AP. Pat Banks from Limit Welding & Fabrication, who builds BMX and mountain bikes for a lot of top riders in the States, built me new trick footrests and hangers, and also made a cam-and-lever setup for the rear brake – it was important to get the footrests right as the bike was nearly impossible to ride because of the geometry. Perry checked out the wiring, and decided to make a new harness, and I got new switchgear, and we redesigned the electrics as Perry'll only use black wires!
It was then time to reassemble it all. Everything was going well, and we were just waiting for a few parts to complete. As fate'd have it, I was in the Jolly Roger Tattoo Shop in North Walsham, and was talking to Ant there, about bikes and stuff, and I mentioned that I had that old Triumph from Roo's. Ant told me that it was his best mate Andy Walker's old bike, and that they'd built it in the '80s. Andy'd moved to Australia after selling it, but they were still in contact through Facebook, and that night I had a message from him down there on the other side of the world, and found out all about the bike's history.
Article continues below…
Advert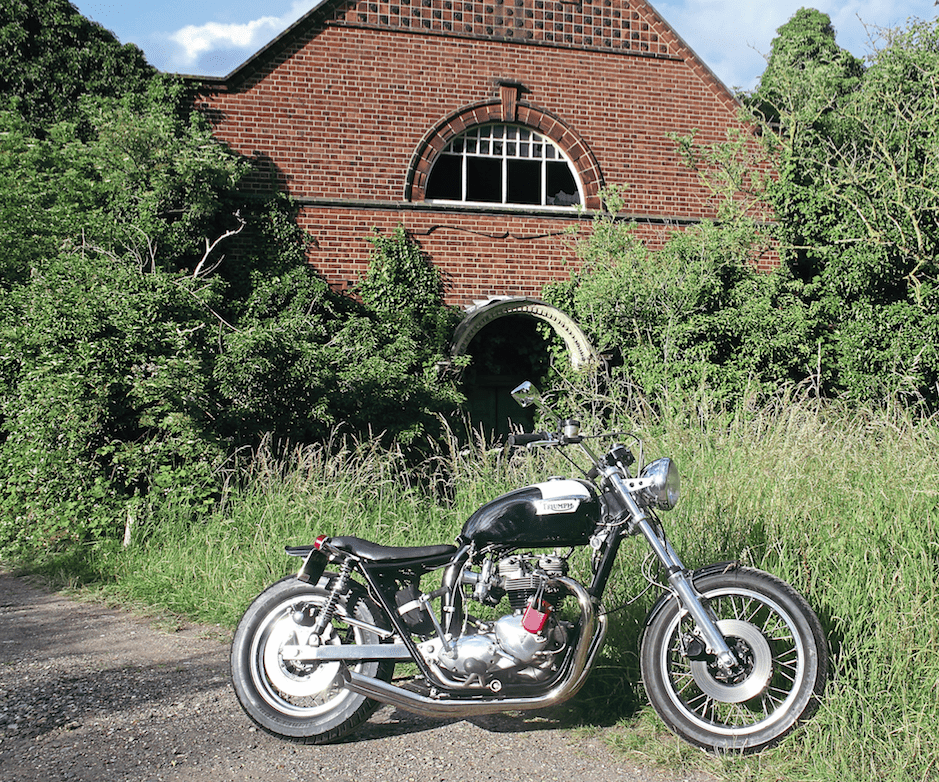 Now I'm the proud owner of an incredibly quick, reliable bike. It's great to ride, has a real history, and makes all the day-to-day shit disappear as soon as it fires up. I'd like to thank Perry as I wouldn't've been able to get the bike running as it does without him. The innovation and parts design by Andy in the original build is incredible, and it must've been quite a shock to all the Jap bikes that it left in its wake, and I'm sure Andy'll get quite a kick when he sees this – his old bike, in the same mag, nearly 30 years later.