I've been riding and building bikes as a hobby for 42 years. I had a pretty common list of bikes to begin with: FS1E, RD250, Z650, CBX1000, have done loads of track days, and previous builds've been featured in Superbike, Streetfighters and AWoL magazines, all based on the Honda CBX1000 – all built in a shed or little garage with very basic tools.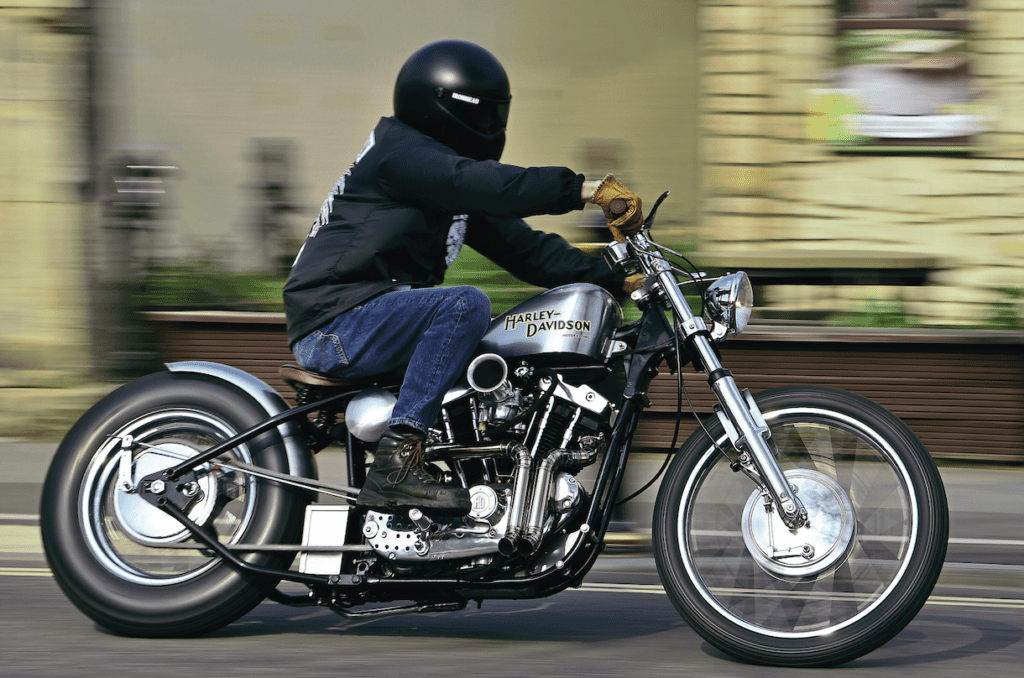 Words: Trevor Jones
Pics: Simon Everett
I thought I'd have a go at something different; this is the first Harley-Davidson I've ever touched, let alone owned or built. My wife often reminds me that I've spent the last 40-odd years ripping into Harleys, saying they're one chromosome away from being tractors, so, maybe, in a weird way, I was the ideal person to build one?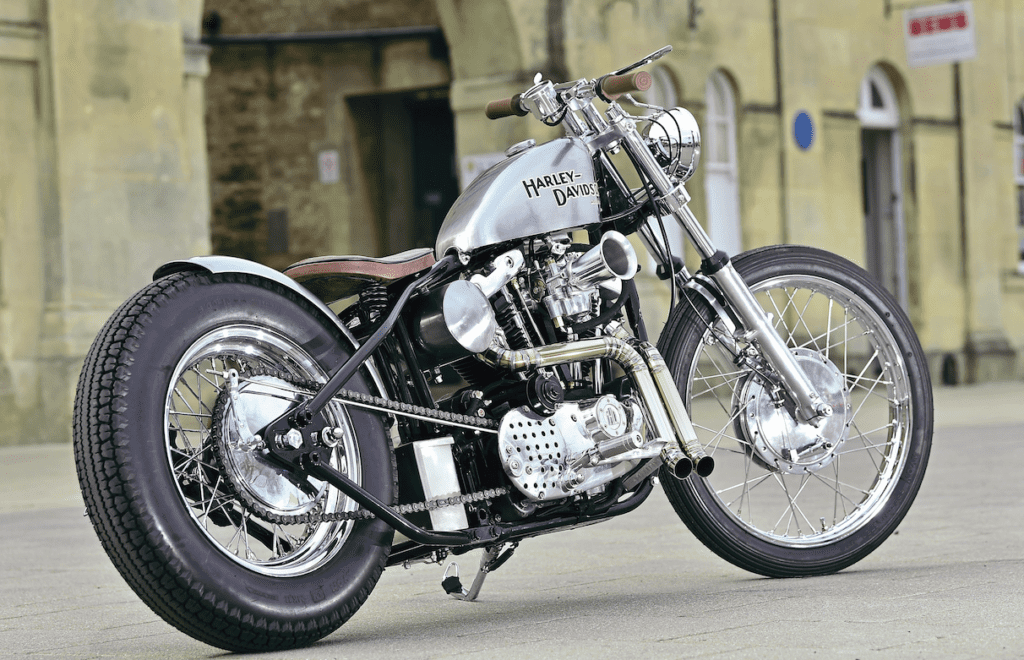 I wanted something old, but that looked even older, something that, to the layman, might even be a restored bike from the '50s. I bought an Ironhead Sportster frame, engine and a couple of bits, and took it from there. It's a 1978 engine (1000cc), in a 1977 frame that's been hardtailed and modified, and it was powdercoated black by Warren at Bristol Motorcycle Powder Coating – a top man, highly recommended. The motor is standard as far as I know, but the carb's an S&S Super E shorty with four-inch velocity stack (my knee fits snugly behind it – the two-inch looked good, but would've been a problem) with laboratory-grade stainless steel mesh between the carb and the stack to avoid the ingestion and demise of animals and small children. There's a full Dyna electronic system (ignition and coil) and a handmade exhaust (to my design) by Wojtek Spyra in Poland – brilliant workmanship, it bolted straight on, but it is loud… ears will bleed, buildings will fall! I bought the engine from a man in King's Lynn – it was advertised as 'good to go' from a running bike… all lies! It required a lot of work and now's had many new parts, but it runs beautifully and sounds like a beast. I had a lot of help and advice with the engine from Phil at Fatboyz, plus of course several Ironhead forums on the internet.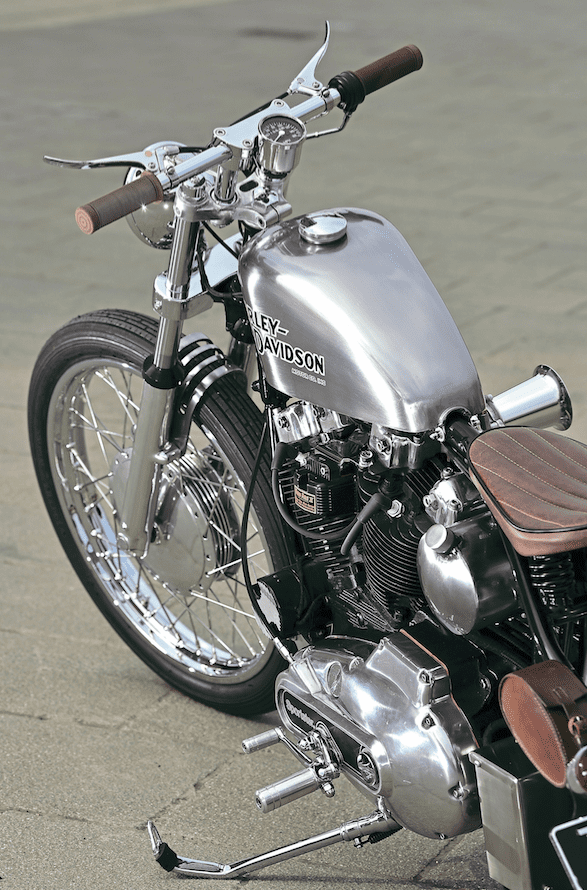 The front wheel is a one-off made up of a 1960s Norton Dominator hub/brake (for no other reason than it was for sale and I liked the look of it) laced to a new 21-inch rim with stainless spokes. A new spindle and adaptor had to be made as the Norton axle is a smaller diameter than the Harley forks, and I swapped the legs left for right to use the original disc brake lug to attach a handmade torque arm for the Norton brake. The front end's been lowered 45mm to give a better stance than the original (I don't like the 'sit up and beg' look), and there's a handmade fork brace to stiffen everything up as there's no front mudguard. I used very basic bicycle-like levers to add to the vintage theme. The back wheel's a Harley item with a handmade stainless steel brake rod.
Article continues below…
Advert
The footrests were off-the-shelf aftermarket ones, turned down to a reasonable size… everything sold as off-the-shelf for Harleys seems to be oversized? The seat is hand-covered leather – I bought a cheaper seat with a vinyl finish and had it re-covered by Jason at Bike Seat Pro, and it turned out just lovely (and, again, it's a one-off). The tank and rear 'guard are just generic items off-the-shelf, adapted/cut to suit, then rubbed down to the desired finish with wet 'n' dry, and then a clear-coat added to protect them from rust. The tank decals were made by Sheila Lester, a very patient lady indeed! I had three or four different sets made so I could mock them up and choose. There's a bespoke oil tank and a bespoke wiring loom with just the bare essentials, made with cloth-covered wire for the vintage look, and the stainless headlight brace was handmade too.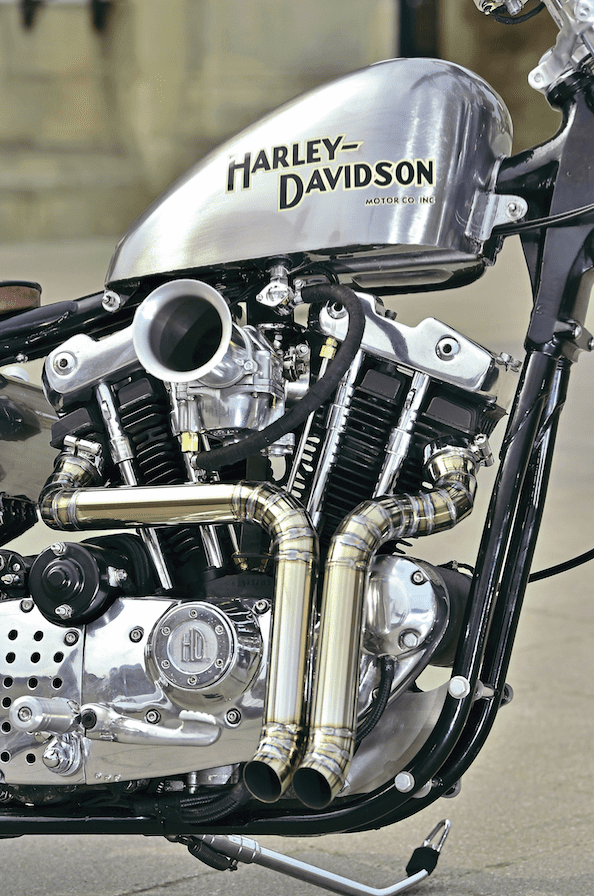 I spent a lot of time getting the lines right – some things done are very subtle and probably not noticeable, but they make a big difference to the overall look and balance. The vast majority of work hours were spent rubbing down the tank, mudguard and welding on the frame (which could be described as 'agricultural' at best), and as I'm not a big fan of chrome, I had the cam cover and other parts stripped so they could be polished to a reasonable level, not too much, just tidy.
It hasn't been an easy build (more than once I considered dowsing it in petrol and burning it), but it's turned out as good as, if not better than, I expected. I'm also pretty competent at working on Ironhead engines now! It handles very well, much better than I expected (I was grounding the foot-pegs shortly into the second shakedown run), and it pulls like a train with loads of torque and grunt. It reminds me of a Z650 I race-tuned when I was a lad; it had a big-bore, high-lift cams, bell-mouths etc., and it ran really lumpy at low speeds, but all hell broke loose when you opened it up, and this is very similar.
Article continues below…
Advert
BSH shot these pics back in the spring when the weather wasn't great, but I've been using it regularly on the roads (I ride hard so it's not a cosseted show bike), and it's been displayed at a couple of events – the Bike Shed this year, and at Kickback too. It's been well received (the highest compliment, I feel, is that it gets a lot of lovely comments from the US), but that's not why it was built – I build bikes to please myself, it's a bonus if other people like them.