NOBODY seems to quite know when the alloy of copper and zinc that's more commonly known as brass became the 'must-have' material for custom bikes, but it's a recent trend that, although very much a modern thing, can be traced back, pretty much, to the dawn of motorcycling.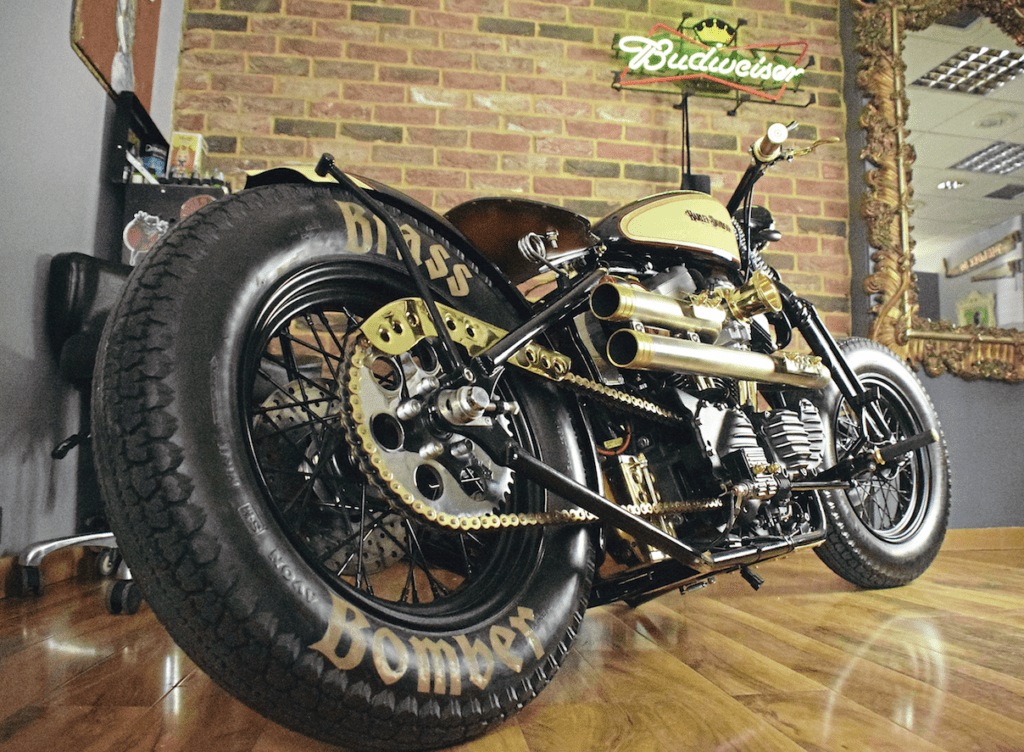 Words & pics: Fazerdaze
The use of brass itself has been traced back to at least the fifth millennium BC in China, and from the third in western Asia and the eastern Mediterranean, and its use in both ancient Greece and ancient Rome was widespread and commonplace. It has well-known bactericidal properties too, known of for centuries, and a large number of independent studies've confirmed this even against such modern-day nasties such as MRSA and VRSA.
Motorbike parts, for which the metal's anti-bacterial properties aren't quite so vital, have been made from it since the earliest days as its use came from the fact that many early manufacturers had links to arms manufacture, something that brass was commonly used for. Brass, y'see, doesn't rust like iron and steel does, or flake like certain aluminium alloys, and even when it's old and discoloured it maintains its inherent strength, and looks good even when it's acquired years of patina.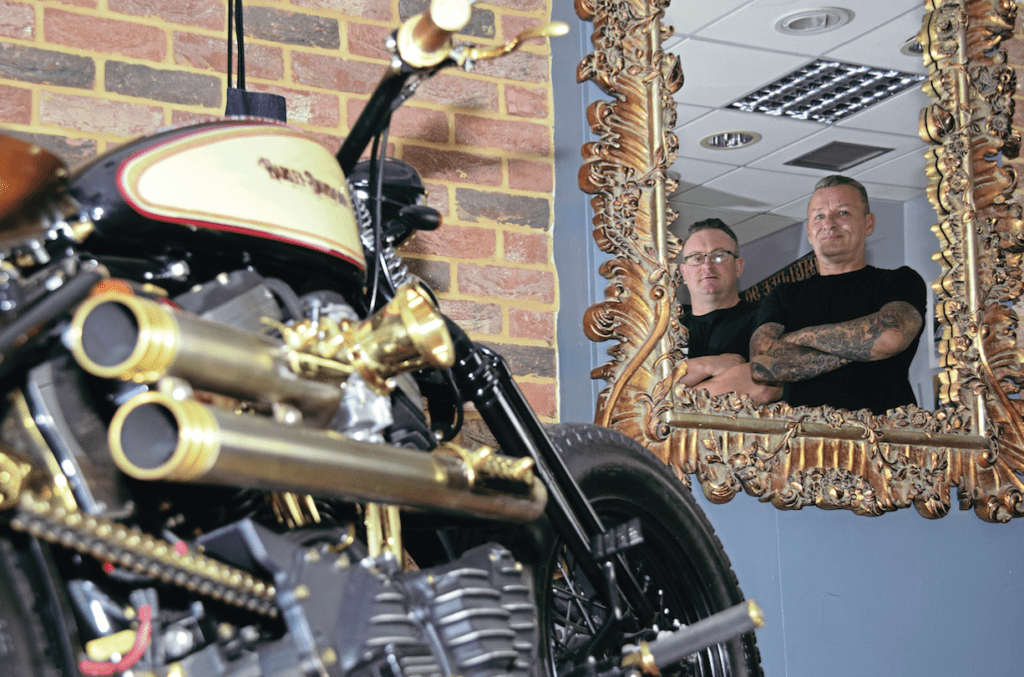 Paul Dennis is a tattooist and owner of New Image Tattoos in Wisbech in Cambridgeshire (www.newimagetattoostudio.co.uk), and can often be seen out locally on his rather new and rather snazzy Harley-Davidson Sport Glide. Last year, though, he bought a cheap imported 1200 Sportster with the idea of running it in the winter, but then had the idea of building a bike that was a bit special out of it. He and his mate Chris, who's a handy sort to know when it comes to bike building, came up with a kind of idea/plan, bouncing ideas off each other, the major one of which was 'Let's put some brass bits on it'. The idea grew from there as they discussed exactly what they could make from it, and grew, and grew, and the plan for the bike, to be named Brass Bomber was born.
Seeing as there was a well-regarded chopper shop just up the road, it'd've been foolish not to make use of them, and so Paul went along to see Joe at Fenland Choppers, and ended up ordering a rolling frame from him. It was one of his Fenland Original, Zero-style, goose-necked rigids in one-inch tube, with 3×16-inch spoked wheels front and rear, and a set of reproduction Harley EL springers, and once it'd been finished and they'd picked it up, he and Chris set about stripping the donor bike to build the new bike up, adding bits and pieces to the idea as they went along.
Article continues below…
Advert
They stripped and rebuilt the engine, and replaced the primary, sprocket and points covers with EMD ones for a more vintage look. At first the oil lines for the motor/oil tank were in copper but, after a full week's work, Paul decided they looked out of place with the brass and the black of the motor, so he scrapped them and started again. Joe supplied a set of his exquisite two-inch bore stainless high-level 'pipes, and they added the brass ends, and the brass heat-shields, and added a rather lovely brass bell-mouth to the stock carb.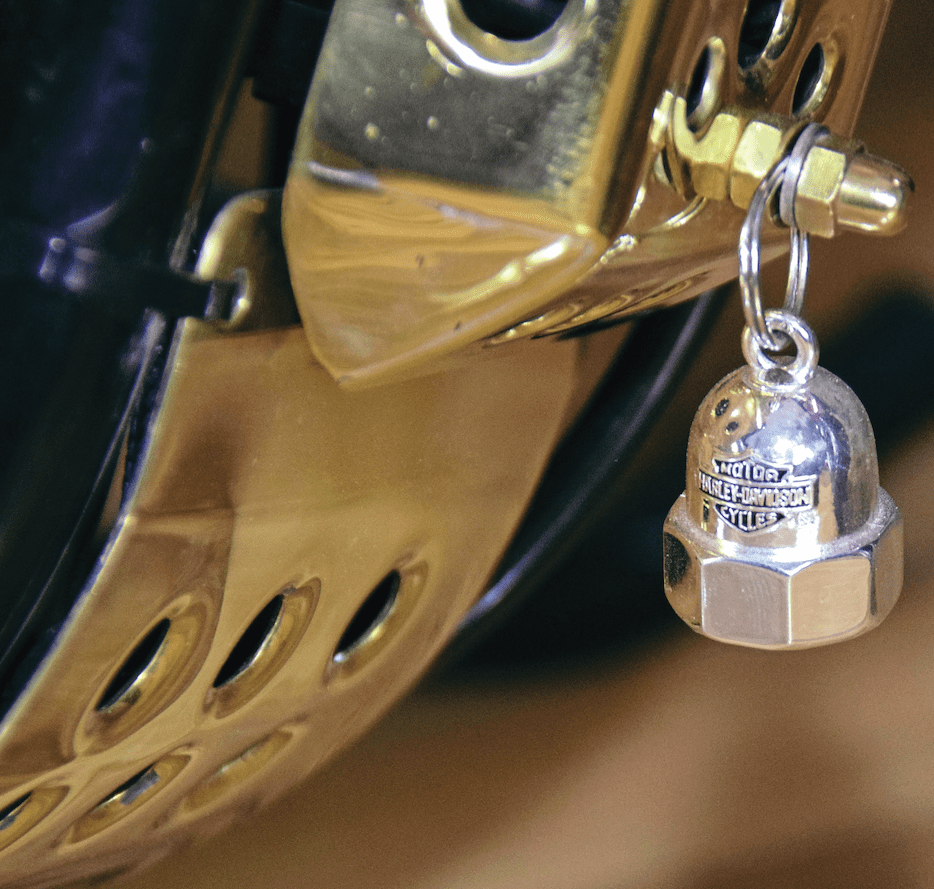 Paul wanted a tank that looked like a Sportster one for the line of the bike, but as he couldn't find one that sat just so, he took two such items and cut them up and re-flowed them to make this one. Behind it sits a seat from Dragon Soul Studio in Reading (who also supplied the brass-and-leather grips), and one of Fenland's ribbed rear mudguard kits complete with struts to keep the 5×16-inch Avon AM7 Vintage (that matches exactly the one on the front) from rubbing on it. They made the brass battery and electrics boxes for it, and they sit just behind the Fenland oil tank (with brass fittings, natch). Chris made up a complete loom, using a MotoGadget M-unit as an integral part, and hooked up the aftermarket grille'd headlight and Thunderbike tail-light… oh, and the Motorcycle Storehouse bullet indicators.
Once a 'dry' build'd been done, and everything fitted and worked as it should, the bike was stripped back down again, and first the frame was dropped off at a local firm, Johnson's Ironworks, for powder-coating, while just about everything else was taken to Sam Hubbard at AP Customs in Leicestershire for paint. Paul wanted a vintage look with gold-leaf to accent the brass, and Sam developed Paul's vision into the paint job you see today, laying it over the black and cream base paint and doing the pin-striping that's so very in-key with the overall look. The '96' on the oil tank references the year of the original bike, and the logo on the number-plate holder '2 Nut Customz', was an in-joke by Paul and Chris, while the bike's nickname, Brass Bomber, was hand-painted on the rear tyre by Paul himself.
Article continues below…
Advert
Once it was finished, Paul took it along to a local event; the Parson Drove Car, Bike & Trike Show, where it won both Best Custom and Best in Show – not bad for a first build on its first outing! Since then it's spent quite a lot of its time on show in his tattoo studio where it's been greatly admired. He says: "There've been good times and bad times, and frustrations and hassles, but mostly it's been heaps of fun." He now has ambitions to build something else next winter… we hope best pal Chris hasn't got any holiday plans!