It's been a very long time since I've ridden a cruiser, a Japanese cruiser – years in fact. I think the last one was a Yamaha V-Star XVS1300A.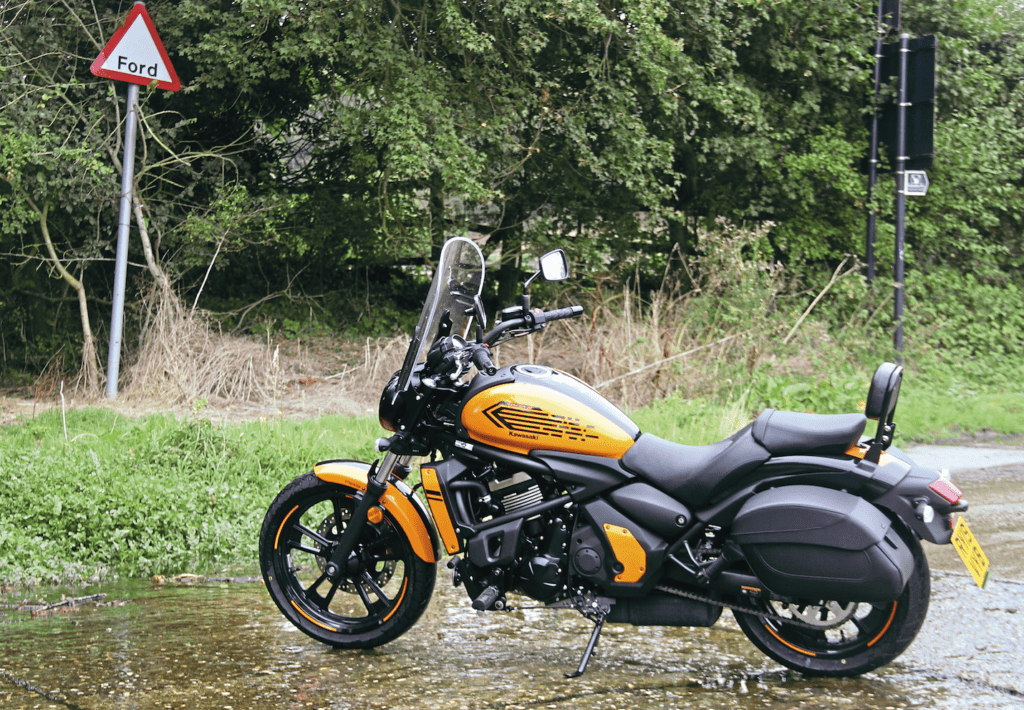 Words: Nik
Pics: Nik and Dave Manning
Since then, despite the popularity of custom-styled factory bikes from the likes of Harley-Davidson, Indian, Triumph and Ducati, the Big Four (Honda, Kawasaki, Suzuki, Yamaha) seem to have moved away from the cruiser genre. Yamaha still have the XV950R (my good lady rode one all the way to Croatia and back last year), but that's their only one; Suzuki don't actually have one; Honda don't have one either; and Kawasaki have just this one – the Vulcan S. It's a shame really, given how popular the likes of the Suzuki Intruder, the Yamaha Virago, the Kawasaki VN and the Honda Shadow have traditionally been, but that's the way of the world, isn't it? Nothing stays the same…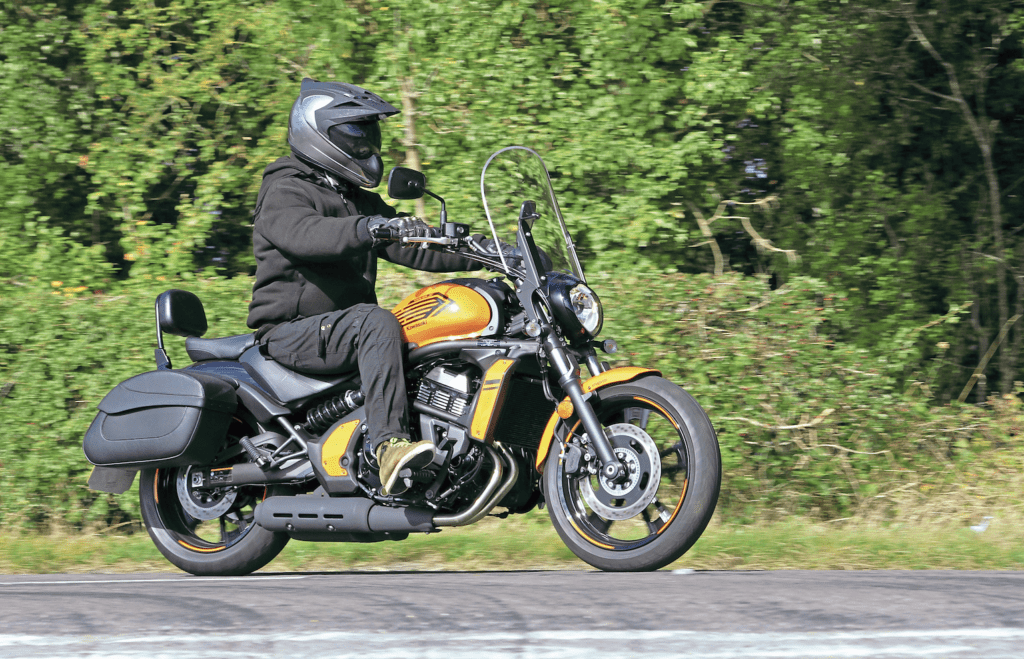 The Kawasaki Vulcan S is a bike that really does have a Dr Jekyll/Mr Hyde personality. Its engine, the same water-cooled 649cc parallel-twin engine found in the ER6 range of street bikes and the Versys 650 adventure bike, makes a claimed 61hp at 7,500rpm and 46.5ft-lb of torque at 6,600rpm, and it's here that the split personality lies. Having trickled through heavy traffic from Kawasaki's Buckinghamshire headquarters, the first time I got to give it any real throttle was on the M40 back towards London. It accelerated smartly up the slip-road on to the motorway, and then happily kept up with the traffic, took the long sweeping left on to the M25 at the same speed as it'd been cruising with nary a twitch, and then easily kept pace with the legions of lead-footed lemmings all the way round to the A13 where I turned off to go and see Paul and Luke at Pointy Hat Wizard Fabs.
On the way back, though, I wasn't in any hurry, and this is where the other part came in; the engine has a very definite hesitation, almost a flat spot, at about 5-5,500k on a leisurely throttle that, once you suss it, is an indication of where it's best to change up (yes, I know the torque figures says 6.6k, but that, to me, is where the engine felt happiest). At first I was a little frustrated at having to change up at such low revs on a not particularly grunty engine, but it soon became apparent that, for day-to-day riding, the best thing to do was rev it like this through to top, and then use the engine's torque to haul you along in the highest gear – do that, and the Vulcan's a lovely thing to ride on everything from twisty Essex B-roads through faster A-roads, and some of the shorter dual carriageways.
Article continues below…
Advert
It did, I will admit, take a little while for me to get my head around this. Most cruisers, in my experience, have been a little asthmatic, and I'd kind o' mentally prepared myself for the Vulcan to be too but, ridden in the manner above, it isn't – in fact it's a very nice engine. The fuelling's smooth (apart from that flatter bit, but it'll pull through easily), and unlike a lot of other cruisers it doesn't feel like it's about to go expensively terminal at higher motorway speeds – always a Good Thing.
The handling's impressive too; yes, the bike's long and hugs the ground, but you don't have the same ground clearance issues (and understeer!) as others. It feels a lot like a Ducati Diavel in that respect – the riding position is laid-back, yes, but you can still ride it quite sportingly through the twisties without wondering whether you'll be chowing down on hospital catering later. The wide 'bars suit both amble-along cruising and giving it the berries, the suspension is relatively soft, and the front end is plush and lets you waft along, not really feeling the bumps. The front anchors do lack a little 'feel', but they haul the bike's 225kg (fuelled) weight to a halt surprisingly quickly. As with all cruisers, the back 'un is often the more useful though, and this one's lovely – progressive, controllable, and easy to use at low speeds to stop you from having to continuously put your feet down all the time.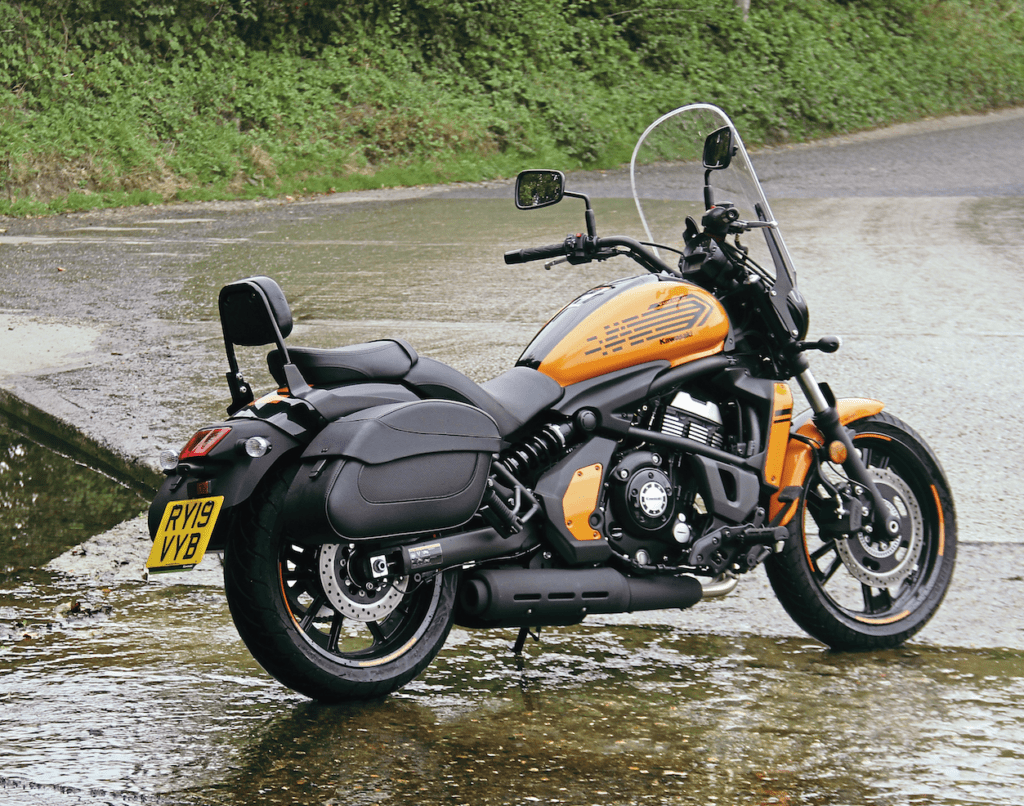 Our bike came with optional magnet-locking panniers and a Harleyesque windscreen, which were good, but took a little away from the Vulcan's power-cruiser looks, and almost turned it into something it's not – they made it look a little slow, a little ponderous, and it's really not. If I was going to have one, I'd avoid them like the plague, and let the bike's design shine through, y'know?
Article continues below…
Advert
As with all modern bikes there're a host of other options too ('bars, foot-pegs, racks, bags, screens, gel seats etc.), and the 650 motor can be easily made A2 licence-compliant. The dimensions are such that it's accessible to novices and the smaller-framed (the seat's quite narrow and just over 27 inches off t'deck), but it's also equally suitable for those of us with longer legs 'n' arms too. The tank holds 14 litres of fuel, giving a useful range…especially if you don't nail it down motorways.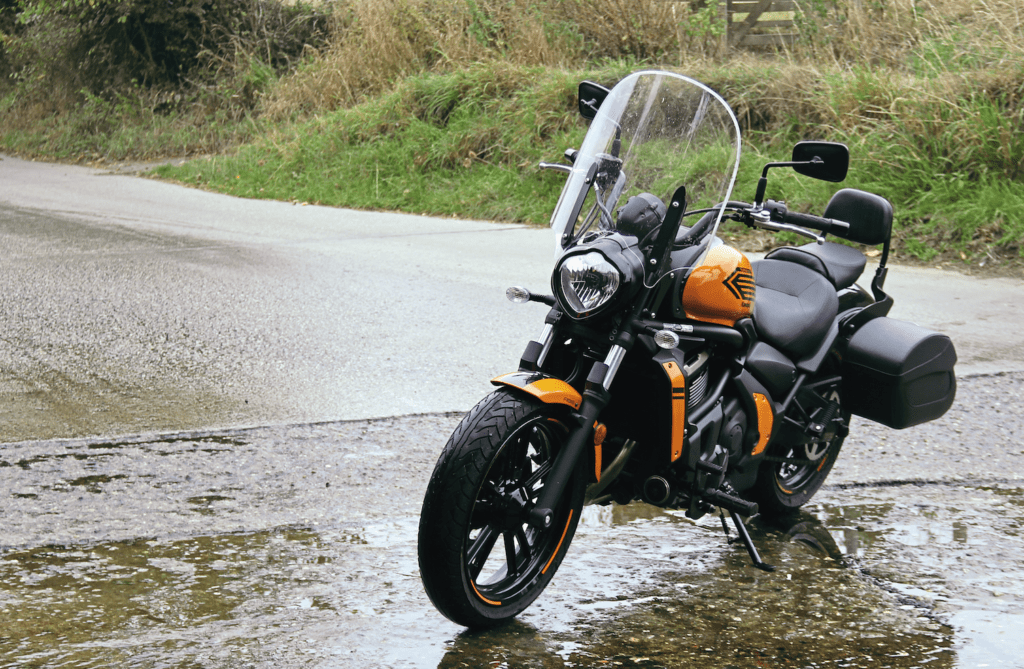 Given that I've never really been a big fan of cruisers, and having been previously underwhelmed by a lot of them, I wasn't expecting too much from the Vulcan S at all, but I was pleasantly surprised by just how good it was. Mind you, it is a Kawasaki, isn't it, and they do kind o' know what they're doing, so …