As I'm sure you know, biking as a culture is getting older; as reported last month, the average age of a BSH reader is now 57, and everywhere you go where there are bikers it's plain that we, as a sub-culture, are predominantly wrinklies. Not all of us though, I'm glad to report…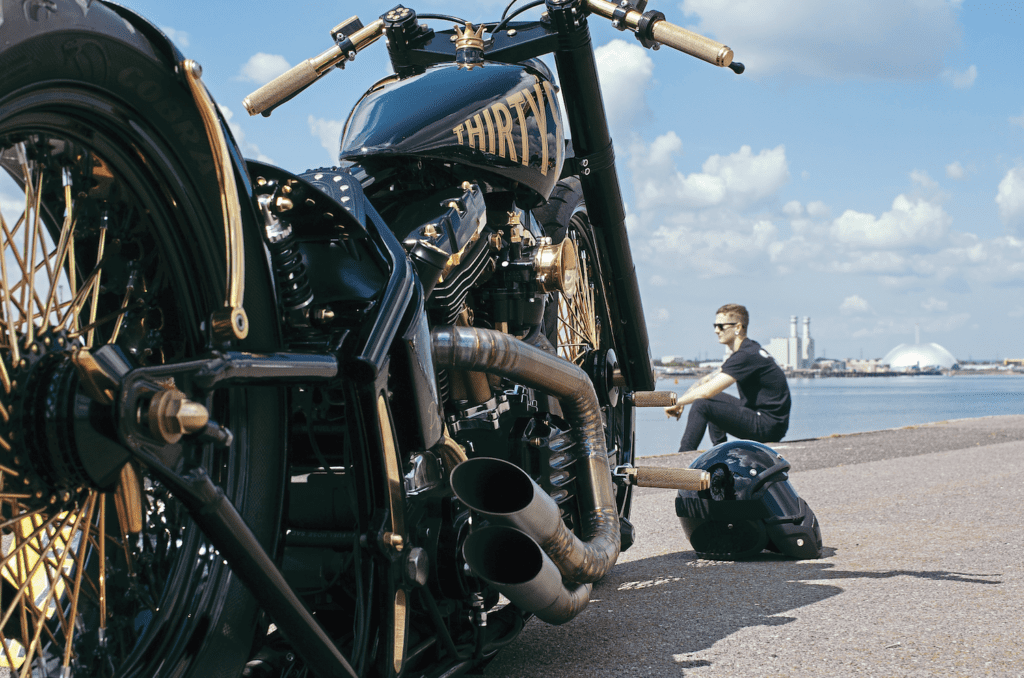 Words: Nik
Pics: Jimmy Colley, Sinners Co
Carter Harris, of Attitude Cycles, the custom bike builders he runs with his dad, the legendary Simon Harris, is one of, it seems, a very few younger guys who are seriously into custom bikes – as he said himself last issue, with who his dad is, how could he not be? He built his first chop at the age of 15, before he even had a licence, and has been, pretty much, building them ever since; each getting better and better, more and more clever, as he refines his own personal style.
This, his latest bike, is number seven. Unlike his dad, who's a hardtail man through and through, he favours softails for his personal bikes, although he had done hardtails in the past (Dave Rogers' BSH Champs-winning bike last year was one of his hardtails), and has built a few now that have this low-slung, race-bred style that, to quote the late great Edward Turner, look like they're doing 100mph stood still. They all bear the legend '38' (his initials in number form), and they all have one, other, thing in common – they all were/are ridden as though there's no tomorrow.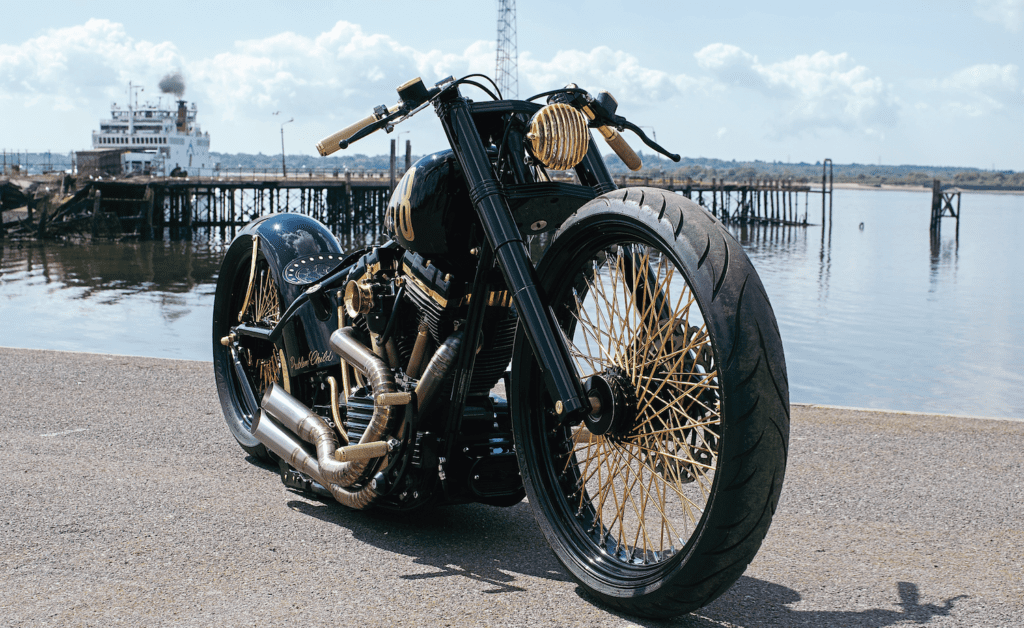 For this bike, he wanted to outdo all his previous builds, and also run air suspension so that, when parked, the bike sits right down on the floor (as you'll see if you look closely at the pics, there's no side-stand on the bike). He started by buying the air-ride suspension from a guy who, quite randomly, walked up and asked if he was interested in it while his last bike was on display on the BSH Custom Xtreme stand at Motorcycle Live at the NEC last year. Once he'd bought that, for a bargain price I might add, the seed for this, the new bike, was sown.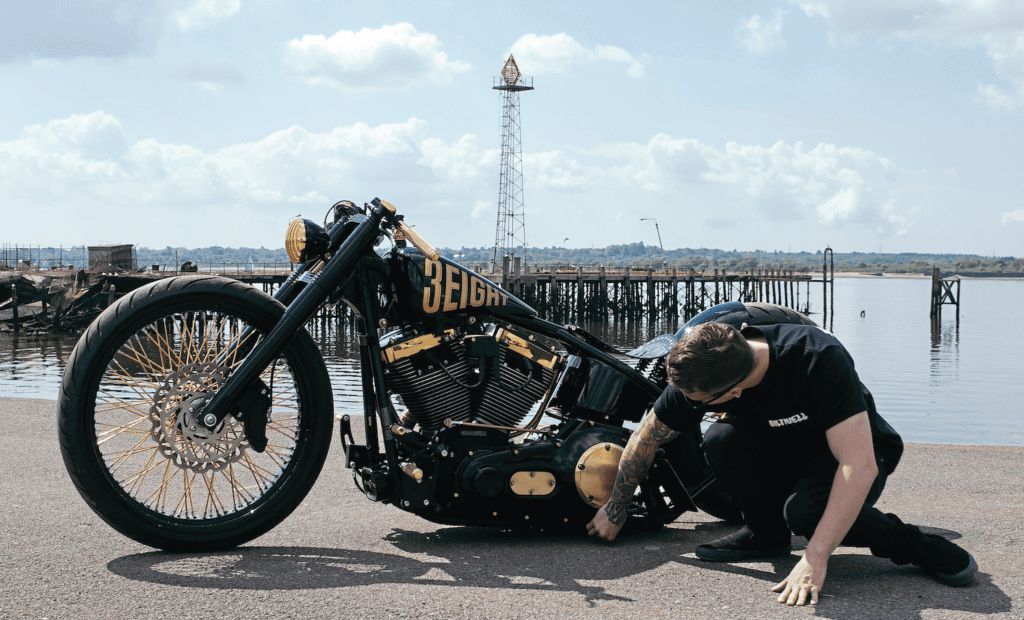 He quickly found a 2005 Softail Deluxe from one of Attitude's customers who'd bought it from the Texas floods, and then balked a little as everything was full of water, meaning everything needed rebuilding. That didn't deter Carter though, as through the massive parts stock at the shop he'd have access to all the parts he'd need, and so he took it on. He knew it was going to be a bike in his signature race-style, but this time with a few subtle differences – the frame's geometry'd stay the same because he knew that worked, but it was going to be lower, leaner, and way sexier than any standard Softail'd ever be.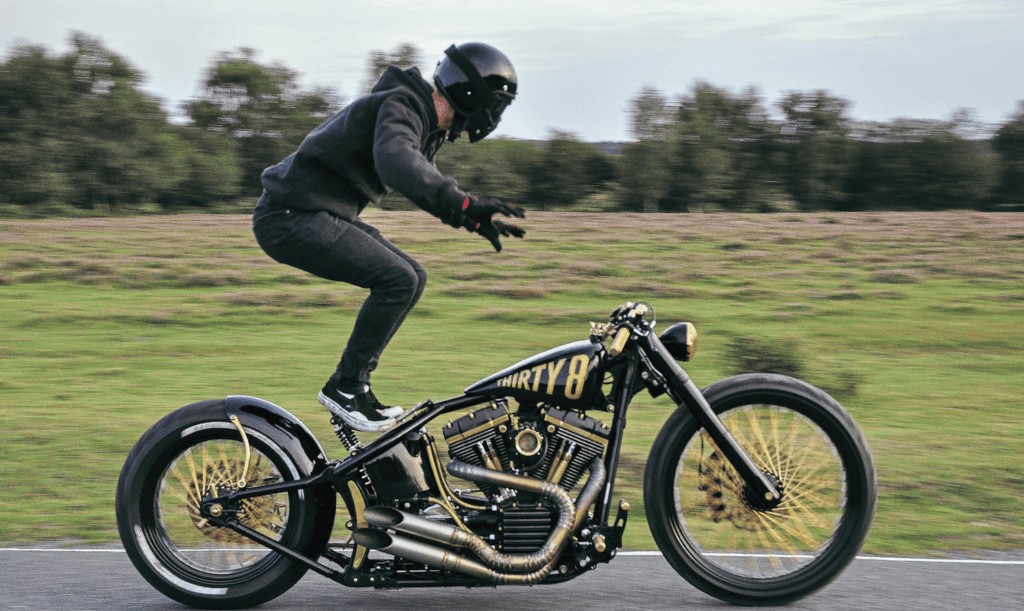 As with all Attitude bikes, be they for themselves or for customers, every single component of the bike got a serious looking at. It's probably just as easy to start at the front and work backwards. The front wheel, therefore, is a custom 23-inch item with an Avon Cobra tyre, that's had its rim powdercoated (can I be childish and say 'that sounds painful'?), and its spokes plated in genuine 24-carat gold (Carter likes his bling as you'll soon become aware). The caliper is a Pro Street billet one, and the forks are SJP items, four inch under for that slammed look, held in Fat Bubba yokes with six degrees of rake built into them. The 'bars are clip-ons, again gold-plated, and the controls are Kustom Tech's beautifully classy black and brass 'uns and, unusually for an Attitude bike, this one does have a front brake lever. Finally, those lovely brass grips are from Speed Dealer Customs (www.speeddealercustoms.com).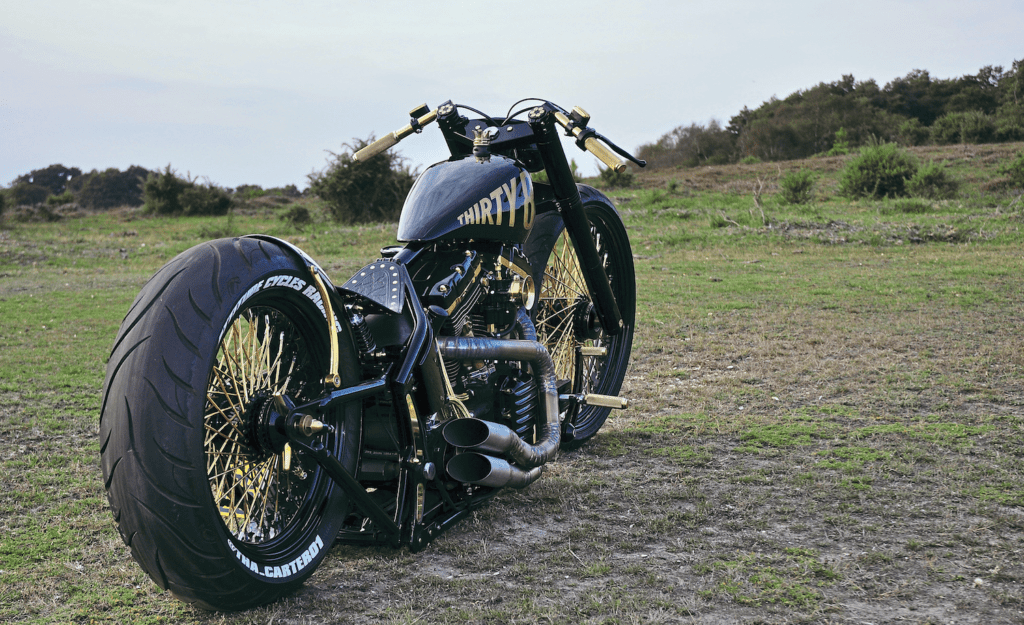 Moving back, the 2005 Softail frame's had its square top tube removed and replaced with round tube, and the rear frame and mudguard rails removed and replaced with 30mm tube to take the new seat (more on that in a mo') and rear 'guard. Speed Dealer Customs, again, supplied the brass foot-pegs, and the wonderfully named Widowmakers Boneyard (www.widowmakersboneyard.com) the forward controls. The tank's a modified Doss Bob Fester one that originally had a rib running down its centre, but he removed that for a smoother look, and the seat's a one-off seat trimmed, as with most Attitude bikes, by Glenn Moger. The rear 'guard is a modified West Coast Choppers one, and the oil tank is stock, but made to hold the electrics too.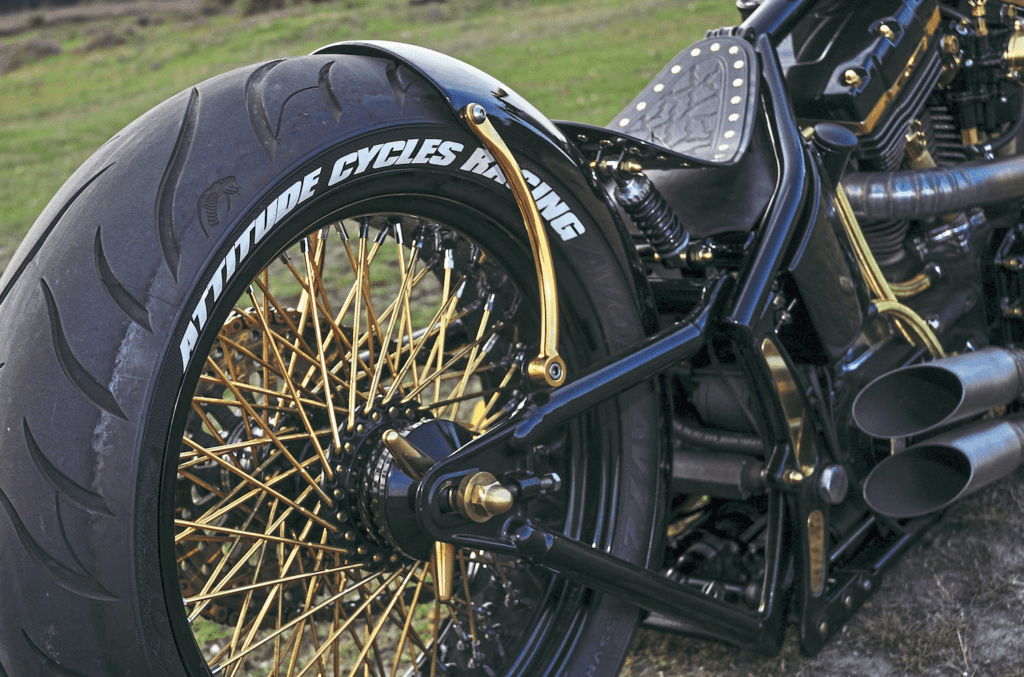 When it came to the back end, Carter reckons he must've cut up ten Softail swingarms to get the geometry correct to allow the bike to sit on the ground, but finally managed to get it to work. He says: "I don't know how many times I've had to explain to people how it works when they say 'that's unrideable' when seeing it sat on the floor…" Hmm, I can imagine. The new 'guard rails've been 24-carat gold-plated, and nestled between the arms of the 'arm is a 18×5.5" wheel with, again, 24-carat gold-plated spokes, and another Avon Cobra tyre, and the rear braking arrangement is a DNA sprocket brake that keeps everything on one side and tidies it all up nicely. Oh, and stops the bike when he puts his foot on the brake too, o'course.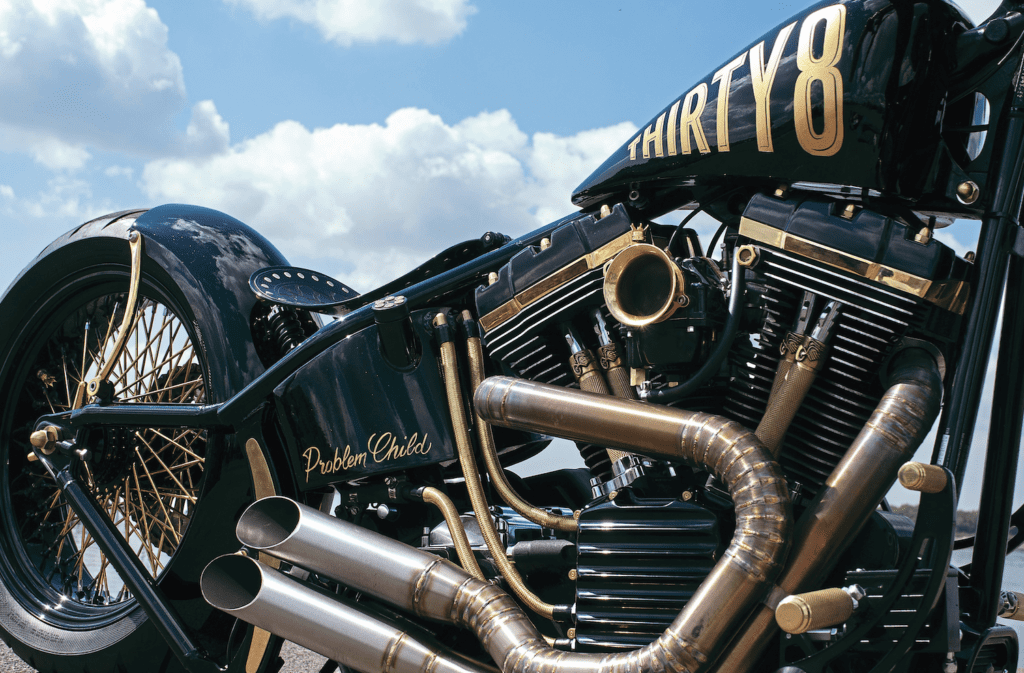 Everything else was done by folk who do stuff as a matter of course for Attitude – the wiring by Steve Holloway; the paint, gloss black with 24-carat gold flakes, by Ross Cooper at MDH Bodyshop; the powdercoating on the frame, forks, rims and engine parts by Trestan Finishers. Oh, and Carter's trademark '38' was done by his good friend Pete Green.
He started the build in early December last year and, by working day and night, he had it ready just in time for the heavy rains of February… doh! He says he's very happy with how it turned out, but he'll probably, as he usually does, end up selling it, and then regretting it again. Mind you, that just gives him an excuse to build a better one, doesn't it, as he already has plans. At the moment, though, he's just enjoying "riding it like a nutcase" (everyone else's words)…