When most of us hear the word 'chopper' we think of a motorcycle with long forks, don't we? If we go back all the way to when the word was first used, though, it didn't mean that at all – it meant a bike that'd been cut down and modified for both speed and looks.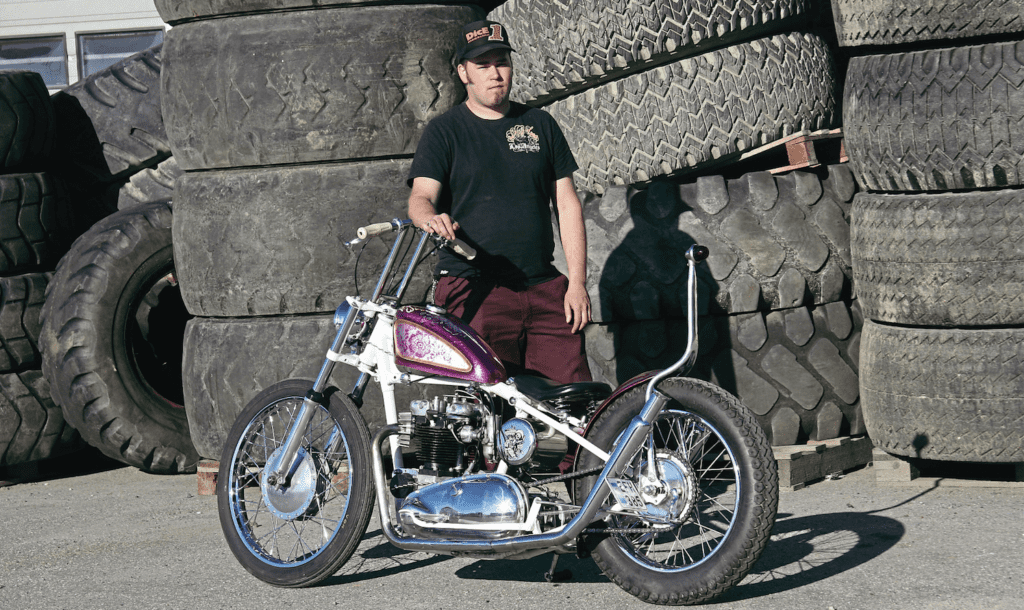 Words and pics: Erik Stigsson
That meant that lots of parts were taken off, and only what was really needed for the bike to run was kept. Big mudguards were removed and only small ones put on if any were used at all (usually a cut-down front one on the back), and large tanks swapped for smaller ones, and it was only later on that the term 'chopper' came to mean a modified bike that often had extended forks.
When Patrik Nordlund from Moliden in Sweden got this bike, it was a traditional Swedish chopper with extended forks. Back then, the 1954 650cc Triumph engine'd been fitted into a modified H-D Sportster rigid with forks originally from the same bike but, since he hangs out with friends who're more into old-school bikes than ultra-long Swedish choppers, he soon decided to modify it to give a cool retro look.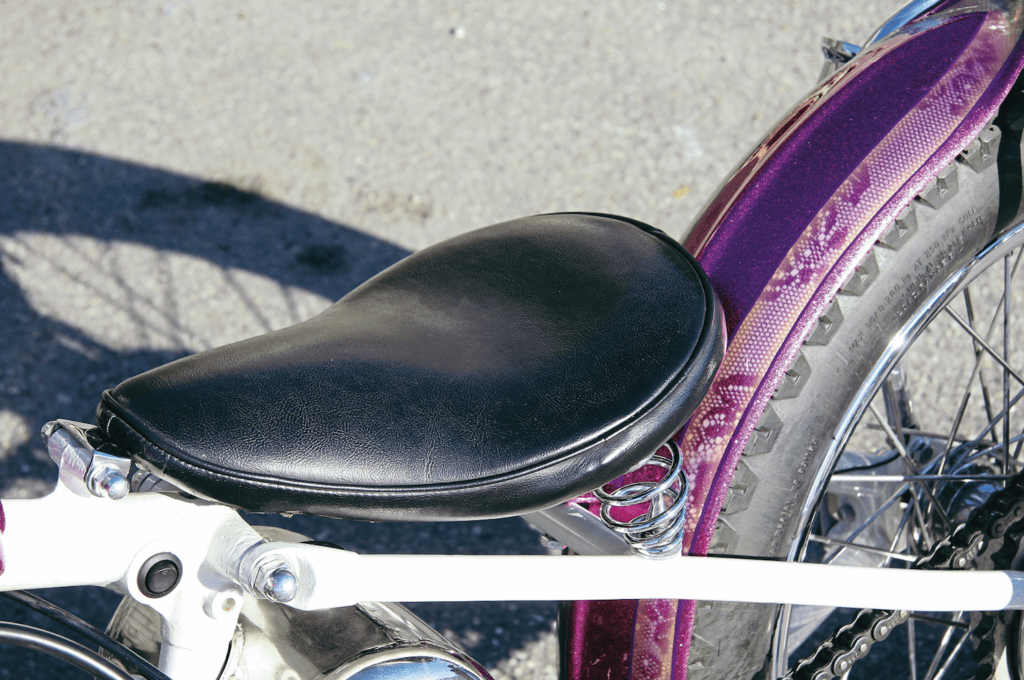 He started by swapping the Sportster frame for an old Triumph one that a close friend offered for a good price (extended at the rear as it looked a little short), and picked up a set of forks from a '70s Honda, shortened them by three inches, and put up the lowers in a lathe, machining them to make them look skinnier. The frame needed a little tweaking too to get the Honda forks in, but you guessed that anyway, didn't you? He kept the Sportster front hub/brake, getting it laced into a 21-inch wheel, while the rear now runs an 18-inch rim with a Triumph hub/brake.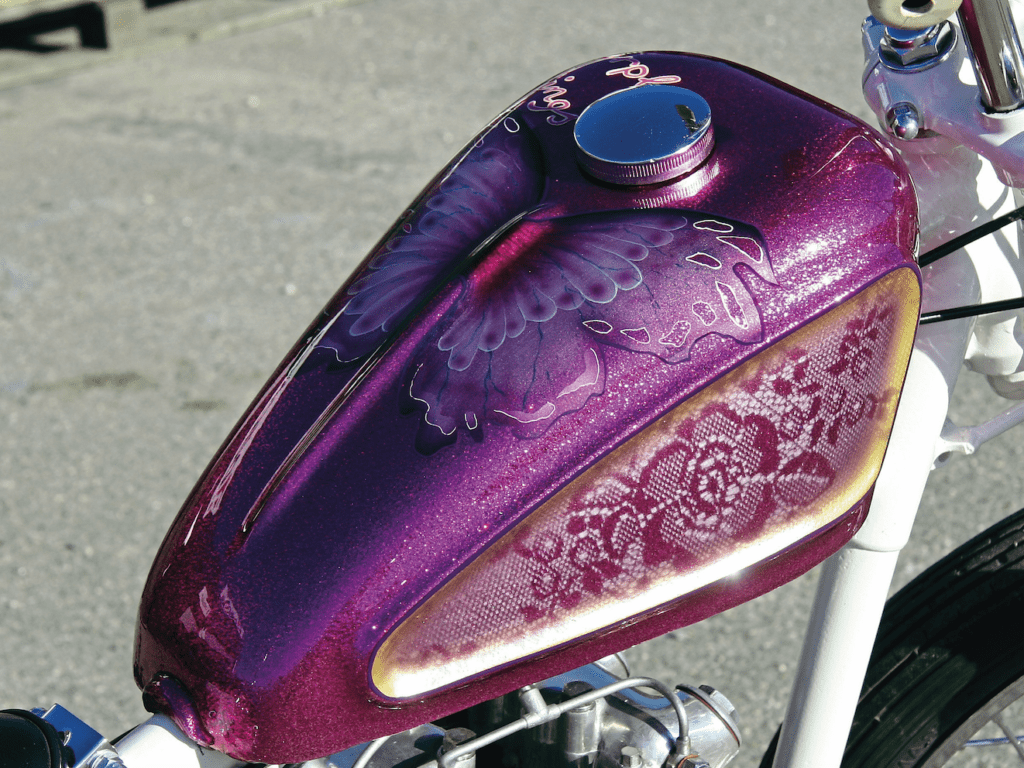 Patrik works in the body shop of a big car company, and fixes the bodywork of damaged cars and, as such, he was in a good place to do the tinware on his bike. He's handmade the oil tank, the sissy-bar, the handlebars and lots of other small parts too. The tank started life as an ordinary Sportster item, but he welded metal ribs on to it, and then moulded fibreglass around them to give it a more personal look. He was also going to make his own rear 'guard too, but a good friend, Simon, who's also very skilled in metal work, made one for him.
Article continues below…
Advert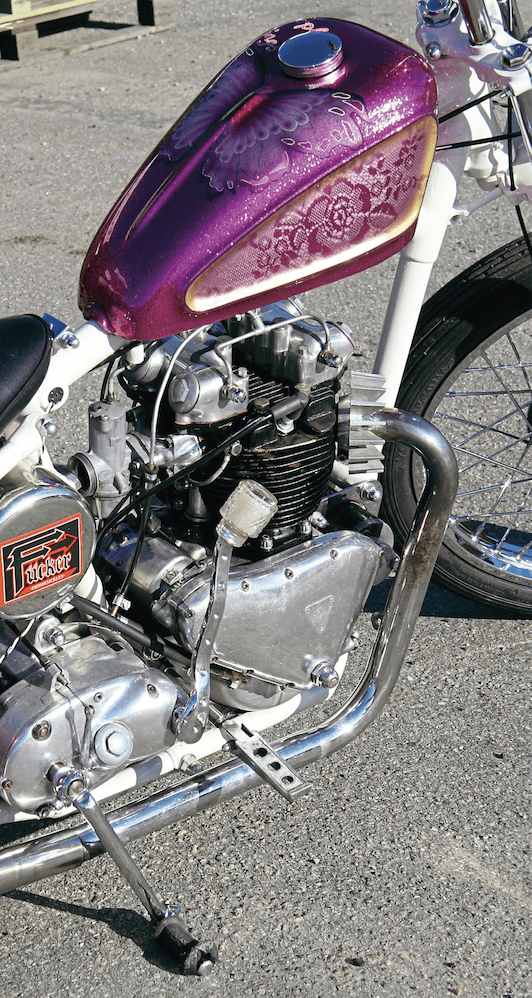 Another friend, named Hakan, took care of the paint. Spraying through a thin curtain with flower motifs was a custom painting trick often used in the late '60s/early '70s, and he used this method when he sprayed the rose metallic on to the white base, and this's really helped achieve the old-school look he was after, with hints of the 'flower power' period round 1970, and he's used a genuine Bates headlight and seat from the same era, and installed that cool little rear light atop the sissy-bar.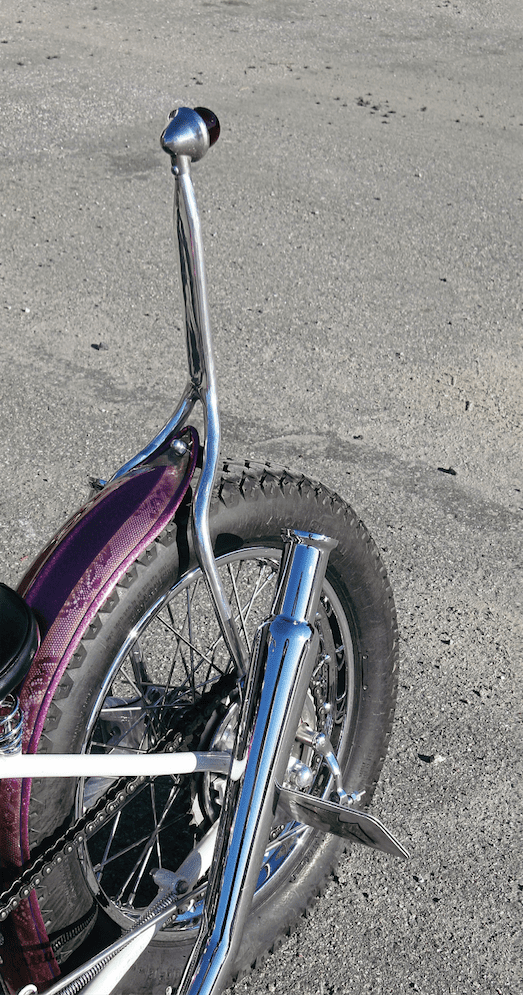 Finally, we come to the engine; the 1954 650cc engine (from either a Thunderbird or a Tiger 110, depending on when in 1954 it was made) is more or less stock… except, of course, for those rather wonderful exhausts that he made specially for the bike. Oh, and the very neat hand-change with its piston top… and the fact that the kick-start can be turned through 180 degrees and used as a side-stand. Apart from that, it's just been rebuilt, painted and polished, and looks great.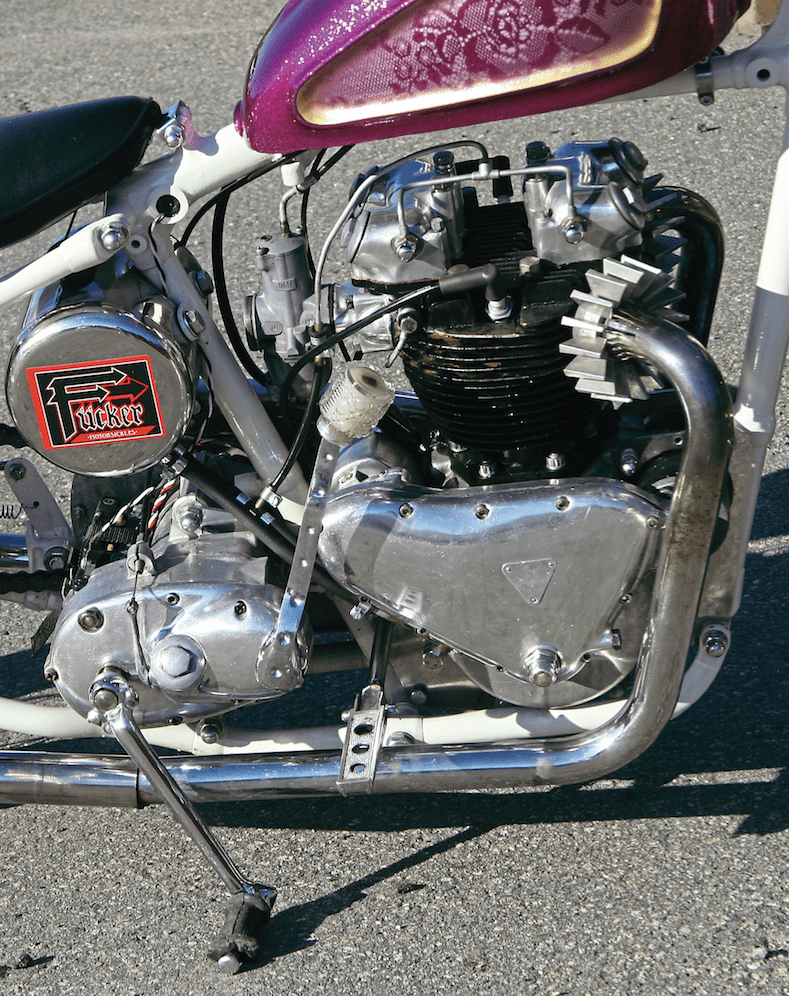 It took a lot of work, he says, but he's managed to build a bike that could very well've been put together during the heady days of early '70s California, as this is the way they often turned out back then… although seldom did they look as good as this one.
Article continues below…
Advert