One of the things about biking, custom biking, that fascinates me is the way the scene has so many separate facets, separate sub-divisions, the more you look into it.
Words and pics: Nik
You have folk who are into bike trikes, folk who are into car trikes, folk who are into streetfighters, folk who are into old-skool cafe racers, folk who are into new-skool cafe racers, folk who are into street scramblers, folk who are into flat-trackers, folk who are into rats, folk who are into bobbers, folk who are into this, folk who are into that… and in the chopper world there are even more sub-divisions; billet choppers, rat choppers, long-fork choppers, lowriders, streetfighting choppers, '70s choppers, '80s choppers, '90s choppers, the list just goes on and on.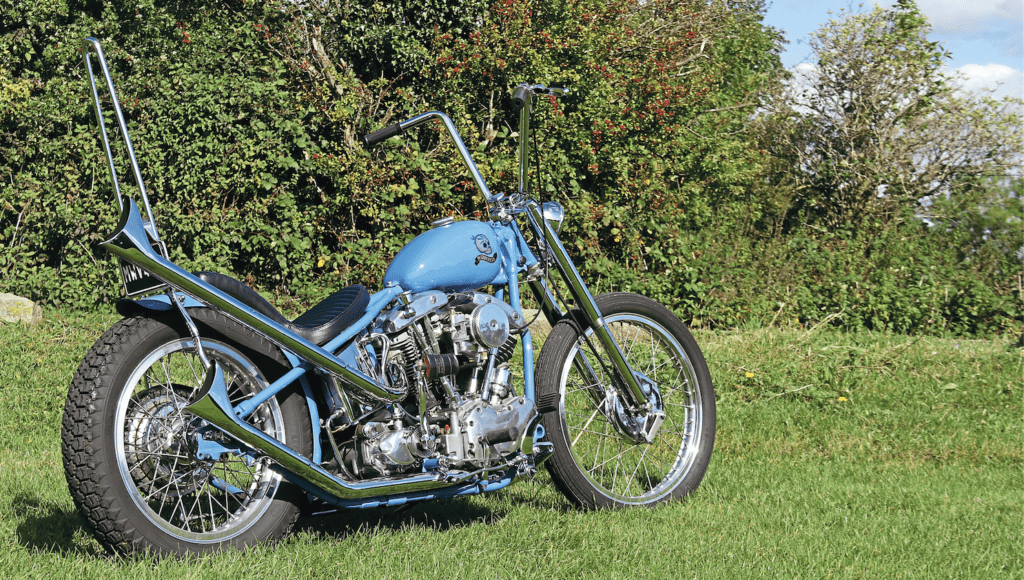 Vince Summers, the builder of this rather stunning Generator Shovel, is into very period-specific choppers – the ones from the late Fifties/early Sixties. He's made a name for himself building them, and he's the man behind one of the most respected gatherings of them; The Assembly Chopper Show (as featured in this 'ere mag). It was there that he met the people from Pistonhead, a new and cool beer brand, as they were one of the event's main sponsors and, after the event, he stayed in touch with them. Shortly after, they got talking about a new alcohol-free product, Flat Tire, that they wanted to aim towards car and bike guys 'n' girls, and a launch party in London, which then led on to him asking: "Why don't I build you something to advertise it?"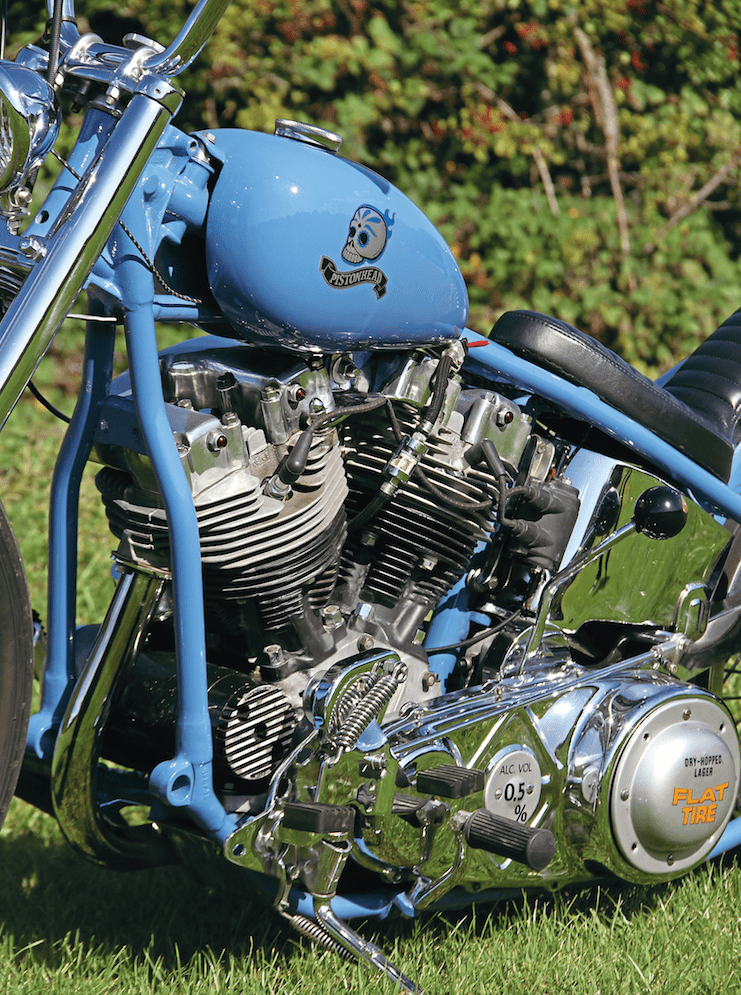 He admits that, no sooner had he suggested it, he was concerned that they might have some odd ideas of what a chopper was (beer can foot-pegs or a keg-shaped gas tank or something equally awful), but they'd seen his previous bikes and knew what he was about, and it was soon decided that the vintage bomber nose art/hot rod styling of the Pistonhead logo would lend itself to the early '60s 'bar hopper' style he favours – stock or period parts 'massaged' to suit, simple sissy-bars and 'pegs. Remember, early street choppers didn't have tons of moulding or long front ends – they were just small, tight bikes that handled, but had a bit of class.
So that's what he built; the frame came from his own '51 Panhead project, as did the original Danny Gold 'Cobra' seat, the tank and rear 'guard were donated by Lowbrow Customs (originally for the bike he built for the Born Free show in the US), and the '69 Generator Shovel engine (the motor to have in the retro Harley world!), with its Shovelhead top end on a Panhead bottom end, came from his friend Dan, and only needed a top end refresh (hone and gaskets). The gearbox is the stock kicker four-speed with a jockey-shift fitted, and a 1.5-inch BDL belt primary ties the motor and 'box together.
Article continues below…
Advert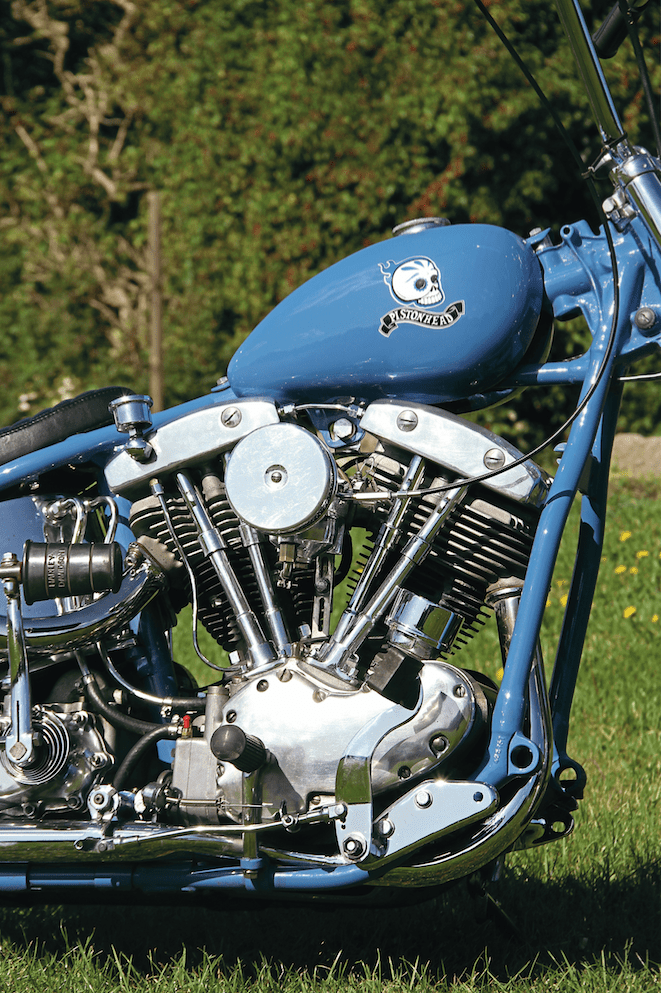 Dick Smith of The Baron's Speed Shop hooked him up with a skinny pre-unit Triumph front end (which he lowered, and fitted with stronger sidecar springs and heavier oil), and modified a BSA brake plate to match the Triumph drum/hub, and now the bike stops a lot better than any H-D drum ever would. Rich of Wheels in Motion laced it to a 21×1.65" Borrani rim, and another, in 18×2.50", with a stock H-D drum, was used for the rear. The tyres are Avon SM front, and a Firestone rear.
All painted (by SDC Design) and put back together, the bike runs like a champ, and rides great. The S&S Super B carb is a great carb if they're dialled in correctly, and give great mpg if you're not in a rush and, besides, chops like these are so light they don't need a ton of power anyway.
Article continues below…
Advert