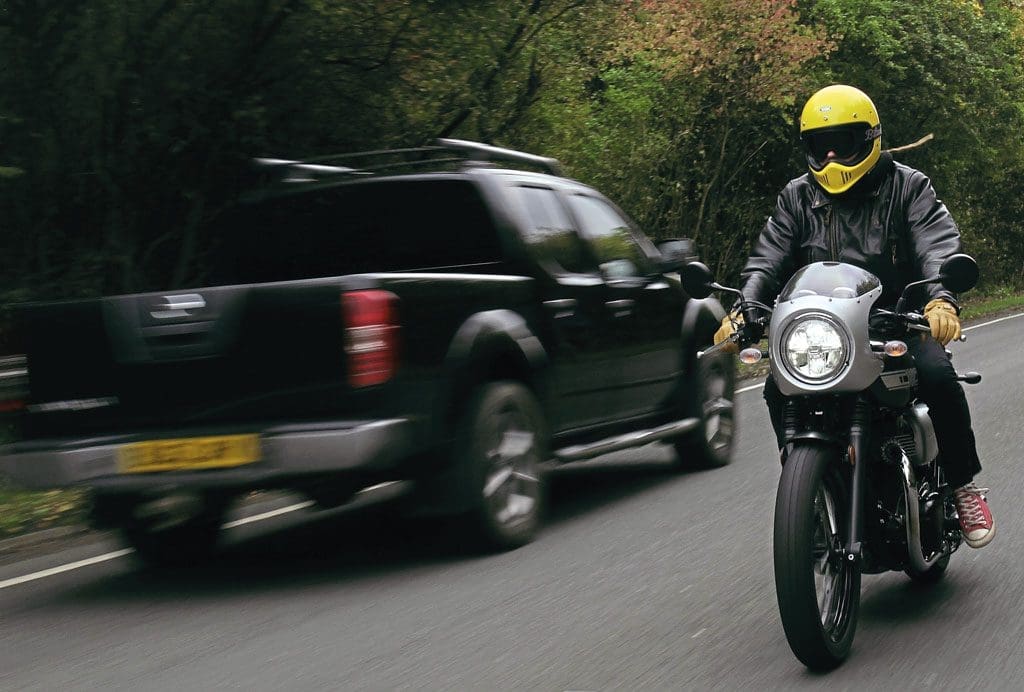 Words: Nik | Images: Pam Baraud
Back in 1999, Kawasaki launched the W650, it was arguably the very first proper retro to be offered by any of the big manufacturers and, in 2001, when Triumph (Hinckley) launched their first, 790cc, Bonneville, more of a Bonneville than the Triumph.
The W650, you see, was smaller than a new Bonneville (Bonnies were traditionally always a smaller bike than a lot of their rivals), felt lighter, made a nicer noise, and actually looked more like a Bonnie than the Triumph did.
Performance for both bikes was about the same, and both bikes were actually very good, but the Triumph won the sales battle by having the more evocative name.
Kawasaki continued to produce the W650 (named after the very first full-sized bike, the 1965 W1, also a 650, to bear the Kawasaki name – the earlier Meguro K 500 was a joint venture between the Kawasaki Aircraft Company and the Meguro company) until 2007, when it was replaced with the larger capacity W800, still a bevel gear-driven cam engine like its smaller sibling.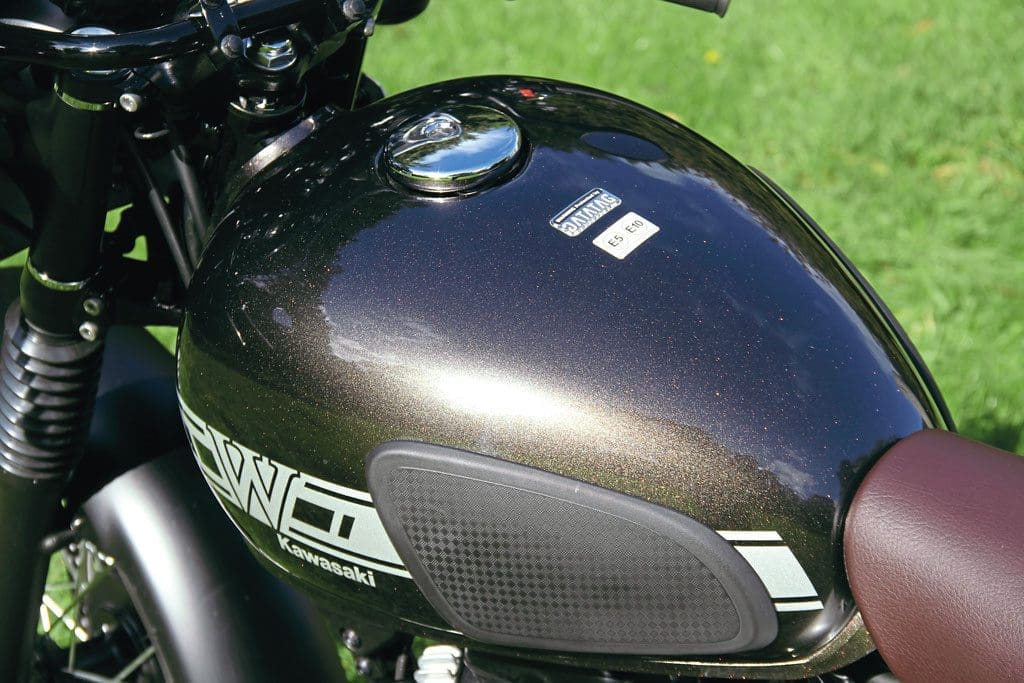 It's now a 773cc twin, air-cooled, and internally it's been upgraded with new pistons, but it remains A2-licence compliant with a quoted 47bhp at 6,000rpm, and 46.39lb-ft of torque at 4,800rpm.
Top speed is quoted as being 105mph, and fuel consumption is apparently 55mpg which, given the 15-litre tank, equates to around 180 miles per tank.
Now, obviously, with just 47bhp, even with a comparatively low weight of just 223kg, the W800 Café (there's a more conventional Street version too) isn't going to set the world alight performance-wise.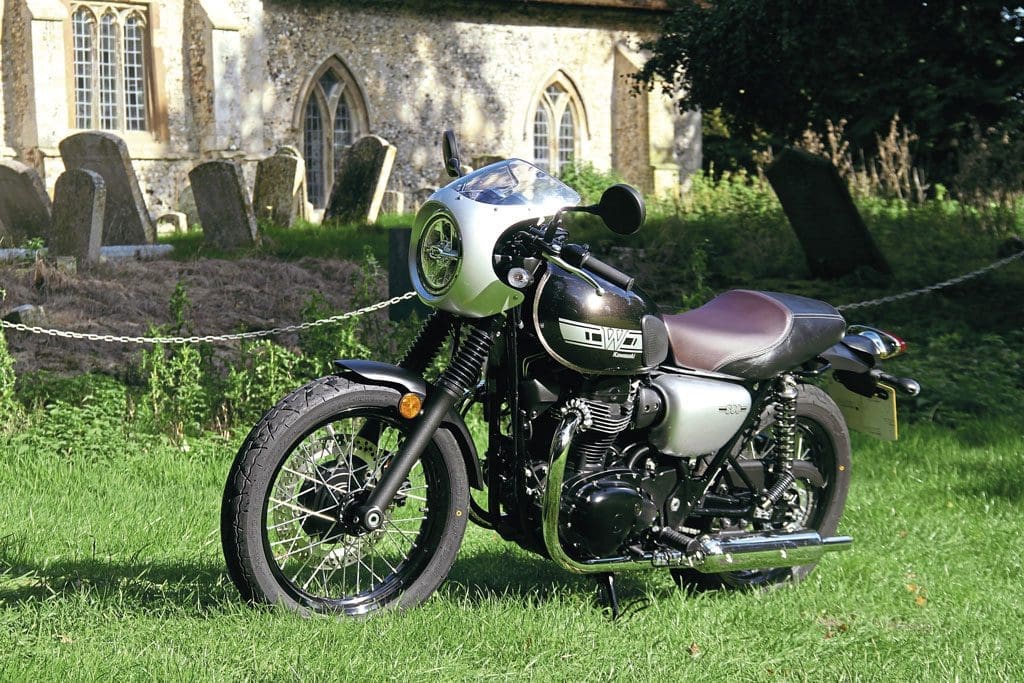 As I said, top speed is a claimed 105mph, but you'd have to be fairly mechanically unsympathetic to get it – I felt as though I was thrashing it unnecessarily at 85, and although I did once see 90 (on a private test road, obviously, officer), it feels a lot happier at about 65-70.
Don't get me wrong, it's not really slow – it'll cruise at motorway speeds happily, it's just that they're not its natural habitat.
No, it's natural habitat is little back B-roads, and on them, it is truly excellent. The day these riding pics were done I cut across the top of north Essex into south/west Suffolk, and did about 60 miles of riding along tiny little back roads, and I can honestly say I haven't enjoyed riding a bike as much as I did this one that afternoon.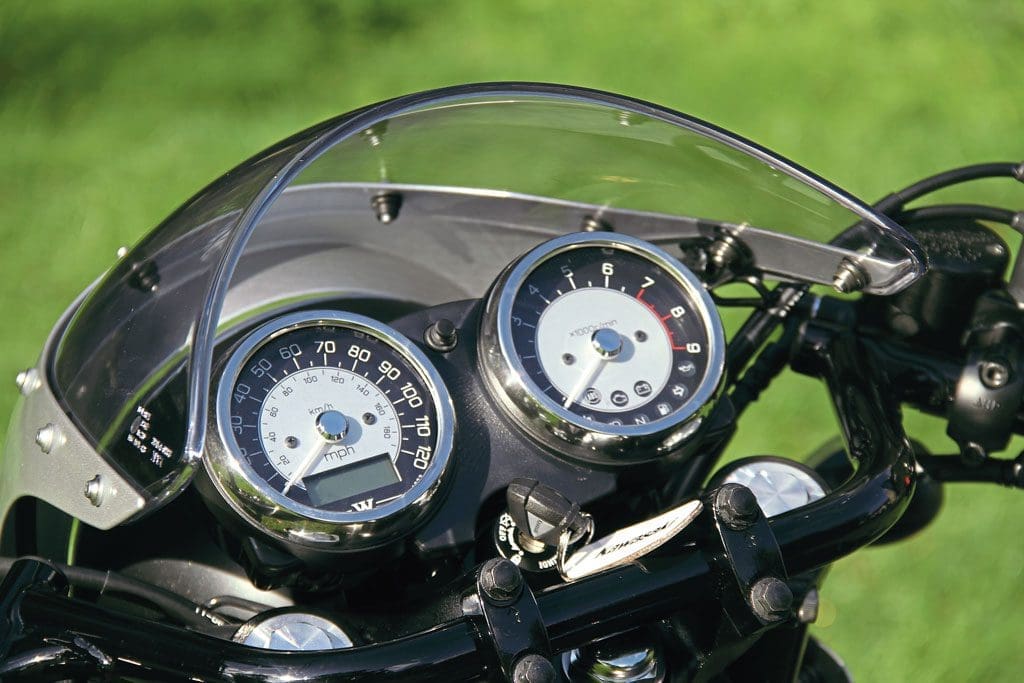 It's absolutely perfectly suited to roads where 60mph is that little bit too fast, where 30-50mph corners feel as though it's most at home, and its almost surgically precise steering allows you to really put it where you want it.
The brakes have just the right level of feel for this kind of riding, the gear ratios are perfectly spaced, meaning that it grunts out of corners wonderfully, and the low ace-bars and rear-set 'pegs are comfortable and exactly what you want for this kind of riding.
Even when the 'pegs start to grind the Tarmac the handling remains natural, and you never feel as though you're at the limitations of the handling. The suspension is softly sprung, but has good control and damping, and handles most road imperfections without jolts or jarring.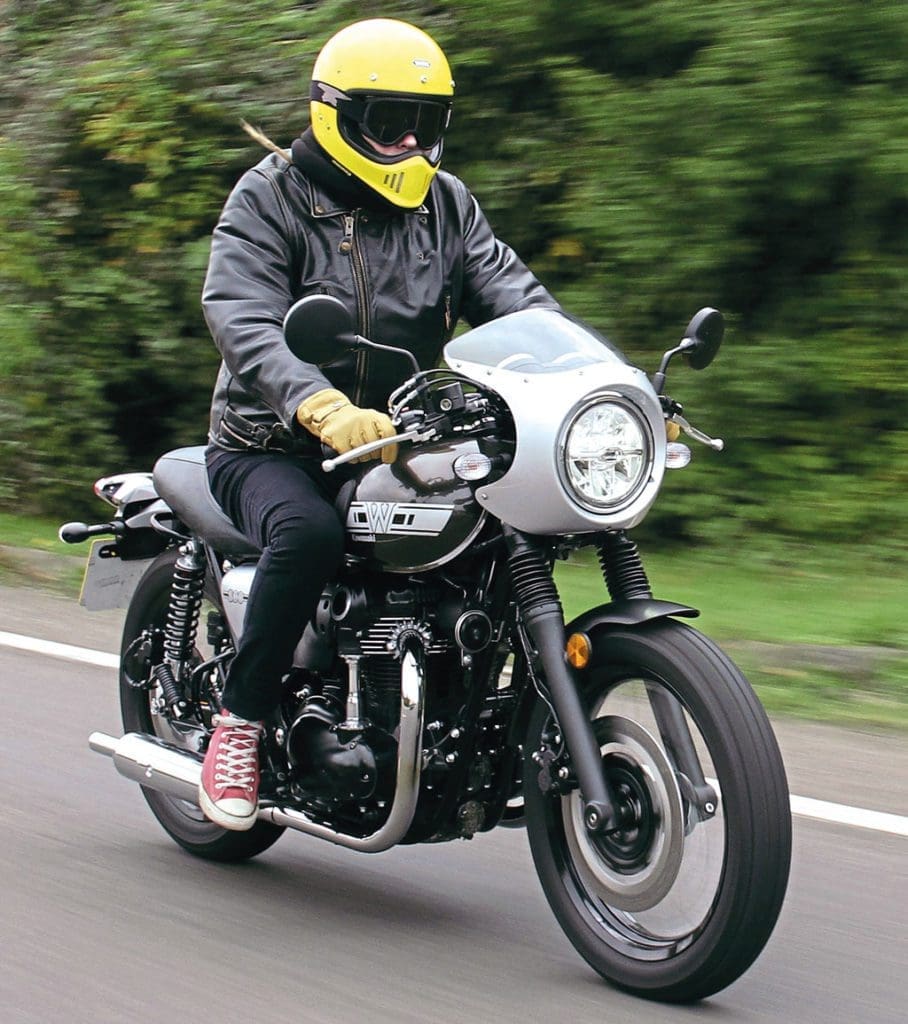 The exhaust has a nice growl to it, and also twitters a little on the over-run, just like bikes used to back in the day, and everything about it just makes you smile.
The front brake, up from 300mm to 320, needs all four fingers on the lever really, but bites really well, and the rear, with its long, ever-so-'trad lever, controls it all nicely.
And it looks the part, too. The bevel gear-driven cam engine, with its wide cooling fins, is very pretty, and the tank pads, the exhausts, the rear light, and the clocks are very much in keeping with the café racer theme.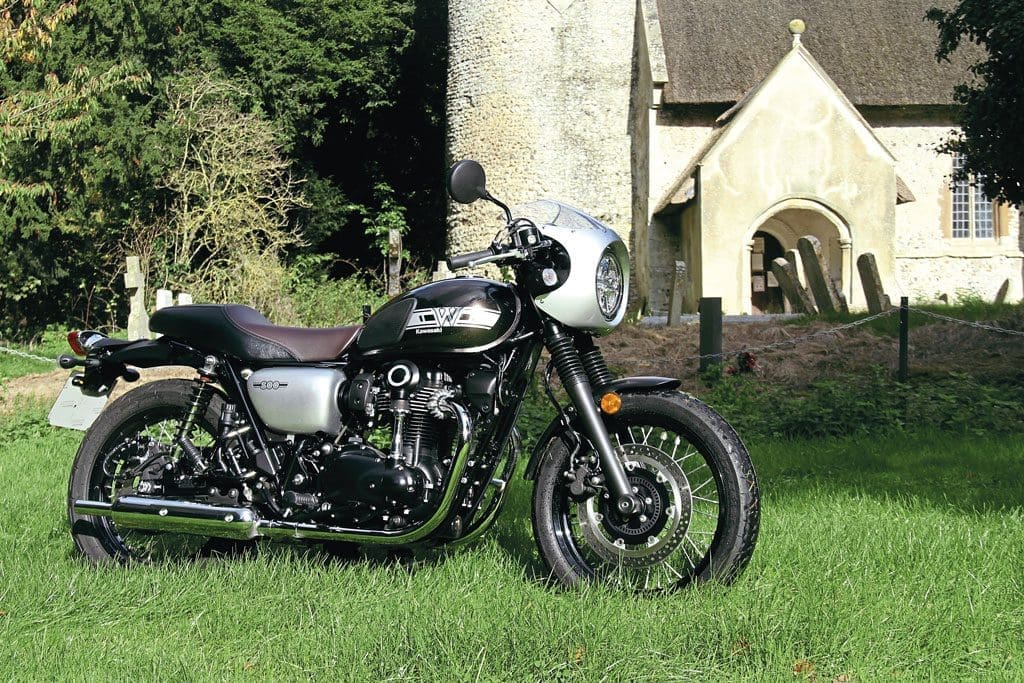 Personally, I'd have preferred all the panels to be the same colour, rather than having the fairing and side-panels match, and the tank and 'guards contrast, but that's not really a big deal, is it?
The Kawasaki W800 Café costs from £9,099, and you can get more info from your local Kawasaki dealer or www.kawasaki.co.uk