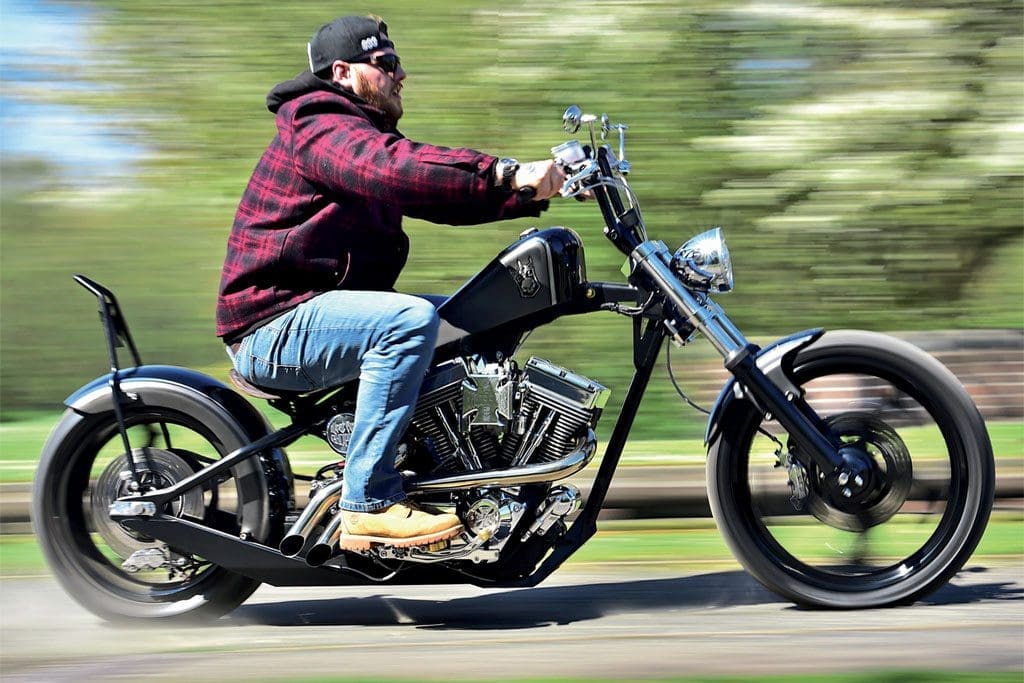 While the fashion for the US-style Billet Chopper, may've petered out a little in these days of Bobbers and 60s/70s Choppers, the bikes themselves do still have that certain je ne sais quoi, don't they?
Kiah Passey's chop, the bike you see here, is one such machine. Originally built by the now legendary West Coast Choppers in the USA, it was originally white when he first saw it a while ago, and although he wasn't too keen on the colour, he could see the potential in it so he bought it, and set about making it into the bike he could see it was destined to be one day.
West Coast Choppers (WCC), in case you don't know, is a brand that began selling screen-printed T-shirts and stickers with the company's Iron Cross (not Maltese, no matter what anyone tells you) logo while its founder, Jesse James*, was still at school, and purveyed accoutrements of the chopper lifestyle long before any actual West Coast Choppers custom bikes'd ever been built.
Even after the company did begin building bikes for the likes of celebrities such as Shaquille O'Neal, Kid Rock and Keanu Reeves, 60 per cent of its revenue still came from sales of clothing, beverages and tools and, in fact, even though they built between 12 and 15 bikes a year, at prices of around $150,000, each actually lost money for the company, but helped cement the WCC name as the epitome of cool.
When Kiah'd got his hands on the bike, based around a 1650cc (100 cubic inch) Ultima engine in a WCC CFLII rigid frame, he knew that he wasn't really up to the job of turning the bike into the vision he had in his head, and so set about finding someone who could.
He plumped for a gentleman whose name you may recognise: Ian Cushing at Second City Customs in Bromsgrove in the West Mids – a man, and a company, who's established a solid reputation as a top-class bike builder. Kiah and Ian discussed plans and shortly after the chop was dropped off at the Second City workshop, and Ian and his oppos got stuck into it.
Article continues below…
Advert
They didn't really need to do too much in the way of structural work to it as, basically, it was a good, strong bike and, indeed, most of the bike's genetic make-up is as Sandra Bullock's ex-hubby intended (the frame, air-filter, exhausts, forwards, wheels, brakes, forks, yokes, 'bars, switches, controls, petrol tank, seat and oil tank are all WCC items), but they did tear it right down, check everything, rewire it, rework the sissy-bar, and add their own mudguards (front and rear), battery box, headlight, tail light, indicators, and ignition, and arrange to get the frame and a host of other bits powder coated.
For the tins… sorry, sorry, the bodywork to be sent to the now sadly departed John Tooze, RIP, at Reborn to be Wild in Cheltenham, one of the best custom paint shops in the land. They're the ones responsible for the very subtle black 'n' silver paint and graphics, that makes the bike such an exercise in understated cool.
Since it's been finished, the bike's been donated by Kiah to be raffled off to raise money to help get justice for his cousin, Ryan Passey, who was stabbed and killed in a nightclub in Stourbridge.
Article continues below…
Advert
More than 44,000 people've signed a petition for a change in the law, and more than £30,000 raised to try and cover the legal costs of doing so (look up Justice for Ryan for more info). I don't know how much the tickets were, but someone got a hell of a raffle prize, didn't they?