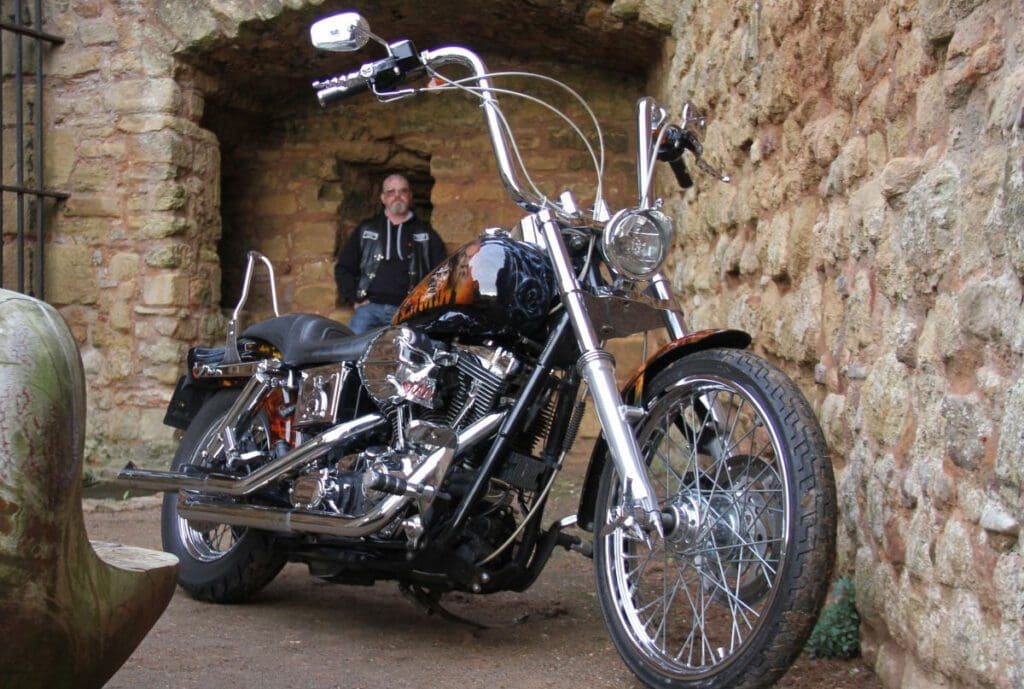 Now in its fifth year, the Back Street Heroes Custom Champs is probably the biggest custom bike show in the world!
Run over, this year, six rounds (four online, two 'real world'), there were more than 1,200 entries to the six classes and as usual, the standard of them was incredibly high making judging, as we've come to expect, an absolute nightmare of a job.
The six classes were:
Best Chopper
Best Custom
Best Paint
Best Engineering
Best New Skool (café racer, flat-tracker, street scrambler, bobber etc.)
Best Butchered Classic (streetfighter-style bikes built prior to 1990)
The judging of all the winners of all the classes is done by a panel of experts from the custom world, including Vic and Lin from the world-renowned Destiny Cycles amongst others, and from that list of 36 bikes a final six are picked.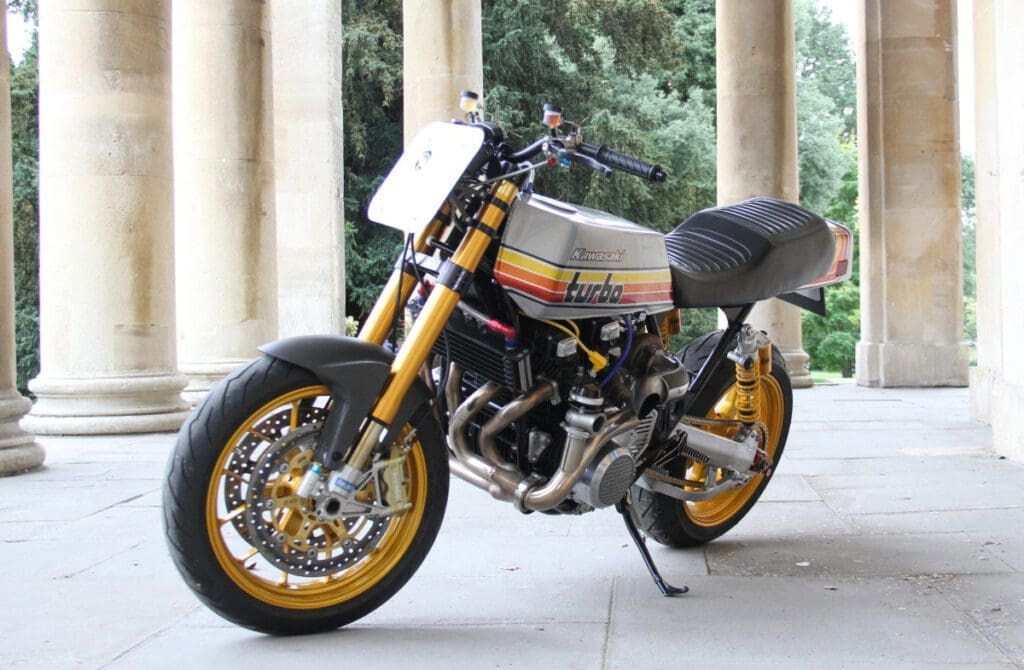 Best Butchered Classic
Dave Solomon is the guy who actually came up with the idea of the Butchered Classics genre, and he's been building some amazing bikes for years now, using old Eighties muscle bikes with modern Bandit 1200 motors.
His prize-winning bike though uses a 1978 Kawasaki Z1R frame, suitably braced and strengthened, with a heavily modified Z1000 MK2 motor with an old-school draw-through turbo designed and put together by Dave Dunlop of Fast By Me Turbo Systems.
Why a draw-through, and not a modern efficient blow-through? Because that's what the turbo bikes he saw as a kid back in the Seventies and Eighties had!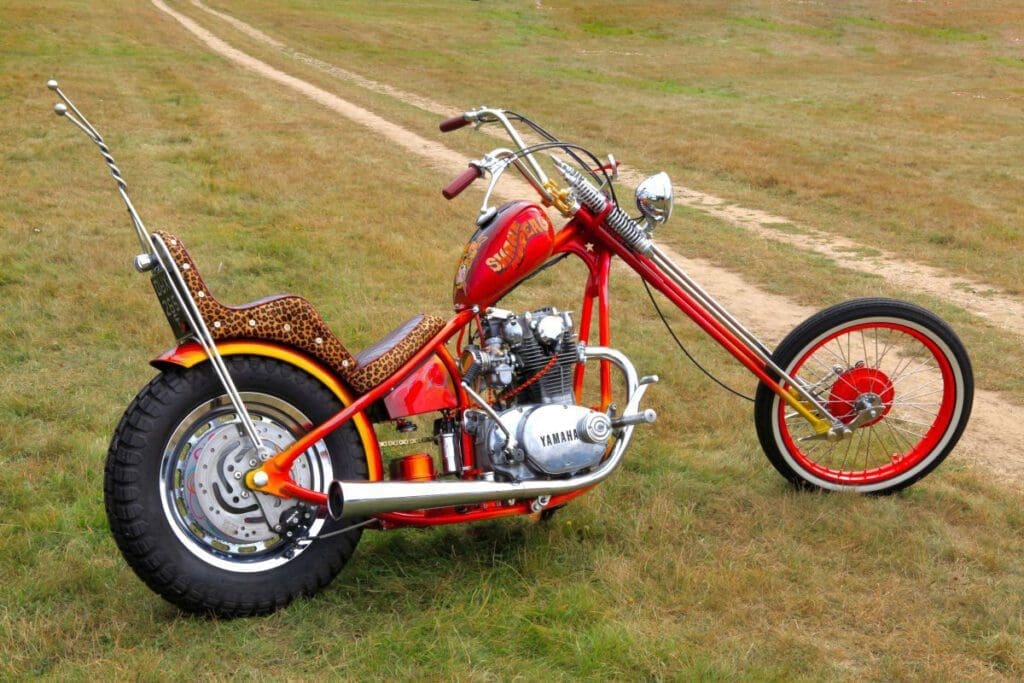 Best Chopper
April's XS650 was built in conjunction with her other half, Layla (whose BSA chopper won the title in 2020), and is a complete one-off using a rigid frame, a loooooong set of springer forks, one of Yamaha's venerable 1980s twin-cylinder XS650 motors, a suitably peanut-style tank, and a sky-scrapingly high sissy-bar, as well as a reassuringly Seventies leopard-skin fabric seat.
April's not actually passed her test yet due to delays caused by Covid but, with this sat in the garage, we're fairly sure it won't be long before she does so!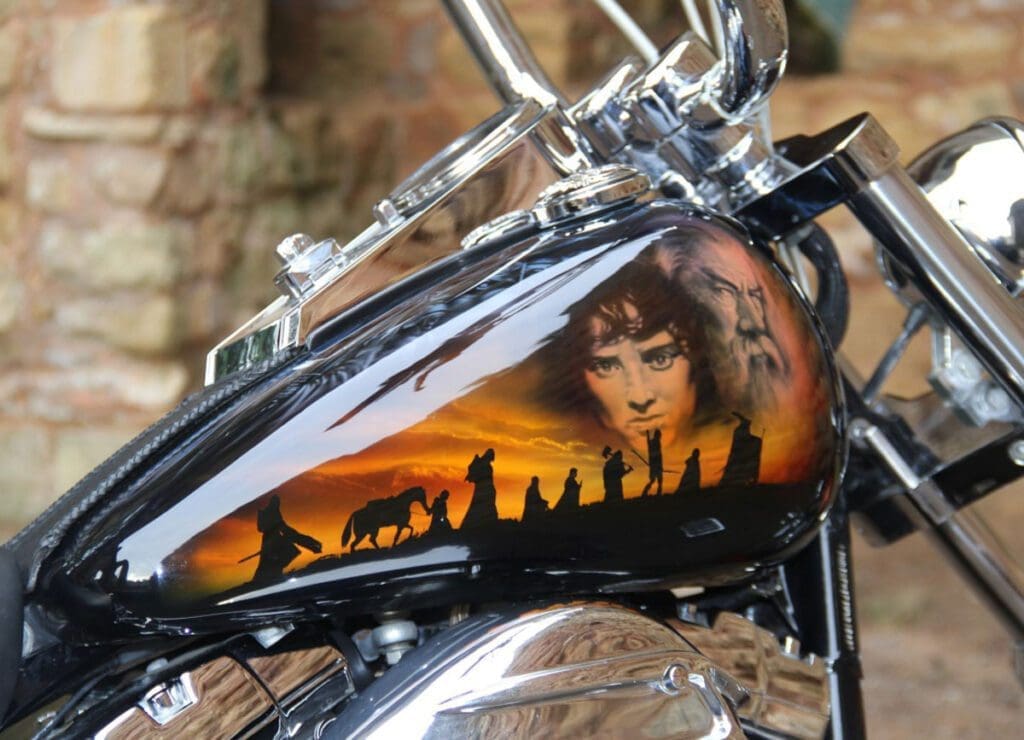 Best Paint
Tony Black's WideGlide Harley is something of a mystery bike as he doesn't know that much about it other than it was built about ten years ago by the guys at B&H Motorcycles in Cornwall, and painted by Adam Haden of Scrawl Art, who primarily airbrushed trucks, and specialises in incredibly realistic faces – something that's very, very difficult to do.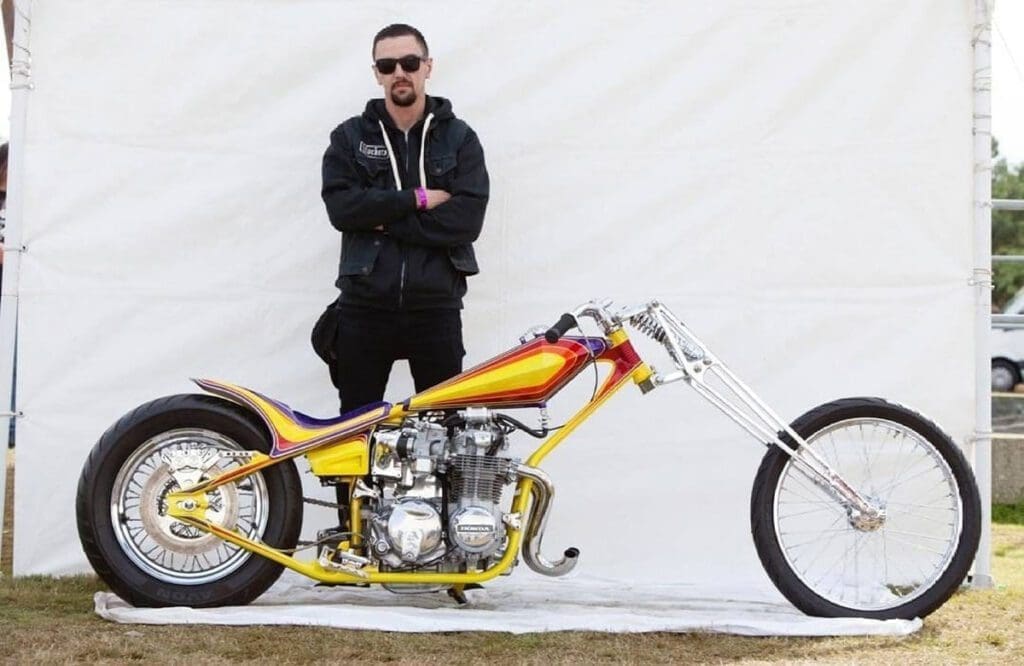 Best Custom
You don't get much more custom than a digger! Diggers were a very '70s fashion – long and low, coffin or prism-shaped tanks, very long front ends (12″ over stock and more), moulded bodywork, very swirly, almost hallucinogenic paint schemes (paisleys, day-glos, fluorescents, along with continuing use of metal-flakes and pearls).
Jake Todd's built this very fine Honda-engined example of the breed, with a supercharged CB550/4 motor, suitably intricate paintwork, girder forks, a period-correct lack of front brake, and wonderfully mad upturned 'pipes – the SoCal boys of the Seventies'd be proud!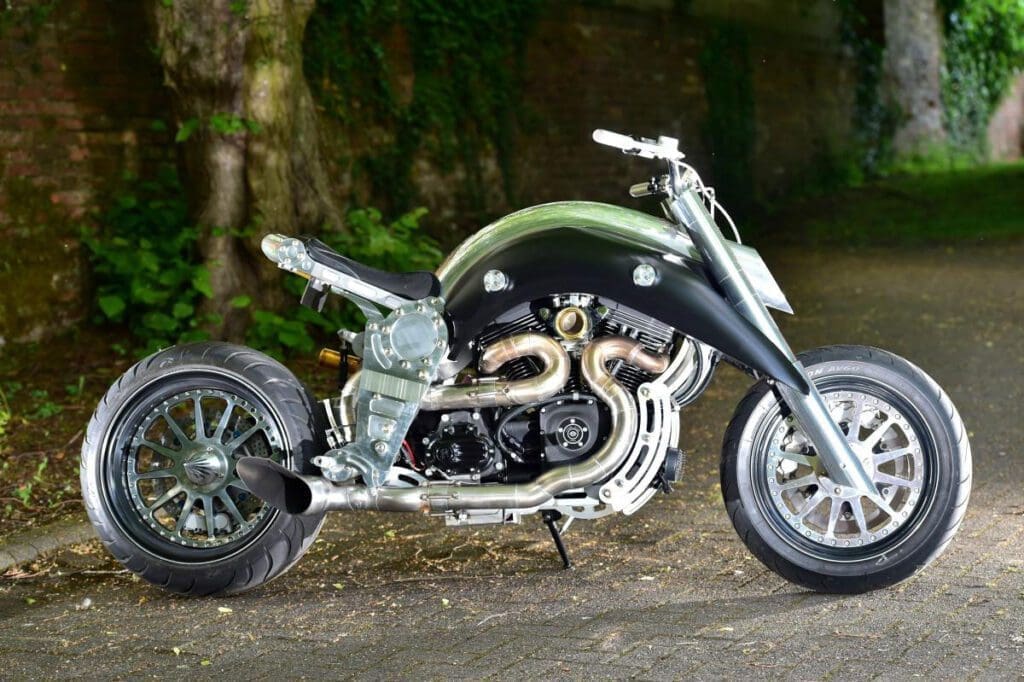 Best Engineering
This class each year always turns up some really interesting bikes, and 2021 was no exception – an amazing steampunk Suzuki single with no real frame, a super-tough Sportster drag bike with a perimeter front brake, an FJ Yam with a monstrous goose-neck (and monoshock) that's about twice the length of most normal bikes, and a tektro GSX chop with long forks and a single-sider amongst others.
The winner overall, though, was Simon Butler's billet-framed Harley with its machined section frame, swoopy bodywork, and one-off wheels hand-made for it. Si's got a reputation for building very, very clever machines, and this year's he excelled himself.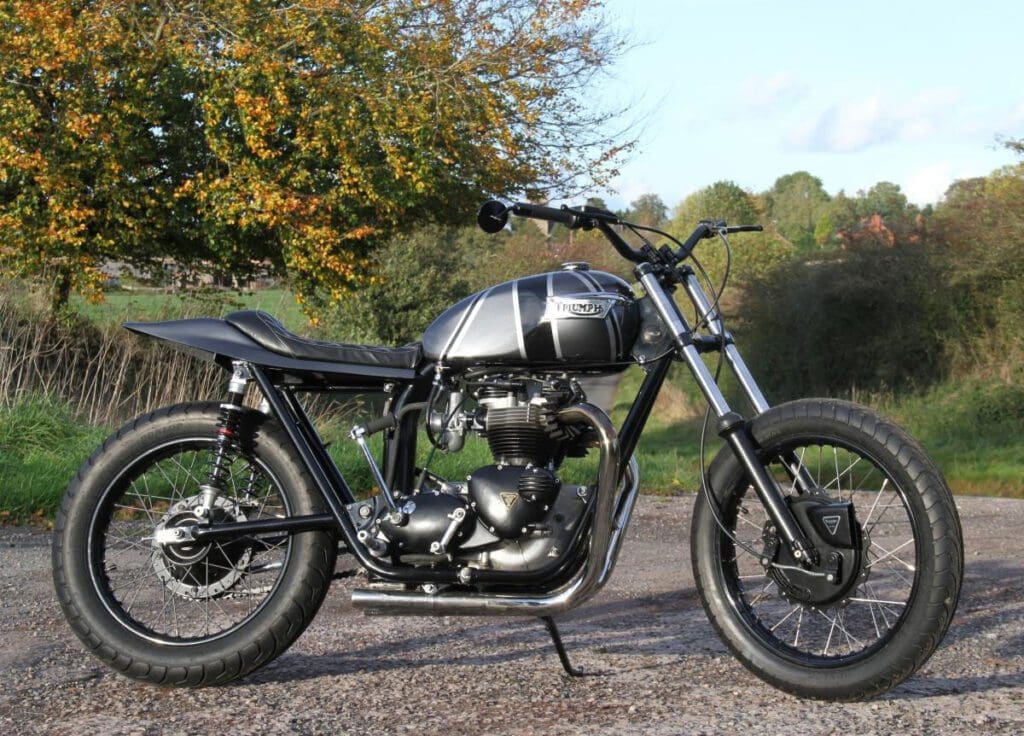 Best New Skool
New Skool is an all-enveloping class that covers bikes built by the new generation of younger custom builders, and so is a much less rigidly defined category than the others, and in 2021 it was as eclectic as it has been previously – there was a chopped, long fork Honda Cub, a beautiful BSA single scrambler, a massive Fazer 600 chop (called, aptly, 'Social Distance'), one of the nicest CX500 café racers we've seen, and a very minimal 750/4 Honda that looked as though it would have been right at home twenty years before the bike was even created!
The winner, though, was Radders' Triumph Tiger 650 flat-tracker that, slightly too flash paint for a 'tracker aside, looks like it'd be right at home going sideways round a US dirt oval with a rooster-tail of dirt coming off the back wheel, and another coming off the rider's left (steel) shoe too.
Find all the bikes on display on the BSH Custom Heroes stand in Hall 4 at Motorcycle Live, 4-12 December. For tickets and more information, visit: https://www.motorcyclelive.co.uk/